A customized print-friendly version of this recipe is available by clicking the "Print Recipe" button on this page.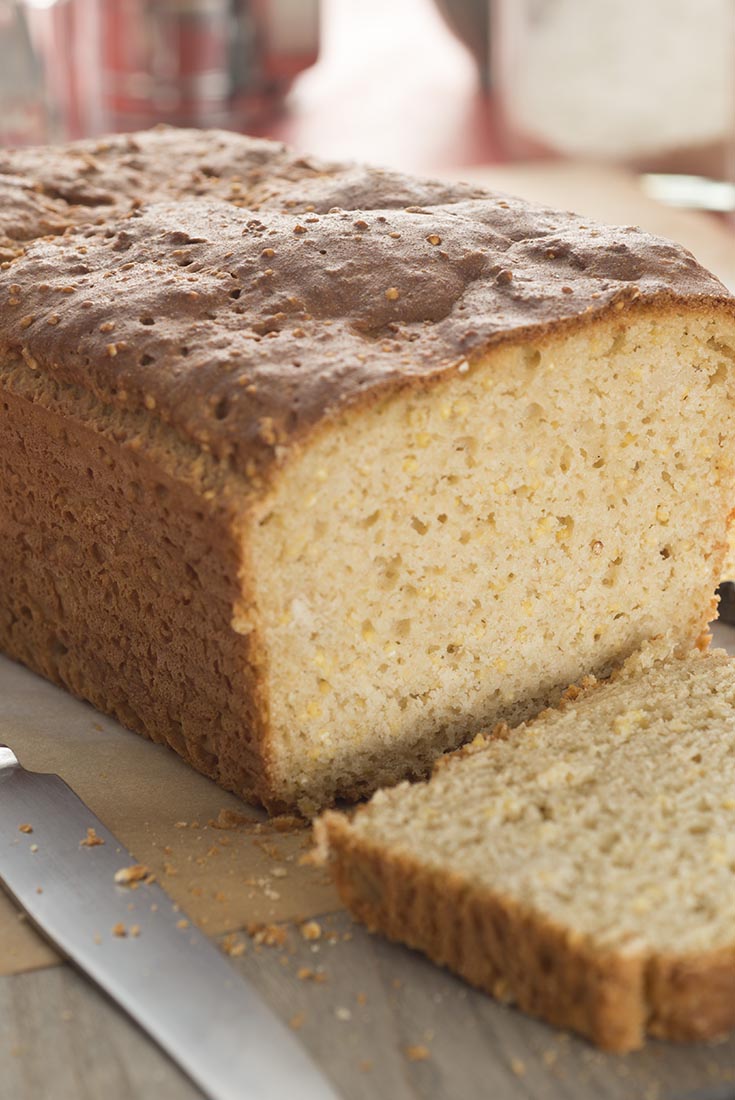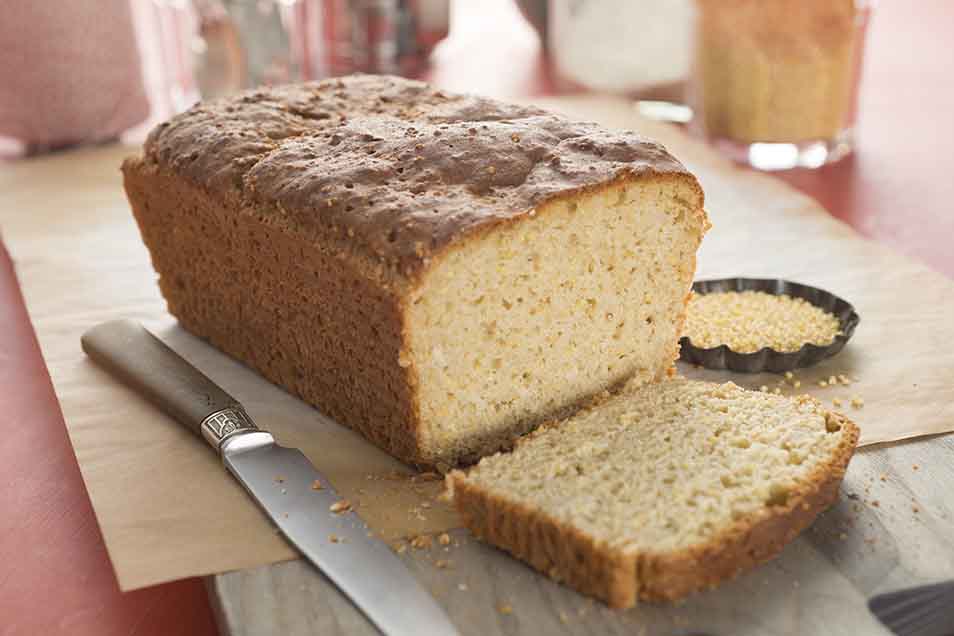 You can finally savor the flavor of gluten-free bread with this curiously crunchy millet-studded whole-grain loaf.
Ingredients
1/2 cup millet, soaked
1 1/2 cups Gluten-Free Whole Grain Blend
1/3 cup potato starch
1/2 cup almond flour
2 1/2 teaspoons instant yeast
3/4 teaspoon xanthan gum
3/4 teaspoon salt
4 tablespoons soft butter
3 large eggs
2 tablespoons honey
3/4 cup warm milk
Instructions
Cover the millet with warm water and soak it at room temperature overnight, or for a least a few hours. Drain any remaining water from the millet before using.

Combine all the dry ingredients in the bowl of your stand mixer and blend thoroughly.

Add the butter and blend until the mixture is like sandy crumbs.

Add the eggs, honey and warm milk, beating well for 2 to 3 minutes, stopping once to scrape the sides of the bowl.

Stir in the drained millet.

Cover the dough and allow it to rise at room temperature for about 1 hour.

Preheat your oven to 350°F and lightly grease an 8 1/2" x 4 1/2" bread pan.

Scrape the dough (which will be the consistency of a thick batter) into the prepared pan and allow it to rise again, covered, for about 30 to 40 minutes, or until it's risen just above the rim of the pan.

Bake the bread for 40 to 45 minutes, or until the internal temperature reaches 205°F to 210°F. The top should be a lovely golden brown. If the loaf begins to brown too much before it's finished baking, tent it with aluminum foil for the remainder of the bake. Cool completely before cutting and serving.
Reviews
My entire family loves this recipe as a healthier cornbread substitute. My daughter is gluten intolerant, and I came across this recipe in a search for sandwich bread. It's a bit too crumbly to make as sandwich bread, but paired with chili and other soups it's a perfect accompaniment. It's also wonderful warm, from the oven, spread with butter. I will say that, like another user, I have had it over rise and explode out of the pan while cooking. Out of the twelve to fifteen times I've made this bread that has happened to me twice. I can't explain it, but I can say that even the overcooked spillage gets eaten, haha! I always place foil underneath it now to catch whatever comes out of the pan-just as a precaution.
I used active dry yeast instead of instant, following the instructions on King Arthur's 'Learn' on yeast (including activating the yeast in the milk + honey). The bread *way* overproofed, exploding all over the oven during the second rise. I'll try next time using a single rise in the bread pan, like many of the other GF breads I bake, or shortening the rises significantly. That said, the bread is really tasty!

Hi Courtney, it sounds like there might have been some confusion about the instructions for using yeast. It's not necessary to add active dry yeast to warm liquid before using. It can be helpful to take this step if you need to test the yeast and make sure it's alive. It sounds like you might want to try using a different kind of yeast that will reliably produce two strong rises; SAF Red is that instant yeast that we like to use in the test kitchen. We hope you're able to find the right ingredients to produce a high-rising, tender millet bread. Happy GF baking! Kye@KAF
I really loved this bread and I'm pretty picky! It is definitely going to be a staple in my home....
I have done this recipe and it went very well. I wasn't sure about it as the ingredients he used I use different one. But wow... After baked I was surprised. I love it. And I totally recommend it to everyone how wants go gluten free.
Can I substitute quinoa for millet?

Hap, yes you can go ahead and substitute quinoa for millet in this recipe. They have similar cooking times and behave the same in bread recipes. It will add a nice flavor and texture to your gluten-free bread. Happy baking! Kye@KAF
Hello, millet! Where have you been my whole life? I've recently fallen head over heels for a packaged gluten-free millet bread. Apparently, everyone else has too, and in addition to being expensive, it is also painfully difficult to find. Enter, this recipe for gluten free millet bread! I already had the King Arthur gluten free whole grain blend, with some millet, I would be in business. (Side note: I live in a large metro area, and millet was harder to find than I expected. I finally found it in the bulk bins of a health food store.) The recipe came together easily, and my baking "woopsie" came when I put the batter/ dough into a 9x4x4 pan, rather than an 8.5x4.5 pan. The dough rose to the top edge of the pan, but no higher. With its flat top, my loaf may look unconventional, but will make for even slices for sandwiches. This bread is tender and moist, with a bit of crunch from the millet. My sole reservation on this recipe was the gluten free whole grain flour - some gluten free flours have (strong) unfamiliar flavors. But I found the taste of this bread to be mild and pleasant both fresh and toasted. This is a loaf I will make again and again!