A customized print-friendly version of this recipe is available by clicking the "Print Recipe" button on this page.
Gluten-Free Oat, Apple, and Walnut Muffins made with baking mix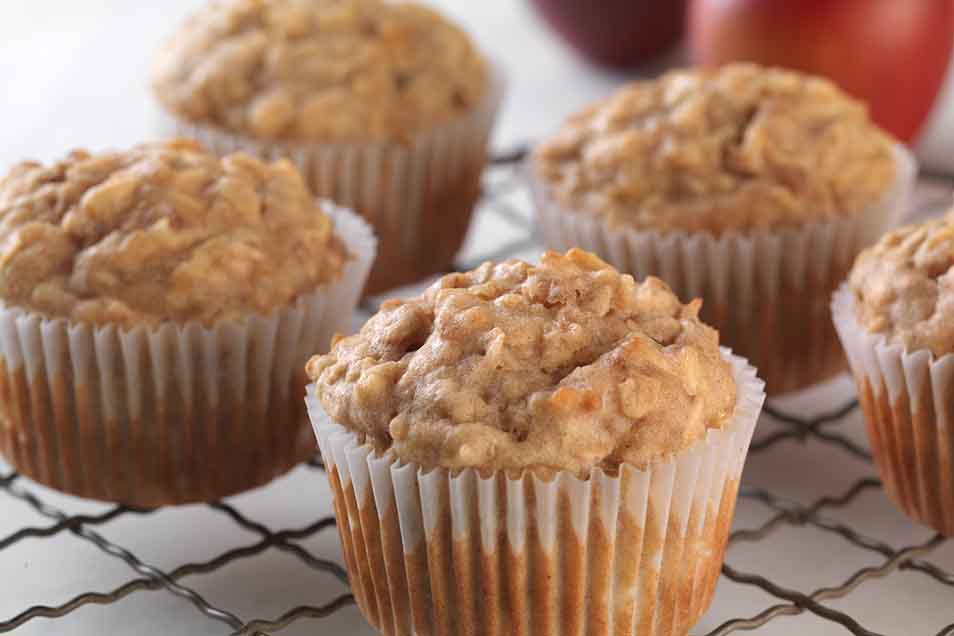 Fresh apples keep this muffin on the not-too-sweet side, perfect for a quick breakfast or afternoon snack.

Note: Please read and follow the recipe carefully; it calls for our gluten-free all-purpose baking mix, NOT our gluten-free multi-purpose flour.
Ingredients
1 1/4 cups King Arthur Gluten-Free All-Purpose Baking Mix*
3/4 cup traditional or quick oats
1/3 cup brown sugar
1/2 teaspoon ground cinnamon
1/4 cup melted butter or vegetable oil
2 large eggs
1/2 cup milk
1/2 teaspoon gluten-free vanilla extract
1 to 1 1/3 cups grated apple, about 1 large
1/2 cup diced walnuts
cinnamon-sugar, for topping; optional
*Make sure you use our gluten-free BAKING MIX — NOT our gluten-free flour.
Instructions
Preheat the oven to 375°F. Grease 8 wells of a standard 12-cup muffin pan.

Stir together the dry ingredients; set aside.

Whisk together the melted butter or oil, eggs, milk, and vanilla.

Stir the dry mix into the wet ingredients. Scrape the bottom and sides of the bowl and continue to stir for about 30 seconds, until well blended.

Fold in the grated apples and walnuts.

Fill the muffin cups almost full. Sprinkle with cinnamon-sugar, if desired.

Let the muffins rest for 10 minutes; this will give the leavening in the baking mix a chance to get going.

Bake the muffins for 20 to 25 minutes, until a cake tester inserted into the center of a muffin comes out clean.

Remove the muffins from the oven and, after 5 minutes, transfer them to a rack to cool.

Yield: 8 muffins.
Tips from our bakers
For a nut-free version of these muffins, substitute dried cranberries, raisins, or currants for the walnuts.
Reviews
These are very good. Moist!
this was delicious!! The apple keeps the muffins moist and the brown sugar gave it a sight sweet taste. I would make these again. I love the fact that they are gluten free 😉 I didn't have walnuts so i put raisins which are complimentary to oatnuts in taste.
This is a good muffin recipe. It is moist with good texture. The cinnamon sugar on top gives a nice crunch and the amount of sweetness, overall, is just right for me. However, it is a little bland. It definitely needs salt and either the amount of cinnamon needs to be increased or perhaps add some apple pie spice or 5 spice powder to bump up the flavor. I also think the walnuts would benefit from a little toasting. If you choose not to do anything else, do add a little salt to bring out the flavor of the apples. My apple was a little large which resulted in my getting 9 muffins.
Though I'm the only one eating gluten free, my whole family absolutely LOVES these muffins. Some exchanges I made to the recipe were: replaced the brown sugar with half stevia, half honey; used coconut oil in place of butter or veg. oil; used unsweetened almond milk vanilla flavor in place of the milk. I have also found that using a mixer for gluten free muffins does not toughen them like regular flour muffins and blends everything wonderfully. I also left the peel on my grated organic apples for extra fiber and vitamins and increased the recipe by another 50% to make 12 muffins instead of 8, baking them in a stoneware muffin pan which keeps them so moist!
I loved this muffin, thank you KA for making the baking mix. I like to control the amount of sugar so it worked out great. I made this recipe using a brown sugar/stevia blend, and only added 2 T + 2 tsp. I am also trying to be dairy free so I used coconut oil and coconut milk. I used 1 Granny Smith apple plus 1/4 cup unsweetened applesauce. I was worried the tart apple would make the recipe not sweet enough, but it was perfect for me. I plan to make this recipe often for breakfast muffins. The only thing I will try differently is maybe 1 more minute in the oven, because I find it difficult to be sure the middle is not too dense, but it was almost perfect.
Can I substitute GF all purpose flour? How much baking soda/powder do I add? Thanks.
Substituting GF flour is not a good idea, there will be too many changes. Instead, you may want to find a different recipe for muffins using GF flour and add the extras. Betsy@KAF