A customized print-friendly version of this recipe is available by clicking the "Print Recipe" button on this page.
Gluten-Free Oatmeal and Flax Cranberry Cookies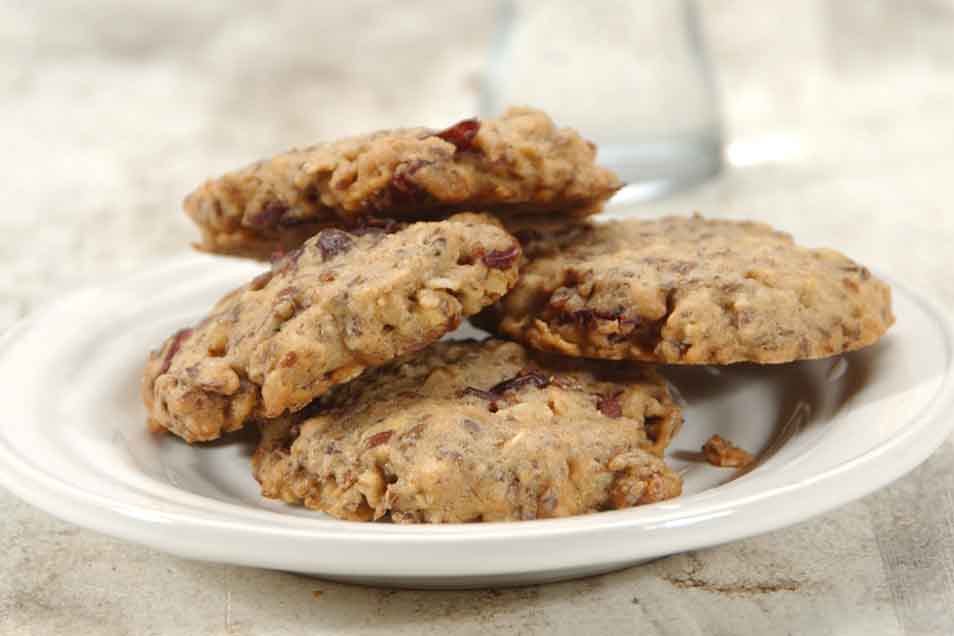 Chewy and nicely fruit-flavored, these cookies are packed with antioxidants, fiber, and "friendly fats" from cranberries, oats, flax, and walnuts.
Ingredients
6 tablespoons softened butter
1/3 cup brown sugar, lightly packed
1 teaspoon vanilla extract
1/2 teaspoon ground cinnamon
1/4 teaspoon baking soda
1/4 teaspoon salt
2 tablespoons water
2 large eggs
3/4 cup gluten-free rolled oats (not instant or quick cooking)
1/4 cup whole flax meal
1/4 cup whole flax seeds
3/4 cup dried cranberries, orange-flavored or regular; or raisins
3/4 cup chopped walnuts
Instructions
In a large bowl, beat together the butter, sugar, vanilla extract, cinnamon, baking soda, salt, eggs, and water until fluffy.

Mix in the flour, oats, flax, and dried fruit and nuts.

Refrigerate the dough for about 1 hour, for the flax and oats to soften.

Preheat the oven to 350°F.

Scoop the dough by the rounded tablespoonful onto greased or parchment-lined baking sheets.

Press the dough into 2" disks about ½" thick.

Bake the cookies for 10 to 12 minutes, until golden brown.

Remove from the oven, and cool on the baking sheets for 15 minutes or so, to allow cookies to firm up. Transfer to a cooling rack to finish cooling.
Reviews
I've been baking these for years! They are healthier than a "normal" cookie. I'll add different healthy add-ins, and dark chocolate pieces and sometimes organic coconut. You can decrease the sugar a little and still get a nice cookie, even though they are not that sugary to start. I've used different GF Flour blends and I find I like the texture better with the KA Multi-purpose GF Flour. The Measure for Measure makes a very fluffy cookie, and I like them more chewy which is what this recipe produces for me.

Thanks for sharing your love of this recipe, Carol! Just a quick note that our Measure for Measure Flour is formulated to be a 1:1 sub for the All-Purpose Flour called for in your favorite, non-yeasted, wheat-based recipes. When it comes to recipes like this one that are designed to be gluten-free, we recommend sticking with our Gluten-Free Flour or make-at-home brown rice flour blend, as Measure for Measure will not typically perform well in these recipes. Hope this helps to keep your gf baking happy! Mollie@KAF
Although I haven't done a nutritional profile on this recipe, I would classify this as a 'relatively healthy' cookie. It's low in sugar and high in fiber, compared to other cookies. They are tasty and filling. Perfect for my husband and I when we want something a little sweet after a meal. Now I imagine if you added more sugar and butter it would be really tasty and hard to stop eating them. I see you have that option if you read other reviews. That's up to you. As is, this recipe works great for us. OH! - I added unsweetened coconut that added a very nice touch. Thanks, King Arthur for a cookie recipe that isn't loaded with sugar.
I followed Amy's from Spokane suggestions and am thrilled with the results. Her recipe is one of the few that my celiac grand nephew truly enjoys. I've tinkered a bit with some of the ingredients but her basic recipe is a winner. Thanks for taking the time to post it, Amy!
My husband recently found out that he must be on a gluten free diet and I Have found many delicious recipes on this site, so than you King Arthur! He loves these cookies and says, " they are sweet, chewy, soft and have a nice texture", so this will be my " go-to" cookie recipe. I did not have flax seeds on hand but increased the flax meal a bit, did not add walnuts and put in raisins this time. I will try it with dried cranberries soon. Also, the " fluffy" texture did not happen when beating the butter, water, eggs, etc. but I forged on ahead and was very pleased with the results of this recipe.
I was looking for a gf oatmeal scotchie recipe when I stumbled across this one. After an online chat with the Baker's Hotline, I forged ahead my adulteration of the recipe. After reading other low reviews and comparing this recipe to the one on the back of the Nestle Tollhouse bag, I ended up with the following recipe: 1 cup butter, softened 2/3 cup brown sugar 2/3 cup white sugar 2 tsp vanilla 1 tsp cinnamon 1/2 tsp salt 1/2 tsp baking soda 4 tbsp. water 4 large eggs 2 cups King Arthur GF M-P flour 1 1/2 cups oats (I only had quick cooking on hand) 1/2 cup whole flax meal 1/4 cup chia seeds 1 bag butterscotch chips This is certainly not a "healthier" cookie, but they are good. I kept the water in the recipe because I was adding the chia seeds. I did let the cookie dough set. The cookies taste sweet like the original but with a nice crunch from the flax meal and chia seeds. Thanks for the boost to give it a try Baker's Hotline, I think we have a new family fave in the house.
These cookies are not super sweet--but my very picky, sugar-loving 11 year old daughter said they were great, and I'm happy that they are healthy! I don't have the gluten free flour mix; I always make up my own with brown rice flour, Xanthan gum, and perhaps other flours if desired.
I haven't made these cookies yet because I can't get the wet ingredients to "fluff" just like the other review wrote. What's up? I'm following the recipe exactly. Unless I don't know what "fluffy" means, which I think I do, then I'm at a loss to understand what the problem is. The weather is hot today, and I don't have air conditioning, but I don't know if that could be the problem Hoping I might get a quick response, but I'll understand if I don't. I just hate to waste good food, and I don't know if I should go ahead a still make these cookies.
Hi Janet. For recipe questions, please contact our bakers hotline by phone, email or live chat. We look forward to hearing from you. MJR @KAF
Delicious! Not too dry, not gooey. I love the flax seeds, and how it's not overly sweet. I did use cranberries, and look forward to trying raisins next time.
I have tried several gf oatmeal raisin/cranberry type cookie recipies and I have to agree with the other reviewer that these are only average. Compared to other recipies I have made these were very dry and lacking in the sweetness one wants from a cookie. Almost like a breakfast cookie instead of the treat I was going for. However I do think this recipe is fixable. I think increasing brown sugar by 1/4 cup, increasing oats by perhaps 1/2 cup, and decreasing flour by 1/4 cup and maybe a TB of vanilla soy, rice,or other type of milk.
I made these for a friend who is gluten intolerant. I consider these okay at best. Not chewy. Not moist. Rather dry with an odd aftertaste. I'll wait to see what she thinks and I suppose something is better than nothing but these did not come out yummy which I was hoping for. I followed the recipe exactly but the butter mixture didn't get "fluffy" and mixing in the flour, the dough seemed rather dry. any suggestions as to how to make them better?
I'm sorry that this recipe was disappointing. Be sure that you are measuring accurately by volume when you measure your flour: http://www.kingarthurflour.com/recipe/measuring-flour.html Also, if you found that they weren't chewy enough, you could add an extra two egg yolks to the dough. If you find the dough to be on the dry side, feel free to add a tablespoon or two of milk. ~Amy