A customized print-friendly version of this recipe is available by clicking the "Print Recipe" button on this page.
Gluten-Free Orange-Vanilla Shortbread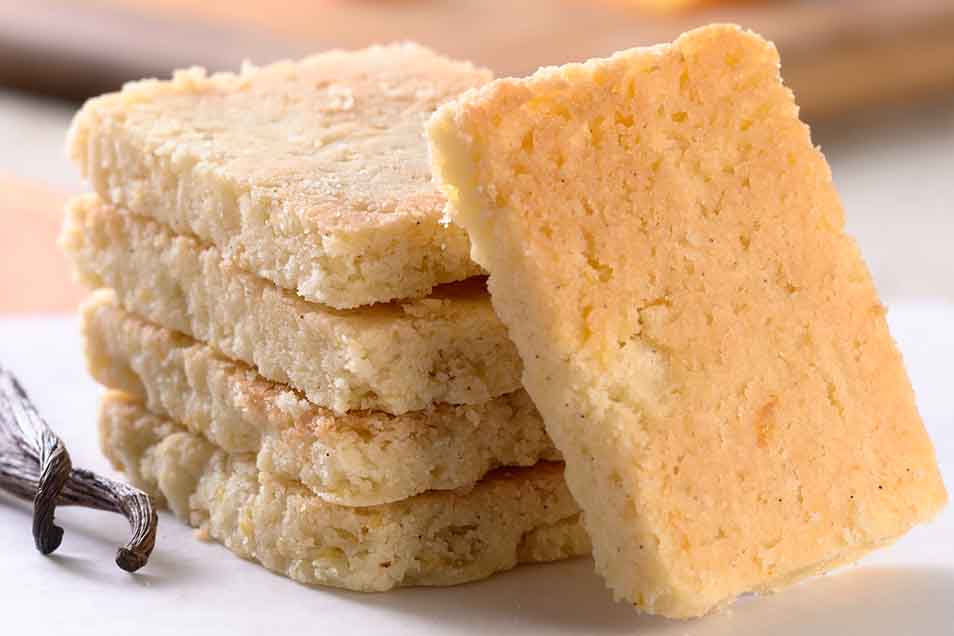 Indulge in the rich buttery goodness of shortbread — without the gluten. This tender cookie is touched with the perfect balance of crisp citrus and warm vanilla bean.
Ingredients
1 1/2 cups (24 tablespoons) softened butter
3/4 cup granulated sugar
2 tablespoons grated orange rind (zest); the rind of 2 medium oranges
2 teaspoons vanilla bean paste
2 teaspoons orange extract or 1 teaspoon Fiori di Sicilia
3 large egg yolks
1/2 teasoon xanthan gum
1/2 teaspoon salt
Instructions
Preheat your oven to 350°F and lightly grease 2 9X9 square pans. Beat the butter and sugar until light and fluffy.

Blend in the orange zest and flavorings.

Add the egg yolks one at a time on low speed, blending well.

Whisk together the flour, xanthan gum, and salt, then stir into the butter/sugar mixture just until thoroughly combined.

Scrape the bowl well to be sure all the dry ingredients are thoroughly incorporated.

Divide the mixture evenly between two lightly greased 9" x 9" pans.

Bake the shortbreads in a preheated 350°F oven for 25 to 30 minutes, or until their edges are nicely browned.

Wait about 10 minutes, then turn the shortbreads out of the pan gently. Cut immediately into desired shapes while still warm.

Yield: 2 9X9 square pans.
Nutrition Information
Serving Size

1 cookie piece, 58g

Servings Per Batch

18 cookie pieces
Amount Per Serving:
Calories

273

Calories from Fat

145

Total Fat

16g

Saturated Fat

20g

Trans Fat

0g

Cholesterol

71mg
Sodium

70mg

Total Carbohydrate

30g

Dietary Fiber

0g

Sugars

9g

Protein

2g
* The nutrition information provided for this recipe is determined by the ESHA Genesis R&D software program. Substituting any ingredients may change the posted nutrition information.
Tips from our bakers
This recipe works well as a half batch. If you aren't preparing for a crowd or don't have 2 pans, just cut all ingredients in half. If you would like to make a full batch, but only have one pan, you can bake one pan a time, or store the rest of the dough in the refrigerator to bake another day. Cookies keep well stored in an air-tight container at room temperature for up to two weeks.
The Fiori Di Sicilia is NOT a certified gluten free item, so for serious gluten sensitivities, you will need to use the orange oil instead.
Reviews
I tried this recipe today substituting lemon for the orange and added rosemary. It's probably something I did differently, but I tried to follow the instructions carefully and my cookies turned to sand when I lifted them out of the pan with the parchment paper. The crumbled cookie was delicious and I'd love to find a way to make this work. Disappointed that this seems to be a frequent outcome for this recipe.

Hi fellow baker, we're sorry to hear about the textural problems you had with your shortbread. It sounds like perhaps another kind of gluten-free flour was used or the xanthan gum was omitted. (This is a key ingredient that helps the dough bind together.) If you'd like to troubleshoot further, consider giving our Baker's Hotline a call at 855-371-BAKE(2253). Kye@KAF
I read all of the comments for this recipe and was not deterred. I followed the recipe and had no trouble getting the uncut cookies to fall out of the pan. I used a pizza cutter to make the cuts which worked great. After cooling we sampled them and I will agree with the other comments that they are too tender to eat easily. Since they are so very rich I knew the two of us could not eat them very quickly, so I decided to put the cut cookies in a sealed container layered between wax paper and store in the refrigerator. The cold cookies do not crumble! I love the flavor.
I followed the recipe exactly and consider myself an experienced baker, yet when I made these and turned them out of the pan after 10 minutes of cooling, they completely fell apart. I'm extremely disappointed.
I am sorry this recipe did not meet your expectations! Please call our Bakers Hotline so we can discuss in more detail, 1-855-371-BAKE. Elisabeth@KAF
I am an avid baker who loves King Arthur Flour recipes. Actually, I've never made a recipe from KAF that I didn't love. Until now. After reading all the reviews, I decided to make this recipe for myself. The flavor is wonderful, but the cookie has a texture that is almost sand-like. Having a gluten sensitivity, I know that GF baked goods don't have the same texture as regular baked goods. I had my fingers crossed this would be a keeper, but for me, it's not.
We're as disappointed as you are, Laura. Our problem solving is conflicted in that the shortbread should be cut while the baked dough is still warm, but the bars may have a less sandy texture with an overnight rest. If you call the baker's hotline, we'll ask questions about mixing and baking methods to get to the culprit in this case. Here for you at 855-371-2253. Irene@KAF
Yum, works well with other citrus flavors too. As far as the crumbliness, I halved the recipe and actually used two egg yolks (technically would half to 1.5 yolks) and I had a much easier time - not nearly as crumbly but also not as tender. I also made them as slice and bake cookies - rolled into a log, popped in the freezer/fridge to chill, and sliced. Didn't work too well in terms of getting round cookies, but it helped with them breaking apart a lot less. Just my experience.
I trusted this recipe, based on being a King Arthur recipe using King Arthur product. AND I doubled the recipe for a party favor, figuring I was safe in trusting this site/recipe Followed the directions explicitly=--the cookie wasn't a cookie--it's nothing but shortbread crumbs. If you try to pick it up, no matter what size you cut them, they turn to crumble immediately. I tried to salvage them, by placing cut cookies on a sheet pan, with space between, and placing them in convection oven. No luck. I now have a huge container of shortbread cookie crumbs....very disappointed.
I am sorry to hear of the difficulty. Doubling recipes can really become tricky. It's always best to try the recipe as a single batch first before moving forward with making changes. We encourage you to give our baker's hotline a call so we can help you with the recipe. ~Amy
Love this recipe. I lined the pans with parchment and removed the shortbread about 10 minutes after I took them out of the oven. After they cooled, I put them in a Tupperware and they are even better the next day. My family loves them. Oh, and I substituted vanilla extract for the vanilla bean paste as I didn't have any and it worked just fine. Yummy!
I made these for my sister who is gluten intolerant and her husband, who is not, gobbled up most of them along with the rest of us! They are delicious and, although they are a bit more fragile than regular shortbread, they held together very well even when packed to travel. Keep in mind, as with any shortbread, that they should be cut when warm from the oven rather than when they have cooled off and are more apt to crumble. After cutting, I lifted them gently out of the pan and let them cool...no problem and absolutely delicious. Fiori di Sicilia is so worth the price...it perfumes my entire kitchen whenever I use it.
I made this shortbread recipe, and the taste is delicious! HOWEVER, the cookies disintegrated into crumbs when I took them out of the pan. After reading the other reviews, I even lined the pan with parchment paper prior to baking - hoping to lift them out successfully. No luck. I hope someone at King Arthur Flour can find a way to tweak this recipe in order to get a cookie that will hold together. As I said before, the taste is fabulous - but we ended up eating the crumbs with a spoon. I will keep the morsels in a container and use them as an ice cream topping.
I would call our Bakers Hotline and we should be able to troubleshoot this recipe with you!-Jon
Baked this last night. First pan, complete disaster. Gently removed from pan, at first cut the cookies crumbled into crumbs. Since I only had one pan I cleaned and greased again, removed chilled dough from refrigerator and discovered that it had set up due to the large amount of butter in the recipe. Spread the batter in the pan and the second pan came out slightly better but still extremely crumbly. These are extremely delicate and are at best a plated dessert as to eat them out of hand results in crumbs everywhere. On the other hand the flavor is excellent. One question, the printed recipe states 2 teaspoons of vanilla bean paste, the step by step instructions show 1 tablespoon vanilla bean paste? Also, how should your gluten free flour be measured? Scoop or spoon and sweep?
I'm so sorry for your trouble. Always measure with the spoon, sprinkle, sweep method to ensure that you won't end up with too much flour. They do have a true shortbread texture that is tender and somewhat crumbly, but should hold together for cutting and serving. I thank you kindly for noticing the error in the vanilla measurement and I have fixed the blog to read 2 teaspoons. Make sure that you are not letting them cool too long before cutting. ~Amy