A customized print-friendly version of this recipe is available by clicking the "Print Recipe" button on this page.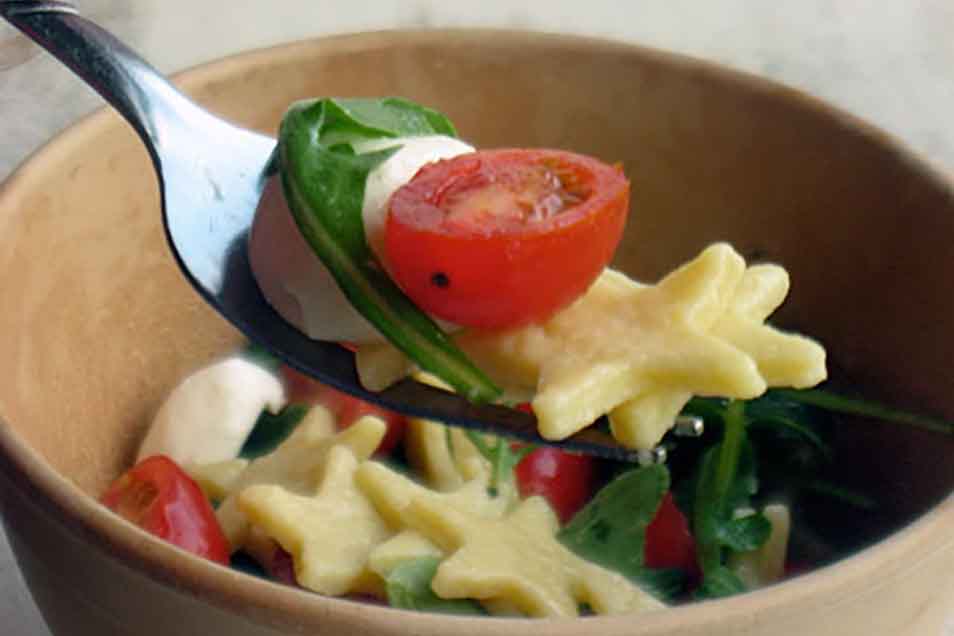 Whether you want to cut and layer these noodles in a lasagna, make a filled ravioli, or cut out fun shapes for your kids, you'll love the way this pasta cooks to al dente perfection in just under 5 minutes. Amaze yourself with the ease of throwing this dough together and making your favorite pasta creation anytime.
Instructions
Place the flour blend and xanthan gum in a food processor, bread machine, or bowl.

Add the egg yolks and egg and mix, then knead, adding only enough water to form a smooth dough.

Form the dough into a rectangle about 1" thick, wrap well, and let rest at room temperature for 30 minutes.

After 30 minutes, flour both sides of the dough. Using a rolling pin, roll the dough to the desired thickness, keeping both sides of the dough well floured. Cut it into shapes, tossing with flour to prevent sticking.

To cook the pasta: Boil 4 quarts water with 1 tablespoon salt. Add pasta and cook for 2 to 4 minutes, until the pasta is still slightly firm. Fresh pasta cooks very quickly, so keep an eye on it. Drain and toss with a bit of sauce or oil.

Yield: 4 servings.
Tips from our bakers
For thinly rolled pasta, we recommend going with the shorter cooking time. If you roll pasta more thickly, the longer time is preferred.
Reviews
I used this to make lasagna noodles with my Kitchenaid pasta attachment. I let the dough rest an hour as some recommended, but it seemed too dry and kept breaking apart even as I added olive oil and water. I was able to get to six with some ugly looking noodles. I am baking the lasagna as I type. I hope it's okay. I did do a test of some fettuccine cooked for 2 minutes, and it tasted pretty good for gf pasta.
Made it today for ravioli (messed the ravioli themselves up) and used a rolling pin. After resting, the pasta rolled out so well, it was actually stretchy like wheat pasta. Once cooked for a couple minutes (and floats to the top), the took it out tossed in tomato sauce. The texture and taste came out spot on.
First time making this, & my results were not as good as others here. I cooked it for 2 mins, but it seemed a bit mushy. DId I over cook it or under cook it?

"Mushy" sounds to us like over-cooking, Elizabeth. While 2 minutes is generally the lower end of cook time, fresh pasta does cook quite quickly, so it may be that yours was done even earlier. If we can help troubleshoot further, feel free to give us a call at 855-371-BAKE. Mollie@KAF
The pasta turned out amazing. I tossed it with fresh picked zucchini and cherry tomatoes, shrimp and butter. My non gf boyfriend even commented how good it was. We will definitely make this again. Thank you KAF!
I received a Kitchenaid Pasta maker from my husband for Christmas and was dying to try it out. This seemed simple and I had a GF Blend in my pantry. I haven't tried the King Arthur GF Blend because I cannot find it locally but I Namaste GF Blend that I purchase at Costco. Although that blend has Xanthum gum I added what this recipe called for along with a 1/2 tsp of Guar Gum. Through my GF Baking trials and errors I fill like the combo of xanthum and guar gum gives my baking the consistency I need to get things to stick together like gluten does. I ended up using 6 tbsp of water and let the dough rest for 30 min before I put it through the pasta maker. Worked like a charm! Amazing Rigatoni pasta. We had guests over who don't typically eat GF and they were amazed with the taste. I would absolutely make this again!
Perfect. I used the recipe to make lasagna noodles. I used my Kitchen Aid mixer with the pasta attachment and let the dough rest first for an hour. I was able to get down to 6 out of 10 (1 being the largest size), and it was perfect. I didn't boil the pasta before I assembled the lasagna and it really turned out just perfect. I let it all bake together for an hour and then rest for 20 minutes before cutting & serving. Don't be discouraged when you first mix all the ingredients together because the dough will be hard at first, but after you let it rest wrapped up tight in plastic wrap, it becomes the perfect consistency. I will definitely use this recipe from now on for all my pasta dishes.
This is perfect and gets us away from the store boxed slime. Thanks to one reviewer who said they were able to use their pasta machine by letting the dough rest an hour instead of 30 minutes! I did that also and just made the perfect batch with my Roma pasta maker! I was able to get this dough down to 2 on the machine.
As local celebrity GF chef's, we have had a horrible time trying to make GF pasta that really works. After reading the reviews we made ravioli and it turned out great. We have since made linguini by using a pasta machine and it also worked well. We will be making more pasta in the future using this recipe. Thanks.
I just made this recipe and used it in my pasta extruder. The consistency was good and came through the extruder perfectly. The texture of the cooked pasta is really good, not mushy at all. The flavor of the plain noodles is wonderful, not bland like most of the dried pasta. The box of flour is small and expensive, but this recipe really makes a lot of pasta with only 1-1/4 cup of flour. I made regular batch of pasta (not gluten-free) earlier in the week and I honestly think that this batch is better. I made a simple butter/herb sauce and tossed it with some boiled shrimp. YUM!
This was so good, and easy! We have tried other recipes that were not good and figured to try one more. This was great, now I can eat all those things out of reach unless its homemade like ravioli and torttelini! Thank you!