A customized print-friendly version of this recipe is available by clicking the "Print Recipe" button on this page.
Gluten-Free Pineapple Upside-Down Cake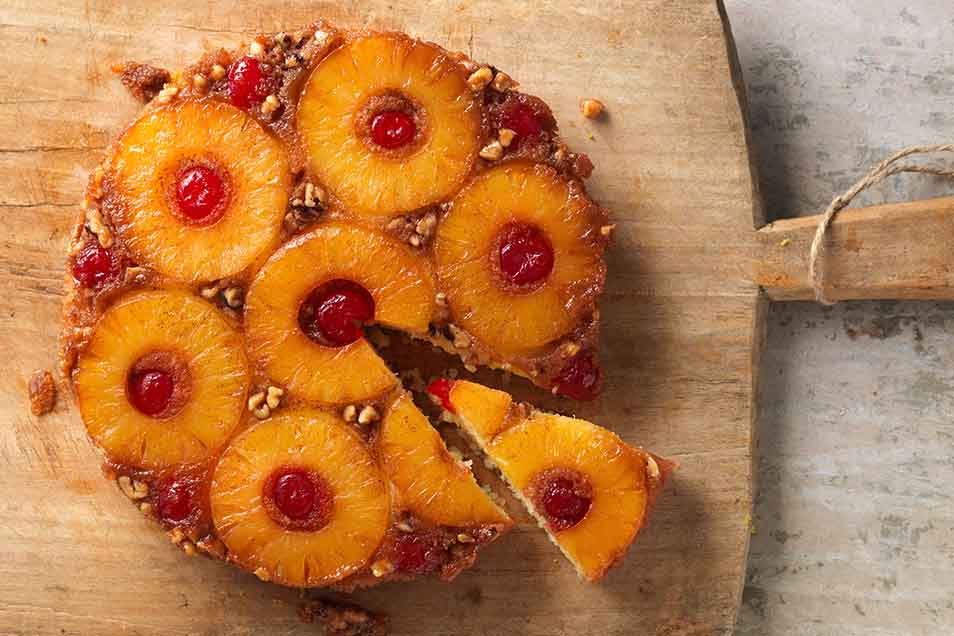 Finally, those of us on gluten-free diets can dig into this classic cake, based on our Gluten-Free Yellow Cake Mix. Its moist, flavorful topping of pineapple rings and cherries (nuts optional) has made it an American favorite since 1911, when a Dole engineer invented a machine that would slice pineapple into perfect rings. This cake is wonderfully buttery/brown sugary, and VERY tasty.
Ingredients
Topping
1/4 cup butter
1/2 cup light brown sugar, firmly packed
1/4 teaspoon ground cinnamon
1/4 teaspoon ground ginger
20-ounce can pineapple rings in juice, drained, juice saved
candied red cherries or maraschino cherries
diced pecans or walnuts, optional
Cake
2 tablespoons vegetable oil
1/2 cup soft butter
1 box King Arthur Gluten-Free Yellow Cake Mix
4 large eggs
2/3 cup pineapple juice (from the can of pineapple rings)
Instructions
Preheat the oven to 350°F. Bake this cake in either a 9" round or an 8" square cake pan; there's no need to grease the pan.

To make the topping: Melt the butter, and mix with the brown sugar, cinnamon, and ginger. Spoon the mixture into the cake pan.

Drain and save the juice from the pineapple rings. Space the rings atop the brown sugar mixture: eight pineapple rings will fit in a 9" round pan, and nine pineapple rings in an 8" square pan.

Place a cherry in the center of each pineapple ring. If you're using nuts, scatter them in any empty spaces.

Follow the box's directions for making the cake batter, but use 2/3 cup of the juice from the pineapple rings instead of the milk called for. If you don't have quite 2/3 cup of juice, use water to make up the difference.

Spoon half the batter (about 2 1/2 cups) into the pan, spreading it over the fruit to the edges. See tips, at left, for tasty suggestions on how to use the rest of the batter.

Bake the cake for 40 to 45 minutes, until it's firm on top, the edges of the crust are brown, and the internal temperature is between 210°F and 212°F.

Remove the cake from the oven, run a spatula around the edge, wait 3 minutes, then turn the pan over onto a serving plate. Wait another 30 seconds, then lift the pan off. If anything sticks to the pan, just scrape it out and spoon it back on the cake. Best served warm.

Yield: 8 to 10 servings.
Tips from our bakers
This particular recipe uses only half the batter made from our Gluten-Free Yellow Cake Mix. Use the rest to make a second layer of cake, 10 cupcakes, or even a second upside-down cake to freeze. A plain 9" round cake takes 25 to 30 minutes to bake; cupcakes, 20 to 25 minutes. If you make the second upside-down cake, you'll need to make a second batch of topping; topping amounts are for one cake.
If you make a plain layer cake or cupcakes out of the remaining batter, the pineapple flavor is very mild and would probably harmonize just fine with any frosting. Our favorites include vanilla, coconut, and citrus. You could also use more pineapple (or other tropical fruits) and coconut custard to make a Trifle.
Want to make one pineapple upside-down cake now, one at a later date? Simply use half the cake mix, and half the added ingredients called for (i.e., 1 tablespoon vegetable oil, 1/4 cup soft butter, 2 large eggs, and 1/3 cup pineapple juice). Store the remaining cake mix, tightly wrapped, for up to a couple of months or so.
Reviews
This was my first time making a gluten-free cake and I was a bit worried the texture would be off, but it was delicious and everyone loved it!
Baked this for my friend today and it was absolutely fantastic. I was just wondering if its possible to make it completely from scratch and not use the cake mix? definately going to keep this recipe for the next event. thank you!

Hi Josephine, if you'd like to try making a from-scratch version of this recipe, start with our Gluten-Free Yellow Cake recipe and divide all of the ingredients in half to make a single 9" layer cake. Then follow the recipe here to prepare the fruit topping and bake as directed. We hope it's just as delicious as this first cake you made. Happy GF baking! Kye@KAF
I LOVE this recipe! So moist and delicious. Now that summer peaches are in season, would it work to swap out peaches for the pineapple? I have small cans of pineapple juice on hand I could still use in the cake. What are your thoughts?

Hi Pam, we love baking with what's in season! You're welcome to try making a peach variation of this recipe. You'll want to use approximately 3 cups (about 5 peaches), peeled and sliced in the bottom of your cake pan. You'll still need to add 2/3 cup of juice to the cake batter, and you can use the pineapple juice you have on hand or another sweet and flavorful fruit juice. Feel free to experiment with the flavor profiles, though peach and pineapple together sound yummy to us! Kye@KAF
This was a delicious gluten free cake, Will definitely make again!
This cake was fantastic! As a person new to gluten free, I have found that I miss many traditional favorites. This recipe didn't disappoint. It is a perfect addition to my gluten free baking recipes. Even my non gluten free family members devoured the cake and requested that I bake it again.
We made this for Easter dinner in my black iron skillet and was absolutely wonderful.
Absolutely delicious! Highly recommended.
Love, love, love this recipe! Followed the recipe exactly...delicious! Made a few cup cakes with the extra batter and they were very good too!
This recipe is perfect as written. I was hesitant to add the ground ginger but it was just the right amount. The cake was moist and flavorful. We used the leftover batter and pineapple to make mini muffins filled with chopped pineapple mixed with brown sugar and cinnamon.
This is my favorite cake mix recipe. It is very easy and everyone loves it. I have had some difficulties with GF scratch cooking but this turns out wonderful every time. I do wonder how they get 8 pineapple rings in a 8 inch round pan, I could only fit 7.