A customized print-friendly version of this recipe is available by clicking the "Print Recipe" button on this page.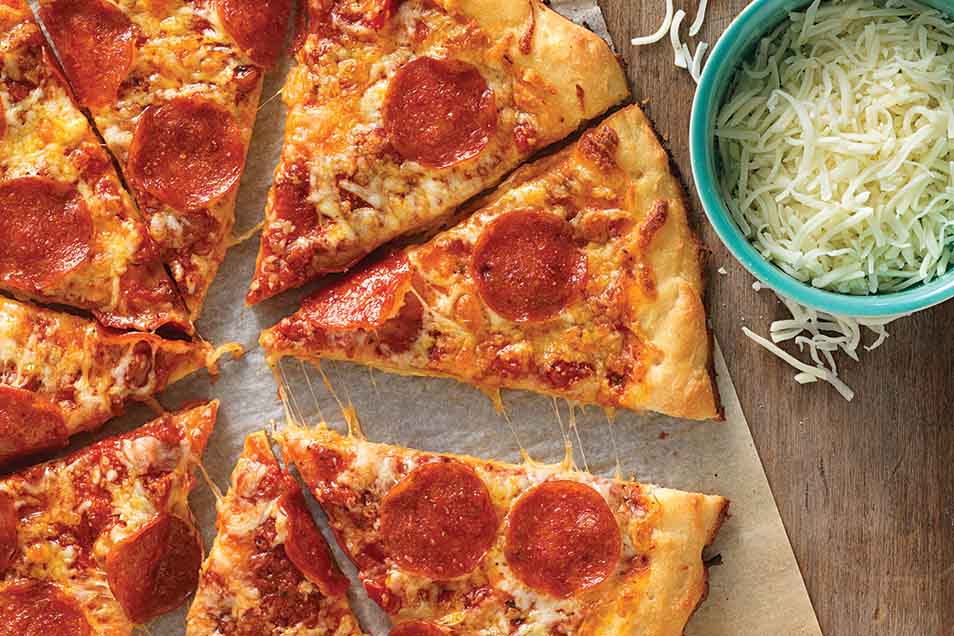 Crisp and chewy, this is a wonderful base for your favorite toppings.

Note: you must use a stand mixer or electric hand mixer to make this dough; mixing by hand doesn't do a thorough enough job.
Ingredients
1 1/2 cups King Arthur Gluten-Free Multi-Purpose Flour or brown rice flour blend*
2 tablespoons buttermilk powder or nonfat dry milk powder
1 teaspoon baking powder
3/4 teaspoon salt
1 teaspoon xanthan gum
1 1/2 teaspoons instant yeast
1 tablespoon sugar or honey (optional)
1 cup warm water
2 tablespoons olive oil (for dough)
2 tablespoons olive oil (for pan)
*See recipe for this blend below.
Instructions
Place the dry ingredients (except the yeast and sugar or honey, if you're using it) into a large mixing bowl; the bowl of your stand mixer is perfect. Mix until thoroughly blended.

Place the sugar or honey (if you're using it), warm water, olive oil, yeast, and about 1/2 cup of the dry mixture into a small bowl. Stir to combine; a few lumps are OK. Set aside for 30 minutes or so, until the mixture is bubbly and smells yeasty.

Add this mixture to the dry ingredients, and beat on medium-high speed for 4 minutes. The mixture will be thick and sticky; if you've ever applied spackling compound to a wall, that's exactly what it'll look and feel like. Note: you must use a stand mixer or electric hand mixer to make this dough; mixing by hand doesn't do a thorough enough job.

Cover the bowl, and let the dough rest for 30 minutes or so.

Preheat the oven to 425°F.

Drizzle 2 tablespoons olive oil onto the center of a baking sheet or 12" round pizza pan. Scrape the dough from the bowl onto the puddle of oil.

Using your wet fingers, start at the center of the dough and work outwards, pressing it into a 12" to 14" circle.

Let the dough rest, uncovered, for 15 minutes.

Bake the crust for 8 to 10 minutes, just until it's set; the surface will look opaque, rather than shiny.

Remove from the oven and top with whatever you like. Return to the oven to finish baking, about 10 to 15 minutes depending on the toppings you've chosen.

Remove from the oven, and serve warm.

Yield: one 12" to 14" pizza.

*Make your own blend
Many of our gluten-free recipes use our King Arthur Gluten-Free Multi-Purpose Flour, which includes ingredients that reduce the grittiness sometimes found in gluten-free baked goods. Our flour also increases the shelf life of your treats, keeping them fresh longer.

The following make-at-home blend, featuring stabilized brown rice flour, works pretty well when substituted; and it tastes better than a blend using regular brown rice flour.

Whisk together 6 cups (28 1/2 ounces) King Arthur stabilized brown rice flour; 2 cups (10 3/4 ounces) potato starch; and 1 cup (4 ounces) tapioca flour or tapioca starch. Store airtight at room temperature. Note: You can substitute white rice flour for the brown rice flour if you like; it'll make your baked goods grittier (unless you manage to find a finely ground version).
Nutrition Information
Serving Size

1/8 of recipe, no to

Servings Per Batch

8
Amount Per Serving:
Calories

152

Calories from Fat

60

Total Fat

5g

Saturated Fat

1g

Trans Fat

0g

Cholesterol

0
Sodium

284mg

Total Carbohydrate

25g

Dietary Fiber

1g

Sugars

3g

Protein

2g
* The nutrition information provided for this recipe is determined by the ESHA Genesis R&D software program. Substituting any ingredients may change the posted nutrition information.
Tips from our bakers
Thin-crust is the way to go with this recipe. Since the dough is so soft, it tends to spread and become thinner as it bakes, even if it starts out thicker.
To bake your pizza on a pizza or baking stone: Place the stone on the center rack of the oven and preheat the oven to 425°F. Drizzle 2 tablespoons olive oil onto the center of a half-sheet piece of parchment paper (about 12" x 16"). Scrape the dough from the bowl onto the oil and paper. Using wet fingers, press the dough into a 12" circle, starting at the center and working out. Let the dough rest, uncovered, for 15 minutes. Place the crust (with parchment) onto the stone, and bake it for 8 to 10 minutes, just until set. Remove it from the oven and add toppings. Return it to the oven for another 10 to 15 minutes, until the toppings are cooked to the desired doneness.
Reviews
This is the bomb!! I have made at least 8 different GF pizza recipes over the years..and thought, right, this isn't going to turn out and it did! I didn't have dried milk but had egg whites and dumped probably 2 egg whites right in with the liquid mixture. Used brown rice flour and 1/2 cup of tapioca flour. I was patient and followed recipe to a T. Also added a blend of Italian seasoning to dough which, I blended in a food processor. DEE LISH!
This tastes better than any GF pizza I've had in restaurants or tried at home. I use super fine white flour (and the suggested tapioca starch blend) which shouldn't change the recipe really. The tapioca and xanthan makes the dough chewy like regular pizza. Flavor is good and texture is great, crispy outside chewy fluffy inside. I use a cast iron pizza pan instead of a stone. Couple tricks, one make sure you use nonstick or well seasoned cast iron to bake the crust, and spread the oil well enoug to get the underside of the dough lubricated, using a really flat spatula to separate if t sticks. Two get your pizza stone, steel, or iron in the oven and crank it hottest you can get. Mine goes to 550F and takes a while so I preheat to that then put the iron in, when it begins to smoke I put the pizza itself in. The high heat gives the pizzaria texture on the crust and the cheese. You know you got it when the cheese all looks shiny and begins to get brown bits all over.
My son loves this recipe. Has anyone frozen this to bake later?

We're so glad it was a hit, Colleen! One thing you can try is to partially bake the crust for for the initial 8 to 10 minutes. It'll be enough to set it but not to give it any color. Cool, wrap, and freeze for up to a month. Annabelle@KAF
I tried this recipe with the following changes: no buttermilk powder (didn't have any) and added one tablespoon of almond meal (as another reviewer did, although I'm not sure of the purpose), plus I initially blended it in my food processor but then transferred it to my stand mixer since parts of the dough didn't seem to be getting mixed in the processor. The dough was quite messy to work with, and more labour- and time-intensive than gluten dough. About a quarter of the dough got left behind on the various surfaces (bowl, second bowl, forks, my hands). After the first round of baking, I removed the parchment from underneath (as it seemed too wet) and put it directly on my glazed pizza peel with the hope of having the crust dry up more. Through the two oven stages, it baked for a total of 25 minutes. The bottom of the crust turned out initially crispy. Generally the baked dough was pretty good -- very thin and crunchy. The top layer of the dough was just a bit soggy underneath the toppings (thin layer of sauce, mozzarella, mushrooms). The dough's flavour was barely noticeable, which is fine. It was better when eaten right out of the oven; within 15 minutes of sitting out, the bottom of the dough started getting a bit cardboard-like. Overall, this is reasonably good for a gluten-free pizza dough.
I don't know what went wrong but my flight did not return out at all! It was very dry and crumbly like when flour is cut with butter.

We're sorry to hear this crust didn't work out for you, Sam. We'd love the chance to talk through the recipe with you, so we encourage you to reach out to our free and friendly Baker's Hotline staff to help troubleshoot at 855-371-BAKE (2253). Annabelle@KAF
This was absolutely perfect. It was airy, crispy and delicious and the first gf pizza crust I love after trying many others. I was a little doubtful if I made it right because it was such a sloppy dough but gf baking is so different than glutinous baking and it was perfect. (I used my own flour blend of rice flour, oat flour, tapioca and corn starch.)
This GF pizza recipe is excellent. It reminded me of Pizza Huts' crust. Very airy and crispy. I made the dough the day before baking. At step #4, instead of resting 30 minutes, I put the dough in the frig. The next day after work I baked it on a heated pizza stone. I used a rubber scraper to spread the dough out instead of my fingers in step #7. Delicious! Thank you so much!!!
Hi, I baked this with a local gluten free flour mix we get in India, and it turned out quite nice. Only thing, my son wants it to be a bit crisper. Any tips on that?

We're glad to hear you've had success using your local ingredients, fellow baker. To get the crust crisper, we suggest baking the crust on a preheated pizza stone if possible. If you pat the crust out onto a metal baking sheet, you can still place this directly on top of the preheated stone to help it crisp up better. You can also try increasing the oven temperature by about 15°F and extending the bake time by about 5 to 8 minutes. We hope your next pizza is crispy perfection! Kye@KAF
The best g/f pizza dough recipe I've tried and easy too. I didn't spread it out quite enough but even thick it tasted great and was still light.
I've made this recipe multiple times and it always turns out super good. I've even added too much of one ingredient, I was impatient and didn't let the dough rest for as long as this calls for and it still turned out delicious. Even my non-gluten free family enjoys this crust.