A customized print-friendly version of this recipe is available by clicking the "Print Recipe" button on this page.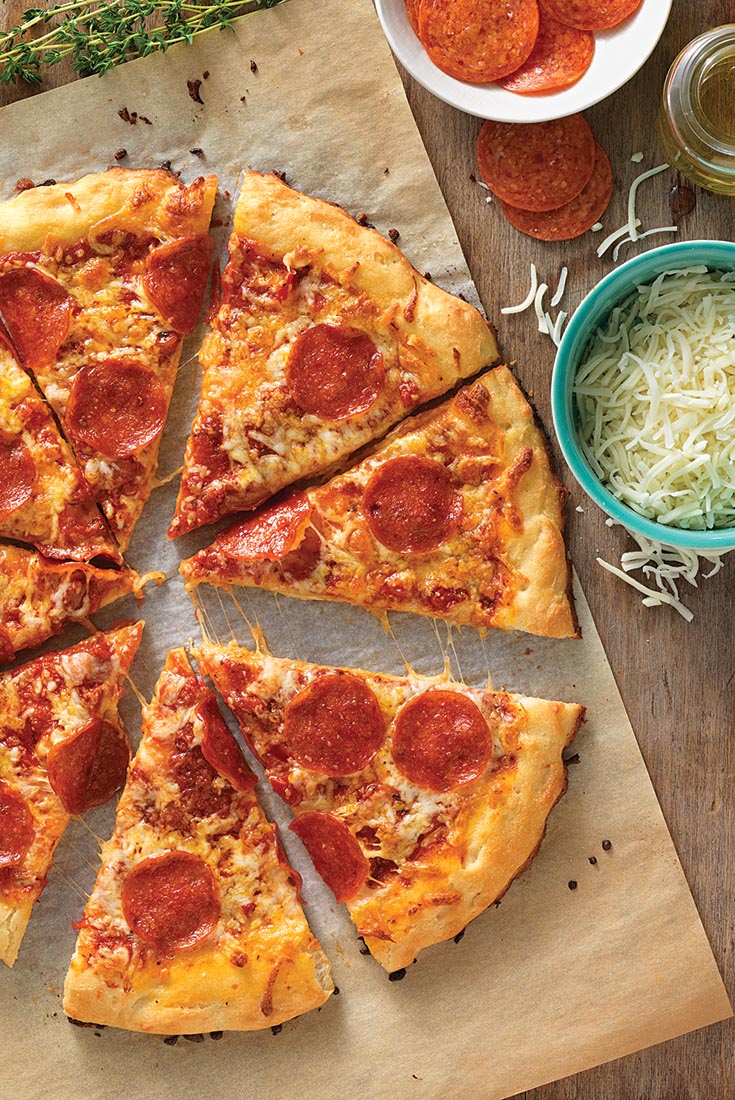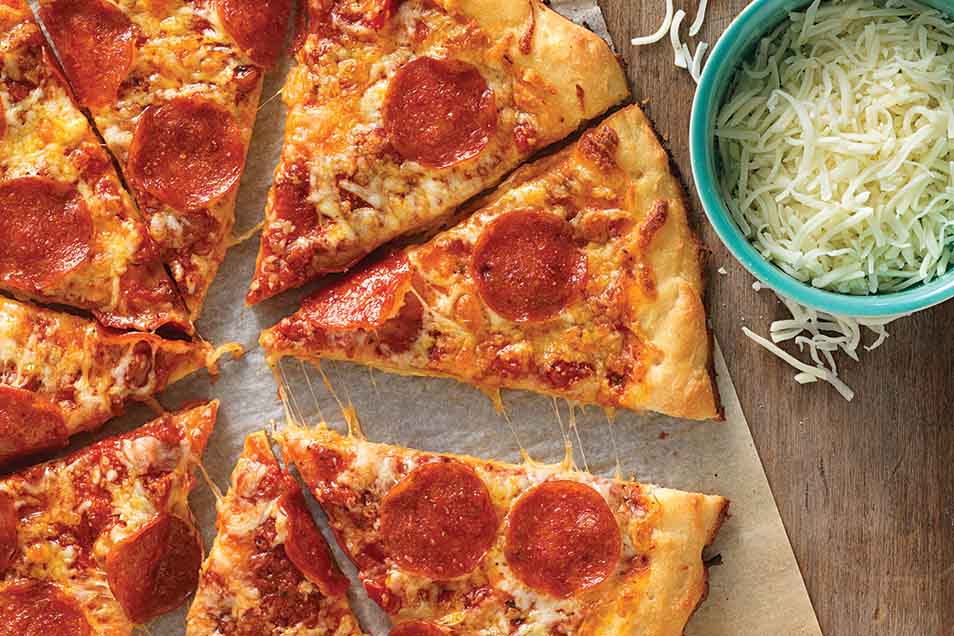 Crisp and chewy, this is a wonderful base for your favorite toppings.

Note: you must use a stand mixer or electric hand mixer to make this dough; mixing by hand doesn't do a thorough enough job.
Ingredients
1 1/2 cups King Arthur Gluten-Free Multi-Purpose Flour or brown rice flour blend*
2 tablespoons buttermilk powder or nonfat dry milk powder
1 teaspoon baking powder
3/4 teaspoon salt
1 teaspoon xanthan gum
1 1/2 teaspoons instant yeast
1 tablespoon sugar or honey (optional)
1 cup warm water
2 tablespoons olive oil (for dough)
2 tablespoons olive oil (for pan)
*See recipe for this blend below.
Instructions
Place the dry ingredients (except the yeast and sugar or honey, if you're using it) into a large mixing bowl; the bowl of your stand mixer is perfect. Mix until thoroughly blended.

Place the sugar or honey (if you're using it), warm water, olive oil, yeast, and about 1/2 cup of the dry mixture into a small bowl. Stir to combine; a few lumps are OK. Set aside for 30 minutes or so, until the mixture is bubbly and smells yeasty.

Add this mixture to the dry ingredients, and beat on medium-high speed for 4 minutes. The mixture will be thick and sticky; if you've ever applied spackling compound to a wall, that's exactly what it'll look and feel like. Note: you must use a stand mixer or electric hand mixer to make this dough; mixing by hand doesn't do a thorough enough job.

Cover the bowl, and let the dough rest for 30 minutes or so.

Preheat the oven to 425°F.

Drizzle 2 tablespoons olive oil onto the center of a baking sheet or 12" round pizza pan. Scrape the dough from the bowl onto the puddle of oil.

Using your wet fingers, start at the center of the dough and work outwards, pressing it into a 12" to 14" circle.

Let the dough rest, uncovered, for 15 minutes.

Bake the crust for 8 to 10 minutes, just until it's set; the surface will look opaque, rather than shiny.

Remove from the oven and top with whatever you like. Return to the oven to finish baking, about 10 to 15 minutes depending on the toppings you've chosen.

Remove from the oven, and serve warm.

Yield: one 12" to 14" pizza.

*Make your own blend
Many of our gluten-free recipes use our King Arthur Gluten-Free Multi-Purpose Flour, which includes ingredients that reduce the grittiness sometimes found in gluten-free baked goods. Our flour also increases the shelf life of your treats, keeping them fresh longer.

The following make-at-home blend, featuring stabilized brown rice flour, works pretty well when substituted; and it tastes better than a blend using regular brown rice flour.

Whisk together 6 cups (28 1/2 ounces) King Arthur stabilized brown rice flour; 2 cups (10 3/4 ounces) potato starch; and 1 cup (4 ounces) tapioca flour or tapioca starch. Store airtight at room temperature. Note: You can substitute white rice flour for the brown rice flour if you like; it'll make your baked goods grittier (unless you manage to find a finely ground version).
Nutrition Information
Serving Size

1/8 of recipe, no to

Servings Per Batch

8
Amount Per Serving:
Calories

152

Calories from Fat

60

Total Fat

5g

Saturated Fat

1g

Trans Fat

0g

Cholesterol

0
Sodium

284mg

Total Carbohydrate

25g

Dietary Fiber

1g

Sugars

3g

Protein

2g
* The nutrition information provided for this recipe is determined by the ESHA Genesis R&D software program. Substituting any ingredients may change the posted nutrition information.
Tips from our bakers
Thin-crust is the way to go with this recipe. Since the dough is so soft, it tends to spread and become thinner as it bakes, even if it starts out thicker.
To bake your pizza on a pizza or baking stone: Place the stone on the center rack of the oven and preheat the oven to 425°F. Drizzle 2 tablespoons olive oil onto the center of a half-sheet piece of parchment paper (about 12" x 16"). Scrape the dough from the bowl onto the oil and paper. Using wet fingers, press the dough into a 12" circle, starting at the center and working out. Let the dough rest, uncovered, for 15 minutes. Place the crust (with parchment) onto the stone, and bake it for 8 to 10 minutes, just until set. Remove it from the oven and add toppings. Return it to the oven for another 10 to 15 minutes, until the toppings are cooked to the desired doneness.
Reviews
I've made this recipe three times for husband's Cousin. He said it's the best gluten free crust he has had. I double the recipe and freeze the par baked crust for him. Thank you King Arthur for making pizza night a happy night for everyone!
I'm gluten intolerant and have been gluten free for 3 years. This is the first crust that is actually pizza!! It's what pizza crust is supposed to be crunchy but soft and doughy, and a wonderful yeasty taste. My husband laughed at me while I was eating because I was so gitty!!! It's freaking pizza!!! After 3 years!!!
I made the pizza crust 2x as I made an error the first time. I put the dough on a cold stone whereas it never got crisp and brown. The 2nd time, I reread the directions and put the stone in the hot oven then rolled the dough on parchment paper. OMG! It turned out great. I was doing the 'oh woe is me' craving for a good pizza. Well, no more of that! Thank you, thank you, thank you!
Made this for our pizza night - we invited a friend who has gluten issues....she said it was the best gluten free pizza she has ever had, including in a restaurant! Our regular pizza crew enjoyed it as much as the classic pizzas that were served. May be changing over to all gluten free pizza night next time, cause as long as I trusted the recipe and got used to the consistency it was easy to make! Thank you for a new favorite recipe.
I was pleasantly surprised by this recipe. It was relatively easy and quick to make. I cut down some of the rest time for the dough since I was in a rush but it still tasted great. I also didnt use the powdered milk since I didnt have any. Next time Ill give more rest time and see how that works
I followed the recipe perfectly...dough too soupy...was a flop.

Sorry to hear you had trouble with this recipe, Jean. It sounds like there may have been an ingredient substitution that wasn't successful or perhaps a measuring error. This dough is notably softer than traditional pizza dough, as it can't be kneaded but rather it should be patted out to fill the pan. Check out the linked article in the upper right hand part of the page to see photos of what the dough should look like when correctly prepared. We hope this helps get you back on track. Kye@KAF
I love this recipe, and I see a lot of people referencing the time it takes...it takes just as long, or longer if you were to order it. I find it gives us more family time and the kids love to help. So yes I think this is fantastic and will recommend it to people who don't have a gluten reaction because it's just that good.
I wrote a review about a month ago and I stick with my initial rating and comments that it is an excellent gluten free dough. In my earlier review I reported using a top piece of parchment to press and shape the dough. Although the first few times I made the recipe I had great success with this technique, since writing my review I made this recipe a few more times and did not have the same success with pressing the dough with a top piece of parchment. I think my dough was wetter the last few times and it stuck to the top parchment resulting in me having to scrape it off with a spatula and causing much frustration. Although my dough consistency has been slightly wetter it has made no difference with the end result, still turns out great!
Can you this in a bread machine?

Carleen, this recipe requires unique resting times as well as vigorous mixing speeds. Most bread machines don't have the capability of mixing at a speed comparable to an electric hand or stand mixer, which is what's necessary to achieve the right texture in the dough. If your machine has a gluten-free bread setting, you're welcome to give it a try, turning the machine off and on to account for the appropriate rests. Happy GF baking! Kye@KAF
I *love* this recipe and make it weekly. If you're one the fence please try it, especially if you can't have wheat. As far as bread making goes I think its a pretty quick recipe-- you're making yeasted bread from scratch, this is about as quick as it is going to get, especially for a gf recipe. There is very little active time with the prep, and I've found the exact amount of rising time forgiving. I usually double the recipe, which makes the perfect amount of dough to spread in a 12 x 17 inch sheet pan. If I'm making a single recipe I make it in a well seasoned 12 inch cast iron pan. I do the first bake and then let it cool completely and cut it into pieces to freeze, and then I bake them as bread or pizza throughout the week. This recipe is a total lifesaver for me, I love it so much. Thanks KFA!