A customized print-friendly version of this recipe is available by clicking the "Print Recipe" button on this page.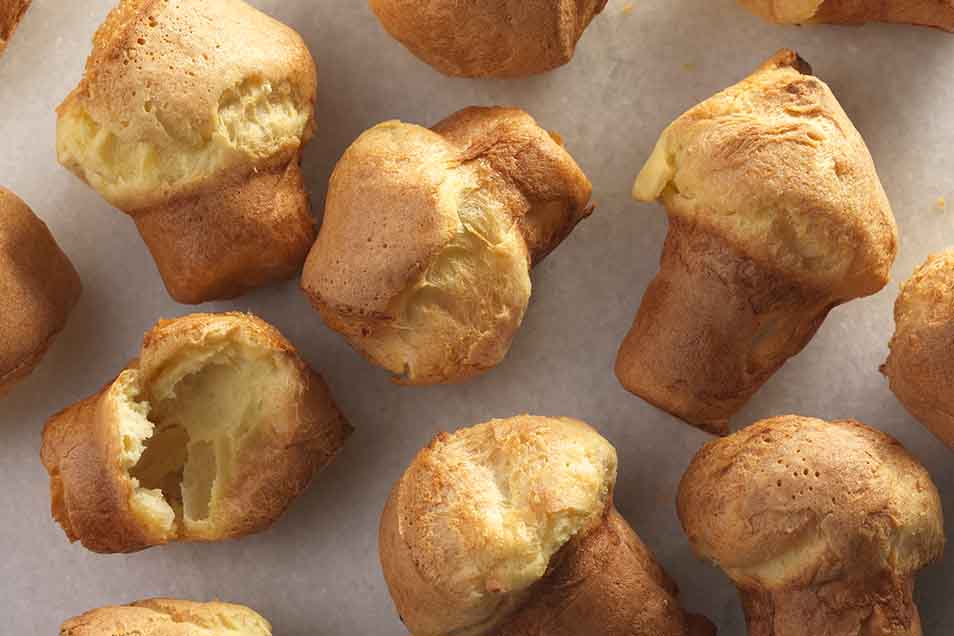 These popovers are crisp on the outside, nicely moist within. Their crowned tops leave lots of room for melting butter and jam. And these popovers are so easy, you don't even need to use a mixer.
Ingredients
1 cup King Arthur Gluten-Free Multi-Purpose Flour or brown rice flour blend*
1/4 teaspoon xanthan gum
1/2 teaspoon salt
1 1/4 cups milk, slightly warm
4 large eggs
2 tablespoons butter, melted
*See recipe for this blend below.
Instructions
Preheat the oven to 400°F. Grease a 12-cup popover pan or standard muffin pan.

Popover batter is easiest made in a blender. Blend eggs, butter, and milk on medium speed in the blender until the mixture is uniform. Whisk the flour or flour blend in a bowl with the xanthan gum and salt. Spoon or pour the dry ingredients into the blender, then blend at medium-high speed until batter is smooth. A few tiny lumps are OK, but if you have more lumps than that, keep blending till they disappear.

If you don't have a blender, whisk together the eggs, butter, and milk in a large bowl. In a separate bowl, whisk the flour or flour blend with the xanthan gum and salt, then gradually sift and whisk into the liquid ingredients until you have a smooth batter. If, despite your best efforts, there are more than a few tiny lumps, strain them out of your batter with a sieve.

Pour the batter into the prepared pan, filling each cup about 2/3 full.

Bake for 25 minutes, then reduce the oven heat to 350°F and bake for an additional 15 minutes, until the popovers are deep brown.

Remove from the oven, prick the side of each popover with a sharp knife to let the steam out, and let popovers rest for 5 minutes to finish setting. Remove from the pan, and serve immediately. Or, to keep them crisp longer, allow them to sit in the turned-off oven for 10 to 15 minutes before serving.

Yield: 12 standard (muffin-sized) popovers.

*Make your own blend
Many of our gluten-free recipes use our King Arthur Gluten-Free Multi-Purpose Flour, which includes ingredients that reduce the grittiness sometimes found in gluten-free baked goods. Our flour also increases the shelf life of your treats, keeping them fresh longer.

The following make-at-home blend, featuring stabilized brown rice flour, works pretty well when substituted; and it tastes better than a blend using regular brown rice flour.

Whisk together 6 cups (28 1/2 ounces) King Arthur stabilized brown rice flour; 2 cups (10 3/4 ounces) potato starch; and 1 cup (4 ounces) tapioca flour or tapioca starch. Store airtight at room temperature. Note: You can substitute white rice flour for the brown rice flour if you like; it'll make your baked goods grittier (unless you manage to find a finely ground version).
Nutrition Information
Serving Size

1 popover, 56g

Servings Per Batch

12
Amount Per Serving:
Calories

103

Calories from Fat

23

Total Fat

5g

Saturated Fat

3g

Trans Fat

0g

Cholesterol

79mg
Sodium

84g

Total Carbohydrate

11g

Dietary Fiber

0g

Sugars

1g

Protein

4g
* The nutrition information provided for this recipe is determined by the ESHA Genesis R&D software program. Substituting any ingredients may change the posted nutrition information.
Tips from our bakers
Gluten-free starches and flours tend to lump fairly easily. In recipes like popovers, with lots of liquid, this can be a challenge. Unlike pancakes, where small lumps disappear as the pancake cooks, these lumps can weigh popovers down. That's why a blender is so useful here. A blender works really well for regular all-purpose flour popovers, too, making their preparation a snap.
Note: For a dairy-free version of these popovers, substitute margarine for the butter; and soy milk, almond milk, or rice milk for the milk called for in the recipe. The popovers won't "pop;" they'll look like flat muffins. But they'll still taste good
For extra-light, crisp popovers, substitute 1/4 cup potato starch, tapioca starch, or cornstarch for 1/4 cup of the gluten-free flour.
For flavored popovers, whisk 1 teaspoon dry mustard and 1 teaspoon curry powder into the dry ingredients; and 1 tablespoon Sriracha sauce into the egg/milk.
Reviews
I made this recipe, but with the replacement of cornstarch. The batter turned into a dough quickly. I added some more milk to thin it enough to spoon into my popover tin. They turned out great, but the dough seemed so weird and unexpected. It seemed to be from the cornstartch, as I've made this recipe as l's before. Is this normal? I didn't expect it to be so gloopy.

Ali, it sounds like the corn starch just solidified the batter before going oven, which is nothing to be alarmed by, so long as the finished popovers were still delicious. Annabelle@KAF
Baked these as suggested with the optional reduction of flour & addition of tapioca starch. Would like to know the difference between tapioca starch vs potato starch. Would also like suggestions to reduce the eggy taste - my eggs were listed as "large" eggs from the store - measured about 370 grams total. Do you think by removing one yolk from the 4 eggs would make it less of a heavy eggy taste? Is there a way to reheat as if they just came out of te oven? Fresh out of the oven has the BEST taste!

Hi Lisa! In general, tapioca starch is used to gelatinize things and potato starch is used to add structure to baked goods. And as far as eggy-ness, we think leaving out one yolk will be just fine and should lower that flavor. Annabelle@KAF
These look great but the only problem was inside. It puffed up nicely and was hallow but the inside looked more like undercooked dough. I still ate it and it tasted good but wondering about the texture. Also, I use king Arthur flour gluten free that has xanthum, do I still need to add more xanthum that is listed in the recipe?

Hi, Spradling. Popovers usually have a very soft, moist, eggy interior. It certainly shouldn't be batter-like or taste raw, so if that was the case, they probably just needed another few minutes in the oven. You mentioned that you used what sounds like our Gluten-Free Measure For Measure Flour in this recipe. That flour is designed to take the place of all-purpose flour in regular recipes. You may have better results using the Gluten-Free All-Purpose Flour and xanthan gum that the recipe is calling for, or, use the Measure for Measure flour in our regular Popovers recipe. Annabelle@KAF
so I have made this a few times and they are great! Today I decided to experiment, I bake mine in a muffin pan and don't get much rise, so I decided to add 1/4 teaspoon of Psyllium Husk Powder to the dry ingredients and a teaspoon of Dijon mustard to the wet ingredients. Boy what a difference! They had doubled in height and are super moist with only a hint of mustard flavor if any. I baked this batch as directed I hope you try these modifications
I have an allergy to wheat and never thought I could have popovers again, so I had a lot of hope riding on this recipe. And hooray! Great popovers! The first three times I made them I used KAF make-your-own gluten free flour recipe and the results were superb. I used my regular popover tin and the recipe made six exceptional popovers. I also used a mini-muffin tin and it made 24 exceptional, mini-popovers. Yesterday I used KAF gluten free flour and again six glorious, puffy, crispy, popovers. Thanks for the great recipe!
I didn't think it was possible that I would ever have a good popover again. But, I made these this morning and they are wonderful. I did substitute 1/4 cup corn flour. I did use KA flour and fledged it before using. I did not leave popovers in for an extra ten. They were fine the way they were. I did put 1/4 tsp cultured/salted butter into each muffin tin and preheat the tins for about 2 minutes. I still had trouble removing the popovers. They really clung to the pan. However, that was my only issue and the Dog is happy to help me clean the pans. Next time I'll be more careful in prepping the pan
I have made this twice both times were bad they did not puff they are heavy Iand the Middle was not done will not try again Melanie Lathim Cedar City Utah

Sorry to hear about your popover trouble, Melanie. There's a number of things that can go wrong when making popovers, especially when making them gluten-free. It's important to ensure you're using King Arthur Gluten-Free Flour (as opposed to the Gluten-Free Baking Mix or another blend), and also key to mix the ingredients in a blender at high speed to incorporate some air. (This will ensure a light texture.) Make sure your oven is super hot before trying to bake your popovers, as this is what will give them oven spring. We hope these tips improve the results of your next batch. Kye@KAF
These are delicious. I have had Celiac for twenty years. So, I haven't really found a 'breakfast' bread that I really like. This is it. They are chewy and delicious.
I love this recipe, and have made three times using my own blend, which has a lot of whole grain flours mixed (brown rice, millet, quinoa, oat, sourghum) and about 25% starch. I used the potato starch substitution, and added 1/2 tsp. baking powder because my last batch rose perfectly, then collapsed a bit. I don't know if this will make any difference. Last time I substituted buttermilk to milk with good results, and this time 1/2 and 1/2. I typically don't keep regular milk as I m lactose intolerant.
Wanted this to work, but very heavy and cakey in the middle. Could not even eat a whole one. But, I would welcome a suggestion as I am very willing to try again to get the hollow middle and light texture. Any ideas?

A few possibilities come to mind, Linda. For one thing, different gluten-free blends tend to perform quite differently, so using a blend other than our Gluten-Free Multi-Purpose Flour (or the make at home version mentioned in the recipe) could result in less than optimal results. Flour measurement too can make a difference. Too much flour can result in dense, heavy baked goods that fail to fully rise. For best results, we recommend measuring your flour (and other ingredients) by weight. If measuring by volume, you'll want to fluff the flour up in its container, sprinkle it into the measuring cup, and level it off in order to get the relatively light cup of flour our recipes intend. Lastly, a very hot oven is key to getting popovers to pop. Many ovens report being preheated before they're fully heated all the way through, so if you haven't already, we'd suggest using an independent oven thermometer to check your oven temperature before trying your next batch. Hope this all helps to make for a happier next bake! Mollie@KAF