A customized print-friendly version of this recipe is available by clicking the "Print Recipe" button on this page.
Gluten-Free Sandwich Bread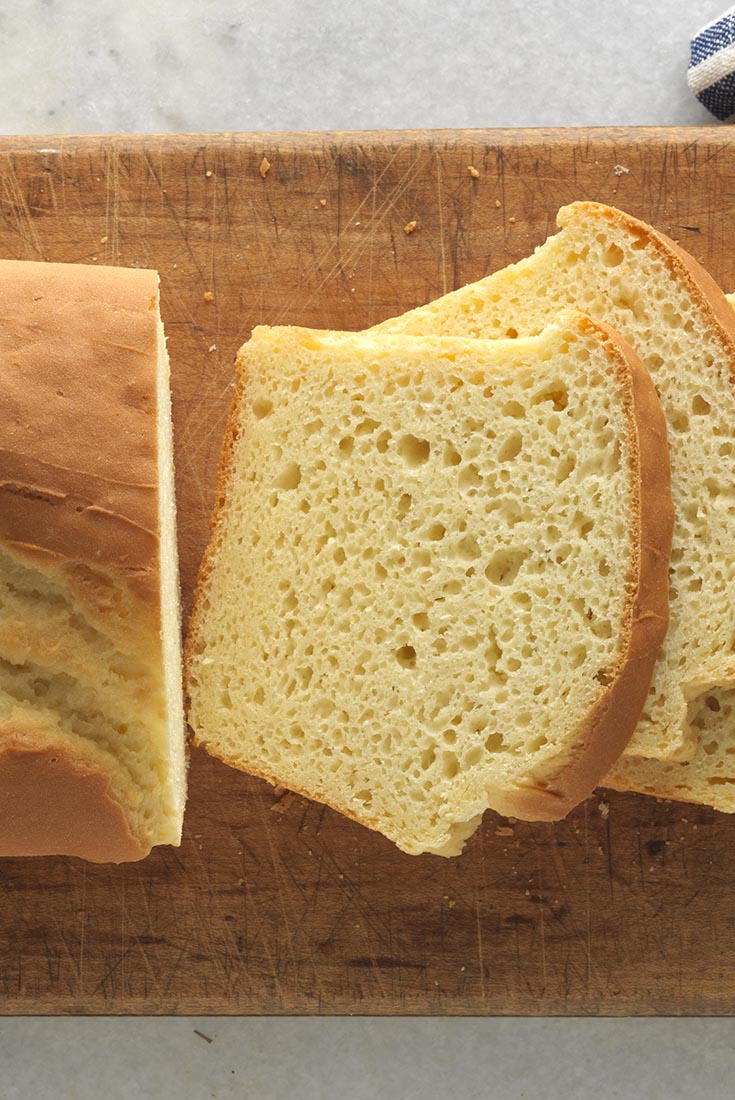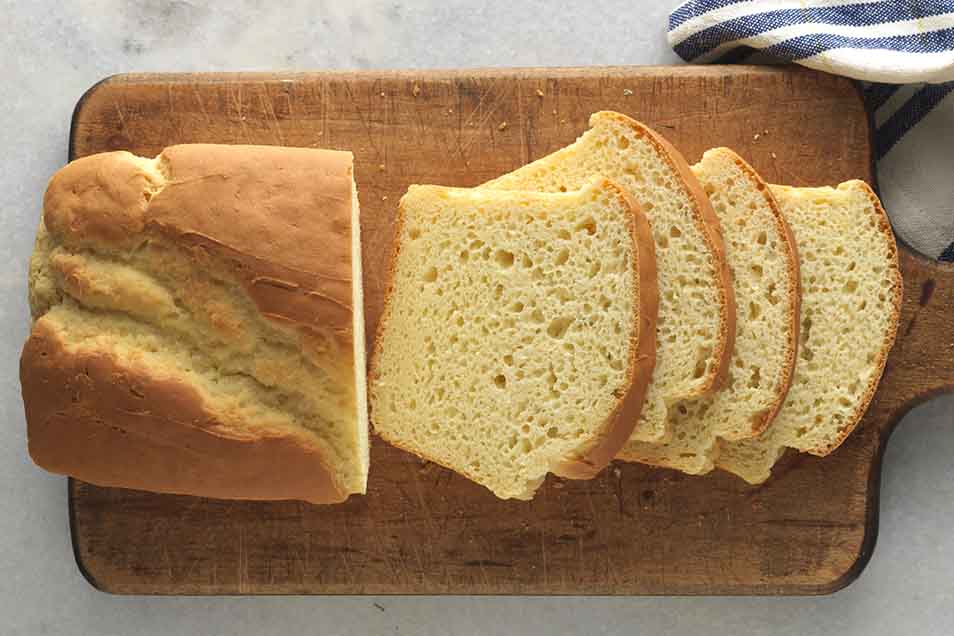 And you thought you'd never enjoy your favorite sandwiches again! This recipe yields a tender, tasty, high-rising loaf, perfect for classic ham and cheese, a PB&J, or a BLT club. Toast and spread with butter and jam for breakfast, turn into French toast, or make a luscious grilled cheese sandwich.
Ingredients
3 cups King Arthur Gluten-Free Flour
3 tablespoons sugar
2 teaspoons instant yeast
1 1/4 teaspoons salt
1 1/4 teaspoons xanthan gum
1 cup warm milk
4 tablespoons soft butter
3 large eggs
*See recipe for this blend below.
Instructions
Place the flour, sugar, yeast, salt, and xanthan gum in a bowl, or the bowl of your stand mixer. Mix till combined.

Using an electric mixer (hand mixer, or stand), drizzle in the milk, beating all the time; the mixture will be crumbly at first, but once all the milk is added, it'll come together.

Add the butter and beat until thoroughly blended.

Beat in the eggs one at a time, beating each in thoroughly before adding the next. Scrape the bottom and sides of the bowl, then beat at high speed for 3 minutes, to make a very smooth, thick batter.

Cover the bowl, and let the thick batter rise for 1 hour.

Scrape down the bottom and sides of the bowl, gently deflating the batter in the process.

Grease an 8 1/2" by 4 1/2" loaf pan, or a 9" x 4" x 4" pain de mie pan.

Scoop the dough into the pan. Press it level, using a spatula or your wet fingers.

Cover with greased plastic wrap, and set in a warm place to rise until the loaf barely crowns above the rim of the 8 1/2" x 4 1/2" pan; or until it comes to within about an inch of the rim of the 9" pain de mie pan. This should take about 45 to 60 minutes. Towards the end of the rising time, preheat the oven to 350°F.

Bake the bread for 38 to 42 minutes, until golden brown. If you're using a pain de mie pan, leave the lid on the entire time. Remove the bread from the oven, turn it out of the pan, and cool on a rack.
Nutrition Information
Serving Size

1 slice, 58g

Servings Per Batch

16
Amount Per Serving:
Calories

154

Calories from Fat

38

Total Fat

4g

Saturated Fat

2g

Trans Fat

0g

Cholesterol

48mg
Sodium

204mg

Total Carbohydrate

26g

Dietary Fiber

1g

Sugars

3g

Protein

3g
* The nutrition information provided for this recipe is determined by the ESHA Genesis R&D software program. Substituting any ingredients may change the posted nutrition information.
Tips from our bakers
Dairy-free: Substitute margarine for the butter; and soy milk, almond milk, or rice milk for the milk called for in the recipe. Results may vary from the original.
Egg-free: Using flax in place of the eggs works well. To replace the 3 eggs called for, use ¼ cup plus 2 tablespoons (1 1/2 ounces) flax meal (the more finely ground the better), blended with ½ cup plus 1 tablespoon water. Let the mixture sit for 10 minutes to thicken before beating into the butter in the bowl. 1 egg recipe: 2 tablespoons (1/2 ounce) flax meal (the more finely ground the better) blended with 3 tablespoons water. Let it sit for 10 minutes to thicken before using.
Bread machine: Use an additional 1 large egg and 1 ounce (3 tablespoons) gluten-free flour. For best results, use a bread machine that has a pre-programmed gluten-free setting.
Cinnamon apple: Stir 1 cup chopped apples (peeled or unpeeled) into the batter after its first rise. Scoop the dough into the prepared pan, and sprinkle it with a mixture of 2 tablespoons granulated sugar and 1 teaspoon ground cinnamon. Swirl the cinnamon-sugar into the dough with a butter knife; add an additional sprinkling of cinnamon-sugar on top, if you'd like. Let rise and bake as directed.
Cheese bread: Reduce the sugar in the recipe to 1 tablespoon; and stirring 1 cup (4 ounces) shredded sharp Cheddar cheese into the dough just before scooping it into the loaf pan.
Sourdough bread: Replace 1 cup of the flour and 1/2 cup of the milk with 1 cup ripe (fed) gluten-free sourdough starter. Reduce the instant yeast to 1 teaspoon, and budget for a longer rise in the pan (about 90 minutes). Bake as directed.
If you have a 9"x4"x4" pain de mie pan, this is a great place to use it. It'll bake a taller loaf than a standard loaf pan. Bake with the lid on, or off; baking with the lid off will give you a slightly more crowned loaf; leaving the lid on will give you a slightly closer-grained loaf. If you use the lid, bake the bread for 50 minutes, with the lid on the whole time. Remove it from the oven, remove the lid, and turn it out of the pan onto a rack to cool.
Like a baguette, this bread has a short shelf life. For best texture, reheat or toast after the first day.
Reviews
if I ues the psyllium husk to replace the xanthan gum, how much should I use the psyllium husk? Thanks!

We haven't tested this recipe using psyllium husk, so we're not able to recommend a specific amount to use. If you're willing to experiment, you can try starting with about 2x the amount of psyllium husk (2 1/2 to 3 teaspoons should be a good place to start). Most recipes that use psyllium husk as a binder use about 1 teaspoon of psyllium husk per cup of flour. Feel free to use this ratio as a place to begin your baking. We wish you good luck and hope you'll share the results with us! Kye@KAF
I am trying a gluten free bread for the first time. We don't get KAF Gluten free flour where I live. Also, I have no way of getting potato starch and Xanthun gum. Can you please suggest alternates for both?

Unforunately, these ingredients are considered essential for this recipe. There some other ingredients that bakers use to bind gluten-free baked goods instead of xanthan gum (like agar agar and guar gum) but we haven't tested this recipe using those ingredients so we don't have quantities or specific recommendations to try. If you'd like to reach out to our friendly Baker's Hotline (via phone, email, or chat) to let us know what ingredients are available to you, we can offer our best advice, knowing that you'll be experimenting a bit. Search for "Baker's Hotine" in the box above to see the best way to connect with us. We hope to help you further. Kye@KAF
I recently found out that I can no longer eat wheat, cow dairy, and corn so I have been finding recipes that my husband and I can enjoy (he is doing it with me). I made this bread yesterday in my bread machine. It is delicious. I did add an extra egg as mentioned in the tips below the recipe and also added 1t organic apple cider vinegar for a little more acid for the yeast. It was a beautiful brown color and had a great crust. Great for sandwiches, French toast, the sky is the limit. I am so glad I made this and tonight I am going to make it again (the 1st loaf keeps mysteriously getting smaller and smaller).
I made this bread the other day, and it was great! I do think that it is a little sweet with the given amount of sugar, so I will probably add less next time. The sponginess is great especially because I like to eat the warm bread with some butter on it! I would definitely say that when you leave it to rise, put it in a warm place! My kitchen is air conditioned, and I left it on the counter. It took a looong time to rise (but that was my fault). I will definitely be making this again.
My son has to eat gluten free for several weeks and we tried every store brand gluten free bread and he hated every one of them. So I looked up and made this recipe. It was the softest homemade bread I've ever made. It is also very delicious! My other kids loved it too and didn't know it wasn't was gluten free. I made three loaves in two days because everyone keeps eating it.
This bread is easy to make, tastes delicious, and as a bonus, is loaded with protein. Can't recommend it highly enough.
I wish I could give more stars than 3, but I think the biggest flaw with this recipe is it mentions using substitutes at all. None of the stores in my area sell King Arthur flour, so I used Bob's like some of the other folks who left reviews. I also used flax instead of egg, I was out of eggs and bake with flax at least once a week. First, I followed instructions for mixing and letting it rise. I do not suggest a hand mixer, the batter is too thick, better off kneading it by hand. It smelled amazing baking. Unfortunately, it's too small for making sandwiches with lunch meat. It looks nothing like the one in your picture. It's about half the height. I also had to cook it longer than recommend, but it's still very dense and doughy. And the taste is not the greatest, it has a strong flour taste. I guess I will need to order the Kings flour and try the recipe again that way. It's not the first time I've baked bread or even gluten free bread, but the first gluten free sandwich bread I've tried. I will continue my quest for a good gluten free sandwich bread recipe.

We'd love the chance to talk through the recipe with you, Ashlie, so we encourage you to reach out to our free and friendly Baker's Hotline staff to help troubleshoot at 855-371-BAKE (2253). Because there are so many factors that contribute to successful gluten-free loaves, it would help to get some details so we can come up with a meaningful solution. Kindly, Annabelle@KAF
I've made this recipe several times now. For the last one, I substituted 0.5 c of cornmeal and 0.25 c of buckwheat flour for part of the GF flour mix. Also reduced the sugar to 2 TBSP and added a generous TBSP of dried rosemary. The results were awesome! My favorite version so far.
I am trying to eat a little less bread these days but I still like a real sandwich for lunch so I looked for an easy gluten free bread recipe. Thank you King Arthur Flour this one - easy and delicious. I followed the directions exactly. I live in the high desert and often have a hard time getting bread to rise. Using regular yeast and some desert heat this bread rose well. Don't be afraid of the funny smell when you first mix the dough, the yeast smell takes over. (Sorry King Arthur - my local store didn't have your flour so I used Bob's Red Mill Gluten Free All Purpose Flour. I'll be on the lookout for King Arthur for my next batch. Maybe there will be no funny smell!) The bread tastes eggy and is a little sweet. I might reduce the sugar just a little when I make it again. I bet it makes great French Toast. Thanks again!