A customized print-friendly version of this recipe is available by clicking the "Print Recipe" button on this page.
Gluten-Free Sandwich Bread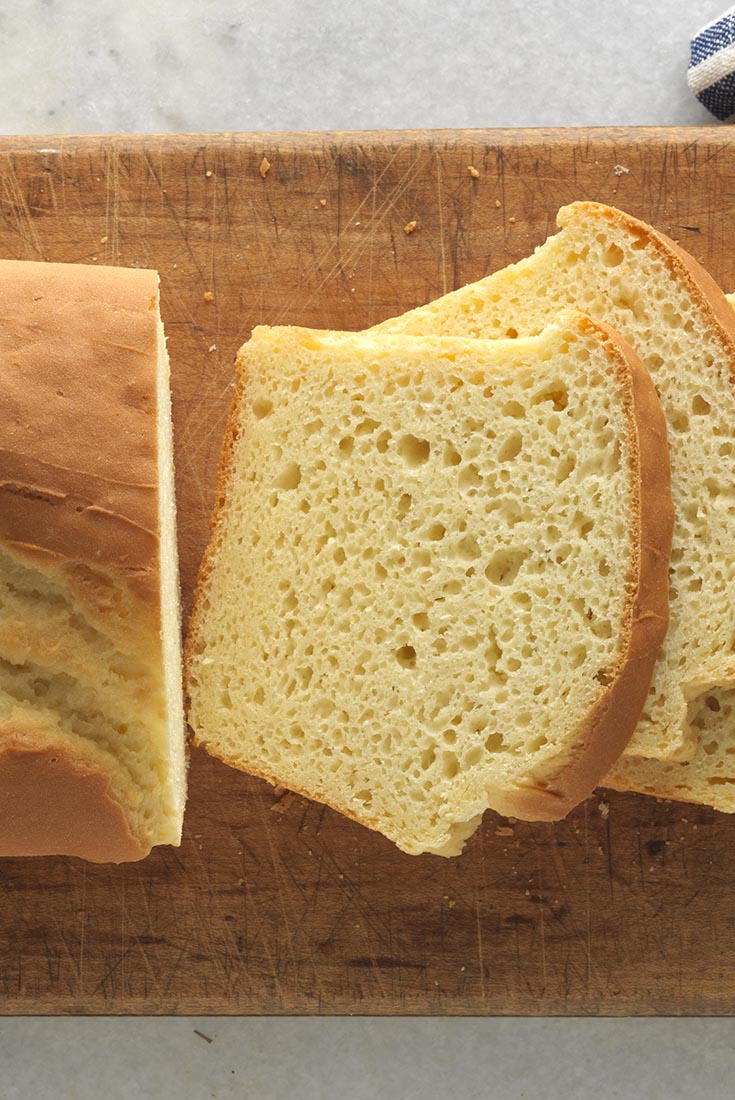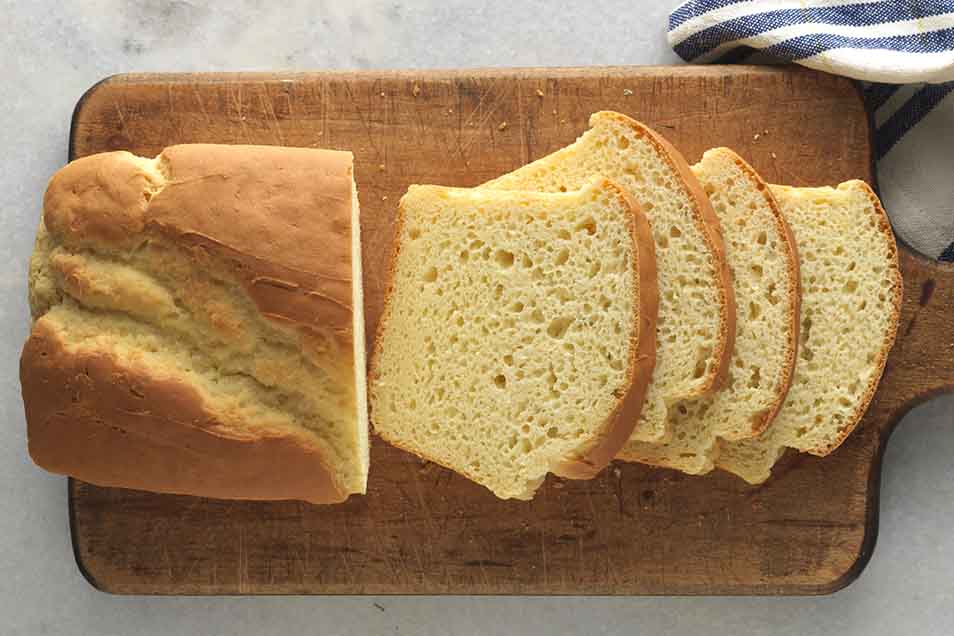 And you thought you'd never enjoy your favorite sandwiches again! This recipe yields a tender, tasty, high-rising loaf, perfect for classic ham and cheese, a PB&J, or a BLT club. Toast and spread with butter and jam for breakfast, turn into French toast, or make a luscious grilled cheese sandwich.
Instructions
Place the flour or flour blend, sugar, yeast, salt, and xanthan gum in a bowl, or the bowl of your stand mixer. Mix till combined.

Using an electric mixer (hand mixer, or stand), drizzle in the milk, beating all the time; the mixture will be crumbly at first, but once all the milk is added, it'll come together.

Add the butter and beat until thoroughly blended.

Beat in the eggs one at a time, beating each in thoroughly before adding the next. Scrape the bottom and sides of the bowl, then beat at high speed for 3 minutes, to make a very smooth, thick batter.

Cover the bowl, and let the thick batter rise for 1 hour.

Scrape down the bottom and sides of the bowl, gently deflating the batter in the process.

Grease an 8 1/2" by 4 1/2" loaf pan, or a 9" x 4" x 4" pain de mie pan.

Scoop the dough into the pan. Press it level, using a spatula or your wet fingers.

Cover with greased plastic wrap, and set in a warm place to rise until the loaf barely crowns above the rim of the 8 1/2" x 4 1/2" pan; or till it comes to within about an inch of the rim of the 9" pain de mie pan. This should take about 45 to 60 minutes. Towards the end of the rising time, preheat the oven to 350°F.

Bake the bread for 38 to 42 minutes, until golden brown. If you're using a pain de mie pan, leave the lid on the entire time. Remove the bread from the oven, turn it out of the pan, and cool on a rack.
Nutrition Information
Serving Size

1 slice, 58g

Servings Per Batch

16
Amount Per Serving:
Calories

154

Calories from Fat

38

Total Fat

4g

Saturated Fat

2g

Trans Fat

0g

Cholesterol

48mg
Sodium

204mg

Total Carbohydrate

26g

Dietary Fiber

1g

Sugars

3g

Protein

3g
* The nutrition information provided for this recipe is determined by the ESHA Genesis R&D software program. Substituting any ingredients may change the posted nutrition information.
Tips from our bakers
Like a baguette, this bread has a short shelf life. For best texture, reheat or toast after the first day.
Make your own blend: Many of our gluten-free recipes use our King Arthur Gluten-Free Multi-Purpose Flour, which includes ingredients that reduce the grittiness sometimes found in gluten-free baked goods. Our flour also increases the shelf life of your treats, keeping them fresh longer. The following make-at-home blend, featuring stabilized brown rice flour, works pretty well when substituted; and it tastes better than a blend using regular brown rice flour.
Whisk together 6 cups (32 ounces) King Arthur stabilized brown rice flour; 2 cups (10 3/4 ounces) potato starch; and 1 cup (4 ounces) tapioca flour or tapioca starch. Store airtight at room temperature. Note: You can substitute white rice flour for the brown rice flour if you like; it'll make your baked goods grittier (unless you manage to find a finely ground version).
Dairy-free: substitute margarine for the butter; and soy milk, almond milk, or rice milk for the milk called for in the recipe. Results may vary from the original.
Egg-free: using flax in place of the eggs works well. To replace the 3 eggs called for, use ¼ cup plus 2 tablespoons (1 1/2 ounces) flax meal (the more finely ground the better), blended with ½ cup plus 1 tablespoon water. Let the mixture sit for 10 minutes to thicken before beating into the butter in the bowl. 1 egg recipe: 2 tablespoons (1/2 ounce) flax meal (the more finely ground the better) blended with 3 tablespoons water. Let it sit for 10 minutes to thicken before using.
Bread machine: use an additional 1 large egg and 1 ounce (3 tablespoons) gluten-free flour. For best results, use a bread machine that has a pre-programmed gluten-free setting.
Cinnamon apple: Stir 1 cup chopped apples (peeled or unpeeled) into the batter after its first rise. Scoop the dough into the prepared pan, and sprinkle it with a mixture of 2 tablespoons granulated sugar and 1 teaspoon ground cinnamon. Swirl the cinnamon-sugar into the dough with a butter knife; add an additional sprinkling of cinnamon-sugar on top, if you'd like. Let rise and bake as directed.
Cheese bread: Reduce the sugar in the recipe to 1 tablespoon; and stirring 1 cup (4 ounces) shredded sharp Cheddar cheese into the dough just before scooping it into the loaf pan.
If you have a 9"x4"x4" pain de mie pan, this is a great place to use it. It'll bake a taller loaf than a standard loaf pan. Bake with the lid on, or off; baking with the lid off will give you a slightly more crowned loaf; leaving the lid on will give you a slightly closer-grained loaf. If you use the lid, bake the bread for 50 minutes, with the lid on the whole time. Remove it from the oven, remove the lid, and turn it out of the pan onto a rack to cool.
Reviews
I am trying to eat a little less bread these days but I still like a real sandwich for lunch so I looked for an easy gluten free bread recipe. Thank you King Arthur Flour this one - easy and delicious. I followed the directions exactly. I live in the high desert and often have a hard time getting bread to rise. Using regular yeast and some desert heat this bread rose well. Don't be afraid of the funny smell when you first mix the dough, the yeast smell takes over. (Sorry King Arthur - my local store didn't have your flour so I used Bob's Red Mill Gluten Free All Purpose Flour. I'll be on the lookout for King Arthur for my next batch. Maybe there will be no funny smell!) The bread tastes eggy and is a little sweet. I might reduce the sugar just a little when I make it again. I bet it makes great French Toast. Thanks again!
I made this bread yesterday, and found it to be delicious. I followed the instructions on rising times and it turned out as expected. Tastes much better than the GF brand I bought at Walmart. However, I have a couple questions....Can I substitute butter flavored Crisco for butter, and can I cut back on the eggs? Three eggs seems a bit rich for one loaf. Next loaf I plan to cut back the sugar also.

Feel free to swap out the butter for Crisco, Nanette, that's no problem. We probably wouldn't recommend removing eggs because they're so vital to the structure of this bread. If you'd like to lessen the richness, you could do two whole eggs and one egg white. That way you'll still get the structural benefits. Annabelle@KAF
Using the mix at home flour blend, using Authentic Foods rice flours. I have baked this recipe three times. The first time I followed the recipe exactly and it was dry and tended to crumble easily. Adding an additional 50g of milk yielded the desired texture and a delicious loaf of bread. I use a scale to measure all of my ingredients. In the past I have also made bread from the gluten free bread in five minutes a day website and also found that with the Authentic foods rice flour I need to add a little bit more liquid to achieve the desired results.
This was so much fun. I made some substitutions though which made it even more fun! I did chocolate almond milk instead of milk, a quarter cup of mixed seeds to replace one of the eggs, a tablespoon of baking soda and a tablesooon of balsamic vinegar to replace the yeast, avocado oil instead of butter and a bit of turmeric powder just to add to the mix. It came out fluffy and yummy!
This bread is moist and very tasty. It has a great texture and holds together well. I followed the recipe as written.
Im not sure i did wrong i even bake it on pain de mie i was fully rise before i did transfer to the baking dish next thing i know come out grainy and stale i was so dissapoint it at me because i love king arthur all recipes gluten free i think i need to do it again and see what i did wrong

We're so sorry to hear this recipe didn't turn out, Vernice, and thank you for reaching out! We'd love the chance to talk through the recipe with you, so we encourage you to reach out to our free and friendly Baker's Hotline staff to help troubleshoot at 855-371-BAKE (2253). Kindly, Annabelle@KAF
If I buy King Arthur gluten free flour to make bread why would yeast be added in the recipe?

Hi there, Beverly. None of our flours include yeast, so any bread recipe will require yeast to be added along with the other ingredients. We do make a Gluten-Free Bread and Pizza mix you may be interested in which includes a yeast packet in the box. This can be found in the Shop section of our website or in select grocery stores across the country. Feel free to call our friendly Customer Service team at 800-827-6836 if you'd like assistance finding this mix in your area. Kindly, Annabelle@KAF
Can I use regular yeast in this recipe? I make most of my regular bread. Thanks.

Certainly, Emma. Active dry yeast and instant yeast are always interchangeable, active dry just takes a little longer to rise. Annabelle@KAF
I have a hard time finding breads I like, and the taste of this is really great. however I have 1 constant problem, in that the bottoms and sides of the loaf are always undercooked. No matter how I cook it, or for how long, it turns out this way, and even toasting it doesn't help much. I end up eating half of what I make, and my husband will sometimes eat the other part. I have tried everything I can think of with no success. :( Great recipe otherwise

We're sorry to hear about your struggle, Amanda. Our free and friendly Baker's Hotline will be able to put their heads together and come up with some ideas for you at 855-371-BAKE (2253). We'll figure it out! Annabelle@KAF
I am a novice in both baking bread and gluten free living. Followed recipe and WOW this came out perfect and delicious! My only stumbling block was " stir the batter down ". Went to another site for that. Thank you ... I am a bread eater and will make this often.