A customized print-friendly version of this recipe is available by clicking the "Print Recipe" button on this page.
Gluten-Free Sandwich Bread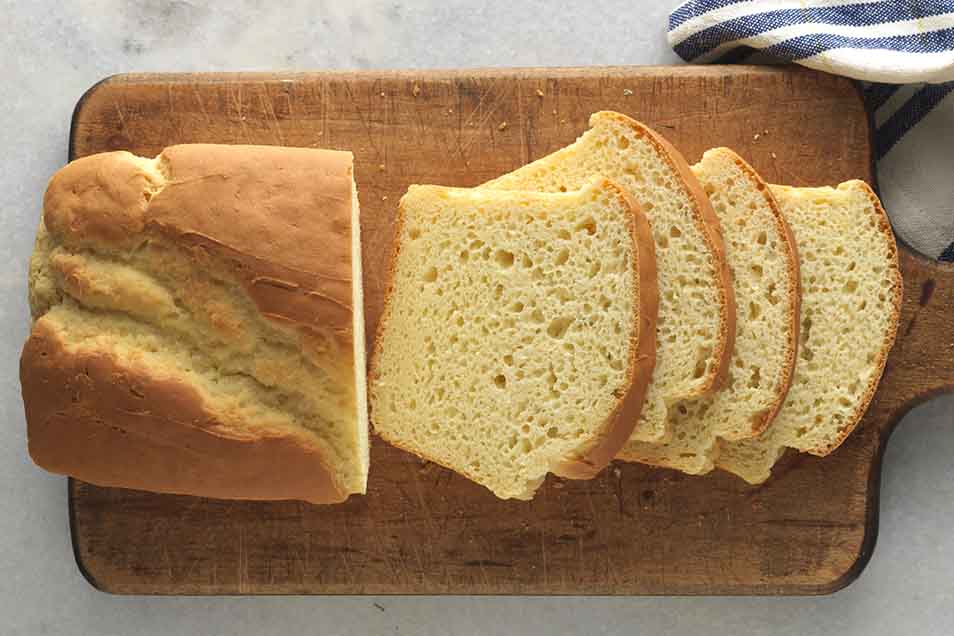 And you thought you'd never enjoy your favorite sandwiches again! This recipe yields a tender, tasty, high-rising loaf, perfect for classic ham and cheese, a PB&J, or a BLT club. Toast and spread with butter and jam for breakfast, turn into French toast, or make a luscious grilled cheese sandwich.
Ingredients
3 tablespoons sugar
2 teaspoons instant yeast
1 1/4 teaspoons salt
1 1/4 teaspoons xanthan gum
1 cup warm milk
4 tablespoons soft butter
3 large eggs
Instructions
Place the flour, sugar, yeast, salt, and xanthan gum in a bowl, or the bowl of your stand mixer. Mix till combined.

Using an electric mixer (hand mixer, or stand), drizzle in the milk, beating all the time; the mixture will be crumbly at first, but once all the milk is added, it'll come together.

Add the butter and beat until thoroughly blended.

Beat in the eggs one at a time, beating each in thoroughly before adding the next. Scrape the bottom and sides of the bowl, then beat at high speed for 3 minutes, to make a very smooth, thick batter.

Cover the bowl, and let the thick batter rise for 1 hour.

Scrape down the bottom and sides of the bowl, gently deflating the batter in the process.

Grease an 8 1/2" by 4 1/2" loaf pan, or a 9" x 4" x 4" pain de mie pan.

Scoop the dough into the pan. Press it level, using a spatula or your wet fingers.

Cover with greased plastic wrap, and set in a warm place to rise until the loaf barely crowns above the rim of the 8 1/2" x 4 1/2" pan; or until it comes to within about an inch of the rim of the 9" pain de mie pan. This should take about 45 to 60 minutes. Towards the end of the rising time, preheat the oven to 350°F.

Bake the bread for 38 to 42 minutes, until golden brown. If you're using a pain de mie pan, leave the lid on the entire time. Remove the bread from the oven, turn it out of the pan, and cool on a rack.
Nutrition Information
Serving Size

1 slice, 58g

Servings Per Batch

16
Amount Per Serving:
Calories

154

Calories from Fat

38

Total Fat

4g

Saturated Fat

2g

Trans Fat

0g

Cholesterol

48mg
Sodium

204mg

Total Carbohydrate

26g

Dietary Fiber

1g

Sugars

3g

Protein

3g
* The nutrition information provided for this recipe is determined by the ESHA Genesis R&D software program. Substituting any ingredients may change the posted nutrition information.
Tips from our bakers
Dairy-free: Substitute margarine for the butter; and soy milk, almond milk, or rice milk for the milk called for in the recipe. Results may vary from the original.
Egg-free: Using flax in place of the eggs works well. To replace the 3 eggs called for, use ¼ cup plus 2 tablespoons (1 1/2 ounces) flax meal (the more finely ground the better), blended with ½ cup plus 1 tablespoon water. Let the mixture sit for 10 minutes to thicken before beating into the butter in the bowl. 1 egg recipe: 2 tablespoons (1/2 ounce) flax meal (the more finely ground the better) blended with 3 tablespoons water. Let it sit for 10 minutes to thicken before using.
Bread machine: Use an additional 1 large egg and 1 ounce (3 tablespoons) gluten-free flour. For best results, use a bread machine that has a pre-programmed gluten-free setting.
Cinnamon apple: Stir 1 cup chopped apples (peeled or unpeeled) into the batter after its first rise. Scoop the dough into the prepared pan, and sprinkle it with a mixture of 2 tablespoons granulated sugar and 1 teaspoon ground cinnamon. Swirl the cinnamon-sugar into the dough with a butter knife; add an additional sprinkling of cinnamon-sugar on top, if you'd like. Let rise and bake as directed.
Cheese bread: Reduce the sugar in the recipe to 1 tablespoon; and stirring 1 cup (4 ounces) shredded sharp Cheddar cheese into the dough just before scooping it into the loaf pan.
Sourdough bread: Replace 1 cup of the flour and 1/2 cup of the milk with 1 cup ripe (fed) gluten-free sourdough starter. Reduce the instant yeast to 1 teaspoon, and budget for a longer rise in the pan (about 90 minutes). Bake as directed.
If you have a 9"x4"x4" pain de mie pan, this is a great place to use it. It'll bake a taller loaf than a standard loaf pan. Bake with the lid on, or off; baking with the lid off will give you a slightly more crowned loaf; leaving the lid on will give you a slightly closer-grained loaf. If you use the lid, bake the bread for 50 minutes, with the lid on the whole time. Remove it from the oven, remove the lid, and turn it out of the pan onto a rack to cool.
Like a baguette, this bread has a short shelf life. For best texture, reheat or toast after the first day.
Reviews
I baked this today to bring along to Easter Dinner at a friend's. I was a bit anxious about it but followed the recipe exactly - substituting only almond milk for dairy. Wow. It almost has a bit of a sweetness to it but it rose beautifully and baked up nice and brown. I let it cool for some time before cutting into it and added a light "schmear" of butter. I've never liked gluten free "breads" as they are generally dense and flavorless. This one is a delightful surprise. I used almost the whole box of the KAGF AP....so I guess I'll have to buy more! I would do this again. It's a very different process from standard bread and the dough/batter is unique to handle - but it worked! Now to see how it goes over with the GF crowd tomorrow.
Finally! A slice of "real" bread!!! Recently diagnosed with celiac disease, and longing for flavorful bread again - until tonight, when I had my 1st piece of gluten-free bread/toast that didn't taste like spongy styrofoam (I've tried a lot of breads/mixes/recipes)... I used my food processor on the dough setting instead of a stand mixer for the recipe and it worked perfectly. Thanks KAF for safely returning me to my love of bread =)
I made this recipe with another GF flour I bought because I can't get King Arthur Flour here. I wanted to make it using my bread machine, which doesn't have a gluten free cycle. I followed the suggestions on the recipe for bread machines, adding another egg and more flour. I also added some tapioca starch because the GF flour I had didn't have any in it. I used my Rapid Bake cycle on this machine, which starts mixing right away and then stops and rises once and then bakes. I also used bread machine yeast because I wasn't sure if I should use something else or proof it first. So I didn't proof it first. I was really sceptical that I would get any rise from my bread but it really came out well. It rose to about 4" and had a nice texture and taste. Thank you for the great recipe!
I am so blown away by this bread!!! I've been gluten free for what feels like 100 years and I would seriously dream about homemade bread with butter and honey at night. I've made the bread 3 times now (subbing the KAF egg replacement) and using Smart Balance rather than butter. I absolutely love this bread. Thanks to everyone at KAF for making a gluten free blend that doesn't taste like dirt/sand/cardboard/nothing/etc!
I baked this for a gluten-free friend, and was pleasantly surprised at how easy it was. The finished product reminds me much more of a batter bread than a yeast bread, which isn't really appealing to me for sandwiches, but it's nice and soft, fluffy, not gritty, with nice flavor, rose nicely - really no complaints!
This is my very first time making homemade bread and this recipe is great!! It came out absolutely perfect. So moist right out of the oven and the flavor is nice.. though rice bread doesn't tend to have a lot of flavor, but it's very good.. far better tasting than any of the store bought GF breads I've eaten over the years. It's a wonderful texture and cuts beautifully. And I'm hoping to be able to get two loaves out of each box of the flour so I'll be making this every week now instead of buying store bread. Very exciting! Thanks King Arthur Flour!! And please don't ever change your ingredients in this flour... I say that because most of the GF breads have started adding sorghum and other such flours in with the rice flour and some of us are not able to eat those. Thanks!
so delicous and easy. yum!
My husband is on a gluten free diet and I tried this bread recipe today. Even tho it is a bit time consuming, it turned out great! We both had a slice with butter and it was yummy! I sliced the whole loaf with such ease and packaged it up and put it in the freezer to use when needed. I can't say enough about this recipe!
Oh my, this is the best gluten free bread I've ever tasted! Texture and taste are both excellent. Love it!
The fault is mine...I figured I could use what I had - Measure for measure flour, the kind that already has the xanthan gum in it. I thought it would be fine right up until I added the milk and it didn't even start to come together. Your baking hotline was so helpful! First by telling me that it was a toss up and that I could easily justify throwing it all away to cut my losses because I might get a doorstop instead of bread, but that it might be just fine if I was feeling brave. The oven was already on, and I had most of the ingredients already in the mixer so I proceeded, took your advice and only let it rise the once in the pan. Then when I failed to set an oven timer (oh yes, helping children with a recipe while baking is distracting) your hotline was able to tell me that the internal temp needed to be 190 degrees for it to be done. Go instant read thermometer! The crust isn't my favorite, but the bread itself is great. I even got goofy and added in about a cup of finely chopped apples, hoping their moisture or maybe the about 1 tsp cinnamon I swirled into the batter at the last minute would help. The cinnamon flavor disappeared, and the apples are lovely. Success!! I so appreciate your bakers' honesty, understanding and helpfulness, and am so glad I didn't give up. Even if it'd come out more like a rock than a loaf of bread, there's always french toast or bread pudding.