A customized print-friendly version of this recipe is available by clicking the "Print Recipe" button on this page.
Gluten-Free Soft Pretzels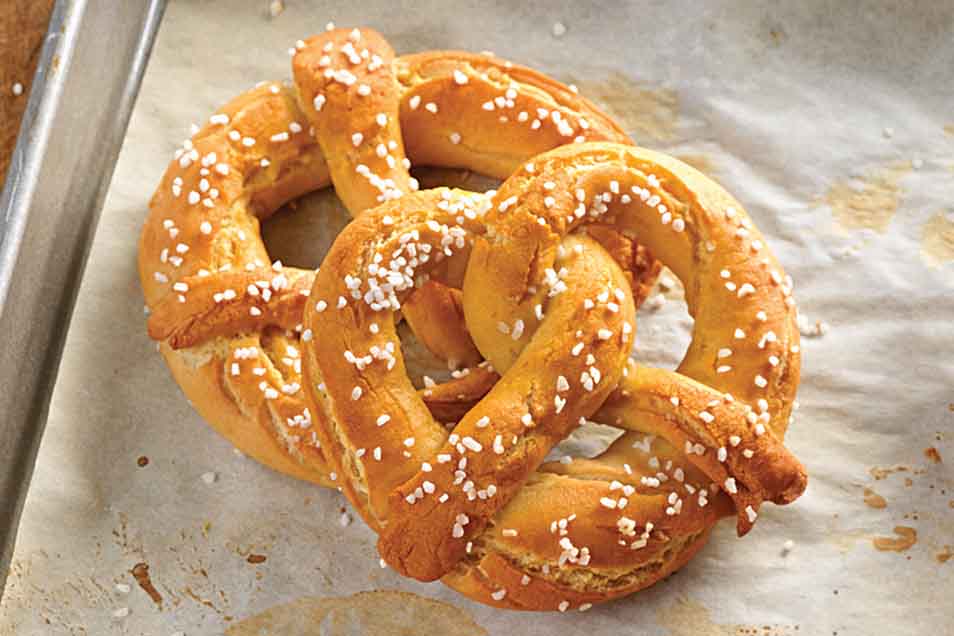 Whether you enjoy softer mall-style or chewier stadium-style pretzels, this recipe is sure to please. Their salty, "alkalized" taste, thick crust, and soft interior crumb are true to the flavors and textures of the pretzels we all know and love.
Ingredients
Water bath
4 quarts water
1/4 cup baking soda
2 tablespoons granulated sugar
Topping
coarse, kosher, or pretzel salt, optional
Instructions
Combine the flour, sugar, yeast, salt, xanthan gum, and baking powder. Add the water, egg, and butter and stir until a firm dough forms, about 4 minutes in a stand mixer fitted with a paddle attachment. If the dough seems dry, add 1 to 2 tablespoons water.

Knead the dough until smooth, then transfer it to a lightly greased bowl. Cover and let rise until almost doubled, 45 to 90 minutes.

Preheat the oven to 425°F. Lightly grease two baking sheets, or line them with parchment. Bring 4 quarts water to a boil in a large pot.

Turn the dough out onto a lightly floured surface. Gently deflate it, and divide it into 12 equal pieces.

Cover the pieces and, one at a time, roll them into 12" to 14" ropes. Shape the ropes into pretzels and place them on the prepared pans.

Add the baking soda and sugar to the boiling water and wait for the foam to subside.

Drop the pretzels one at a time into the water, and boil them for about 5 seconds; they should initially sink, then float to the surface in that time.

Return the pretzels to the pans and sprinkle them with the coarse salt of your choice, if desired.

Bake the pretzels until golden brown and finished to your liking, about 18 to 20 minutes for soft pretzels, 25 minutes for chewier pretzels, and 35 minutes for hard pretzels.

Allow the pretzels to cool on the pans for 10 minutes before serving.

Yield: 12 pretzels.
Nutrition Information
Serving Size

1 pretzel (83g)

Servings Per Batch

12
Amount Per Serving:
Calories

200

Calories from Fat

25

Total Fat

3g

Saturated Fat

1.5g

Trans Fat

0g

Cholesterol

20mg
Sodium

270mg

Total Carbohydrate

40g

Dietary Fiber

1g

Sugars

3g

Protein

3g
* The nutrition information provided for this recipe is determined by the ESHA Genesis R&D software program. Substituting any ingredients may change the posted nutrition information.
Tips from our bakers
For extra-soft pretzels, brush warm pretzels with melted butter and serve immediately.
For cinnamon-sugar pretzels, omit the salt topping. Brush the pretzels with melted butter and shake in cinnamon-sugar after they finish baking.
For pretzel shaping techniques, see our blog, Flourish. It's important that you use just a dusting of flour on your work surface. If there's too much flour it will be hard to roll out the dough, and the dough won't stick to itself when you form the pretzel.
When baking two pans of pretzels at once, it's a good idea to adjust your oven racks to the middle/upper and lower positions of your oven; rotate the pans halfway through the baking time.
Reviews
I had mixed results (taste and appearance) on my first try. I used the prescribed flour, xantham gum, and other ingredients except butter (I substituted 1:1 Earth Balance Vegan Buttery Sticks because of a dairy and soy allergy). The dough had a batter-like texture before and after a 75 minute rise. The pretzels were then quite difficult to shape (wouldn't stay smooth, wouldn't hold together when forming or transfering to pan). Most pretzels disintegrated into 3-8 bite-sized pieces during the baking soda bath. Baked in 425 convection oven on two cookie sheets for 30 min, rotating and swapping sheet positions until uniformly medium brown. Most of the pretzels were cooked through, but 1/4-1/3 of them, were underdone on the bottom (the larger pieces, not ones from one sheet or the other). The underdone ones had a nice "crisp" bottom to them like the others but just didn't seem done. Kids still liked them, especially the allergy kids. But I was hoping for better or had the wrong expectations. Any suggestions on how I can improve results (shaping and disintegrating; I'm guessing the uneven baking was due to various shapes/sizes) without butter? Would oil or another butter substitute help with the consistency? Thanks for all the gluten-free products and content. Even though I didn't love this one we're going to keep trying more of the recipes!

Thanks for reaching out, Al! One thing that's super helpful is visuals, so we'd recommend checking out our blog article "Gluten-Free Soft Pretzel Bites." That way, you'll have a reference of what the dough should look like in every step to prevent frustration when shaping. The little bites make for easy shaping and plenty of bite-sized treats for everybody! If you'd like to master the traditional shape, see our blog article "Hot Buttered Soft Pretzels." You can find both blogs by using the search bar above. We hope the visuals help! Annabelle@KAF
These taste great. I used regular active yeast and let it do it's thing (I used the whole packet). I also used the measure for measure flour instead of the gluten free flour and the added xanthum gum. I ran into an issue with regards to how the dough should look and feel after it has been beaten in the mixer for four minutes. The recipe says that the dough should be "smooth" and it is, but if you take it off the paddle and move it to the proving bowl, it doesn't hold up. I gently kneaded the "smooth" dough until it a slightly sticky texture and then added it to the proving bowl. I let it sit for the full time (90 mins) and found it was delicate when I removed it from the bowl. I worked the dough a little more while I cut it into sections. Instead of making the pretzel shape, I suggest rolling out the pieces of dough into logs about an inch or so in diameter and cutting it into inch bite size pieces. It's so much easier to handle and who doesn't like pretzel bites? Make sure to brush with butter before adding salt and baking. (For sweet pretzel bites, dip in melted butter and roll in cinnamon sugar after baking.)

Hi there, Sam! We're glad that you enjoyed your pretzel bites! On your next pretzel baking adventure, we'd suggest making this with the Gluten-Free Flour called for here, we think you'll find that the dough is much easier to work with. The Gluten-Free Measure for Measure Flour doesn't work well with yeast — we've found that the Measure for Measure doesn't create a strong enough structure for yeasted items. Happy GF baking! Morgan@KAF
Made with my 9-yr old, so we made a few goofy shapes that didnt survive the water bath intact. Pretzel knot, infinity, heart came out great though. Relatively easy and fun. I only had some super-expired yeast on hand, so when I make these again, will likely be better BUT these were REALLY good. Would also recommend brushing on butter. My non-GF family thought they were better than regular pretzel bites we picked up at a popular pizza place. Will for sure make again!
Turned out amazing! Can't wait to make more.
They were a little hard to shape at first, but once I got the hang of it, they turned out great! I brushed them with butter before baking and they really hit the spot! I made some beer cheese to dip them in, DELICIOUS! I also tried them with some Dijon mustard, also DELICIOUS! I'm excited to have this recipe in my GF baking repertoire!
These are really good! My daughter was really craving soft pretzels and these really hit the spot. I did take someone's recommendation to proof the yeast first, but other than that, I just did what the recipe said. Most pretzels held their shape in the while being boiled, but a few fell apart. Next time, I may just twist them in a log shape instead of the traditional pretzel shape. I have a reply for Kristie from Maryland - you only put them in boiling water for about 5 seconds (not minutes)
My only thing is, the first time I used baking soda instead BUT the dough didn't break apart... The second time I used the baking powder like stated in the recipe and the dough breaks apart in the water. I don't recommend using baking powder...
I've tried this recipe 3 times now. I have no idea what is going wrong. Every time they rise well, I proofed for 90 minutes and it almost doubled, I boil for 5 minutes then put in a preheated oven and they don't rise and they just really hard. I mean as hard as a rock! When trying this time, I made sure to buy all new ingredients including yeast. Maybe I should try a second proof? I tried some pretzels, then rolls, then little bite size pieces but nothing worked. I even used a scale to measure out my ingredients. Anyone else running into this problem?

We're surprised to hear about the trouble you've encountered, Kristie, as it sounds like you're setting yourself up for baking success as well as you can. It's important to use King Arthur Gluten-Free Flour, as well as the prescribed amount of xanthan gum; otherwise, the pretzels won't have the right texture. If you're already doing these two things, you're welcome to try a final proof. Try letting the shaped pretzels rest for about 5-10 minutes then boil, and then rest for another 5-10 minutes before baking. This might allow the yeast to make the dough slightly softer and more tender. Good luck, and we hope that helps! Kye@KAF
Made this today for my GF husband, incorporating 1/2 cup gluten free sourdough starter for a half cup of the flour and 1/4 cup of the water. I also activated the yeast first in the warm water. They turned out great and got a two thumbs up from my husband, who has given up on a lot of gluten free breads. Will definitely keep this recipe!
Delicious! I used a bread machine on the "dough" setting for the dough portion. Made for very easy rolling. A few came apart on me in the boiling water bath, so I started just holding them under water with a spatula and that worked great.