A customized print-friendly version of this recipe is available by clicking the "Print Recipe" button on this page.
Gluten-Free Soft Pretzels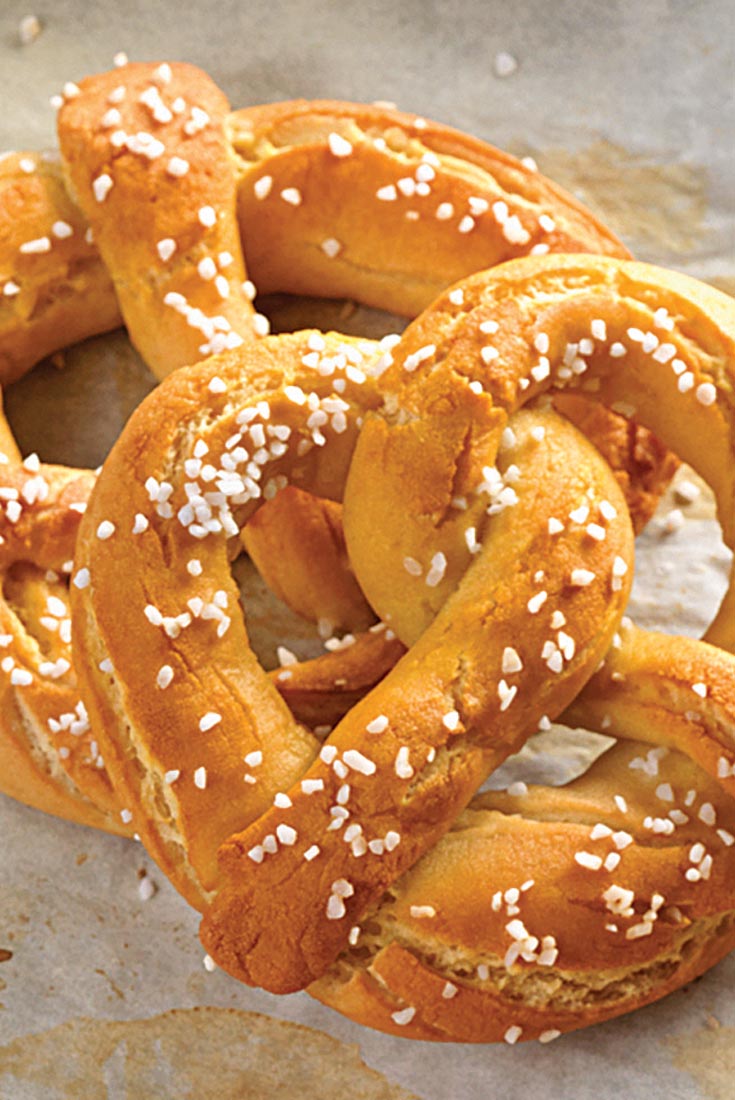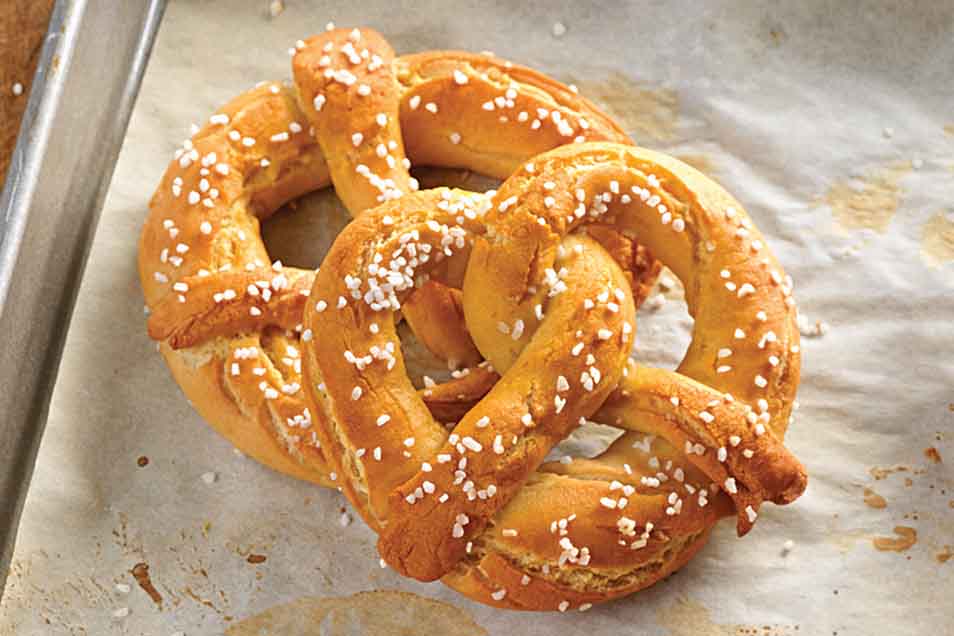 Whether you enjoy softer mall-style or chewier stadium-style pretzels, this recipe is sure to please. Their salty, "alkalized" taste, thick crust, and soft interior crumb are true to the flavors and textures of the pretzels we all know and love.
Ingredients
Water bath
4 quarts water
1/4 cup baking soda
2 tablespoons granulated sugar
Topping
coarse, kosher, or pretzel salt, optional
Instructions
Combine the flour, sugar, yeast, salt, xanthan gum, and baking powder. Add the water, egg, and butter and stir until a firm dough forms, about 4 minutes in a stand mixer fitted with a paddle attachment. If the dough seems dry, add 1 to 2 tablespoons water.

Knead the dough until smooth, then transfer it to a lightly greased bowl. Cover and let rise until almost doubled, 45 to 90 minutes.

Preheat the oven to 425°F. Lightly grease two baking sheets, or line them with parchment. Bring 4 quarts water to a boil in a large pot.

Turn the dough out onto a lightly floured surface. Gently deflate it, and divide it into 12 equal pieces.

Cover the pieces and, one at a time, roll them into 12" to 14" ropes. Shape the ropes into pretzels and place them on the prepared pans.

Add the baking soda and sugar to the boiling water and wait for the foam to subside.

Drop the pretzels one at a time into the water, and boil them for about 5 seconds; they should initially sink, then float to the surface in that time.

Return the pretzels to the pans and sprinkle them with the coarse salt of your choice, if desired.

Bake the pretzels until golden brown and finished to your liking, about 18 to 20 minutes for soft pretzels, 25 minutes for chewier pretzels, and 35 minutes for hard pretzels.

Allow the pretzels to cool on the pans for 10 minutes before serving.

Yield: 12 pretzels.
Nutrition Information
Serving Size

1 pretzel (83g)

Servings Per Batch

12
Amount Per Serving:
Calories

200

Calories from Fat

25

Total Fat

3g

Saturated Fat

1.5g

Trans Fat

0g

Cholesterol

20mg
Sodium

270mg

Total Carbohydrate

40g

Dietary Fiber

1g

Sugars

3g

Protein

3g
* The nutrition information provided for this recipe is determined by the ESHA Genesis R&D software program. Substituting any ingredients may change the posted nutrition information.
Tips from our bakers
For extra-soft pretzels, brush warm pretzels with melted butter and serve immediately.
For cinnamon-sugar pretzels, omit the salt topping. Brush the pretzels with melted butter and shake in cinnamon-sugar after they finish baking.
For pretzel shaping techniques, see our blog, Flourish. It's important that you use just a dusting of flour on your work surface. If there's too much flour it will be hard to roll out the dough, and the dough won't stick to itself when you form the pretzel.
When baking two pans of pretzels at once, it's a good idea to adjust your oven racks to the middle/upper and lower positions of your oven; rotate the pans halfway through the baking time.
Reviews
Delicious! I used a bread machine on the "dough" setting for the dough portion. Made for very easy rolling. A few came apart on me in the boiling water bath, so I started just holding them under water with a spatula and that worked great.
Made this as directed and was not happy to see that the dough was super sticky. I wasn't able to roll it out so I added a dusting of flour and rolled little balls and shaped them into bites. I figured I might as well give it a try rather than waste ingredients. They came out perfect!! So if your dough is sticky don't fret.
Soft pretzels are my weakness! This was an awesome recipe, but I did make some changes. I've been doing gluten free baking for 5 or 6 years now, and I always find it better to activate the yeast before adding it to the other ingredients. I also substituted milk for the 1 1/4 cup of water to give it a better flavor. After the baking soda/sugar bath, I brushed each with egg wash and topped with course salt. They browned up beautifully. I only used half the dough for pretezel dogs and then used the other half for cinnamon rolls the following morning. I wrapped the extra dough in plastic wrap sprayed with a little oil and it stayed moist over night in the refrigerator. Overall the recipe was super simple and everything turned out great!
I just recently started doing "yeast" gluten free. So far this is the best recipe I have tried. I so miss the taste and feel of pretzels. Although it is not exactly like a "gluten" pretzel it had enough attributes to make it a winner. I took another reviewers suggestion and did some rolls. So half the dough I made 6 pretzels and the remaining half I made 3 (could have doe 4 smaller) rolls. It took a bit of time but was pretty foolproof. Thank you King Arthur for your amazing flour and recipes!
I have been CRAVING chewy big pretzels. This recipe fit the bill. I did make a few minor adjustments. I am NOT an expert baker or anything like that, so you can take it or leave it. I started the yeast with the water and sugar first until it was frothy. The dough was quite heavy after mixing so I decided to form the pretzels and let them rise in their shape for about 35 minutes. I boiled the pretzels for 45 seconds each and baked for 11 1/2 minutes. They turned out ABSOLUTELY lovely!! They were not over risen, they had small air bubbles and the nice closed texture of a pretzel. I will definitely make again. The inside was chewy and and the outside provided a little bit of a crunch. I would be interested to know how an egg wash prior to cooking would impact the crust. Thank you King Arthur Flour for a wonderful recipe.
Tasted delicious! Need to grease the parchment paper to prevent sticking, but otherwise turned out great!!
Tried this variation on the recipe the other day worked beautifully.... pretzel rolls... after creating dough chill for ten minutes (makes it easier to work with) shape into 8 rolls. Boil in bath ... wait until they float to top to remove. Brush tops with butter& salt. Slash top of each roll with an X marking... place rolls on hamburger bun pan...NOW allow the rise (about 20 minutes)... bake at regular temperature for about 20 minutes or until register 200 degrees F on instant read thermometer...
This is by far the best GF pretzel recipe I have tried. The dough did rise (I didn't even check until 90 minutes). I forgot to cover the bowl with a damp towel and I also forgot to oil the top of the bread. The inside was moist but the top was rather crusty. This made it difficult to roll out as it wouldn't adhere to itself even before it was whipped into a pretzel shape. However, once formed, they didn't fall apart in the bath (where most of my other attempts fell apart). They browned up beautifully in the oven and taste delicious - soft, chewy, great. Next time, I will cover the dough when rising and take longer to roll each pretzel out to prevent breakage. I may also increase the baking soda a bit in the bath as I like a little more of that. Can't wait to try again.
I used this recipe to make pretzel dogs - the kids loved them! Iwrapped the dough around the hot dogs prior to the water bath them baked them as directed. I cut the extra dough into bite size pieces and enjoyed the extra pretzels with mustard. They were very good in general but I wonder if I could find a way to make them taste more like the ones from the mall. Is this a recipe that would benefit from a touch of the buttery sweet dough emulsion?

We haven't tried that addition ourselves, Melinda, but you're certainly welcome to give it a try. You might also consider using non-diastatic malt powder in the water bath in place of sugar and/or brushing the freshly baked pretzels with melted butter to achieve more of that classic, buttery pretzel taste. Mollie@KAF
I botched this recipe several ways and still ended up with a decent pretzel. 1st mistake.. Accidentally included 50% more Xanthan gum than indicated. I couldn't just increase the rest of the recipe because I had no more flour. So, I just scooped some back out and prayed. Then, when I got to the baking soda bath, I realized I did not have my large slotted spoon. Sacrificed two pretzels and got one to come out of the bath intact before I decided to just try basting the rest. That didn't really work terribly well. They cooked fine but didn't come out looking nice like the pretzels that actually got dunked. They still came out tasting good though. I did find that cook times were significantly shorter in my oven than what the recipe indicates. The pretzels that actually got the bath were well done (chewy as I wanted) by 18 minutes. Soft could have probably been done in 15.