A customized print-friendly version of this recipe is available by clicking the "Print Recipe" button on this page.
Gluten-Free Sorghum Sandwich Bread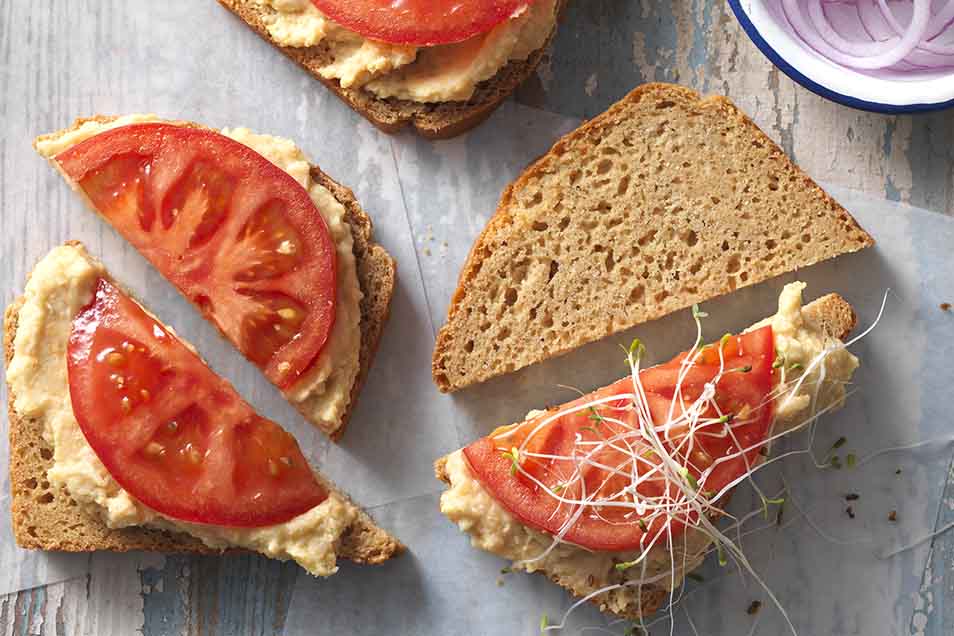 Sorghum adds its own distinctive flavor to this moist, tender yeast bread.
Ingredients
1 cup sorghum flour
1 3/4 cups King Arthur Gluten-Free Multi-Purpose Flour or brown rice flour blend*
1/4 cup whole flax meal
2 teaspoons instant yeast
1 1/2 teaspoons baking powder
1 teaspoon salt
1 teaspoon xanthan gum
1 cup room-temperature milk (about 70°F)
2 tablespoons molasses
2 tablespoons vegetable oil or melted butter
3 large eggs
*See tips from our bakers, below.
Instructions
Whisk together the flours, flax meal, yeast, baking powder, salt, and xanthan gum.

In a separate bowl, beat the milk, molasses, oil or melted butter, and eggs.

Blend the dry ingredients into the milk mixture 1 cup at a time, beating for a minute and then scraping the bottom and sides of the bowl.

After all the dry ingredients have been added, beat for 2 to 3 minutes at medium speed to make a smooth, thick batter.

Cover the bowl, and let the batter rest and rise for 1 hour.

Scrape down the bottom and sides of the bowl, deflating the batter in the process. Beat the batter for about 1 minute.

Grease an 8 1/2" by 4 1/2" loaf pan. Scoop the dough into the pan, doming it in the middle; using a spatula or your wet fingers helps.

Cover the pan loosely with greased plastic wrap. Set it in a warm place to rise until the loaf barely crowns above the rim of the pan, about 60 to 75 minutes. Towards the end of the rising time, preheat the oven to 350°F.

Bake the bread for 45 to 50 minutes, until it's a deep golden brown. Tent the loaf with foil the final 10 to 15 minutes of baking, to prevent over-browning. An instant-read thermometer inserted into the center of the fully baked loaf will register about 205°F.

Remove the bread from the oven, turn it out of the pan, and cool on a rack. Slice when completely cool.

Yield: 1 loaf.
Tips from our bakers
*Make your own blend
Many of our gluten-free recipes use our King Arthur Gluten-Free Multi-Purpose Flour, which includes ingredients that reduce the grittiness sometimes found in gluten-free baked goods. Our flour also increases the shelf life of your treats, keeping them fresh longer.

The following make-at-home blend, featuring stabilized brown rice flour, works pretty well when substituted; and it tastes better than a blend using regular brown rice flour.

Whisk together 6 cups (28 1/2 ounces) King Arthur stabilized brown rice flour; 2 cups (10 3/4 ounces) potato starch; and 1 cup (4 ounces) tapioca flour or tapioca starch. Store airtight at room temperature. Note: You can substitute white rice flour for the brown rice flour if you like; it'll make your baked goods grittier (unless you manage to find a finely ground version).
Reviews
Do you think this would work in a bread machine? Any changes I should make?

While we haven't made this recipe in a bread machine before, we have successfully made our Gluten-Free Flax Seed Bread in a bread machine, which is a similar recipe. If your machine has a gluten-free bread setting, we encourage you to give it a try, following the manufacturer's specific instructions for adding ingredients, etc. If you don't have a machine with a gluten-free setting, we think you'll be better off mixing and baking this recipe by hand for the best rise and flavor. Happy GF baking! Kye@KAF
I don't prefer to use eggs. What can I use instead for same flavor? Thanks

Hi there! The eggs in this recipe are added for structure rather than flavor. We haven't tested this recipe using egg-placers, but encourage you to experiment using whichever egg substitute you prefer. If you're interested in a recipe for one, we have a few on our website. Simply search "egg replacers" and you'll be brought to 3 options. Happy baking! Annabelle@KAF
What role does the flax play? I can't eat flax; is there a replacement?

Julie, the flax adds nutrition and also helps bind the ingredients, preventing the bread from being crumbly. If you'd like to omit the flax, consider adding an additional egg in its place to ensure it still has a nice texture. Happy GF baking! Kye@KAF
I have been an avid baker for all of my life. Changing to GF has been a challenge because I have missed baking. This recipe changed my outlook completely. As written it is delicious. I used honey instead of molasses the second time because of flavor preference. My non GF child, who doesn't like sandwiches declared this was his favorite bread ever and requested it for his lunch. It freezes well and toasts up beautifully even weeks later.
The loaf came came out nicely for a gluten free bread; it had decent rise and was soft with good crumb. I followed the recipe as written except I used sorghum syrup instead of molasses. The flavor was very rich and I think I'd like to tone it down a little bit, so next time I will either not use the sorghum syrup or molasses but use maple syrup instead, and/or cut back on the sorghum flour and the flax meal and make up the difference with the multi-purpose flour. I will definitely try again since I am in need of a less expensive alternative to buying my GF bread from the grocery store.
Wonderful recipe. Lots of flavor, lovely texture, rich color.
Excellent taste. Not dry like most GF recipes. Love the molasses as well.
This bread turned out very well. There is depth of flavor, and it makes excellent toast with butter and some honey. Delicious.
Thank the gods! Finally some flavor in a gluten free bread! I followed the recipe to a T, used melted butter not oil, and it was outstanding! I will be making this again and again. Oh and I think honey would be good too in place of the molasses(although, I do love the rich flavor the molasses gives it).