A customized print-friendly version of this recipe is available by clicking the "Print Recipe" button on this page.
Gluten-Free Sourdough Flatbread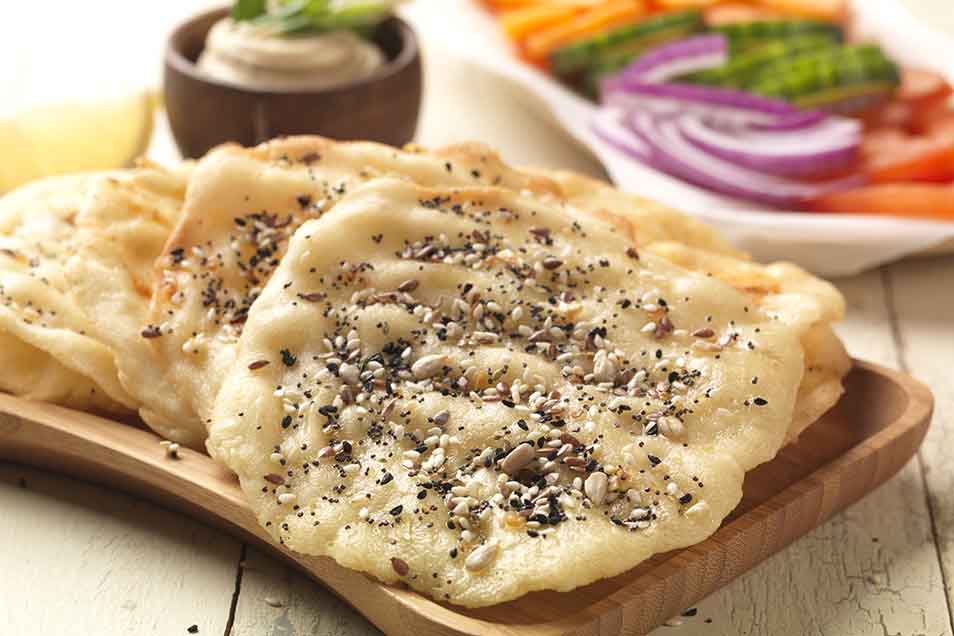 If you're looking for a great-tasting and versatile gluten-free bread, try toasting these tangy sourdough flatbreads as a snack for your favorite dips and spreads; or use them as rounds with your favorite sandwich fillings.
Instructions
Place the starter into a mixing bowl. In a separate bowl, whisk together the flour, yeast, xanthan gum, sugar, and salt; add to the starter. Use an electric mixer (hand or stand) to mix on low speed until just combined.

Add the olive oil, egg, and water, and beat on high speed for 2 to 3 minutes. The batter will have a thick, paste-like consistency.

Allow the dough to rest for 1 to 1 1/2 hours, or until puffy. The rise won't be dramatic.

Preheat your oven to 500°F. Stir the dough to deflate it. Brush three pieces of parchment paper with olive oil, and set them on three baking sheets.

Using a jumbo cookie scoop (2-tablespoon capacity), portion dough onto the paper and, with oiled hands or pastry roller, flatten it into a 4" to 5" round. Sprinkle with seeds or topping seasonings if desired. Repeat with the remaining dough; you should be able to get about 6 rounds onto each baking sheet.

Place the baking sheet(s) into the oven, or transfer the parchment directly to a preheated pizza stone. Bake for 5 minutes; for crispier breads, bake an additional 3 to 5 minutes, until the edges are golden brown. Cool on a rack; or serve warm from the oven.

Yield: 18 flatbreads.
Tips from our bakers
If you're using a pastry roller to shape the rounds, grease another sheet of parchment to place over the dough to prevent the roller from sticking to the dough.
Reviews
Amazing! My husband has Celiacs disease. I thought it was good, he loves it!!
I've made this recipe a few times and I love it! I usually end up adding about 2x the amount of water the recipe calls for. They are quick, easy, and taste delicious.
I love this recipe. I made this using my prolific supply of sourdough starter made from Carl Griffith's 1847 Oregon Trail Sourdough Starter that I made gluten free by feeding exclusively sorghum flour. It made great little flat breads that reminded me of Naan or pita bread. I also had Zataar seasoning that I put on top before I baked them and it goes great. We will eat them will hummus sometime this week. I put them in the freezer to keep them fresh so we would only take out what we need. I suspect, like most GF baked goods, they would get stale fast if we left them out at room temperature. (The dough was sticky which is typical for GF; I just spread it out with my fingers in a swirling motion from inside to outside gradually forming a circle shape on parchment paper to make round flat bread.)
This was my first GF sourdough and it did not rise at allafter two hours. Came out more like crackers. Any suggestions for a better rise?
Be sure you're using instant or active dry yeast, no Rapid Rise. If that's not the culprit - consider a call to our baker's hotline at 855-371-2253. Working together by phone - we'll get you back to Happy GF Baking! Irene@KAF
Yummy!! Cooked up real well. Used a scant scoop and patted in a circular pattern for an even bake. Used sesame seeds and Italian seasoning. Will try a panini with these turned inward and pesto... Cannot wait to try many ways of using these...might try smaller ones before my next party and I won't have to buy crackers at all.. No one will know they are GF. ;)
This was my first GF attempt at any bread. I was very pleased with the results. I only got 11 from the recipe using a large spoon that held 2 TBS of liquid. I used parchment and baked them on my bread stone for 6 minutes. They were delicious warm with butter and remind me of my beloved bialys. I sliced through a few when they were cool to make a pita type sandwich bread prior to storing. I didn't find they had a strong sourdough taste though, but they had a nice consistency. I'm continuing my sourdough starter, which I named Arthur, and will make these again as well as try a few more GF sourdough recipes.
The sourdough will develop a more distinctive flavor over time! Be sure to discard and feed at least once a week for best activity and flavor. Happy Baking! Irene@KAF
I don't know how helpful this will be for those who are looking to prepare this as the recipe is written--i.e., gluten free--but I followed it for a conventional approach, using regular KAF flour and a KAF starter and omitting the xanthan gum. I used a 1/4 cup cookie scoop and got about 12 or 13 of these. Topped them with everything bagel topping, rosemary and sea salt, truffle salt, asiago and garlic; I also think zaatar would be delicious on these.