A customized print-friendly version of this recipe is available by clicking the "Print Recipe" button on this page.
Gluten-Free Sourdough Starter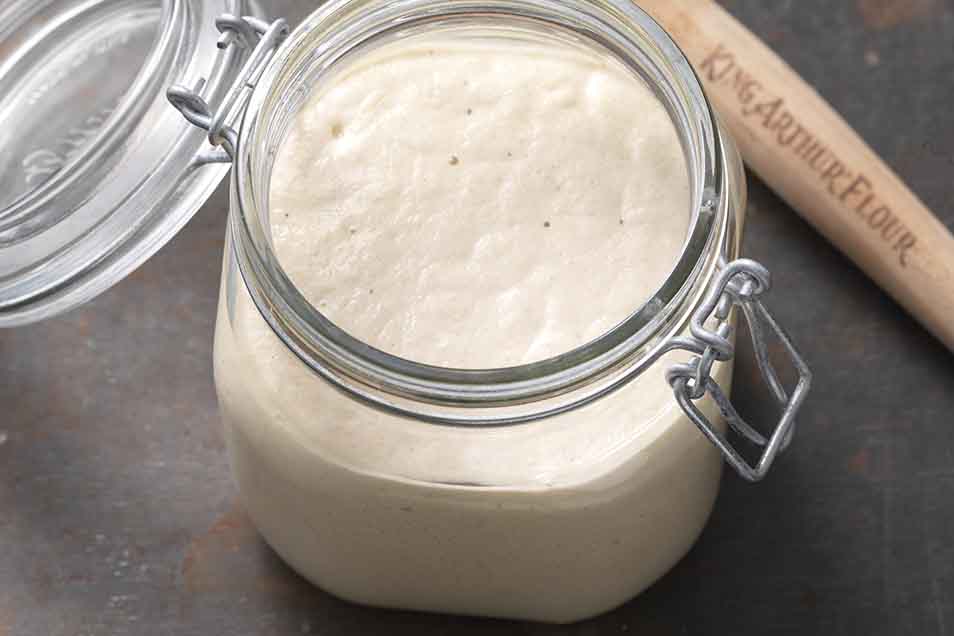 Add tangy zest to your breads and other baked treats with this gluten-free sourdough starter. Just a few ingredients and 4 days of nurturing bring you this exciting addition to your gluten-free baking world.
Ingredients
Instructions
Day 1: Mix together the flour and water in a medium-sized bowl, stirring until thoroughly combined. Cover the bowl, and let the mixture rest overnight at room temperature.
Day 2: Discard half the starter, and feed the remainder with 1/2 cup + 1 tablespoon (128g) cool water and 1 cup (121g) Measure for Measure flour.
Days 3, 4, 5... Repeat the process from Day 2. Sometime between days 5 and 10, you'll notice that within several hours after feeding the starter will have grown in size to between 2 1/4 and 2 3/4 cups. At this point it's ready to use in your recipe. If it takes longer than this, simply keep repeating the once-a-day feeding process until it matures fully; bubbling nicely, and doubling in size within several hours after feeding.
Nutrition Information
Serving Size

393g

Servings Per Batch

1
Amount Per Serving:
Calories

1010

Calories from Fat

70

Total Fat

7g

Saturated Fat

1.5g

Trans Fat

0g

Cholesterol

omg
Sodium

25mg

Total Carbohydrate

215g

Dietary Fiber

10g

Sugars

3g

Protein

21g
* The nutrition information provided for this recipe is determined by the ESHA Genesis R&D software program. Substituting any ingredients may change the posted nutrition information.
Tips from our bakers
Try this starter in our Gluten-Free Sourdough Flatbread and our Gluten-Free Sourdough English Muffins.
For a fun experiment, try substituting 1/2 cup starter for 1/2 cup of the flour and 2 ounces (1/4 cup) of the liquid in our gluten-free blueberry muffin recipe or any other muffin, cake or quick bread of your choice.
For tangier yeast bread recipes, try using 1 cup starter in place of 1/2 cup water and 1 cup flour.
Sourdough starter is best stored in the fridge in a stoneware crock or glass container with a loose-fitting lid. You should observe the same procedures for care and maintenance as for a wheat-based starter.
Reviews
I was so looking forward to making this recipe, but looked at the Ancient Grains Flour Blend ingredients. Any celiac (like me) will become horribly ill if they follow this recipe. Rye and barley are two of the three grains (3rd is wheat) that people who truly need to stick to a gluten-free diet can't eat. I noticed someone else said this and the customer service answer was completely wrong. I love the King Arthur GF mixes but am so sad to be at an impasse with this recipe, and worry about other peoples' health. Please fix this ingredient line!!

Thank you for reaching out to us, and we sincerely apologize for the confusion. The Ancient Grains Flour Blend that we used to carry and was linked through the recipe is no longer available. It was gluten-free. Now that we aren't carrying it any longer, we're working on figuring out a suitable gluten-free substitution. Thank you for your patience, Annabelle@KAF
Hi, I'm in the process of making the starter (on day 3). I really hope it turns out, I am new to gf baking as my daughter has just become gluten intolerant. This does not seem as wet as previous sourdough starters I have done, it also does not yet have that tangy scent, so I hope I haven't messed it up. If I am successful, can it be used in standard recipes (such as the KAF sourdough baguettes) by substituting KAF all purpose gluten free flour, or can it only be used in your gluten free recipes? Thank you. I am appreciative of any guidance.

Hi Sandee. First off, we want you to know you can always reach out to our free and friendly Baker's Hotline at 855-371-BAKE (2253) anytime you have questions. Customers don't receive any form of notification when we answer here and we want to make sure you get the info you need quickly.

Keep going with your feedings, knowing that it's going to look, behave, and smell differently than a regular starter would. We recommend checking out the step-by-step blog article associated with this recipe (linked to the right of the above photo) to see how things should be looking. Measuring your ingredients by weight will always be more accurate, so if you aren't already, trying that should help.

When it comes time to baking bread, you'll definitely want to use bread recipes that are designed to be gluten-free and replace 120 grams water and 120 grams flour from the recipe with 240 grams of the ripe, bubbly gluten-free starter. If you're looking for gluten-free sourdough-specific recipes, we recommend checking out the Artisan Bread in Five website for some great recipes and additional resources. Happy GF baking! Annabelle@KAF
Can I substitute the ancient grains flour with something else, say brown rice flour?

We haven't tried using brown rice flour to begin a gluten-free sourdough starter, but we think it should work if you use whole grain brown rice flour. The consistency of the starter might be slightly thicker if you use brown rice flour as it's a heavier flour. Consider measuring by weight for best results and use about 130 grams of brown rice flour (a scant cup) for best results. Please feel free to share your results with us if you give it a try. Good luck! Kye@KAF
Hello, Can you tell me what is in the Florapan French Sourdough Starter please. I work for a university and we have a gluten free program. We have made a GF bread and would like to start using it for our students but I need a complete ingredient list.

The Florapan French Sourdough Starter is a product that's available through the Shop section of our website. It contains a starter culture (bacteria, yeast), and lactose. The specific bacteria that is used is Lactobacillus brevis-maycon. We hope this helps. Kye@KAF
Working great!! Question: where do I store the starter day 2-4? Room temp? Or refrigerator? Thanks!

Dave, leave your starter at room temperature on day 2-4. This will promote just the right amount of activity in your starter. Check out the linked blog for more detailed instructions as well as photos to help guide this process. Happy baking! Kye@KAF
Very easy and can't wait to for it to get going but... is it supposed to look like the photo eventually? I made this last night and it came out as a firm dough and looks the same this morning. I was expecting it to be more wet; just wanted to make sure I did it correctly.

Sounds like you may have added too much flour to your starter initially, as it is supposed to look slightly wet. To ensure you're using the right amount, we recommend either measuring your flour by weight using a scale, or fluffing and sprinkling the flour gently into your measuring cup one spoonful at a time before leveling off with a knife. Also, check out the photos in the accompanying blog article to help guide you towards what the consistency should look like. I hope that helps! Kye@KAF
Where can we find this Ancient Grains flour mix? (I didn't make this yet - I lied. But I will make it if I can get the ingredients.

Courtney, the Ancient Grains Flour is exclusively available at our flagship store in Norwich, Vermont, or it can be ordered through the shop section of our website and sent right to your door. We hope you give this recipe a try! Kye@KAF
The starter contains wheat. This is not a GF recipe, and it will make people very ill. I did not bake this because of this horrible error, and the system would only let me submit a review if I said I had made it. I am now wondering if I should be buying this brand at all if they think that this is what gluten free means.

S, we apologize for any confusion, but this recipe does not contain wheat. The recipe calls for 1 cup of our Ancient Grains Flour Blend, which contains only gluten-free grains and is produced in a certified gluten-free facility. It also contains our Gluten-Free Multipurpose Flour, which is similarly certified gluten-free. We hope that clears up any confusion, and we'd be more than happy to answer any additional questions you may have. Kye@KAF
Question: The picture of the storage container shows a tight sealed container. can this be used? the recipe says to use a loose fitting lid.

It's a photograph to show off the starter; it's not what we always store it in. If you'd like to use a jar like this, feel free to do so but don't close it with the clamp- leave it slightly loose. Happy baking! Laurie@KAF
Thank you for having a gluten free sourdough starter recipe online, along with your products. I look forward to experimenting with them, now that I know they exist! I have been maintaining my own sourdough starter the past couple of months using heavier GF flours, and though they have great flavor and are working well; I am looking forward to trying some of the "white flours" you have had success with. Could you please explain why you recommend keeping your starter in the fridge? I only do this when I need a break, otherwise mine lives on the kitchen counter top and eats 2x/day.