A customized print-friendly version of this recipe is available by clicking the "Print Recipe" button on this page.
Gluten-Free Spiced Chocolate Tart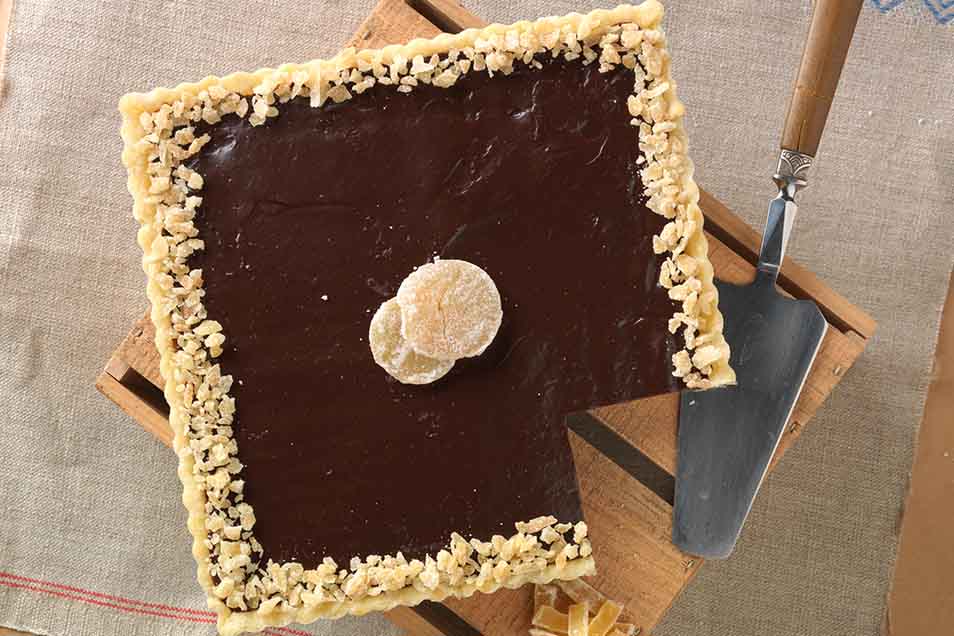 How about a bittersweet experience for the serious chocolate-lover with a sense of adventure? Dress your dessert table elegantly with this intense, rich tart accented with a spicy bite of ginger.
Ingredients
1 cup heavy cream
1/2 cup milk
3 tablespoons granulated sugar
3 tablespoons soft diced ginger
5 large egg yolks
1 1/2 cups Belcolade bittersweet disks, chopped
3 tablespoons soft butter
pinch of salt
1/2 teaspoon chocolate extract
1/4 cup mini diced ginger
Instructions
Make gluten-free pie crust according to the recipe instructions and place in the refrigerator to chill.

Combine the cream, milk, sugar, and ginger in a medium saucepan and heat until simmering. Turn the heat off and allow the ginger to steep in the cream.

Once the dough is chilled, remove it from the refrigerator and preheat your oven to 350°F. Lightly flour a piece of parchment paper and roll the dough to about 1/4" thick, turning the dough 90° every so often.

Fit the dough into a 9" tart pan, pressing the excess dough off with your rolling pin or hands; or into the bottom and partway up the sides of a 9" square pan. Poke holes in the bottom of the crust with a fork or docking tool.

For best results, chill the formed shell in the freezer for about 15 minutes before baking. Bake for about 25 minutes, or until it begins to turn golden brown. Remove the tart shell from the oven, and allow it to cool completely on a rack.

Return the steeped cream mixture to the stove, and heat on medium-high heat until simmering. Add about 1 cup of the liquid to the egg yolks in a steady stream, then add yolk mixture to the rest of the cream and stir. Return mixture to the heat again and cook on medium until it begins to thicken (about 2-3 minutes) stirring constantly.Pour the combination through a strainer over the chocolate. Allow this to sit for a few minutes to allow the chocolate to melt.

Stir until the chocolate is melted and blended into the custard, then stir in the butter, salt, and chocolate extract.

Pour the filling into the cooled tart shell, spreading it evenly with an offset spatula. Allow the tart to set up quickly in the refrigerator if you're in a hurry; or at room temperature for 1 to 2 hours.

Yield: one 9" tart.