A customized print-friendly version of this recipe is available by clicking the "Print Recipe" button on this page.
Gluten-Free Sugar Cookies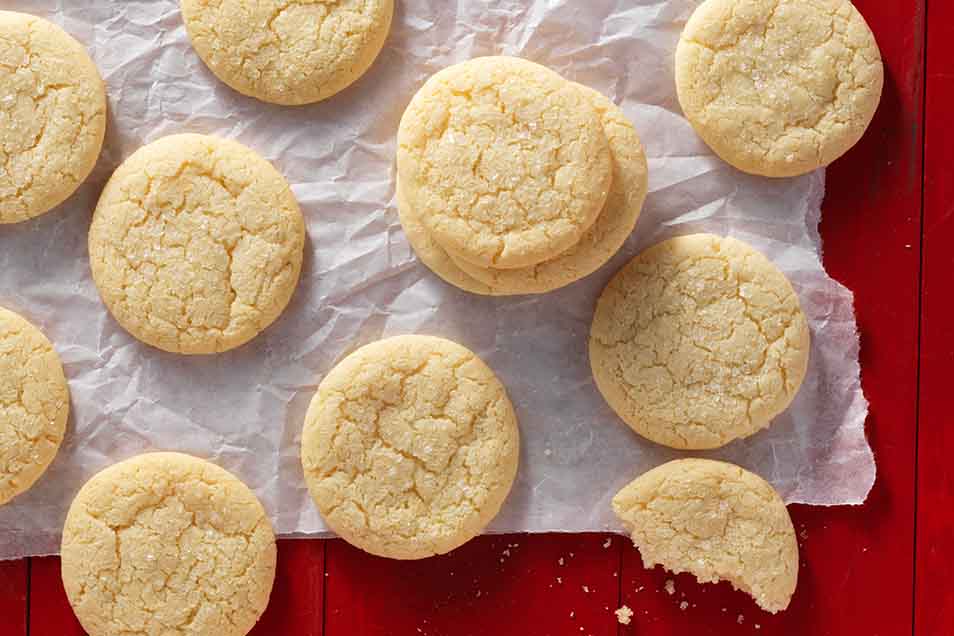 The light, tender texture and vanilla-y flavor of this gluten-free sugar cookie will have you sharing it far and wide. Make it as a drop cookie, or roll the dough out and cut it into shapes; either way you'll have a happy crowd.
Instructions
Lightly grease (or line with parchment) two baking sheets. Preheat the oven to 350°F (for drop cookies; if you're making cutout cookies, don't preheat the oven).

Beat the butter and sugar together until fluffy. Add the egg and vanilla stir until combined, scraping the sides of the bowl and stirring again briefly.

Add the dry ingredients, stirring just until the dough comes together.

To make drop cookies: Drop the dough by teaspoonfuls (a teaspoon cookie scoop works well here) onto the prepared baking sheets, leaving about 1 1/2" between them. Bake the cookies for about 12 minutes; they won't brown, but will feel set. Remove them from the oven, and cool completely on the pan.

To make cutout cookies: Scoop the dough out onto a piece of plastic wrap, flatten it into a disk, and wrap. Refrigerate the dough for at least 1 hour.

Preheat your oven to 350°F. Remove the dough from the refrigerator, and dust your work surface and dough with cornstarch or gluten-free flour.

Roll the dough about 1/4" thick and cut the shapes of your choice with a cookie cutter. Place cutouts on a parchment-lined baking sheet and chill for 10 minutes. Re-chill any dough scraps before rolling.

Bake the cookies for 8 to 10 minutes. Remove them from the oven, and cool completely before icing.
Nutrition Information
Serving Size

38g

Servings Per Batch

18
Amount Per Serving:
Calories

160

Calories from Fat

60

Total Fat

7g

Saturated Fat

3.5g

Trans Fat

0g

Cholesterol

25mg
Sodium

55mg

Total Carbohydrate

24g

Dietary Fiber

1g

Sugars

11g

Protein

2g
* The nutrition information provided for this recipe is determined by the ESHA Genesis R&D software program. Substituting any ingredients may change the posted nutrition information.
Tips from our bakers
For a wonderful variation on flavor, try adding the grated rind (zest) of 1 orange and 1/4 teaspoon ground nutmeg to the dry ingredients.
Drop cookies baked for 12 minutes will be soft and tender; bake them a couple of additional minutes for a more sturdy cookie.
Reviews
Wonderfully simple GF sugar cookie recipe. I followed the recipe as written, and it produced a nice sugar cookie. I was careful measuring the flour so I didn't add too much. I also made sure I creamed the butter and sugar until fluffy since I've had recipes,in the past, not come out because I was impatient. The cookies came out flat with a small dome. I sprinkled them with sanding sugar before they cooled just to add a little sparkle. Perfect surprise for my daughter.
So, this worked wonderfully, but as a *very* edited version. First, I had no eggs, so I used three tablespoons of mayo instead. Second, I had no almond flour or nuts, so I added extra gluten free baking flour instead. I had no xanthan gum, and I worried the lack of nuts would hurt the taste, so I added a tablespoon or so of lemon juice in the hopes it would add nice flavor and maybe work well with the mayo tartness. Lastly, it refused to stop being powder and turn into dough, so I added milk a tablespoon at a time until it was scoopable double. BUT, once I changed alllll of that and gave it a few extra minutes to bake, it made great drop cookies.
When I baked the cookies, I expected them to be very good, because all of the reviews said they were excellent. However, when i took them out of the oven, they had not flattened at all. They were still in round balls, the exact same as when I has baked them. Although they were mooist and soft in the middle, and tasted very good, there was absolutly no way I could use them for the recipe I'd intended to make. I tried to flaten out the cookies before baking them, but still they would not spread. ended up having to make a different reecipe from another website.

Sorry to hear about your frustrating baking experience, Gluten-Free Baker. It sounds like there might have been too much flour added to the dough, which prevented them from spreading and baking properly. To ensure you're using the right amount, we recommend checking out the "Measuring Standards," link next to the ingredients header above. You'll see that either measuring your flour by weight using a scale, or fluffing and sprinkling the flour into your measuring cup are the best ways to ensure your recipe turns out perfectly. We hope this helps make your future baking experiences more enjoyable. Happy GF baking! Kye@KAF
This recipe was perfect! I added both lemon extract and dried lemon zest to the dough and made cutout cookies for a neighbor with celiac disease.
Used rice flour and almond flour. Used half of sugar. Pretty decent
Quick and easy recipe for sugar cookies. I rolled out teaspoon-size balls, and flattened slightly with my thumb. Baked 14 minutes for a slightly firmer cookie...perfect. Delicate, yet not shattery. A winner! So, here's my question, KAF team...what do you think about using this dough for thumbprint cookies? Could it handle the jam? And could the sugar be reduced a bit, so they're not too-too sweet? I put some jam on a baked cookie, and it was a bit too sweet for me. But I like the idea, as this dough was so easy to work with! What do you think? Thanks!!

These will make lovely thumbprint cookies! You can reduce the sugar by 10% no problem. We've found that beyond a 25% reduction, the texture is compromised. Annabelle@KAF
These are really good. The dough came together nicely, and the flavor was very good , without the "dusty" overtones that I find with some gf recipes. After baking the first batch and finding they did not flatten at all, I flattened each ball of dough before putting them in the oven. I dusted them with powdered sugar when they were still slightly warm, and the result was a gf cookie that could "pass."
I don't know about the rest of you but these would not come together to role out. I added another egg and they rolled perfectly. Any suggestions about why I needed the second egg.

Marcia, it sounds like there might have been just a bit too much flour added to your dough, which often happens if you scoop directly into a measuring cup. It compacts and you end up with a heavy cup of flour. To prevent this, we recommend measuring your ingredients by weight with a scale if possible. Otherwise, fluff up your flour and gently sprinkle it into the measuring cup one spoonful at a time. This will give you a cup that weighs about 4 1/4 ounces, and the dough should easily come together. We hope this helps, and happy GF baking! Kye@KAF
Best gluten free sugar cookie recipe I've tried.
Love this recipe. I needed to make these dairy free so I substituted lard for the butter. The dough was really stiff, so I rolled them into balls, and they came out of the oven the same way they went in, like swedish teacakes instead of flat cookies. No problems there, I just added some pecans for the second dozen and they're even better. Question, anyone have thoughts on why that is? I didn't want to sub coconut oil because I thought the cookies would spread... but in hindsight that's maybe what I should have done.

We're glad to hear you made cookie lemonade out of cookie lemons, Brenda! It sounds like there was just a bit too much flour in the dough. If you're able to weigh your ingredients, that will always give you the most accurate measurements. If not, we've found that fluffing the flour with a whisk or spoon, sprinkling it into your measuring cup, and scraping off the excess is the most accurate way to measure by volume. Hope this helps! Annabelle@KAF