A customized print-friendly version of this recipe is available by clicking the "Print Recipe" button on this page.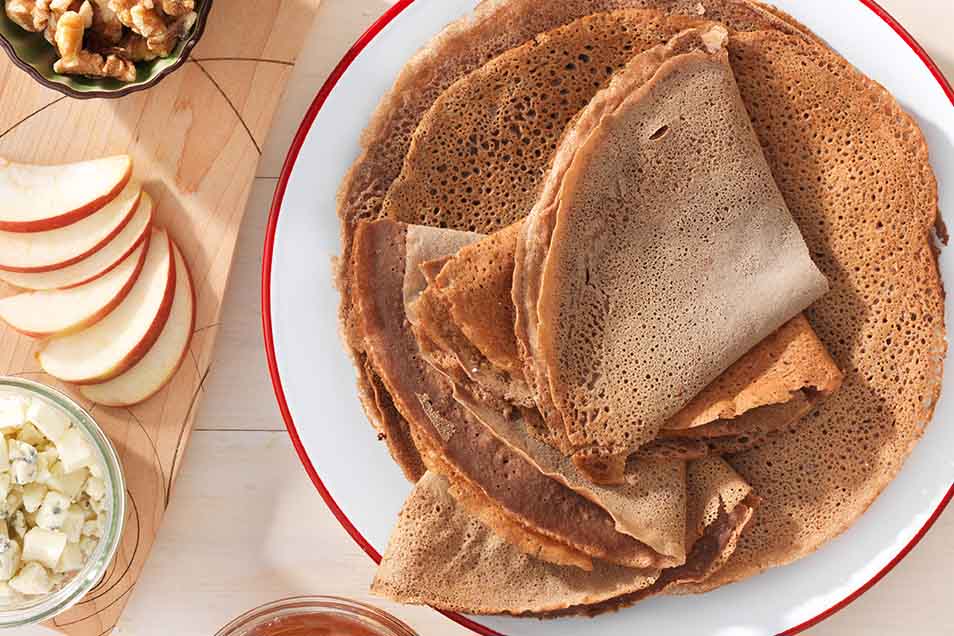 Bring your sweet or savory crêpes to a whole new level with teff flour. Traditionally used in a thin Ethiopian flatbread called Injera, teff flour is ideally suited for these crêpes, and lends them a delicately nutty flavor and soft, tender texture. They're perfect for just about any filling you can imagine.
Ingredients
1 cup teff flour
1/2 teaspoon salt
2 large eggs
1 cup milk: 1%, 2%, or whole
1 tablespoon melted butter
1/4 to 1/2 cup water
Instructions
To make the crêpe batter: Combine all the ingredients (except water) in a blender, and blend until smooth.

Cover the batter and let it rest in the refrigerator for at least 2 hours, or overnight.

When you're ready to make crêpes, thin the batter with water, using less water for thicker crêpes and more water for thinner ones.

Preheat a crêpe pan or non-stick skillet over medium-high heat. Lightly grease the pan with butter, oil, or pan spray, then pour in enough batter to thinly coat the bottom of the pan; swirling the pan as you pour the batter will help ensure an even coating.

Cook the crêpe for 1 to 2 minutes on the first side, until it's golden and lifts from the pan easily.

Flip the crêpe over and cook for another 1 to 2 minutes on the other side.

Transfer the cooked crêpes to a plate, stacking them on top of one another, and keeping a towel over them.

Fill the finished crêpes as desired (we particularly like blue cheese, apple, walnuts, and honey in these crêpes); serve warm.