A customized print-friendly version of this recipe is available by clicking the "Print Recipe" button on this page.
Gluten-Free Triple Chunk Oatmeal Coconut Cookie Bars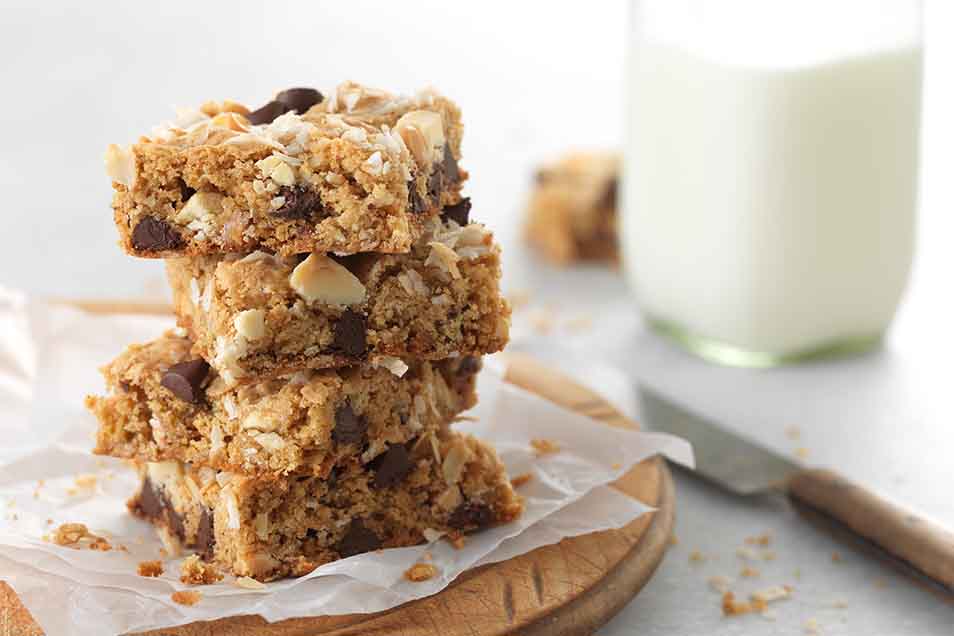 Need a cookie in a jiffy without babysitting batch after batch? Here's a decadent cookie bar using our gluten-free cookie mix and a super blend of flavors and textures. Just spread the dough in a pan and you'll have cookies in 25 minutes or less! Add your own favorite combination of dried fruits, chips, and nuts.
Ingredients
1 box King Arthur Gluten-Free Cookie Mix
10 tablespoons soft butter
1 large egg
4 tablespoons water
3 cups add-ins of your choice (chips, dried fruit, oats, nuts, etc.)
Instructions
Preheat your oven to 350°F. Lightly grease a 9" x 13" pan lined with parchment paper.

Prepare the cookie dough according to the box instructions, using the amounts of butter and water in the ingredients list at left.

Stir in 3 cups of any combination of chips, dried fruit, or nuts.

Spread the dough evenly in the prepared pan.

Bake the bars for 20 to 25 minutes. The top crust should be lightly browned when the bars are done. Cool to lukewarm before serving.

Yield: 24 bars.
Tips from our bakers
Three cups of add-ins is ideal for this cookie bar. We like 1 cup oats, 1/2 cup coconut, 1/2 cup white chocolate chunks, 1/2 cup chocolate chips, and 1/2 cup butterscotch chips.
Reviews
Loved how quick and easy this went together plus you can vary it depending on whatever you have on hand for the add-ins. I made mine with oats, unsweetened toasted coconut chips, chocolate chips and pecans. Substituted 4 Tblspn of Earth Balance Dairy Free Butter, 4 Tblspns of Coconut Oil, and 4 oz of applesauce for the butter and used a dairy free chocolate chips to make this a dairy free treat. Everyone including those that aren't on a special diet enjoyed these!
Oops, in my review of "Gluten-Free Triple Chunk Oatmeal Coconut Cookie Bars," dated July 19, 2016, I intended to post a "5 star" rating for this stellar cookie bar; however, I inadvertently highlighted only one star. I highly recommend this cookie bar recipe!
Yum, and YUM! These bars are the BOMB! Made them as a gluten-free alternative dessert to my husband's birthday cake. Only our 15 year-old granddaughter is following a gluten-free diet, and most often the rest of the family eschews gluten-free desserts; however, this terrific bar cookie has changed all that! Everyone at the birthday party, including my granddaughter's dad, and my husband, raved about these fabulous bar cookies! Owing to the party guest-list, I couldn't use nuts or coconut in my version of this recipe. My 3-cups of add-ins included 1-cup each: organic apple-sweetened dried cranberries, Ghirardelli White Chocolate Chips, and Ghirardelli 60% Cacao Bittersweet Chocolate Chips. I allowed the batter to stand in the mixer bowl for 20-minutes to hydrate the grains before stirring in the add-ins. It will be fun to introduce my family members to other bar-cookie variations using KAF Gluten-Free Cookie Mix. There will always be a spot in my pantry for this versatile mix. A million thanks King Arthur Flour!
Another GF winner - thanks to KAF! Couldn't be easier, I followed the recipe as written and for my three cups I added a cup of oats, 1/2 cup flaked coconut, about 2/3 KAF cappuccino chips, 1/3 KAF cinnamon chips, and 1/2 cup of Ghiradelli 60% chocolate chips with about a tablespoon of Nestle Tollhouse mini-chocolate morsels to get to a full 1/2 cup with the darker chips. Next time I will probably do 1-1/2 cups oats and 1-1/2 dried fruits (cranberries, apricots and golden raisins) and sprinkle coconut on top of the bars to toast while baking - yum! This is a great versatile recipe I will turn to again for my GF baking.
Thank you for the bar cookie variation, Amy. These were a quick solution when I needed a last minute dessert! Next time, I think I'll try oatmeal, coconut, dried cherries or cranberries, chocolate chips and pecans!
I often add two ripe mashed bananas (omit water) to this mix along with some chocolate chips and bake in a 9x9, I end up with wonderfully tasting thick banana chocolate chip bars. I'm trying peanut butter next. Thanks KA.
These bars are great! Easy and Tasty.
I baked all day and these are by far the best cookies of the day - and the only GF ones! I will DEF make these again - using the KAF mix really speeds things up. Baked in an 8x8 because I didn't have the 9x13. Added 10 mins to cooking time. Chocolate chips, coconut and oats. Fab. A genuine, "real" cookie tasting treat for those with GF needs.
I'm so glad you liked it! That makes my day! ~Amy
My first time using King Arthur's GF cookie mix and was very surprised and delighted how tasty they were. A tip: I found that if you overhang the parchment paper you can then lift the cookie out of the pan and use a pizza cutter to cut into bars. Also, when putting dough into pan if you wet your fingers you can press the dough easily into the pan. I will be buying this mix again!
Great tips, Kathy - Happy GF Baking! Irene@KAF