A customized print-friendly version of this recipe is available by clicking the "Print Recipe" button on this page.
Gluten-Free Whole Grain Blueberry Muffins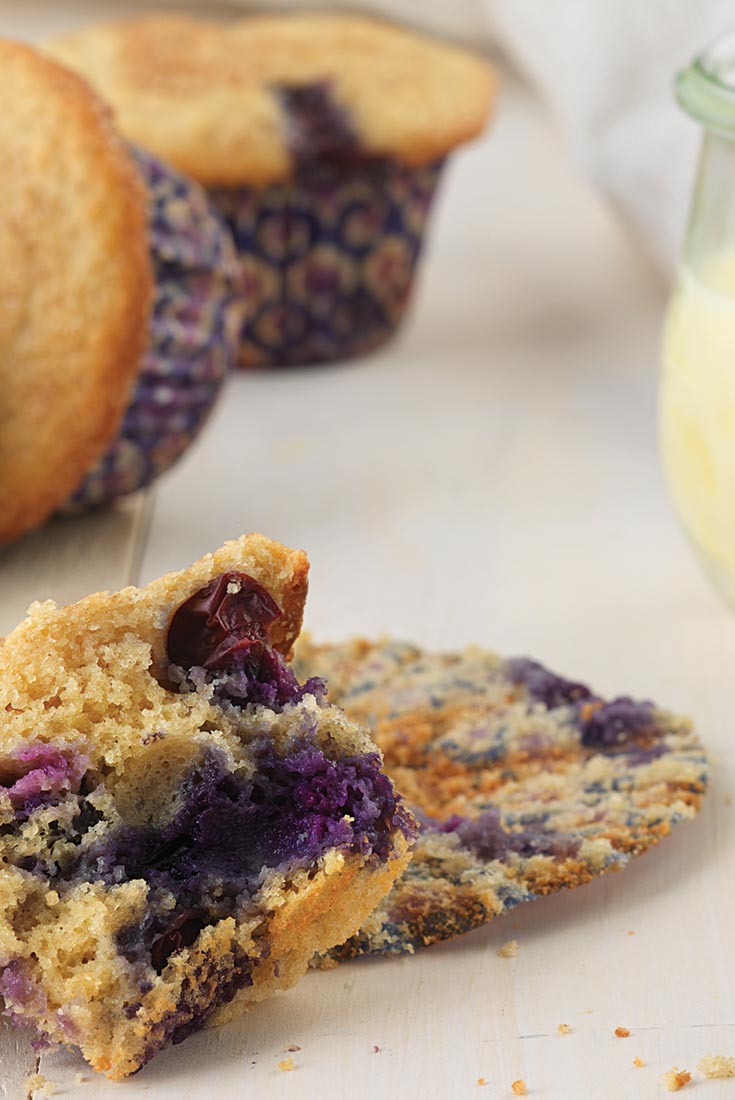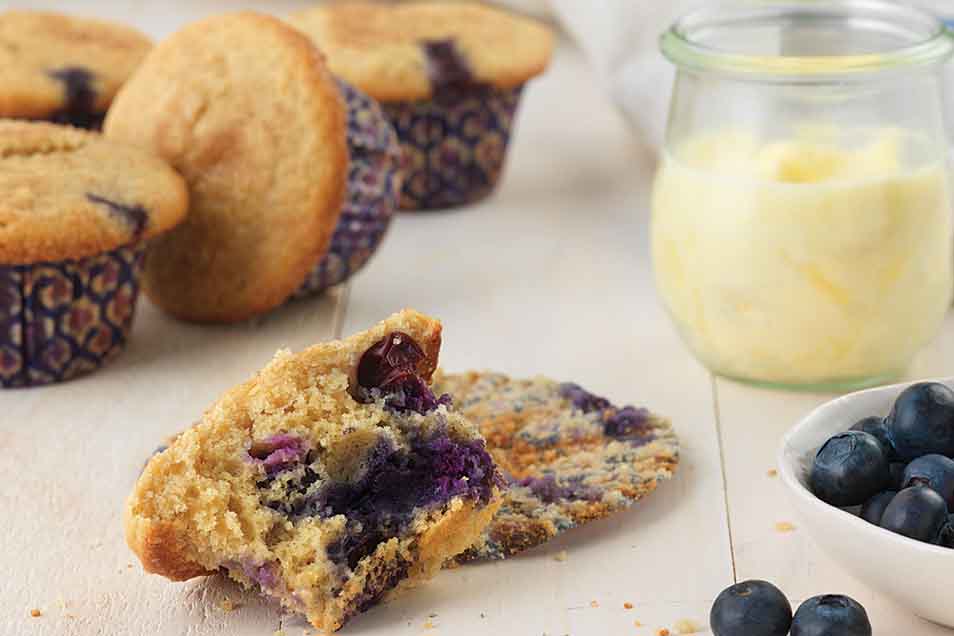 Whipping up a batch of these gluten-free blueberry muffins will help you start your day with a filling serving of whole-grains. They're the perfect breakfast treat!
Ingredients
1 1/2 teaspoons baking powder
1 1/2 cups King Arthur Gluten-Free Whole Grain Flour Blend
1/2 teaspoon xanthan gum
1/4 cup almond flour
heaping 1/4 teaspoon table salt or level 1/2 teaspoon sea salt
1/2 cup sugar
1/4 cup melted butter
2 large eggs
3/4 cup whole milk
1 teaspoon vanilla extract
3/4 cup blueberries (fresh or frozen)
1 tablespoon cornstarch (if using frozen berries)
1 tablespoon sugar (if using frozen berries)
Demerara sugar for sprinkling, optional
Instructions
Preheat the oven to 350°F. Line a muffin pan with eight paper liners.

Whisk together the dry ingredients in a large mixing bowl and set aside.

In another bowl, beat together the butter, eggs, milk, and vanilla until smooth. Set aside.

If using frozen blueberries in the muffins, combine the blueberries, cornstarch and 1 tablespoon sugar in a small bowl (if you're using fresh berries, skip this step).

Pour the wet ingredients into the dry ingredients and mix together until combined. The batter will resemble thick cake batter.

Fold in the blueberries.

Evenly distribute the batter between your eight muffin cups. Sprinkle the tops of each muffin with 1 teaspoon Demerara sugar, if desired.

Bake the muffins on the center oven rack for 20 to 25 minutes, until the tops are golden brown and a toothpick inserted into the center comes out clean. 

Let the muffins cool in the pan for 10 minutes, then transfer them to a rack to finish cooling completely.

Yield: 8 muffins.
Reviews
First gluten-free recipe I've ever made and was very pleased. All I had was brown rice flour vs. multigrain and the flavor was great. I used fresh berries; had no problem with muffin paper; my pan is small so I got 12. I'm on day 3 and they're still moist.
Tip: Spray the paper liners or you'll need to scrape a quarter of your muffins off the liners! The texture is very nice and I got 10 muffins. If I didn't use liners, I know I would get nine. I used frozen berries and adjusted for high altitude. I give it three stars because well, where is the flavor? This recipe needs something more. I will play with it just because they baked up so well.