A customized print-friendly version of this recipe is available by clicking the "Print Recipe" button on this page.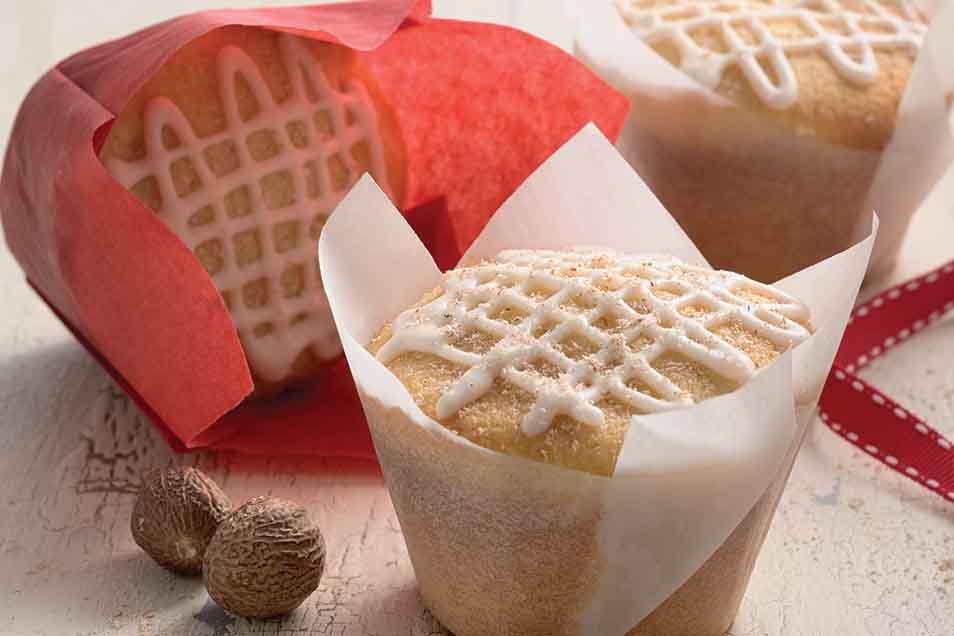 Does the thought of eggnog make you yearn for the holidays? Yearn no longer; these richly delicious cupcakes will satisfy your craving at any time of the year!
Ingredients
1 ½ cups (24 tablespoons) unsalted butter, at room temperature
2 cups sugar
½ teaspoon grated nutmeg
1 teaspoon salt; reduce to 1/4 teaspoon salt if you use salted butter
1 ¼ teaspoons eggnog flavor*
4 large eggs
¼ cup dark rum or brandy, optional
2 teaspoons baking powder
1 ¼ cups heavy cream*
*Substitute prepared eggnog for the eggnog flavor and heavy cream, if desired; no need to adjust the sugar.
Instructions
Preheat the oven to 325°F. Line two standard muffin pans with cupcake papers or tulip muffin papers.

Beat together the butter, sugar, nutmeg, salt, and eggnog flavor until light and fluffy. Beat the eggs in one at a time, beating well after each addition, and scraping the bottom and sides of the bowl. Stir in the rum or brandy.

Whisk the flour and baking powder together. Beat in half the flour mixture, then half the cream. Repeat, being sure to scrape the bottom and sides of the mixing bowl occasionally.

Spoon 1/3 cup of batter into each of the prepared cups.

Bake the cakes for 28 to 30 minutes, rotating the pans halfway through. When done, the top of a cupcake should bounce back when lightly touched, and a toothpick inserted into the center of one of the cupcakes in the middle of the pan should come out clean, or with just a few moist crumbs clinging to it.

Remove the pans from the oven. Cool the cakes in the pans for 10 minutes, then turn them out onto racks to cool completely. If you're going to ice them, wait until they're completely col to do so.

Yield: 2 dozen cupcakes.
Tips from our bakers
Drizzle with a flavored sugar glaze, if desired. To make glaze, mix confectioners' sugar with enough milk to make it pourable, then flavor to taste with a couple of drops of eggnog flavor, or the flavor of your choice.
Reviews
I absolutely LOVE this recipe! I've made it several times now, and my friends always ask for more. I saw that someone asked about cupcakes and it was noted that the recipe does not really translate well. I was wondering if there would be any issue in using a mini fluted bundt pan? Like the Wilton 6-cavity pan, for example? Thanks!

Hi Lauren, we're glad to hear you love this recipe just as much as we do! You're welcome to try making this recipe in your mini fluted Bundt pan if you adjust the bake time accordingly. Larger volumes of batter take longer to bake through in the oven, so extend the baking time by about 5-8 minutes and then check for doneness. If the top doesn't bounce back or a toothpick doesn't out clean, extend the baking time by another 5 minutes or so before checking again. Be sure to note the baking time so the next time you make these cupcakes in the pan, you'll know precisely how to go about the bake. Enjoy! Kye@KAF
Wow, rich little butter bombs these are! I used eggnog and boosted it with some Lorann eggnog flavor. These are so good when slightly warm -- really brings out the richness!
These are amazing IF you use the Lorann Eggnog flavor (I used a bit more than the recipe called for)AND use eggnog instead of cream. If you want strong eggnog flavor and not vanilla-nutmeg cupcakes that is the only way. Paired with buttercream made with rum and the eggnog flavoring again, these got RAVE reviews.
I was not wowed by the flavor. I used eggnog instead of cream and flavor and as the cake itself is moist, it lack the depth of eggnog flavor which I have tasted in store bought brands. I made a simple glaze with eggnog flavor which helped boost the eggnog flavor. Next time I will consider adding eggnog flavor in addition to the eggnog.
The taste was excellent! I used prepared Eggnog in place of the Eggnog flavor/heavy cream. They looked wonderful and tasted even better!
To get this recipe to 5 stars, I agree they need frosting. I made basic buttercream, but substituted eggnog for the usual milk/cream and used 1/2 tsp eggnog flavor in lieu of vanilla. I also added a 1/2 tsp of grated nutmeg. The cupcakes' texture is more like a muffin (which my family liked), so the frosting is a nice addition. KAF blue snowflake cupcake liners and some blue sugar crystals make a beautiful presentation for these cupcakes.
I made these for a holiday potluck. They are tasty and easy to make but lacked the WOW factor I was hoping for. The ingredients are so rich, I opted for just a drizzle of glaze but if I made them again I would definitely frost them.
I was afraid to try this recipe as there was only one review posted, but I'm so glad I did. The cupcakes are very moist and tender, and have a rich, full eggnog flavor. I'm planning on making another batch again this evening and frosting them with an eggnog flavored cream cheese frosting, and will finish them with a dusting of freshly grated nutmeg. These will satisfy all eggnog fanatics!