A customized print-friendly version of this recipe is available by clicking the "Print Recipe" button on this page.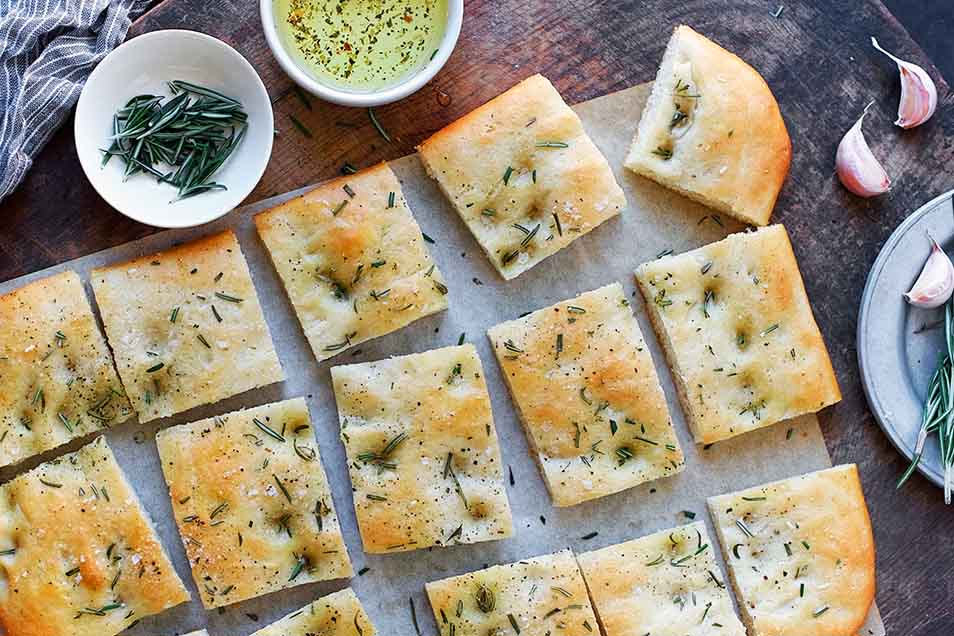 With its roughly dimpled surface and craggy interior, focaccia has become mainstream American, even appearing in some fast-food restaurants. While Americans may be used to soft, thick focaccia, this version is closer to the classic Italian bread: a rustic, everyday loaf that's usually a bit thinner than American-style. It can be crusty and chewy, thin and crisp, or whatever style the family prefers.

Baking gluten-free? Try our Gluten-Free Focaccia recipe.
Ingredients
Starter*
1/2 cup cool water
1/16 teaspoon (a big pinch) instant yeast or active dry yeast
*Replace this starter with 1 cup (8 ounces, 227g) ripe (fed) sourdough starter, if desired.
Dough
all of the starter (above)
2 1/4 teaspoons instant yeast or active dry yeast
1/2 cup lukewarm water
1 1/4 teaspoons salt
2 tablespoons olive oil
Topping
2 tablespoons olive oil
fresh or dried rosemary
coarsely ground black pepper
coarse sea salt or kosher salt
Instructions
To make the starter: Mix the water and 1/16 teaspoon yeast, then add the flour, stirring until the flour is incorporated. The starter will be paste-like; it won't form a ball.

Cover and let rest at room temperature for about 14 hours; the starter will be bubbly. If you make this in the late afternoon, it'll be ready to go by the next morning.

To make the dough: Combine the overnight starter with the remaining dough ingredients, and mix and knead — by hand, mixer, or bread machine set on the dough cycle — to make a soft, smooth, elastic dough. If you're kneading in a stand mixer, it should take about 5 minutes at second speed.

Place the dough in a lightly greased bowl, cover, and let it rise for 1 hour, or until it's noticeably puffy.

Use non-stick vegetable oil spray to lightly grease a large baking sheet (e.g., an 18" x 13" half-sheet pan). Drizzle about 2 tablespoons olive oil atop the spray; the spray keeps the bread from sticking, while the olive oil gives the bottom crust great crunch and flavor.

Gently pull and shape the dough into a rough rectangle, and pat it into the pan. For thinner focaccia (1/2" to 3/4" thick), pat it all the way to the edges of the pan. For thicker focaccia (3/4" to 1" thick), don't pat all the way to the edges of the pan; leave an inch or so free around the perimeter.

Cover the pan, and allow the dough to rise for 30 minutes. Use your fingers to make irregularly spaced dimples, pressing down firmly; your fingers should reach the bottom of the pan without actually breaking through the dough.

Re-cover the dough, and let it rise until it's noticeably puffy, about 1 hour. The dough should have expanded, but shouldn't seem fragile, or look like it might collapse. Toward the end of the rising time, preheat the oven to 425°F. If you have a pizza stone or baking stone, set it on a middle or lower-middle rack.

Spritz the focaccia heavily with warm water, and drizzle with 2 tablespoons olive oil (or enough to collect a bit in the dimples). Sprinkle with rosemary (or the herb of your choice), black pepper, and coarse salt, to taste.

Place the pan of focaccia onto the baking stone, or onto a middle oven rack. Bake the focaccia until it's light golden brown, about 20 to 25 minutes. (If you've made small rounds, bake for 15 to 18 minutes.) Remove the focaccia from the oven, and immediately turn it out of the pan onto a rack to cool.

Enjoy focaccia hot from the oven, or warm; focaccia is best the same day it's made. But leftovers can be successfully reheated, either as slices in the toaster or in a 350°F oven, just until warmed through.
Nutrition Information
Serving Size

1 piece

Servings Per Batch

12
Amount Per Serving:
Calories

150

Calories from Fat

45

Total Fat

5g

Saturated Fat

0.5g

Trans Fat

0g

Cholesterol

0mg
Sodium

270mg

Total Carbohydrate

23g

Dietary Fiber

1g

Sugars

1g

Protein

4g
* The nutrition information provided for this recipe is determined by the ESHA Genesis R&D software program. Substituting any ingredients may change the posted nutrition information.
Tips from our bakers
The overnight starter does two things for your focaccia. First, it gives the yeast a chance to grow and really do its work, resulting in light-as-air flatbread with an appealing bit of chew. And second, as the yeast grows it releases organic acids and alcohol, both of which contribute immeasurably to the focaccia's flavor.
Want to make smaller focaccia? Try one of these options instead. Whatever size focaccia you choose, bake until it's light golden brown.
•Pat the dough into four 6" to 8" rounds, either freeform or in round cake pans.
•Make two 9" x 13" focaccia.
•For extra-thick (more American-style) focaccia, bake the full batch of dough in two 9" rounds or one 9" x 13" pan.
While often topped simply with herbs and sea salt, Italian focaccia also serves as a base for ingredients ranging from chopped olive, feta, and anchovies to sweet onions and capers. Use a light touch with any toppings; focaccia isn't pizza. But it's OK to be creative with these finishing touches.
Looking for the sweet and savory stuffed focaccia variations that used to accompany this recipe? Find them here: Focaccia Five Ways.
Reviews
This focaccia recipe is AMAZING! Everyone who had had it LOVES it! I have also used this recipe as a pizza dough. it works great either way. Very versatile in how you season it. I love sprinkling it with a bit of sea salt and coarse black pepper. You won't be disappointed!
This bread is excellent! I made it with a couple inclusions. I added just a touch of black pepper, red pepper flakes and Italian herb seasoning to the dough. Followed the rest of the directions, then topped with a little shredded Colby jack cheese, a sprinkle of Parmesan/Romano cheese, thinly sliced tomato and onion, and a bit of Everything Bagel seasoning just before baking. My very Italian hubby and my son raved about it!! This will be a regular recipe at our house, a definite keeper.
Excellent and versatile recipe! AND I have a question. I have made this many times, both sweet and savory versions, so now I triple the recipe, divide it into 3 parts and put 2 parts in the fridge to bake later in the week. For me, holding any bread dough before the bulk rise seems to work much better than after shaping, and it's relatively easy and non-messy to shape the finished dough. My QUESTION: what's the best approach when I take the risen dough out of the fridge on baking day? I think it needs to 'unchill' before I can shape it, so do I punch it down, or just leave it? It has usually risen to almost doubleI'd say about 70 or 80% of the point where I would dump it out and shape if it had never been in the fridge. I usually take a middle course: dump it out, and then put it back in the container, which deflates it, but not as far as if I punched it down. I should probably say that I use about 2/3 whole wheat flour, and 1/3 hard white, with a bit of diastatic malt, and some of the baker's dry milk (which I think was in your older version of this recipe.) And it rises beautifully. Oh, and my favorite sweet version is a filling of dried apricots, plumped and simmered w a vanilla bean to a thick paste, and chilled, with a couple tablespoons of turbinado type sugar, both in the filling and sprinkled on top for a bit of crunch. Yum!

We're thrilled to hear this is such a big hit! When the dough is cold straight out of the fridge, you could technically shape it immediately, but it's probably going to be a little more cooperative after about 30 minutes on the counter. It really just depends on how much time you have before you need to bake! Annabelle@KAF
I've made this recipe several times and each bake has been scrumptious. I'd like to take the credit, but really, I'm just following instructions. I usually add some green olives to the recipe. Just finished first, and am ready for seconds.
what should the room temp for the starter be? i have a nice warm(hot) garage, will that do?

Hi Gil, a normal room temperature will make this starter happy: anywhere from 68°F to 72°F will be just fine. Avoid leaving the starter any place that's in the high 70's or more, otherwise it'll ferment too quickly. Good luck and happy baking! Kye@KAF
I've always been sort of neutral on focaccia, but I wanted to bake something a bit different. This is one of the best breads I've ever baked. It's a bit fiddly in terms of a lot of steps and hands-on time, but it's well worth it. I added a bit of mozzarella and minced garlic to the dough and instead of olive oil used an herbed oil some one had given me that I had never found a use for. Then I divided among three 9 inch cake pans, put some shredded parmesan, salt, oil and water (no spritzer so I dropped from my finger tips) on all three. I put black pepper and Italian seasoning on the two I was planning to give away and red pepper and fennel on mine. It's so crispy, light, and delicious and my first recipient was delighted with the garlic and herbs. My other recipient hasn't gotten his yet. Is there any way to freeze this? I didn't see any option, but I would like to serve this at a party when I won't have much prep time.

Feel free to wrap the baked focaccia tightly in plastic wrap and then freeze for up to 1 month. Let it thaw at room temperature and then refresh it by putting it back in the oven for 5-10 minutes until it's warm all the way through before serving. Enjoy! Kye@KAF
This tasted great! It made really good pizza the next day using the leftovers.
I am new to sourdough baking. I followed King Arthur's sourdough starter recipe meticulously. And Golden Focaccia was my first foray into sourdough baking. I added one teaspoon minced garlic to the dough along with 2 teaspoons mixed herbs. The focaccia was golden, flavourful and a very distinctive tang of sourdough. We loved it immensely. Thank You so much! This recipe will be on my blog soon :)
I think I messed this up, but it still tasted good in the end. I weighed all of my ingredients, so that wasn't the problem. The problem was that I added all of the "dough ingredients" including the oil to my dough. I used oil three times: dough, pan, and top. The dough was very gloppy and unkneadable, so I double checked the total weight of my dough and it was where it should have been. I let it rest 10 minutes but still gloppy. I weighed out another ounce of flour and kneaded with that. Perfect. I proceeded from there and went with the American thickness by using a jelly roll pan. The bread was gobbled up very quickly. In conclusion, could you please clarify the directions? An enumerated list of the remaining dough ingredients in step 3 would help out enormously.

Amy, it doesn't sound to us like you messed anything up at all! 2 Tbsp of olive oil are meant to be added to the dough in step 3, in addition to the oil used on the pan and on top of the dough. With anything yeasted, the exact ratio of flour:water will vary some based on the way you measure your flour, the ambient humidity, and more, so it's not unusual that your dough may have needed a little adjustment. The goal is always to achieve the desired dough consistency rather than to use the exact amounts of flour and water called for in a recipe. Regardless, we're thrilled to hear that you made it work and that your focaccia was so happily enjoyed! Mollie@KAF
I used the second day discard of my baby sourdough starter (also from your recipes) to make this, and wow. I'm struggling not to eat the whole pan! I used garlic infused olive oil, fresh basil, caramelized onions, and 12 thin tomato slices. I think I'll slightly reduce the salt in the dough next time so that I can use a more liberal hand with the topping salt. This is the wettest dough I've successfully worked with yet - it was fascinating to feel it come together and start adhering more to itself than to my hand. Thanks for a great dinner!