A customized print-friendly version of this recipe is available by clicking the "Print Recipe" button on this page.
Golden Pumpkin Dinner Rolls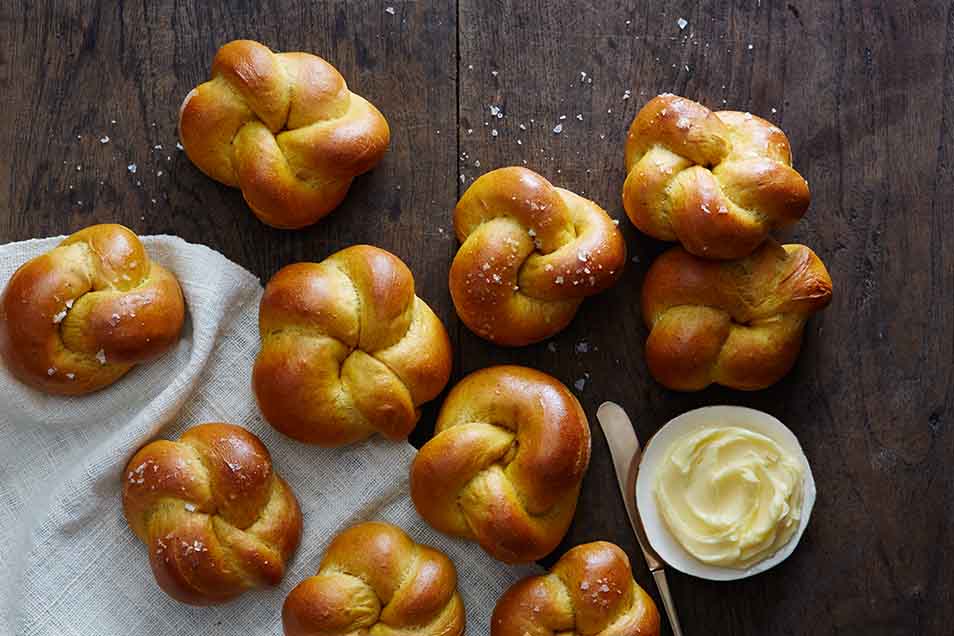 Add these slightly sweet, light-gold rolls to your bread basket for a tasty change of pace. To make the pretty rolls pictured above, see our video on how to shape knots.
Ingredients
Dough
1/4-ounce packet (2 1/4 teaspoons) Red Star Platinum Superior Baking Yeast
1/4 cup brown sugar
1/2 cup lukewarm milk
4 tablespoons softened butter
2 teaspoons salt
2 teaspoons pumpkin pie spice; or substitute 1 1/4 teaspoons ground cinnamon + 3/8 teaspoon ground cloves +3/8 teaspoon ground ginger
2 large eggs
3/4 cup pumpkin purée (canned pumpkin)
Topping
1 large egg beaten with 1 tablespoon of water, for egg wash; optional
melted butter; optional
Instructions
Combine all of the dough ingredients in a large bowl, and mix and knead — using your hands, a stand mixer, or a bread machine set on the dough cycle — to make a soft, smooth dough.

Place the dough in a lightly greased bowl, and allow it to rise for 60 to 75 minutes, until it's puffy though not necessarily doubled in bulk.

Gently deflate the dough, and transfer it to a lightly greased work surface.

Divide the dough into 24 equal pieces. Round each piece into a smooth ball, or shape into knots.

For pull-apart rolls, lightly grease two 9" round cake pans or one 9" x 13" pan. Space 12 rolls in each of the 9" pans or all 24 rolls in the 9" x 13" pan. Alternatively, for individual rolls or knots, lightly grease (or line with parchment) two baking sheets; space 12 rolls on each pan.

Cover the pans, and allow the pull-apart rolls to rise until they're crowded against one another and quite puffy, about 1 1/2 to 2 hours. For individual rolls, let them rise until nicely puffy, though they probably won't touch one another. Towards the end of the rising time, preheat the oven to 350°F.

Uncover the rolls and gently brush them with the egg wash, if desired. Bake the rolls for about 25 to 30 minutes until golden brown, tenting them with foil for the final 5 to 10 minutes of baking if they appear to be browning too quickly. A digital thermometer inserted into the middle of a center roll should register at least 190°F.

Remove the rolls from the oven, and brush with melted butter, if desired. After a couple of minutes, turn the rolls out of the pan onto a cooling rack.

Serve warm. Store completely cooled rolls, well-wrapped, at room temperature for several days; freeze for longer storage.
Nutrition Information
Serving Size

1 roll (42g)

Servings Per Batch

24
Amount Per Serving:
Calories

110

Calories from Fat

25

Total Fat

2.5g

Saturated Fat

1.5g

Trans Fat

0g

Cholesterol

20mg
Sodium

200mg

Total Carbohydrate

19g

Dietary Fiber

1g

Sugars

3g

Protein

3g
* The nutrition information provided for this recipe is determined by the ESHA Genesis R&D software program. Substituting any ingredients may change the posted nutrition information.
Reviews
I made this recipe as written. The only modification I made was to add more flour during kneading because I *thought* my dough was overly wet (assuming I knew better). I made the knots by following the video instruction and brushed them with melted butter after baking. I felt the rolls were good but not outstanding, though I would certainly make them again. It's distinctly possible my technique stood in the way of these being outstanding because I felt my rolls were a bit dense. I served them with Ina Garten's Cinnamon Honey Butter. KAFhow long do you recommend kneading this dough with a hook in a stand mixer? For this recipe, at the end of Step 1 should the dough be wet like ciabatta or drier?

Knead the dough until a smooth, slightly tacky dough forms; it should be stiffer than a ciabatta dough. It usually takes about 5 minutes on a medium-low speed when kneading in a stand mixer to reach this point. If your dough is quite wet, you may be using flour with too low of a protein content. Be sure you're using King Arthur All-Purpose Flour for best results. Kindly, Kye@KAF
I have tried this recipe three times and each time the dough barely rose. On my third attempt, I let the first rise last for over two hours and it did rise, but never got anywhere close to doubling. I am certain my yeast is OK. I'm working on days that aren't too hot or cold. I measured carefully. I used canned pumpkin, store bought pumpkin pie spice, and 2% milk. I tried the recipe twice with bread flour and once with all purpose flour. I've baked bread successfully before. I am baffled. I've read that sugar and fat can affect a dough's ability to rise, and this recipe has both. Maybe there's a modification that would help foolproof the recipe? It seems others have had success, and I would really like to figure this out before Thanksgiving.

One of the most common reasons why yeast dough fails to rise is because too much flour is added to the dough, making it stiff, heavy, and dry. To ensure you're using the right amount, we recommend checking out the "Measuring Standards," link next to the ingredients header above. You'll see that either measuring your flour by weight using a scale, or fluffing and sprinkling the flour into your measuring cup are the best ways to ensure your recipe turns out perfectly. Kye@KAF
These are great dinner rolls! Even though there's a bit of brown sugar they are not at all sweet. I made the recipe using pumpkin pie spice and of course KAF AP flour and the result is a tender, savory roll with just hints of spice and pumpkin. It tasted great with butter. This recipe is so easy. I used the two-9 inch round cake pans to make soft sided rolls. I highly recommend this recipe. My only caveat is that it took a little longer for the first rise; maybe more like 2.5 hours but that could have been my cold house on a rainy day I made these. Enjoy!
Just made these for Thanksgiving yesterday! I used the weight instructions, mixed the dough in my stand mixer, added 1/4 cup more flour, put dough in fridge overnight. I brought it out of the fridge in the morning, warmed up my oven, and 1 1/2 hours later had perfectly rissen dough! Shaped the rolls, placed in 9" pans, back in the warm oven...perfect rise...perfect bake..perfect rolls!! I think I'll make French toast with the leftovers! Thanks for the great recipe!
I enjoyed these rolls, although I made some adjustments. They were especially good with a whipped butter with a 1/3 c chopped dried cherries, zest of one orange, and 1/4 c maple syrup. I made a double batch, and wanted to leaven it with sourdough so I subbed 226g starter (100% hydration) and subtracted the 113 g flour. To compensate for the extra water I left out the milk and have a few splashes of heavy cream-maybe 1/4 c, I worried I didn't add enough but I think more would have been too sticky. I made the dough and then bulk fermented in the fridge, pulled it out and shaped it after a maybe 2 hours on counter. For some reason they took a LOT longer to proof then I expected... 5 hours I think... maybe the pumpkin and butter etc made it heavier and caused it to come to temp slower? Next I would allow it more time out before I retard it. They are amazing though, and am excited to share them for Thanksgiving!
Here in the Las Vegas desert, the flour is extra dry, so I always cut it back a little. I used 3 1/2 cups of flour and the resultant dough was just perfect. The flavor of these improves after a couple of days or a few days in the freezer. How nice! for a holiday meal!! Thanks!
Like another baker, the dough was so moist, I needed to add quite a bit of flour to make it workable. NOTE - when you put the rolls in a 9" pan, they will not look like the rolls pictured in the recipe. Those were baked separately on a sheet. I'd advise rolling balls (easiest) and baking in a pan so they end up being pull-apart rolls, which were very exciting for the kids. Best warm with butter, jam, or honey - not really great on their own.

DB, for those bakers who are looking to bake pretty rolls like the ones in the recipe photo, we've linked to a video in the head notes (the description of the recipe under the photo) that will demonstrate how it's done. We hope this helps. Kye@KAF
I had a similar experience to another reviewer: The dough was exceptionally wet so I added another 120g of KA AP flour. Would it be better to reduce the liquid (maybe cut back on an egg) than increase flour? Since I've only made these once, I don't know if the flavor/texture was affected. Is it better to freeze unbaked and shaped or as a large ball of dough and shape after defrosted (I'm trying to make best use of my pre-holiday time).

Clarie, we're wondering if you used homemade pumpkin puree, which often is wetter than canned pumpkin. It's best to hold back some of the milk and add it only if the dough feels stiff or dry. Feel free to make adjustments to the dough until it feels smooth, bouncy, and just slightly tacky to the touch. Good luck, and happy baking! Kye@KAF
These were great. I need to practice making the knots though. They weren't as pretty as the picture but oh my did they taste great. These will definitely be in the Thanksgiving bread basket! Thanks for a wonderful recipe.
As soon as I saw this recipe I went ahead and made a batch of these wonderful rolls. I substituted about 1/4 c wheat germ for some of the flour and they still turned out great. Overall, very easy to make. We enjoyed these with apple butter not long after they cooled down a bit. We also liked the delicate spicy aroma of these rolls. Will be making these again very soon. Thank you KAF for another great recipe.