A customized print-friendly version of this recipe is available by clicking the "Print Recipe" button on this page.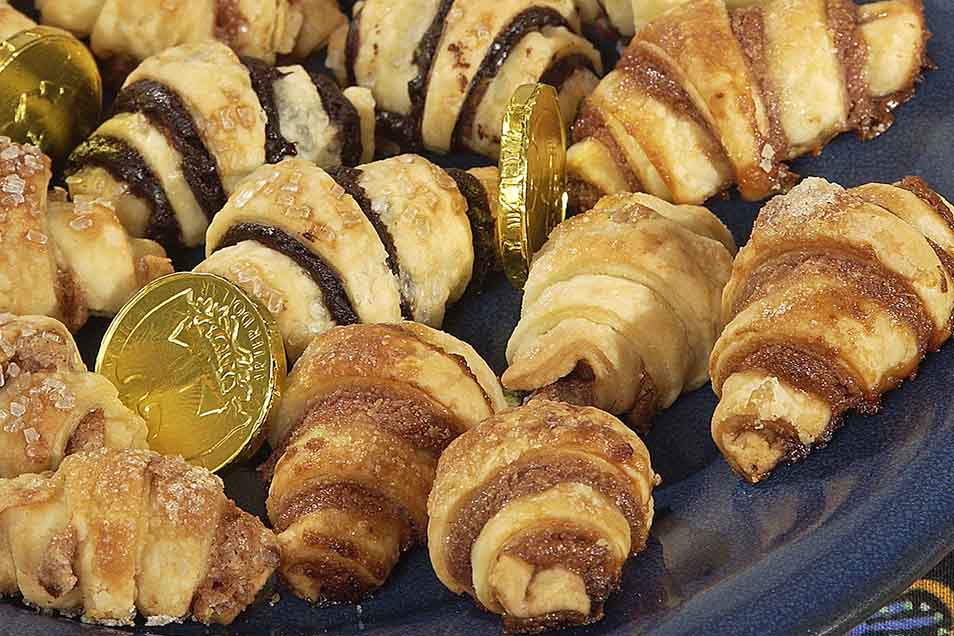 These rich little cookie nuggets feature ultra-tender butter and cream cheese pastry stuffed with chocolate, nuts, jam, or (name your favorite filling). Serve them with coffee (hot or iced); or when days get warmer, a glass of lemonade.

We've included three choices of filling here. Pick your favorite, or be creative and do some of each flavor. Each filling recipe below is enough for ALL of the dough, so if you want to mix and match fillings, you'll need to cut back the ingredient amounts for each.
Instructions
To make the dough: Beat the butter and cream cheese together until they're totally combined.

Add the flour, mixing until it's incorporated and the dough is smooth.

Divide the dough into four even pieces, and flatten each piece into a 3/4" disk.

Roll the disks like a wheel along a lightly floured surface, to smooth their edges; this will help prevent cracked and ragged edges when you roll them out.

Wrap in plastic, and refrigerate for 1 hour.

Preheat the oven to 350°F. Lightly grease (or line with parchment) a couple of baking sheets.

To make the filling(s): The chocolate filling doesn't need any preparation.

Combine the jam and nuts to make that filling.

For the cinnamon-nut filling, combine the cinnamon chips and nuts; don't add the cinnamon sugar.

Remove one piece of dough from the refrigerator, and place it on a lightly floured work surface; a silicone rolling mat works well here.

Roll the dough into a 12" circle.

Sprinkle or spread with 1/4 of the chocolate chips; the chocolate schmear; or the jam-nut filling. For cinnamon-nut filling, sprinkle with a thin layer of cinnamon sugar, then sprinkle on half the chip-nut mixture.

Using a rolling cutter, or your cutting tool of choice, cut the dough into 16 wedges. If you're cutting on silicone, use a non-stick-safe cutter.

Starting with the wide end, roll up each wedge, as though you were rolling a crescent roll.

Place the rolled wedge, tip underneath, onto the prepared baking sheet.

Repeat with the remaining wedges, then with the remaining pieces of dough.

If desired, brush each rugelach with a bit of milk or cream, and sprinkle with cinnamon sugar or coarse sparkling sugar.

Bake the rugelach for 27 minutes, until the cookies are golden brown.

Remove them from the oven, and cool them right on the baking sheet.

Store in an airtight container for up to a week, or freeze for up to one month.
Tips from our bakers
If you use salted butter, decrease the salt to 1/2 teaspoon.
In the jam & nut filling, if desired, substitute 1 cup nuts processed very fine; be sure to stop processing before they turn pasty.