A customized print-friendly version of this recipe is available by clicking the "Print Recipe" button on this page.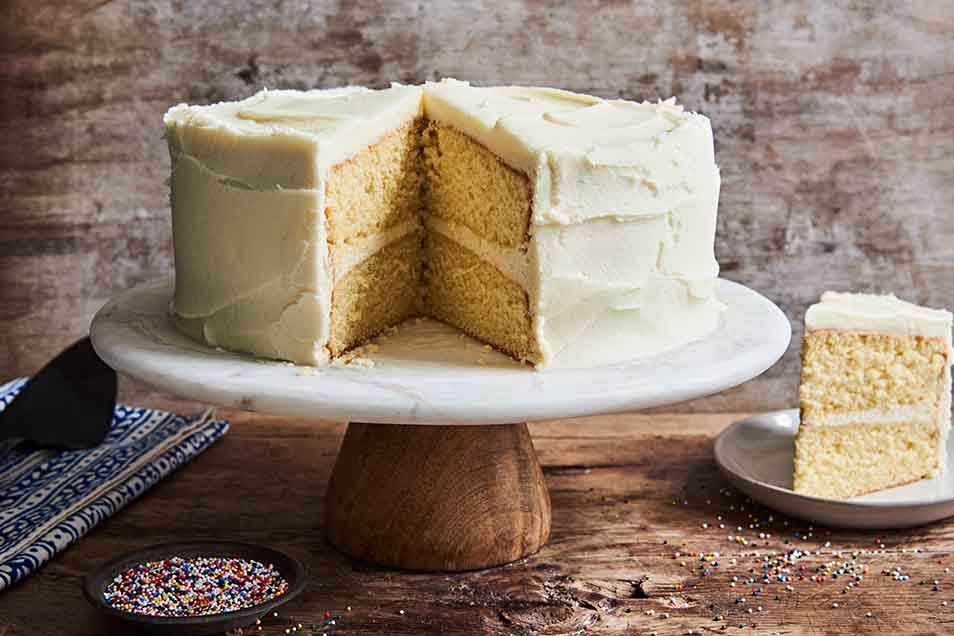 This rich, butter-based cake is moist and tender, with a dense crumb structure. Close-grained and sturdy, it's perfect for stacking in layers and can be paired with any of the frostings you love: chocolate, vanilla, coconut, caramel...
Instructions
Preheat the oven to 350°F. Lightly grease (but don't flour) the bottom only of your choice of pan(s): one 9" x 13" pan, two 9" round cake pans, three 8" round pans, or the wells of two muffin tins (24 muffin cups). You can also line the muffin tins with papers, and spray the insides of the papers.

In a large mixing bowl, whisk together the sugar, flour, baking powder, and salt.

Add the butter and beat with an electric mixer at low speed, until the mixture looks sandy.

Combine the milk and vanilla and add, all at once. Mix at low speed for 30 seconds, then increase the speed to medium and beat for 30 seconds.

Scrape the bottom and sides of the mixing bowl.

With the mixer running at low speed, add 1 egg. Increase the speed to medium and beat for 30 seconds.

Repeat this procedure with the second egg. Continue adding the eggs, scraping after each addition, until all 4 are added.

After the last egg is added, scrape the bowl once more, then beat at medium-high speed for 30 more seconds.

Transfer the batter to the pans of your choice. For layers, divide the batter among the pans. The batter weighs 48 ounces; if you're using a scale to measure out your layers, each 9" layer should weigh 24 ounces; each 8" layer needs 16 ounces of batter. Smooth out the tops with an offset spatula or the back of a tablespoon. For cupcakes, scoop by heaping 1/4-cupfuls into the prepared muffin tins.

Bake for 35-40 minutes for a 9" x 13" pan; 30-35 minutes for 9" layers; 24-27 minutes for 8" layers, or 23 to 25 minutes for cupcakes.

The cake is done when it's golden brown around the edges and just beginning to pull away from the edge of the pan. A toothpick inserted in the center will come out clean.

Remove the cake from the oven and allow it to cool for 5 minutes, then turn it out onto a rack to cool completely.
Nutrition Information
Serving Size

1 piece (57g)

Servings Per Batch

24
Amount Per Serving:
Calories

190

Calories from Fat

24

Total Fat

6g

Saturated Fat

4g

Trans Fat

0g

Cholesterol

35mg
Sodium

150mg

Total Carbohydrate

30g

Dietary Fiber

0g

Sugars

18g

Protein

3g
* The nutrition information provided for this recipe is determined by the ESHA Genesis R&D software program. Substituting any ingredients may change the posted nutrition information.
Tips from our bakers
We make this cake using the "paste method;" soft butter and room-temperature liquids are beaten into the dry ingredients, then the eggs are added one by one. It's a no-fuss way of making a delicious cake every time.
This cake can develop hard sides if your oven runs a bit hot, your pans are dark, or you've greased the sides of the pans. Insulating your baking pans with cake strips will prevent this. If your cake does develop hard sides, wrap it well and let it rest overnight before serving.
Reviews
Cakes did not rise at all. I know my baking powder is good. Is it possible to overheat this batter?

Hi Roy. We're sorry to hear this cake didn't rise for you. It's possible that it was overmixed which generally causes a denser, gummy texture, but the most common reason a recipe doesn't rise or comes out dense is if any extra flour was packed (which flour likes to do!) into the measuring cup.

To ensure you're using the right amount, we recommend checking out the "Measuring Standards," link next to the ingredients header above. You'll see that either measuring your flour by weight using a scale, or fluffing and sprinkling the flour into your measuring cup are the most accurate ways to measure flour. If you'd like to troubleshoot further, please feel encouraged to reach out to our free and friendly Baker's Hotline at 855-371-BAKE (2253). Kindly, Annabelle@KAF
We made this recipe and as we don't bake cakes often (we do lots of cookies and breads) we followed the recipe closely. It is very very dense not light and fluffy like you expect a cake to be. My kids are calling these vanilla sweet buns instead of cupcakes. That being said they are delicious and we are eating them without frosting because they just don't need it. We will be making these again just not as cupcakes.
Made this cake for Thanksgiving (with an espresso Swiss meringue buttercream, chopped walnuts and chocolate ganache). Denser cake than I usually prefer. Just to quantify the density, on a scale of 1 to 10, one being a chiffon cake and 10 being a pound cake, this was a 7. In fairness, the description does say it has a "dense crumb structure." With so many different cake recipes out there, I do like that this a little different from most. I will make it again but for my personal taste, I'll tweak it and lighten it up a little bit.
Cake stuck to the bottom of the pan - had to throw it away. What a waste of time and money!!!!

Sorry to hear about the sticky situation you had, Tammy. We realize it can be disappointing when you take the time to make a recipe from scratch and it doesn't turn out and you hoped it would. Next time you bake a layer cake, consider lining the bottom of your cake pans with parchment paper rounds. (You can cut circles from full sheets of parchment if you like.) Spray them with a bit of non-stick spray (also spray the sides too) before adding the cake batter to the pan. We hope this helps make future batches more enjoyable. Kye@KAF
OK. I am no baker. I'm ok but learning for sure. This cake was very, VERY weird. But I don't care for regular cake, so for ME that is a good thing. Like other reviews, which I didn't read until it was in the oven, mine came out dense and kind of wet almost. I can't think of anything at all to compare it to, but the flavor and texture (to me) are delicious.
This is my fourth time making this cake and it was the best yet. My first try I had results like a lot others that have reviewed the recipe. Second attempt was over cooked. Third attempt was super dense. Being that the cake was so tasty, me being so stubborn and wanting to get it right, I changed a few things myselfand read the replies from KAF. First thing, my house is totally gluten free so I always use the KAF gluten free measure for measure. Second I have a convection oven so my cook time is a little different. So here is what worked for me. I buttered my dark 8" pans. I actually used my phone timer to be sure of the many 30 second mix cycles. As for checking if it was done or not I had to get creative so I didn't fall for the false toothpick reading. I used a really small pearing knife instead of a toothpick. I put the knife in at an angle and in the space between the middle and the cake pan itself. I ended up baking for 31 minutes. This sounds like a lot of work, but the end result was a soft, moist and delicious cake that is devoured in minutes.
Very dense and wet sticky cake. It tasted so bad we threw it out! The toothpick came out clean but after we frosted it and cut in, it looked very soggy..

We're sorry to hear that this well-loved recipe didn't do the trick for you, Kym, and appreciate your feedback. We'd love the chance to talk through the recipe with you to get some details and figure out where things went awry, so we encourage you to reach out to our free and friendly Baker's Hotline staff to help troubleshoot at 855-371-BAKE (2253). Kindly, Annabelle@KAF
People have raved about this cake when I have brought it to potlucks. I gave it 4 stars because after baking it according to directions, I used other reviews to adjust the recipe to get a result I was happier with. First, the cake stuck too much to the bottom when I lightly greased just the bottom of my nonstick cake pans. I put a greased parchment circle on the bottom and lightly greased the sides. The cake came out from the pans perfectly with only a small film stuck to the parchment. Second, the cake rose over the top of the pans when I dividing the batter by weight into two 9" round cake pans, resulting in uneven layers across the sides. (My baking powder was fresh, so maybe it was too vigorous.) I divided the batter by weight into three 9" pans (using the weight amounts in the recipe for the 8" pans). I used cake strips, baked the layers for 27 minutes, and tested for doneness. The layers were uniform on both the top and sides, and the cake started to separate nicely from the sides after it cooled in the pan for 5 minutes. This three-layer 9" cake frosted like a dream. With these changes, this cake has become my go-to yellow cake recipe.
Could you please tell me how many ounces of batter for three 6 inch round pans? I've made this before using the 9inch pan and the cake was very moist and delicious.

Since we haven't tested that, Minkster, we don't have a specific amount. We recommend weighing all of your batter once it's ready and dividing that number by three for best results. Happy baking! Annabelle@KAF
This is the quintessential birthday cake recipe! It has great flavor, texture, moistness, and it's sturdy enough to pile a few layers. My cupcakes were perfect at 20 min.