A customized print-friendly version of this recipe is available by clicking the "Print Recipe" button on this page.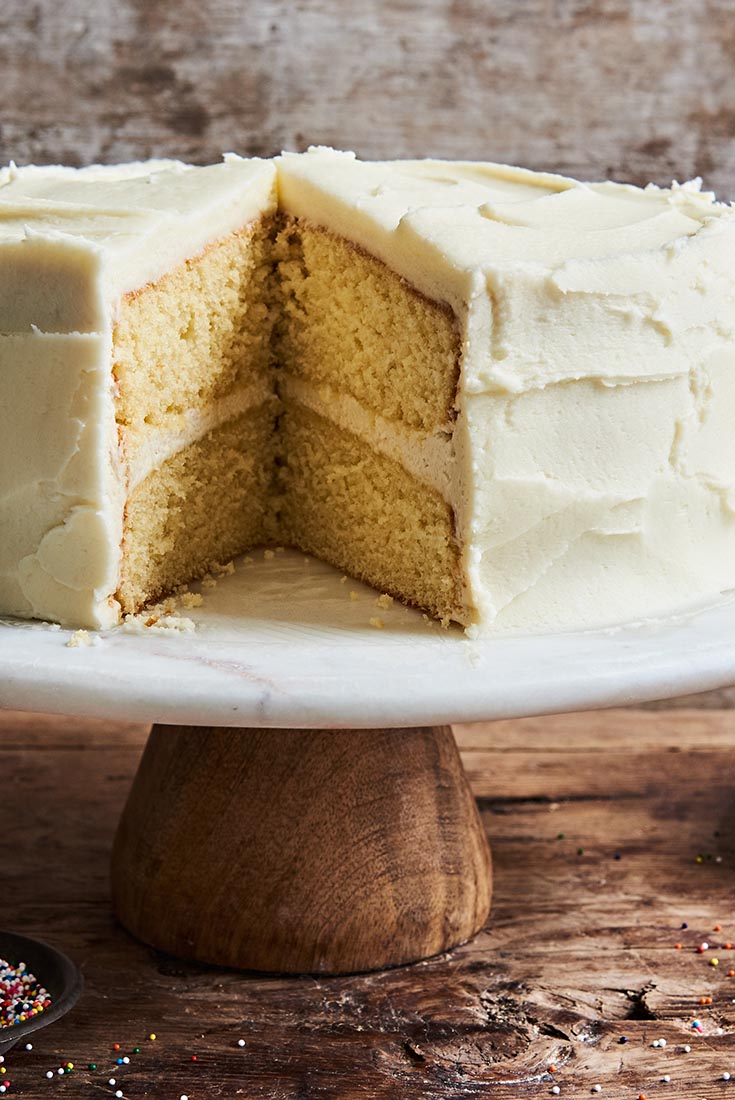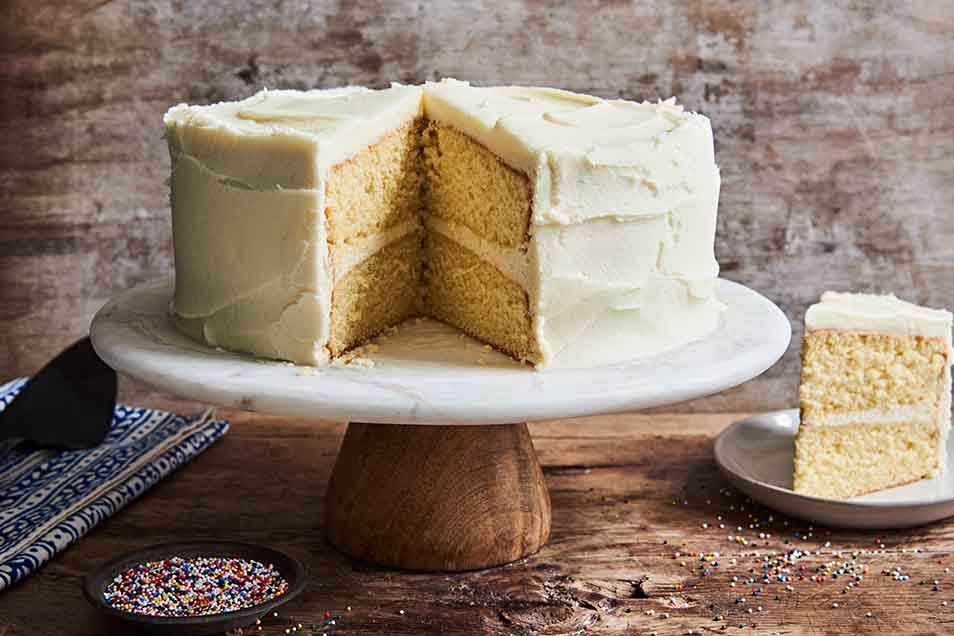 This rich, butter-based cake is moist and tender, with a dense crumb structure. Close-grained and sturdy, it's perfect for stacking in layers and can be paired with any of the frostings you love: chocolate, vanilla, coconut, caramel...
Instructions
Preheat the oven to 350°F. Lightly grease (but don't flour) the bottom only of your choice of pan(s): one 9" x 13" pan, two 9" round cake pans, three 8" round pans, or the wells of two muffin tins (24 muffin cups). You can also line the muffin tins with papers, and spray the insides of the papers.

In a large mixing bowl, whisk together the sugar, flour, baking powder, and salt.

Add the butter and beat with an electric mixer at low speed, until the mixture looks sandy.

Combine the milk and vanilla and add, all at once. Mix at low speed for 30 seconds, then increase the speed to medium and beat for 30 seconds.

Scrape the bottom and sides of the mixing bowl.

With the mixer running at low speed, add 1 egg. Increase the speed to medium and beat for 30 seconds.

Repeat this procedure with the second egg. Continue adding the eggs, scraping after each addition, until all 4 are added.

After the last egg is added, scrape the bowl once more, then beat at medium-high speed for 30 more seconds.

Transfer the batter to the pans of your choice. For layers, divide the batter among the pans. The batter weighs 48 ounces; if you're using a scale to measure out your layers, each 9" layer should weigh 24 ounces; each 8" layer needs 16 ounces of batter. Smooth out the tops with an offset spatula or the back of a tablespoon. For cupcakes, scoop by heaping 1/4-cupfuls into the prepared muffin tins.

Bake for 35-40 minutes for a 9" x 13" pan; 30-35 minutes for 9" layers; 24-27 minutes for 8" layers, or 23 to 25 minutes for cupcakes.

The cake is done when it's golden brown around the edges and just beginning to pull away from the edge of the pan. A toothpick inserted in the center will come out clean.

Remove the cake from the oven and allow it to cool for 5 minutes, then turn it out onto a rack to cool completely.
Nutrition Information
Serving Size

1 piece (57g)

Servings Per Batch

24
Amount Per Serving:
Calories

190

Calories from Fat

24

Total Fat

6g

Saturated Fat

4g

Trans Fat

0g

Cholesterol

35mg
Sodium

150mg

Total Carbohydrate

30g

Dietary Fiber

0g

Sugars

18g

Protein

3g
* The nutrition information provided for this recipe is determined by the ESHA Genesis R&D software program. Substituting any ingredients may change the posted nutrition information.
Tips from our bakers
We make this cake using the "paste method;" soft butter and room-temperature liquids are beaten into the dry ingredients, then the eggs are added one by one. It's a no-fuss way of making a delicious cake every time.
This cake can develop hard sides if your oven runs a bit hot, your pans are dark, or you've greased the sides of the pans. Insulating your baking pans with cake strips will prevent this. If your cake does develop hard sides, wrap it well and let it rest overnight before serving.
Reviews
I made this cake before, back in 2016, and it turned out great. I wish I had printed it out then because I made it again this year and it was a totally different cake. Upon further investigation, KAF changed the recipe by increasing the baking powder and who knows what else. This new recipe turned out heavy, dense, and with a flavor of baking powder. The original recipe was perfect, why oh why did KAF change it? Please KAF, change it back or post the original recipe in reply to my post, thank you.

We appreciate you reaching out and sharing your baking experience with us. We realize it can be disheartening to come back to a tried and tested recipe, only to find out that it's been changed. We adjusted this recipe in response to reviewer's feedback, where bakers weren't finding this recipe to have quite the right flavor, crumb structure, or overall effect we were hoping for. That being said, we'd be more than happy to share the original version if you'd like. Please send an email to customercare[at]kingarthurflour[dot]com, and we'll get you connected with what you're looking for. We hope others find this updated version to be just as pleasing as our taste testers did. Kindly, Kye@KAF
Does it matter if you use jumbo eggs, not large eggs?

No problem, Phil! We'd just recommend holding back a tablespoon or two of the liquid in the recipe to ensure it isn't too runny. Annabelle@KAF
Is there anyway to give negative stars? This is what the recipe deserves - HORRIBLE results. When I called the hotline, I was told that perhaps I over beat the mixture - READ THE INSTRUCTIONS - all you do is beat each of the 4 eggs in and then beat some more. The person was there to tell me it was obviously my fault "when I see that the second egg is incorporated more easily than the first, I don't beat it for the full 30 seconds" well, I suppose then the recipe should NOT ADVISE TO BEAT FOR 30 SECONDS AFTER EACH EGG IS ADDED and then "after the last egg is added, scrape the bowl once more, then beat at medium-high speed for 30 seconds more" Lastly, the person on the hotline says it was the fault of my convection oven! Excuse after excuse. Terrible instructions, terrible results. NEVER AGAIN! save your money - lots of ingredients wasted. I am a veteran baker and am highly disappointed by the results and the phone call to the hotline.

We're so sorry to hear that this recipe didn't give you the results you were looking for and that you were left feeling unsatisfied by the troubleshooting suggestions from our Baker's Hotline staff, Elena, and thank you for letting us know. While we always aim to help customers work through recipes or to figure out where things may have gone awry, we understand that sometimes that can be very difficult since we can't see the finished baked good or the exact procedure. In situations like this, our bakers do their best to offer suggestions of things to try the next time around in hopes of getting a better result, but we sincerely apologize that you had a negative experience when reaching out to us.

We very much hope that you'll have the chance to get back to baking very soon, and wanted to suggest that if you prefer a lighter, fluffier cake, that our Tender White Cake may be an excellent recipe to try out. We recently posted a blog article entirely devoted to that recipe if you'd like to see some of the behind-the-scenes of our test kitchen. Thank you so much for reaching out to us with your valuable feedback which we have shared with our recipe team to consider. Please don't hesitate to reach out to us if you have any questions. Kindly, Annabelle@KAF
I'm not sure but the cake turned out to be very very dense... almost cookie dough like

We're sorry to hear this recipe went so awry, fellow baker. The batter should be pourable and smooth once all of the ingredients have been incorporated. It sounds like there may have been a measuring error or an ingredient substitution that caused the batter to be thicker than intended. We'd be happy to help you troubleshoot further if you give our Baker's Hotline a call at 855-371-BAKE(2253). We can figure out some easy steps to ensure you have better results next time. Happy baking! Kye@KAF
Best vanilla cake recipe ever! My search is finally over for an amazing vanilla cake, I was hesitant about the mixing method as I've never used it before, but all my worries went away as soon a I cut a piece. The cake is fluffy, moist, dense but light. I should add all I had was King Arthur cake flour, and I forgot to add the sugar until I was two eggs in, that didn't seem to mess with the outcome of the cake. I added some fresh orange zest and juice to the batter, baked in a bundt pan and made a simple brown sugar, butter and orange glaze. So amazing. 10/10 will always make again!!
This recipe has actually replaced my favorite yellow "birthday" cake recipe from a fairly famous bakery due to the fact that the crumb cuts so nicely. I've frosted this with chocolate cream cheese, vanilla cream cheese, and American buttercream. I have added a small amount of almond extract (1/2 teaspoon) to bring out the vanilla, but I also think this recipe would be easy to play with subtle flavor variations. Definitely an easy recipe that I will make for years to come.
I've tried so many homemade yellow cakes, and they are usually dry. I was a little skeptical of this recipe, because the method is a little different than I'm used to. However, it was very easy and I followed the recipe exactly, using a timer to make sure I didn't overbeat it. This cake is moist, dense (without being heavy like pound cake) and delicious. I baked it in a 9x13 pan and it took the max amount of time to test done in my oven. I cooled it in the pan for exactly 5 minutes, and then turned it out on wax paper lined rack to cool completely. Will definitely make this again! Thanks for a wonderful recipe.
I have tried a dozen vanilla cake recipes....THIS. This is THE one! Definitely reminds me of childhood and box cake mixes (in a good way!) I have been baking since I got my Easy Bake Oven. And ever since I came upon KAF recipes. Not one has disappointed! Thank you!
I followed the instructions exactly to make this cake in 2 round cake pans. I used weight measurements. The cake baked in around 22-23 minutes; by the time I checked at 25 min, it was already a bit too done; not burned, not sure how moist it will be, though. The problem I had is the cake domed quite a bit on the top and when I turned it over on to the baking rack after 5 min, both pans had a circular spot that the cake seemed to have lifted/ domed away(?) from the bottom. Could it be coz my oven runs hot? I also had the convection fan on - could that have caused the strange bottom 'inverted' dome?

It sounds like your oven did some damage to your cakes, Anita. If you're going to use convection we recommend lowering the temperature by 25°F. This rule also applies if your pan is glass or a dark metal. Grabbing an inexpensive oven thermometer may be the easiest way to ensure your oven is doing what you're telling it to! Annabelle@KAF
This made a great birthday cake. All the usual ingredients for a cake but blended together in an unexpected way. I have 2 little six-inch round cake pans, and halving all the ingredients made the perfect amount. Baking time required a bit of trial and error; I think I landed at 32-35min. Very tasty!