A customized print-friendly version of this recipe is available by clicking the "Print Recipe" button on this page.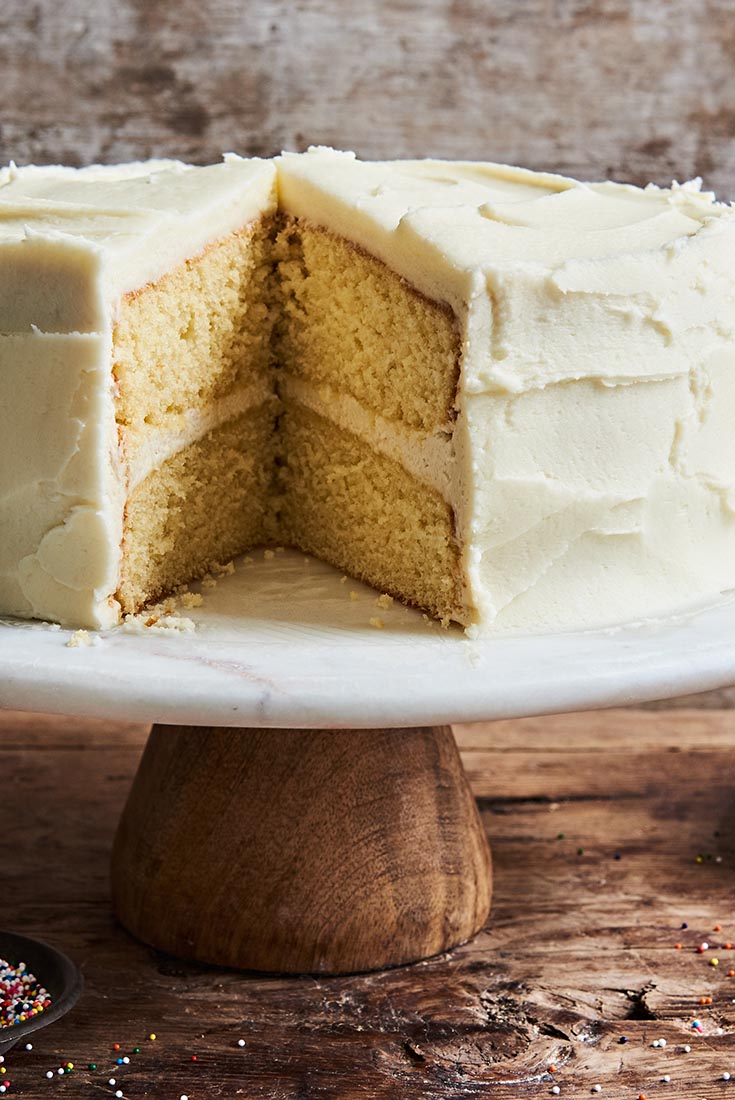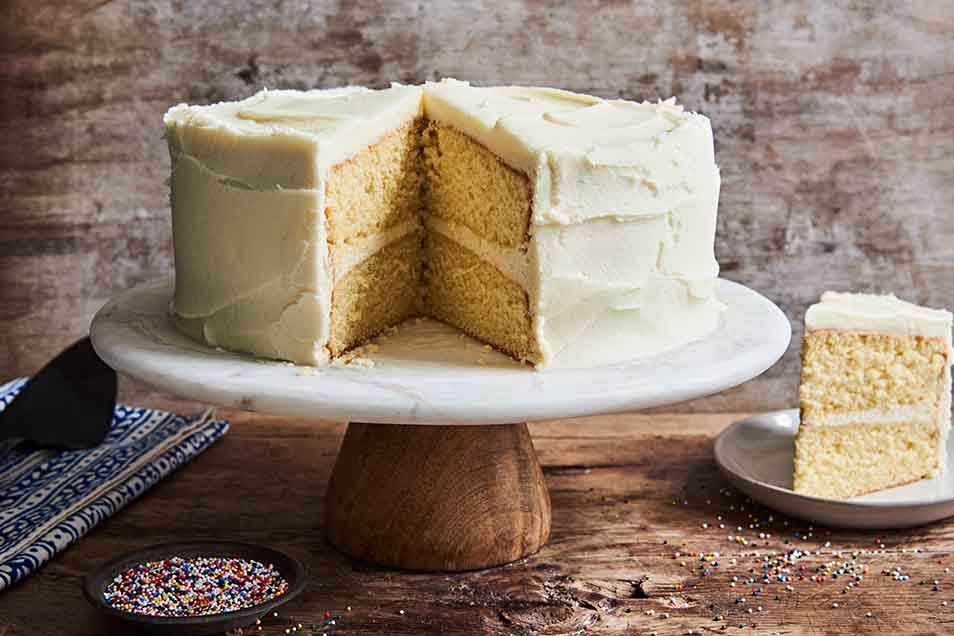 This rich, butter-based cake is moist and tender, with a dense crumb structure. Close-grained and sturdy, it's perfect for stacking in layers and can be paired with any of the frostings you love: chocolate, vanilla, coconut, caramel...
Instructions
Preheat the oven to 350°F. Lightly grease (but don't flour) the bottom only of your choice of pan(s): one 9" x 13" pan, two 9" round cake pans, three 8" round pans, or the wells of two muffin tins (24 muffin cups). You can also line the muffin tins with papers, and spray the insides of the papers.

In a large mixing bowl, whisk together the sugar, flour, baking powder, and salt.

Add the butter and beat with an electric mixer at low speed, until the mixture looks sandy.

Combine the milk and vanilla and add, all at once. Mix at low speed for 30 seconds, then increase the speed to medium and beat for 30 seconds.

Scrape the bottom and sides of the mixing bowl.

With the mixer running at low speed, add 1 egg. Increase the speed to medium and beat for 30 seconds.

Repeat this procedure with the second egg. Continue adding the eggs, scraping after each addition, until all 4 are added.

After the last egg is added, scrape the bowl once more, then beat at medium-high speed for 30 more seconds.

Transfer the batter to the pans of your choice. For layers, divide the batter among the pans. The batter weighs 48 ounces; if you're using a scale to measure out your layers, each 9" layer should weigh 24 ounces; each 8" layer needs 16 ounces of batter. Smooth out the tops with an offset spatula or the back of a tablespoon. For cupcakes, scoop by heaping 1/4-cupfuls into the prepared muffin tins.

Bake for 35-40 minutes for a 9" x 13" pan; 30-35 minutes for 9" layers; 24-27 minutes for 8" layers, or 23 to 25 minutes for cupcakes.

The cake is done when it's golden brown around the edges and just beginning to pull away from the edge of the pan. A toothpick inserted in the center will come out clean.

Remove the cake from the oven and allow it to cool for 5 minutes, then turn it out onto a rack to cool completely.
Nutrition Information
Serving Size

1 piece (57g)

Servings Per Batch

24
Amount Per Serving:
Calories

190

Calories from Fat

24

Total Fat

6g

Saturated Fat

4g

Trans Fat

0g

Cholesterol

35mg
Sodium

150mg

Total Carbohydrate

30g

Dietary Fiber

0g

Sugars

18g

Protein

3g
* The nutrition information provided for this recipe is determined by the ESHA Genesis R&D software program. Substituting any ingredients may change the posted nutrition information.
Tips from our bakers
We make this cake using the "paste method;" soft butter and room-temperature liquids are beaten into the dry ingredients, then the eggs are added one by one. It's a no-fuss way of making a delicious cake every time.
This cake can develop hard sides if your oven runs a bit hot, your pans are dark, or you've greased the sides of the pans. Insulating your baking pans with cake strips will prevent this. If your cake does develop hard sides, wrap it well and let it rest overnight before serving.
Reviews
My cake came out dry even with substituting the oil for some butter. I baked to the minimum time. If I were to try again, I would go even less on the time.

You can try cutting back on the bake time, as well as using slightly less flour. One of the most common reasons why cakes turn out dry is because too much flour is added. Either try measuring your flour by weight with a scale, or if you're measuring by volume, gently fluff and sprinkle the flour into the measuring cup before leveling it off with a knife. We hope this helps you perfect the cake the next time you bake it! Kye@KAF
Sorry, KA is my go to source for baking recipes for the past several decades, but I have to admit my recommendation for this cake is qualified--our 3 layers of cake really stuck to the bottom of the 8 inch pans even though we were very careful to butter as directed. What a mess. Next time we will butter the pan and then use buttered parchment paper if we use this recipe. We weighed ingredients, made sure everything was at room temp, and timed every step with a timer as directed. We baked the layers for 27 minutes, checked to see if the cakes were drawing away from the pan sides and had to bake them a few minutes more to see that and to have a clean tooth pick. The process was pretty disappointing, especially since I was trying to teach my niece a lesson in how easy it is to bake a birthday cake from scratch. (Joke was on me!) We ended up trying to patch the cake with peach filling and white chocolate icing, and in the end it was pretty and delicious, but what a mess in process!

We're sorry to hear that this recipe made for such a frustrating experience, Judy. At least it was tasty! We'd love to help troubleshoot what may have caused the cakes to stick. In our Test Kitchen, we usually use a pan spray such as Everbake or Vegelene, and add a parchment round as you suggested for extra insurance. One common reason for cakes to stick is if the oven wasn't quite up to temperature when they went in. Most of our ovens lie and beep long before they've reached the correct temperature, so we rely heavily on oven thermometers to make sure they're reading true. We hope that with a tweak of the greasing process and double checking the oven temperature with a thermometer, the next batch will be far less frustrating. We're so sorry that the process was a disappointment, and thank you for your feedback. If we can help suggest another recipe to try out with your niece, please give our Baker's Hotline a call at 855-371-BAKE. Kindly, Annabelle@KAF
I guess I crawled into the wrong corner of the internet looking for a cake recipe. I thought the directions regarding the handling of the pan was odd but then reassured myself that this recipe must know best, otherwise why would it veamently warn about not greasing the pans. Well guess what my 'cake' was a crumbly stuck mess that wouldn't come out of the pan and further was grossly underbaked in the center once it cooled despite a toothpick coming out clean after 34 minutes in the 9 inch round. Never again. I was really looking forward to home made cake now I'm just angry.

We're sorry to hear that this recipe made for a frustrating experience for you, Brad, as that's certainly not what we want. We'd love the chance to talk through the recipe with you, so we encourage you to reach out to our free and friendly Baker's Hotline staff to help troubleshoot at 855-371-BAKE (2253). Kindly, Annabelle@KAF
Very easy to make. Beautiful golden 9" cakes. Moist with very little to no crumbling. Did not poof up in middle, makes 2 easy to ice layers. Not too sweet, can handle a very sweet icing. If you need to whip out a cake for the evening and you find out that morning, this is your cake. Use with your favorite icing. Bakes true to time for me. 350F oven for 35 minutes.
I had to add 25 minutes on...but I used an angel food pan...Nordic ware. We are also in the hot and humid South. But it looks and smells delicious. I know it will taste amazing...I licked the bowl. =)
I have tried MANY scratch recipes with no luck. I made cupcakes with this recipe and they are wonderful! Dense and just the right amount of moisture. Thank you!
My daughter has been begging to make a Unicorn cake for weeks, this recipe was perfect for three 6 inch cakes and one 8 inch( cake balls) with a vanilla bean buttercream icing. We parchment lined the bottoms with a light coconut oil brushed on.
I just made this. It tastes great. It is light and fluffy, but still has a a firm texture. I made a chocolate frosting, which was too rich. I think it would go well with a cinnamon crumble topping.