A customized print-friendly version of this recipe is available by clicking the "Print Recipe" button on this page.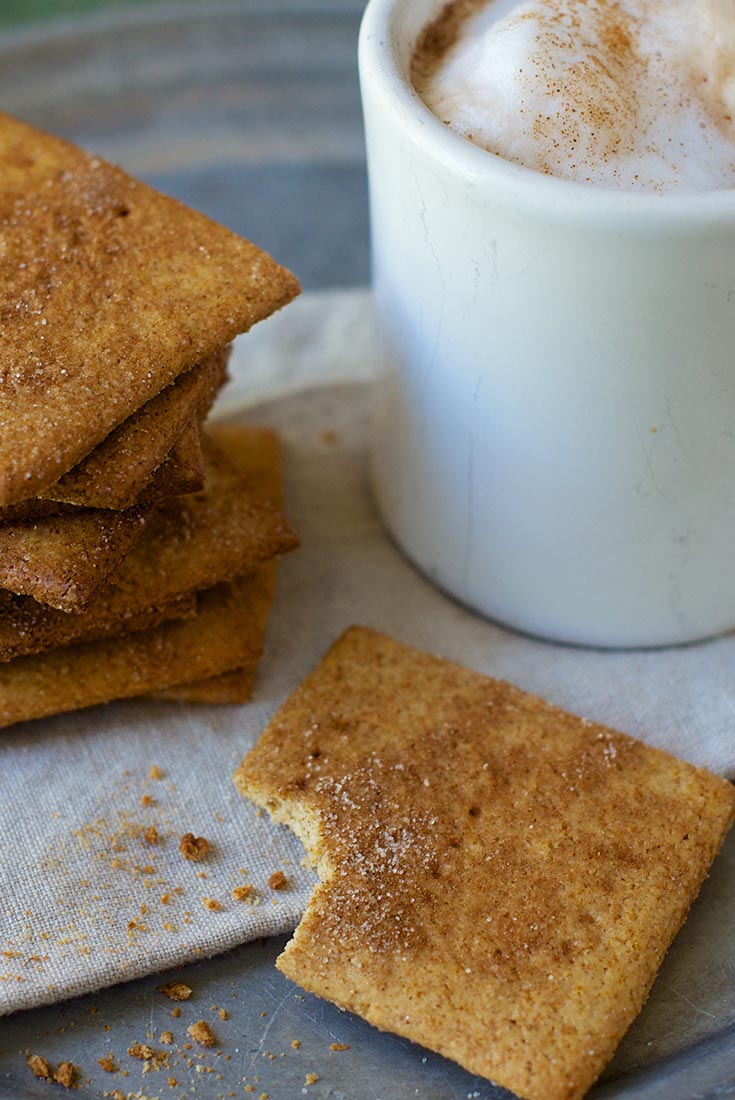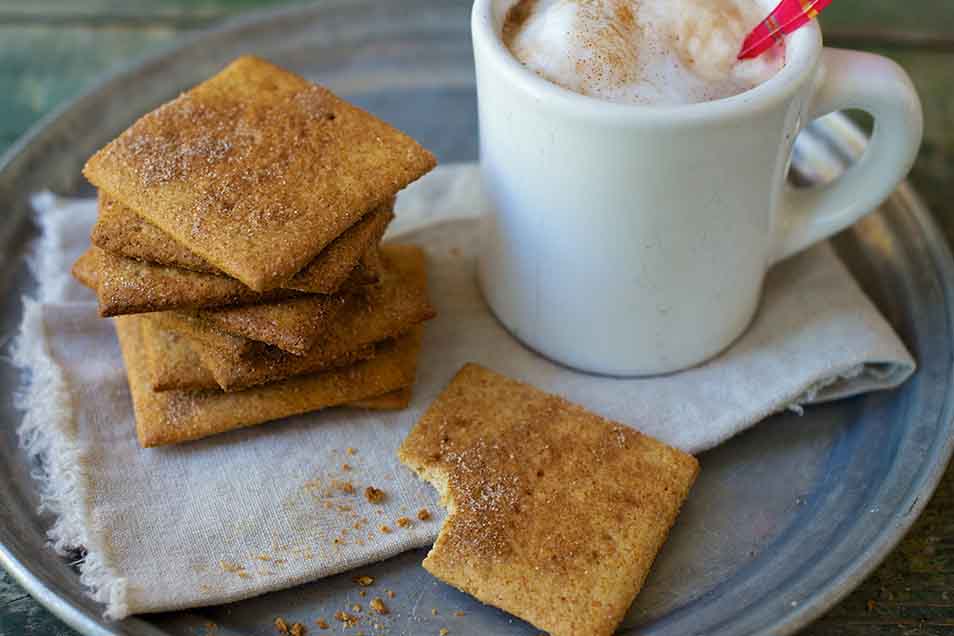 Do you know why graham crackers are called graham crackers? Sylvester Graham, a minister who lived and preached in the first half of the 19th century, carried on a dietary crusade in favor of whole wheat flour, arguing that to separate the bran from the rest of the wheat berry was against the will of God. Thus whole wheat flour, or graham flour — flour milled from the whole wheat berry, rather than just the endosperm. And thus graham crackers — sweet, crisp crackers made from whole wheat flour.

Thanks to feedback from you, our readers, as of 11/20/17 we've changed the technique for baking these crackers so that the recipe yields perfectly light and crispy crackers every time.
Instructions
Combine the whole wheat flour, all-purpose flour, sugar, salt, cinnamon, and baking powder in a medium-sized bowl.

In a separate bowl, whisk the egg with the oil, honey, and 2 tablespoons milk. Stir this egg mixture into the dry ingredients until you have a fairly stiff dough, adding more milk if necessary.

Wrap the dough and chill it until firm, about 1 hour (or longer, if it's more convenient).

Preheat the oven to 300°F.

Divide the dough in half, and working with one piece at a time, knead the dough gently until it holds together. Roll the dough out about 1/16" thick onto a piece of parchment paper.

Transfer the rolled-out dough on the parchment paper to a baking sheet. Repeat with the second piece of dough.

Brush both pieces of dough with milk then sprinkle with the cinnamon-sugar, if desired.

Bake the sheets of dough for 10 minutes, rotating the pans after 5 minutes.

Remove pans from the oven, and use a rolling pizza wheel or sharp knife to cut the sheets of dough into 3" x 2" rectangles; don't separate them, just cut them.

Return the cut crackers to the oven, and continue to bake for 18 to 20 minutes.

Turn off the oven, and open the oven door wide for 5 minutes. After the majority of the oven's heat has dissipated, shut the oven door, and let it cool down for 20 minutes with the crackers inside; this will help them become as crisp as possible.

Remove the crackers from the oven, transfer them to a cooling rack, and cool completely.

Store the crackers, well-wrapped, at room temperature for up to a week; freeze for longer storage.
Nutrition Information
Serving Size

42g

Servings Per Batch

12
Amount Per Serving:
Calories

150

Calories from Fat

45

Total Fat

5g

Saturated Fat

.5g

Trans Fat

0g

Cholesterol

15mg
Sodium

150mg

Total Carbohydrate

24g

Dietary Fiber

2g

Sugars

10g

Protein

3g
* The nutrition information provided for this recipe is determined by the ESHA Genesis R&D software program. Substituting any ingredients may change the posted nutrition information.
Tips from our bakers
In testing and re-testing these crackers, we found that the thin, 1/16" roll-out was essential to getting them perfectly crisp. Rolling the dough out on parchment paper is especially helpful for this reason.
Reviews
Great the first time! I made these for the first time today using KAF Measure for Measure flour to substitute for both flours to make them gluten free. I also substituted almond milk and brown sugar for regular varieties. I did not do the final step of keeping them in the oven, but they're still quite crispy, definitely crispy enough for s'mores! Love this brand & now love this recipe!!
Easy recipe to figure out even if you are not a baker ! However I'm struggling to make the crackers look presentable. I tried making them consistent rectangles with parchment paper and pizza cutter but the dough sticks to everything so they come out looking sloppy. How can I make them nice shapes so I can use them at a dinner party.

Sandra, try chilling the dough (covered) for at least 30 minutes after it's rolled out before cutting it. This should help the dough become more firm and make it easier to cut precise shapes. Good luck and happy baking! Kye@KAF
Second posting on purpose to add that the cinnamon sugar sprinkle on top was not a good idea in my case, it distorted seeing the true color, I weigh my ingredients by ounces and grams both, so I might have had more accuracy than others. Using brown sugar instead of white seemed important in the color & taste to me, I've baked a ton to know which flavors impart from sugars & having compared other graham recipes, this one benefits from the trace of molasses in light brown sugar. My results over all were a richer flavored, more aromatic experience. The bake time for the thickness recommended seems to need an adjustment. I almost burned the test crackers, however it might be different with out the sugar & with an entire pan full? I'll see soon, otherwise I might need to research an even lower temperature to bake at. Hope this is helpful.
The best one I've tried so far, I printed several recipes, & compared, this was the only one with egg, I want "better than name brand" crackers and I might be there with this! Ive baked a test sample directly after making dough, the rest is still in the fridge. Made my own adjustment of using beurre noisette instead of oil, brown sugar not white sugar (color wasn't specified) & I added a teeny bit more cinnamon & maybe a tsp of wheat germ to stone ground whole wheat flour. I'm at 53k altitude, didn't need to alter anything & minorly tweaked to not distort the actual recipe, but add my flavor/nutrition preferences. I had more faith in this after disliking other tried recipes. Thank you so much for sharing!
I am sure this recipe is fine but it just didn't seem right when I baked it. The crackers never rose at all. They stayed the same as when I rolled them and put them on the sheet. They were quite hard. The only change I made was using Bob's red Mill organic graham 100% whole wheat flour (can't get your flour in Ontario). Any suggestions would be welcome. I am using this first batch for crumbs so that is fine!

We're glad to hear you're a resourceful baker, Beverly! Good idea to use your crackers as crumbs. As for the texture, it sounds like you might have used a bit too much flour, which makes baked good hard and fail to rise. It's very easy to pack flour into the measuring cup if measuring by volume. For best results, we recommend following the Measuring Standards guidelines linked to the right of the Ingredients header. You may want to consider using a scale, and 1 cup of graham flour (Whole Wheat Pastry Flour) should weigh 3 3/8 ounce. We hope that helps improve your next batch, and happy baking! Kye@KAF
I have had great success with this recipe. I have found that a tortilla press and wax paper works well for making large batches. There are a few substitutions that have worked quite well for me. Replacing three tablespoons of whole wheat flour with an equal amount of flax flour. Using coconut flour in place of all purpose. (Must add two tablespoons more honey) Using parched and ground seasame seeds in place of whole wheat flour. (lower oven temp 15 degrees) Replacing two tablespoons of the honey for molasses. Using ginger in place of cinnamon. Using browned butter in place of oil.(May only be kept for a week.)
I'm not sure exactly what changes the KAF team made to this recipe on 11/20/2017, but it worked wonderfully for me! Cooling in the oven ensured that my crackers were perfectly crispy. My only deviations from the recipe were to make it vegan for a friend - I used almond milk and a flax egg with no adverse effects. I also added a bit of pumpkin pie spice in addition to the cinnamon, just to be festive. Thank you so much for another great recipe!
Bland and hard as rocks at 12 minutes. Very light in color. Nothing like the picture. I had to bake the next batch for less time and add more sugar. They'll likely still go to waste. This recipe could be useful if tweaked for baby crackers but overall, un-enjoyable recipe.

Hi Julie, we're sorry to hear this recipe didn't turn out as you hoped. We're wondering if you used our traditional Whole Wheat Flour as the recipe calls for, as that's primarily what gives the crackers their deep, golden color. Also, brushing the unbaked crackers with milk and sprinkling with cinnamon sugar is key to the development of color and flavor. We genuinely appreciate you sharing your baking experience with us, and please know we've shared your feedback with our Recipe Team to consider when taking a second look at the baking time and temperature called for in this recipe. Kindly, Kye@KAF
I'm glad I made the dough before I read the reviews because I may have skipped this recipe. I found this recipe to be perfect for my family and BONUS I made them gluten free! Whenever I edit a recipe to gf (for my daughter) I usually accept the fact that it may take a couple trials before I find a winner. Here are the changes I made: Flours: 1 cup oat flour 1/2c buckwheat flour 1/2 cup for cup baking mix I didn't have honey so I used brown sugar and a little extra almond milk *used almond milk *rather than precut crackers I rolled all the dough out on cookie sheet and scored the dough with the back of a knife (to not damage my pan) and then pierced with fork. You will have to recut when baked. * baked at 350 for 8 minutes and then checked every 2 (total 11minutes--haha, just keep an eye on) * I don't live at high altitude *was making for my one year old and five year old. Want to try with 1/2 cup almond meal but I have not given my baby almonds yet:) Enjoy!!
First, baking at 375 for 10nmijutes burnt these almost to a crisp. I turned the oven down to 350 and they came out better but still a little black on the edges. After they cooled I tasted one and talk about bland and flavorless. I used Einkorn Flour because my daughter is gluten sensitive and this has very little gluten in it yet is a wheat flour but she can tolerate it with no problems. I'll look for a different recipe and try again.

We're sorry to hear that the substitution of Einkorn flour didn't work out for you in this recipe, Peggy. While we don't test with it, we'd expect both flavor and performance to be different, and you'd likely have more success using a recipe designed specifically for it. Best of luck in your search! Mollie@KAF