A customized print-friendly version of this recipe is available by clicking the "Print Recipe" button on this page.
Granola Bars with Raspberry Jammy Bits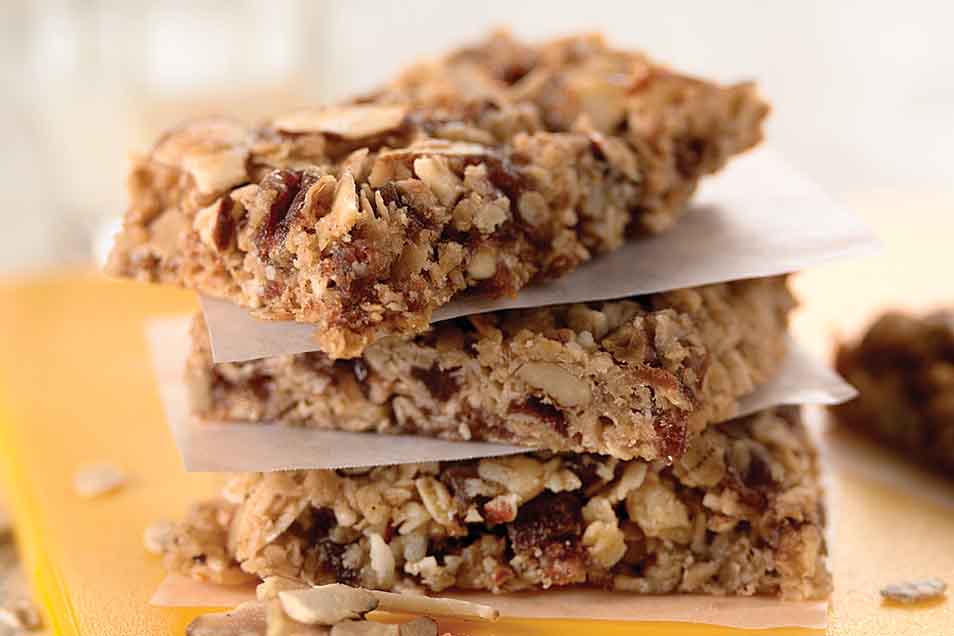 Enjoy the tang of raspberry in these chewy/crisp, portable treats.
Ingredients
1 2/3 cups quick-cooking rolled oats
3/4 cup Sticky Bun Sugar*
1/3 cup oat flour, or finely ground rolled oats
1/2 teaspoon salt
1/4 teaspoon ground cinnamon, optional
1 1/2 cups nuts/coconut; we like 1/2 cup each chopped pecans, sliced almonds, and unsweetened coconut
1 cup Raspberry Jammy Bits
1 teaspoon vanilla extract
1/4 cup melted butter or vegetable oil
1/4 cup honey, maple syrup, or corn syrup
1 tablespoon water
*See "tips," below, for a substitute.
Instructions
Preheat the oven to 325°F. Lightly grease a 9" x 13" pan.

Stir together the dry ingredients, including the nuts and Jammy Bits.

In a separate bowl, whisk together the vanilla, melted butter or oil, honey or syrup, and water.

Toss the wet ingredients with the dry until the mixture is evenly crumbly.

Spread in the prepared pan, shaking the pan to evenly cover the bottom, and pressing in firmly.

Bake the bars for 25 to 30 minutes, until they're just starting to brown, and are bubbly around the edges.

Remove them from the oven and cool for 10 minutes.

Use a knife (or baker's bench knife) to cut the bars while they're still warm. Let cool completely before removing from the pan.

Yield: about 1 dozen 2" x 4 1/2" bars.
Tips from our bakers
If you don't want to use Sticky Bun Sugar, you can make bars that come close to that texture by substituting 3/4 cup granulated sugar + 2 tablespoons light corn syrup + 2 tablespoons melted butter for the Sticky Bun Sugar. And yes, you'll still add both the additional syrup (or honey) and butter as called for in the recipe.
Reviews
Really easy to make. Crispy and chewy and delicious. I used a scant half cup of brown sugar based on other reviewers comments about the sweetness. I only had about a third of a cup of the jammy bits so that's what went in. I used a half cup each of sliced almonds, chopped pecans, and the tail end of a bag of sea salt Pepitas I think the salted pepitas helped with the sweetness because it was perfect. I will definitely make them again playing with some different add ins.
I love the KA recipes and always read the helpful reviews. The site could be further enhanced by allowing a cook to make some permanent personal notes along side the recipe in their recipe box. For example, I would make a note to cut the sugar in half and replace it with brown sugar. Otherwise, I have to re-read the reviews each time to remember the modifications to the recipe.
Thanks very much for the suggestion! I will pass it on to our web team. Barb@KAF
4.5 stars. good recipe. halved the jammy bits out of fear of being too sweet. sweetness good but would like more raspberry flavor. would like KAF to suggest alterations so that water content etc is not affected (by changing other sugary proportions). used old fashioned rolled oats and malted wheat flakes. yummy.
The jammy bits give this such great flavor, but the bars are much too sweet. I used brown sugar (1/2 cup) and 2 tbsp of corn syrup instead of the sticky bun sugar called for (3/4 cup) and only 1/2 cup of jammy bits and they are still extremely sweet. I will make this again cutting sugar back even more.
I love this granola recipe, with a few modifications to suit my taste. I took heed of the kind reviewers who warned of extreme sweetness, and cut the maple syrup to 1/8 cup and the brown sugar (instead of stickybun sugar) to 1/3 cup, and I found this was still plenty sweet to me. I didn't have the jammy bits, but I think I would not put them in anyways. Unfortunately, not thinking about it, by cutting down on the liquid I made this into a crumbly granola, fit for snacking on by the handful instead of bars but they are still to die for! On my next try, I plan on cutting down on the oats or maybe the flour to make these more cohesive. I can't wait for the next attempt, and since I am having trouble staying away from this delicious granola, that won't be long!
Great recipe. I also used 1/2 cup brown sugar n 1/2 the jammy bits. I used almond, walnuts and mini chocolate chips. Delicious. Don't forget to use parchment paper to line the pan otherwise they are thought to remove even if you butter the pan.
Very tasty and easy to make. I would give it five stars except for the overpowering sweetness. I took the advice of the other reviews to cut down on the sugar. I too substituted brown sugar and only used one half cup. I also cut the jammy bits to one half cup. My other substitution was for almond meal instead of the oat flour, which gave the bars an extra boost of nutty flavor. May try wheat germ for the next batch, and there will definitely be a next batch. The first one didn't last long.
This recipe came out exactly as specified. Chewy, crisp, flavorful - yummy! The hubby couldn't keep his hands off them. We both love coconut so I added 1 tablespoon of coconut milk powder to the dry ingredients. I highly recommend this recipe.
Made this today and WOW (eating one as I write). Thank you KAF for the best granola bars ever! Its crunchy (on top), chewy and gooey (on bottom), a little bit sweet, a little bit spicy (ginger) and sooo delish! ( I used KAF's substitute for sticky bun sugar.) I reduced the jammy bits by1/4 cup and added 1/4 cup of KAF mini-diced ginger. My 1-1/2 cup fruit/nut combo was made up of chopped toasted pecans and almond slices, sweetened coconut, jammy bits, orange-flavored dried cranberries, and mixed fruit medley (apples, apricots, pears). Added a dash of ground ginger, cardamom with the cinnamon. AWESOME!!
These are so wonderful! I use brown sugar in place of the sticky bun sugar and use whatever dried fruit I have on hand, dried cherries, cranberries or raisins instead of the raspberry jammy bits. They won't very last long. My friends and family devoured them.