A customized print-friendly version of this recipe is available by clicking the "Print Recipe" button on this page.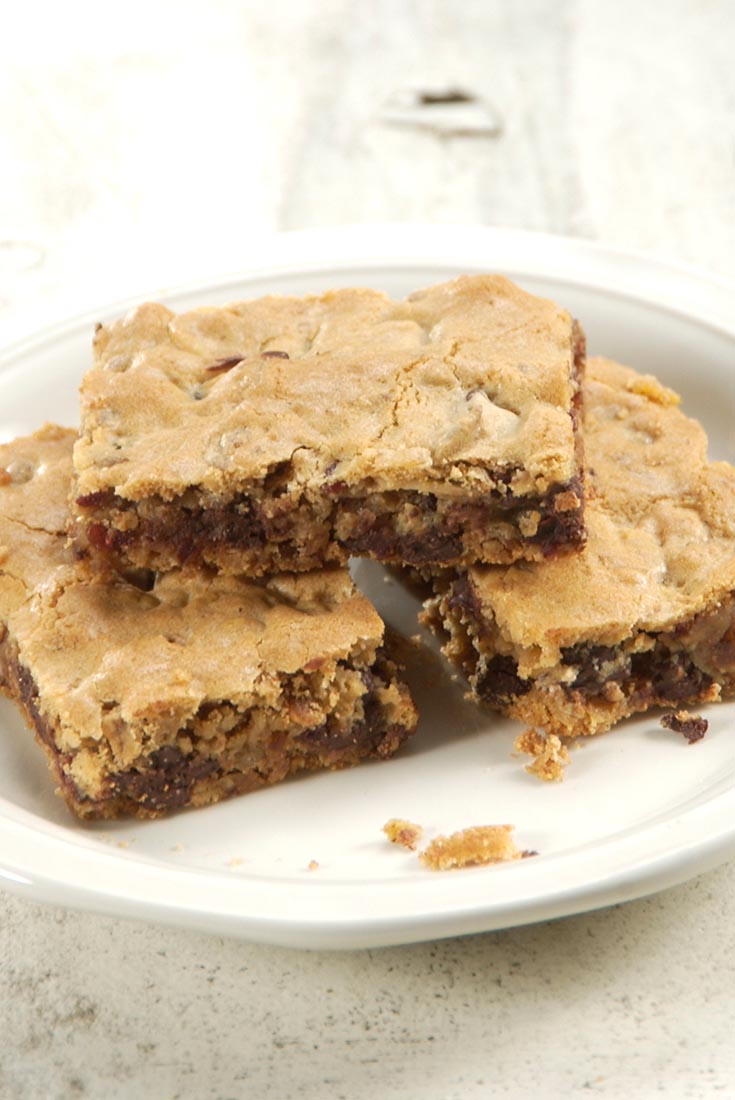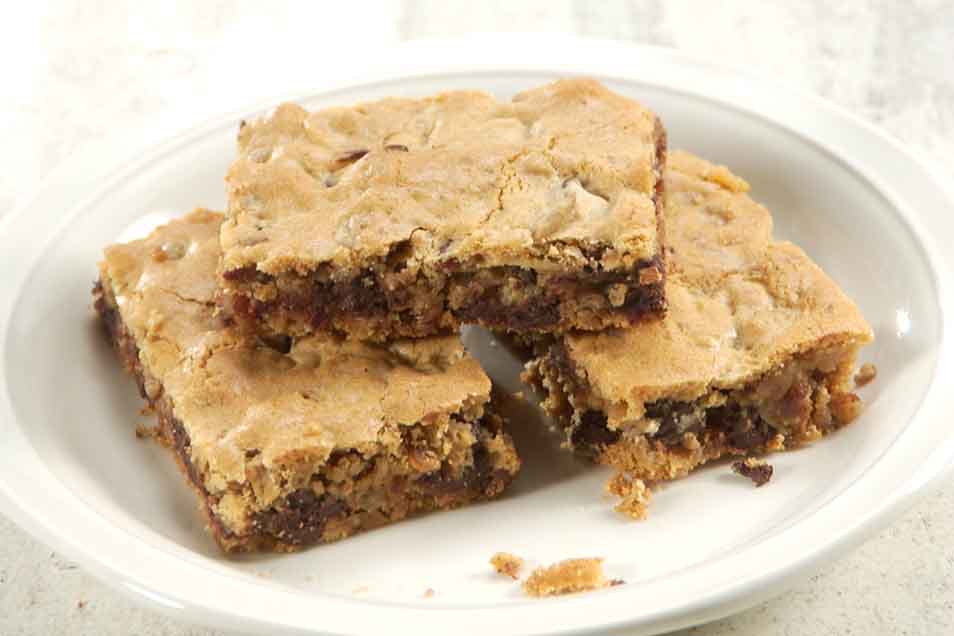 This recipe, originally named "AFS Bars," comes from our King Arthur Flour 200th Anniversary Cookbook. These light-textured yet nicely chewy bars are easily tailored to your taste: use any combination of mix-ins that suits you and your pantry. This is a recipe where whole wheat flour can really strut its stuff: no one will know you're baking with whole wheat, and you'll have the satisfaction of knowing you're baking with whole grains.
Ingredients
3/4 cup unsalted butter, at room temperature
1 1/2 to 2 cups cups brown sugar (see tips, below)
3 large eggs
1 tablespoon vanilla extract
2 cups King Arthur Premium Whole Wheat Flour or White Whole Wheat Flour
2 1/2 teaspoons baking powder
1 teaspoon salt
3 cups of mix-ins, any combination: granola, sunflower seeds, nuts, dried fruit, and/or chips
Instructions
Preheat the oven to 350°F. Grease a 9" x 13" pan. Line with foil or parchment, and grease again, if desired (see tips, below left).

In a large mixing bowl, beat together the butter and sugar; beat in the eggs one at a time, stopping to scrape the sides and bottom of the bowl between additions. Beat in the vanilla.

In a separate bowl, whisk together the flour, baking powder, and salt. Mix into the butter mixture until evenly combined.

Stir in the granola and any other combination of mix-ins you like. Pour the batter into the prepared pan, and smooth out the top.

Bake for 30 to 35 minutes, until the top is golden brown and the edges just begin to pull away from the side of the pan. The center should be set, not wobbly. Remove from the oven and cool on a rack.

Once the bars are cooled to lukewarm, you can use the parchment or foil to lift them out of the pan onto a cutting board. Cut when completely cool.

Yield: 2 dozen bars.
Nutrition Information
Serving Size

1 bar

Servings Per Batch

25
Amount Per Serving:
Calories

207

Calories from Fat

82

Total Fat

9g

Saturated Fat

5g

Trans Fat

0g

Cholesterol

40mg
Sodium

170mg

Total Carbohydrate

31g

Dietary Fiber

2g

Sugars

21g

Protein

3g
* The nutrition information provided for this recipe is determined by the ESHA Genesis R&D software program. Substituting any ingredients may change the posted nutrition information.
Tips from our bakers
Why the wide range in the amount of sugar? If you add a lot of sweet mix-ins (e.g., dried fruit, chocolate chips), use less sugar; if your mix-ins aren't as sweet (e.g., nuts, sunflower seeds, granola), use more sugar.
Mix-ins can be any selection or combination of the following: granola; chocolate, cinnamon, butterscotch or white chocolate chips; sunflower seeds; coconut; wheat germ; dried fruit, and nuts.
Can you halve this recipe? Sure. Simply halve all the ingredients, and bake for 25 to 28 minutes in an 8" square of 9" round pan. How do you halve 3 eggs? Break 2 large eggs into a bowl, and measure out 3 ounces; use the rest for scrambled eggs (or microwave for your dog). Alternatively, simply use 2 large eggs; the bars will be just slightly cakier.
Bars are easier to cut out of the pan than in, so consider lining the baking pan with foil or parchment, so you can lift the baked, cooled bars right out of the pan onto a cutting board.
For a satiny top to your bars, melt the butter, stir in the sugar, and heat until very hot. Let cool to lukewarm before continuing with the recipe.
These bars have 9g whole grains per serving, when made with 1 1/2 cups granola in the mix-ins.
Reviews
Super easy but mine turned out more cake-y (and dry) than chewy. I used less water because of high humidity, summer baking and threw in coconut flakes, sunflower seeds, and dried cherries as my mix-ins. Erred on the side of underdone as I do for all bar and cookie recipes and while they are very, very good, I wish they were less dense. Should I add more water or could I add something else like coconut milk or applesauce to up moisture content and flavor?

Hmmm... it sounds like you're looking to make your cookie bars less cakey but also less dense. You might want to try cooking the bars at a lower temperature (325&Deg;F) for less time to ensure they're baked to the degree you're looking for. Also, be sure you're using the right amount of flour as too much flour could be contributing to the dry, dense nature of your bars. To ensure you're using the right amount, we recommend checking out the "Measuring Standards," link next to the ingredients header above. You'll see that either measuring your flour by weight using a scale, or fluffing and sprinkling the flour into your measuring cup are the best ways to ensure your recipe turns out perfectly. We hope this helps and happy baking! Kye@KAF
I have been making this since it came out as AFS bars in the anniversary cookbook. So adaptable. Made it every week for church for a long time and never exactly the same.
Mmm so satisfying! I used 1 1/4 cups of organic brown sugar but next time will try 3/4 cup of coconut sugar. They were just a tad too sweet. If using brown sugar again I would try 1 cup. For fill ins I used granola, toasted some sunflower kernels, 3/4 cup chopped pecans and 1 cup of ghiradelli mini chocolate chips!!
UPDATE- I think I figured it out. Although reducing the sugar to 1 cup makes a brownie that is plenty sweet enough, I think this recipe needs the MINIMUM (1.5 cups) sugar recommended for optimal results- ie. moist and not too crumbly despite being 100% WW. I make these ALL the time (reviewed twice already) and went ahead and used that amount of sugar yesterday even though I usually cut it back to 1 cup. I also used White Whole Wheat. The other thing I did differently this go around was to under cook them- somewhat by default because I had to go pick up the kid and ran out of time- but it made a huge difference! I thought they were too underdone because only the edges were puffed up- but just like any brownie recipe, they seem that way at first but once cooled they are sooooo much better! It is my go-to recipe for a hearty bar for school, camping, skiing, hiking- whenever I want to pack something wholesome and filling for my family. Sure, it's a brownie, and has a bunch of sugar- but so do all those packaged (and even homemade) granola bars! These are so quick and easy. Add-in's this time- 1c. rolled oats, 3/4c. walnuts, 1/4c. finely shredded unsweetened coconut, 1c. 60% ch. chips, and combo of vanilla and almond extract. Moral of the story- 1) treat this like a brownie and slightly under-bake and 2) follow the recipe guidelines for sugar...it's almost as if KAF knows what they're talking about;)
This recipe is amazing. I scaled back on the sugar because I use quite a bit of dried fruit such as raisans, dried blueberries, cranberries, coconut, etc. I do add some nuts like walnuts or pecans for protein and I use the 100% whole wheat. Taste has not been bitter using so much fruit.
OK, here's another dynamite version I concocted this morning: 1 c. rolled oats, 1/4 c. wheat germ, 3/4 c. toasted sliced almonds, 1/2 c. raspberry jammie bits, 1/2 c. mini chocolate chips. Melted the butter with 1 c brown sugar, then stirred in a heaping 1/4 c almond butter and let it cool before continuing. Used 1tbsp almond extract instead of vanilla. Yum! The only thing that I held back on but might try next time is to dollop marzipan on top before baking. I just love raiding the cupboard for this recipe, it never disappoints!
This is an awesome recipe! Endless variations of mix-ins means you can totally adapt this to be a a sweeter, more dessert like bar with lots of chocolate and nuts, or a more of a breakfast/energy bar with loads of dried fruits and nuts. Not that I haven't enjoyed all versions at all times of the day! Chocolate is it's own food group in our house, and often finds it's way into breakfast:) I have made this recipe with the full 3 cups of a pre-made artisan fruit and nut granola and it made a really healthful and filling snack bar. Today, I am making it using rolled oats and pecans(which I toasted a bit in the oven 1st), and 60% chocolate chips. I think you could make this 100 different ways and never really go too wrong. I go with a only 1 cup sugar and it is still plenty sweet. I also highly recommend taking the extra step to melt and heat the sugar and butter, and I bring mine halfway to caramel which gives it an amazing flavor! Our household(including kids) like the flavor of 100% whole wheat, but if you didn't you may find the bitter taste a bit strong. I don't think this recipe( or any really that uses 100%) really "hides" that. I imagine you could use a bit of OJ if you were looking to take the edge off that bitter taste, but I haven't tried that yet since we like that flavor. I think that the only challenge for this recipe is keeping it moist as it can be a bit dry and crumbly. Perhaps using molasses or maple syrup as part of the sweetener would help? Maybe applesauce? Guess I'll just have to keep making more variations to find out. Not a terrible problem I suppose:)
Sounds like you and your family are really enjoying this recipe! Great tips, thank you! Yes, I think the challenge would be to choose add-ins that will make these bars hold together well. Yes, you could try using a liquid sweetener like some honey, molasses, maple syrup or corn syrup. Let us know how it goes, Ok? Elisabeth@KAF
We LOVED these. So easy to make -- I put them together in a flash with very involved "help" from my two-year-old and four-year-old. We made them with 1.5 cups rolled oats and 1.5 cups chocolate chips, and they were fantastic. I used just 1 cup of brown sugar. They were definitely sweet enough but a tiny bit crumbly. They were a hit with the kids, as well as with some rather picky adults. I'm so happy to have this recipe. Can't wait to try it with granola and other add-ins.
Bake this recipe! They are simple to make and are not only delicious, but also completely whole grain. I used the traditional whole wheat flour and granola for the fill in ingredient. They could be eaten as dessert or for breakfast.
I have made this so many times. I am addicted. I love it with mini chocolate chips, walnuts & bare naked granola. I also use 14 oz of brown sugar.