A customized print-friendly version of this recipe is available by clicking the "Print Recipe" button on this page.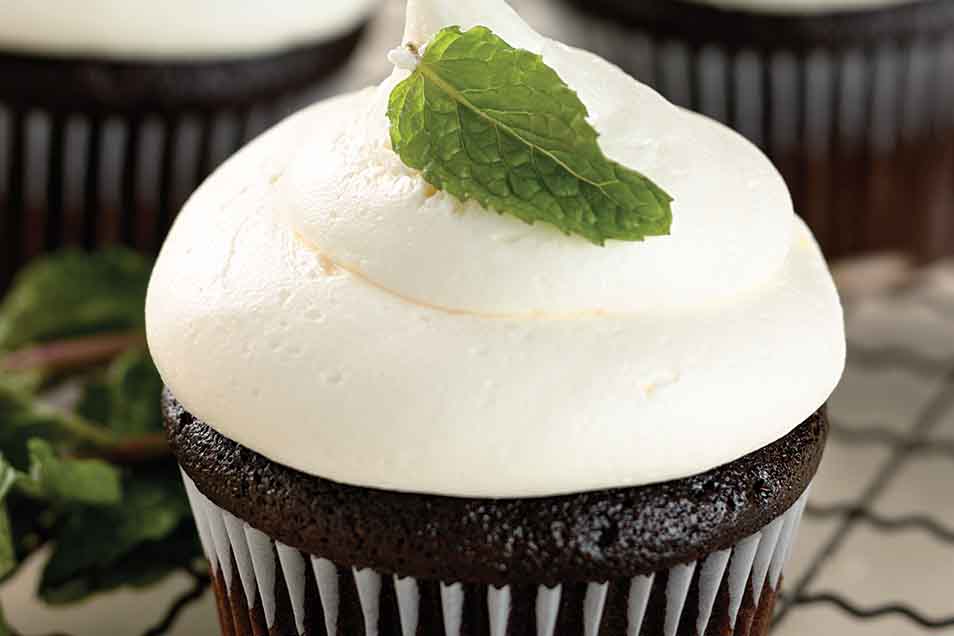 These treats combine a deep-dark double chocolate cupcake with refreshing mint frosting — the classic "grasshopper" dessert in cake form.
Ingredients
Cupcakes
1 cup King Arthur All-Purpose Baking Cocoa or Dutch-process cocoa
2 1/3 cups King Arthur Unbleached All-Purpose Flour
1 2/3 cups brown sugar
1 1/2 teaspoons baking powder
1 teaspoon espresso powder, optional, to enhance chocolate flavor
1 1/2 teaspoons baking soda
1 teaspoon salt
2 tablespoons King Arthur Cake Enhancer, for moist texture
3 large eggs
1 1/2 cups milk: skim, low-fat, full-fat, evaporated, half & half, or light cream
1 tablespoon vanilla extract
1 tablespoon white vinegar
1/2 cup (8 tablespoons) unsalted butter, melted
1 1/2 cups semisweet chocolate chips
Frosting
1 cup (16 tablespoons) unsalted butter
2 tablespoons meringue powder
1/8 teaspoon peppermint oil or 1 teaspoon peppermint extract
5 cups confectioners' sugar
1/4 cup milk
fresh mint leaves to garnish, optional
Instructions
Preheat the oven to 350°F. Line two standard 12-cup muffin pans with greased cupcake papers.

To make the cupcakes: Whisk together the dry ingredients; set aside.

Whisk together the eggs, milk, and vanilla, and stir into the dry ingredients.

Fold in the vinegar, butter, and chocolate chips.

Divide the batter among the muffin cups, filling them quite full.

Bake the cupcakes for 23 to 25 minutes, until a toothpick inserted into the center comes out clean.

Remove the cupcakes from the oven, and turn them out of the pan onto a rack to cool.

Once cool, remove a teaspoon-sized portion from the top of each cake; a cupcake corer works well here.

To make the frosting: Beat together the butter, meringue powder, and peppermint.

Add the confectioners' sugar and milk, beating until light and fluffy.

Pipe or spoon frosting into the center of each cupcake, and garnish with a fresh mint leaf, if desired.

Yield: 24 cupcakes.
Tips from our bakers
If you don't have meringue powder and don't wish to purchase it, try our recipe for Easy Vanilla Buttercream Frosting, substituting 1/8 teaspoon peppermint oil or 1 teaspoon peppermint extract for the vanilla.
Reviews
I've been looking for a really deep, dark, chocolate cupcake recipe for a long time - and this is the closest-to-perfect one I've found yet! Really tasty. I made it with the tweaks that another reviewer suggested (sub half the butter for oil, use full fat milk, and use 1 tbsp less flour). I would still like to try and make them more soft and moist, however. I thought that perhaps adding sour cream might do the trick ... what do you think, KAF? Also, I might melt the chocolate chips before adding next time. They were delicious when right out of the oven and melty, but after they hardened up again I thought the texture was weird. Just personal preference though!

Rach, sounds like you might want to try using Cake Flour next time, which has a lower protein content and therefore makes cupcakes more tender and soft than all-purpose flour does. Also consider chopping your chocolate roughly instead of melting it. This will give you pockets of melty-chocolate-ness without actually melting the chocolate, which may throw off the formula and compromise the texture. Happy baking! Kye@KAF
I called the bakers hotline and discussed changes to make this a whole lot less crumbly. Changes as follows: - subtract 1 TBL of flour - use 1/2 butter and 1/2 oil - instead of all butter - use fattier milk - I used 1/2 of half and half and the rest 2% milk as I had... Bet using whole milk or heavy cream will also help. Also - last tip - be careful with the peppermint oil. 1/8 teaspoon is perfect. A dab more sends it almost over the edge... ask me, I know... ;) OK - so if you make the recipe with these adjustments your husband might just say this is the best dessert that comes out of your kitchen. Mine did.
I made these cupcakes for a friend's birthday the other day. The cake is tasty, but like other reviewers stated, is very dry and crumbly. As my friends were eating them, there were cake crumbs EVERYWHERE. The mint buttercream is delicious. I followed the recipe for that as written, except I left out the meringue powder and used only 4 cups of powdered sugar instead of 5, and it was perfect! I didn't core the cupcakes at all either, just swirled the buttercream on top of the cake as usual. If the cake recipe could be fixed to be more moist and tender, I would give this five stars.
Maybe this recipe needs some work? We will keep an eye on it! Thanks for giving it a try. Elisabeth@KAF
Made this recipe again - husband's favorite. Next time would add a smidge more peppermint oil. Maybe 1/8 + 1/16.... :)
So I should start by saying that I had to improvise just a smidge. I couldn't for the life of me find meringue powder in the grocery store (and since this was a last-minute decision, I didn't have time to order any from the KAF website), so I did the buttercream icing with the peppermint extract substituted for the vanilla. IT was really good. The cakes were unfortunately a little crumbly. Maybe that's how they were supposed to be, but I'm sure I didn't over-bake them. I don't think I added enough liquid to the icing, so it went on pretty thick and made the whole cupcake pretty darn sweet. I didn't core all the cupcakes and later wished I didn't core any of them, as the filled ones were far too sweet for me and for some of my co-workers. I'm thinking my whole problem was the icing being too thick because I actually ran out and had to make a second batch of it. Anyway, the flavors were awesome and they were pretty well liked.
Husband said these were the best dessert ever out of my kitchen. I thought they were very good although not best ever.... I personally prefer the KAF gingerbread cupcakes with cinnamon flavored icing better. I used the cake enhancer, and the merengue powder. The cupcakes were a bit crumbly per other reviewers and I personally didn't like the way the merengue made the icing 'firm'. But...everyone has their own likes / dislikes. Over all quite good. I'm sure I'll make these again. :)
I substituted 2/3 cup Black cocoa and 1/3 cup Dutch process cocoa. I REALLY wanted a dark chocolate cupcake. I was missing chocolate chips but I didn't want them there anyhow. ;) These cupcakes smacked of thin mint cookie...oh my heavens!!! The cupcake was a little crumbly...or at least not as dense/moist as I prefer but I figure my substitutions did that and in the future I'll see what I need to do to make them a touch more dense...but the flavor was spot on perfect. The meringue powder really made my butter cream so light and fluffy. If you, at all, like mint chocolate chip, thin mint cookies or the like...this is the cupcake for you!!!
I made these for my 4th annual family Ladies Tea this weekend. I used all the ingredients and followed the directions carefully. The frosting was too sweet for my liking but the flavor with the chocolate cupcake was yummy. The cupcakes were moist and flavor was good but they crumbled apart and a little messy...not sure what went wrong. But everyone seemed to enjoy them - they even took some home.