A customized print-friendly version of this recipe is available by clicking the "Print Recipe" button on this page.
Grilled Asparagus Stromboli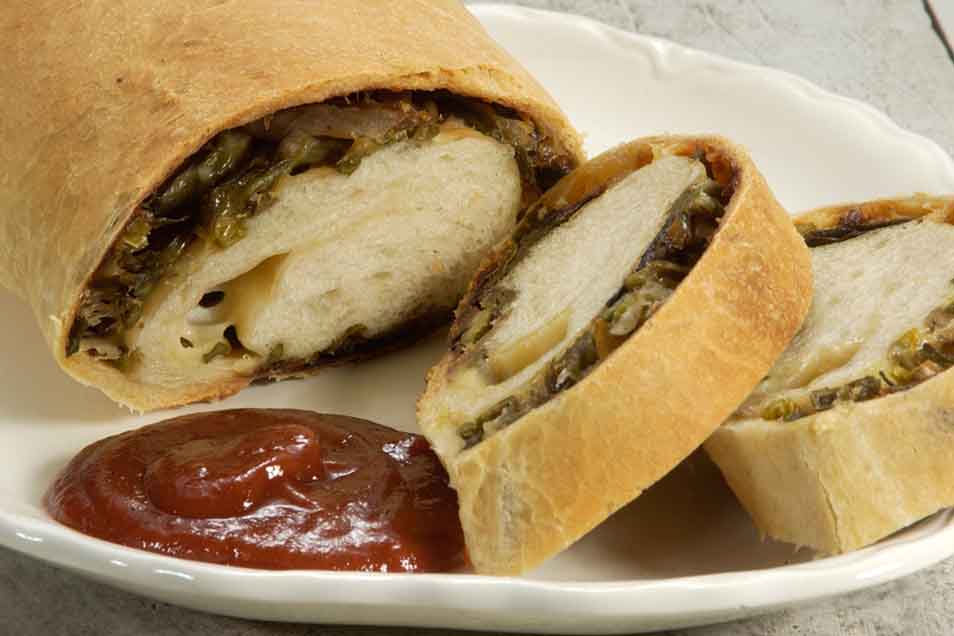 When is a pizza not a pizza? When it's stromboli. When is asparagus more than just asparagus? That's right, when it's in stromboli. Stromboli takes the flavorful crust of pizza and literally wraps it up with delicious fillings, like our grilled asparagus and onions and warm, melted cheese. Served in slices to be dipped in garlic oil or your favorite marinara, it's a real crowd-pleaser.
Ingredients
Stromboli dough
2 teaspoons instant yeast
7/8 to 1 1/8 cups warm water
2 tablespoons garlic oil (or olive oil)
3 cups King Arthur Unbleached All Purpose flour
1 tablespoon Pizza Dough Flavor (optional but good)
1 1/4 teaspoons salt
Grilled Asparagus & Onion Filling
2 cups fresh asparagus
1 large onion, roughly chopped
1 cup shredded cheese (mozzarella, provolone, or a blend)
garlic oil or olive oil for brushing crust
1 small jar artichoke hearts, drained. (optional)
Instructions
Place all dough ingredients in the bucket of your bread machine and program for the dough cycle. Or make the dough using a stand mixer, or your hands: mix, knead, and let rise till puffy.

2)Wash and trim the asparagus, removing any woody stems. Toss the spears and the onion pieces with garlic or olive oil. On a preheated grill or in a 350°F oven, grill or roast the vegetables until they are just tender and browned. The tips of the spears and onion pieces will be caramelized. Remove from the heat, add salt and pepper to taste, and set aside to cool slightly.

Take the risen dough and roll it out to a 10" x 15" rectangle. Spread the shredded cheese on the dough, leaving a 1" border all around. Add the grilled veggies in an even layer.

Beginning on one of the 15" sides, roll the dough up as you would a jelly roll or cinnamon buns. Seal the ends and seams well, and place on a parchment-lined sheet pan. Rub the surface well with garlic or olive oil, and cover with plastic wrap. Rise the stromboli for 30-45 minutes or until quite puffy.

Bake the stromboli in a preheated 400°F oven until deep golden brown. Cool for 5-10 minutes before slicing and serving with marinara for dipping.

Yield: one large stromboli, about 14 servings.
Tips from our bakers
Stromboli is very versatile. Change the filling ingredients to match your tastes and pantry. Pepperoni, sun-dried tomatoes, herbed goat cheese, salami, even grilled broccoli all make great stromboli; try your favorite combo.
Leftovers freeze well and are easy to reheat wrapped in foil on your grill or in the oven.
Reviews
Ever since I was a child I have loved baking, especially with yeast, legacy of a grandmother who taught me how to handle this type of leavening. I have been trying out a number of KAF's fabulous bread recipes. I made this stromboli last week but with the following filling: I sliced six medium sized mushrooms and one small scallion which I sauteed in two tablespoons of olive oil. I spread the cooled mushroom/scallion mix over the rolled out stromboli and then spread one 14.5 oz. can of drained asparagus spears over the mushrooms. Otherwise I continued pretty much as suggested. The result was delish! Again thanks KAF.
I make the pizza dough flavor using rosemary 1/2 teaspoon pepper 1/2 teaspoon fennal seed 1/2 teaspoon oragano 1 teaspoon basil 1 teaspoon cheeze mozzorila cheeze chedder pepper jack My favorite of all my recipes
Delicious! The dough had just the right consistency for stromboli - hearty enough to hold the ingredients, but still light with a crunchy outside. I will make this one again! Used turkey, shredded cheese blend, and spinach as filling. Plan to make again with other fillings. Yum!
Everybody love this stromboli at home.. Looking forward to make more next time and share with friends
I used half bread flour and half whole wheat. I got rave reviews on this from family and friends. I was a little worried that the wheat flur would make it too heavy but it did not. I would like to see even more whole grain recipes from KAF!
I wasn't sure how long I was supposed to bake it so I think I baked it a little bit too much. The crust was really hard. It tasted good tho. I let it rise over night because it seems the only way I can get a fluffly loaf.
This stromboli recipe was absolutely terrific. The dough was very easy to work with, and tasted delicous. I used 1 cup of whole wheat flour, and infused my olive oil with garlic. My only swap was using sauted spinach instead of asparagus. I will make again for sure!!
My husband and I enjoyed this. I agree that pizza seasoning in the dough is a must, as is seasoning the vegetables very well. I didn't have garlic oil, so added garlic powder to the liquids. I made the dough in the bread machine--great outcome. I added roasted tomatoes and kalamata olives to the asparagus, onions and artichokes, seasoned the vegetables well, and served with marinara sauce for dipping. I added saauteed onions and garlic and wine to bottled sauce to increase the flavor. Tasty!
This dough came together beautifully. I've done one with a cup of white whole wheat and one with all AP flour - both were great. The asparagus/onion/cheese filling needs something, garlic definitely and maybe something else.
This was fun, easy and tasty. I was a bit short on asparagus but figured I'd try it anyway. I thought a high dough to filling ratio would entice my son more, we'll see at lunch. I wish I had the garlic oil or the pizza flavoring since the dough was a little bland. I used a couple ounces of white whole wheat instead of all AP flour, which was not at all noticeable. I will definitely make this again.