A customized print-friendly version of this recipe is available by clicking the "Print Recipe" button on this page.
Gruyère-Stuffed Crusty Loaves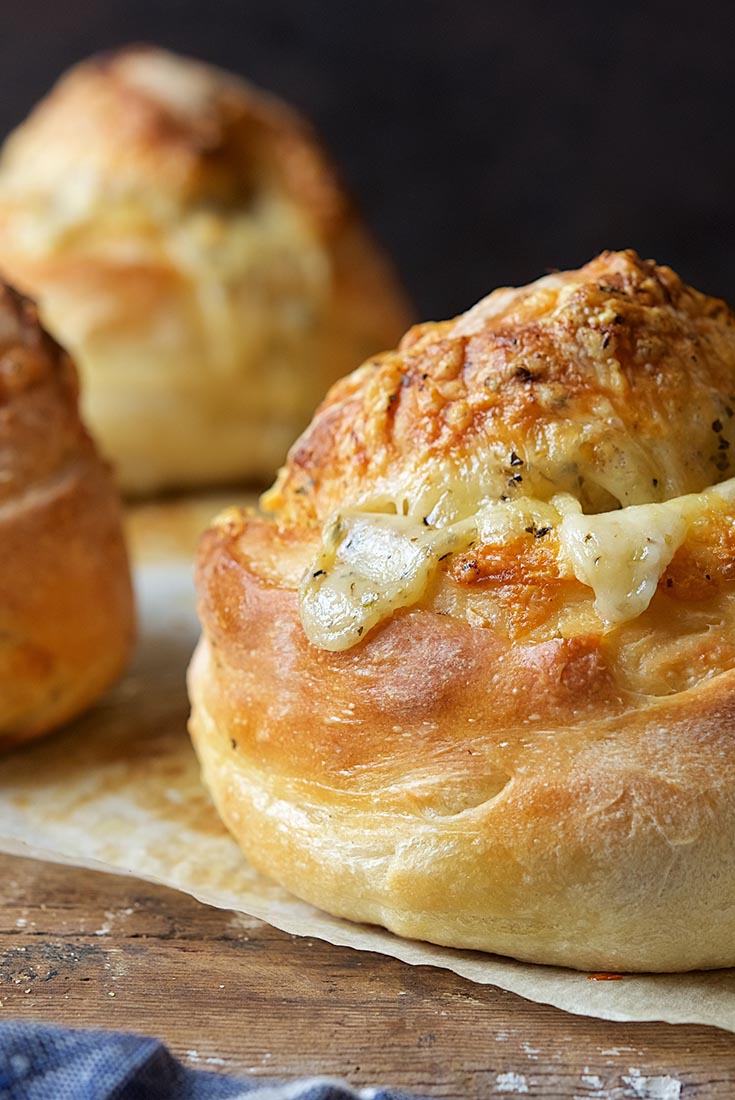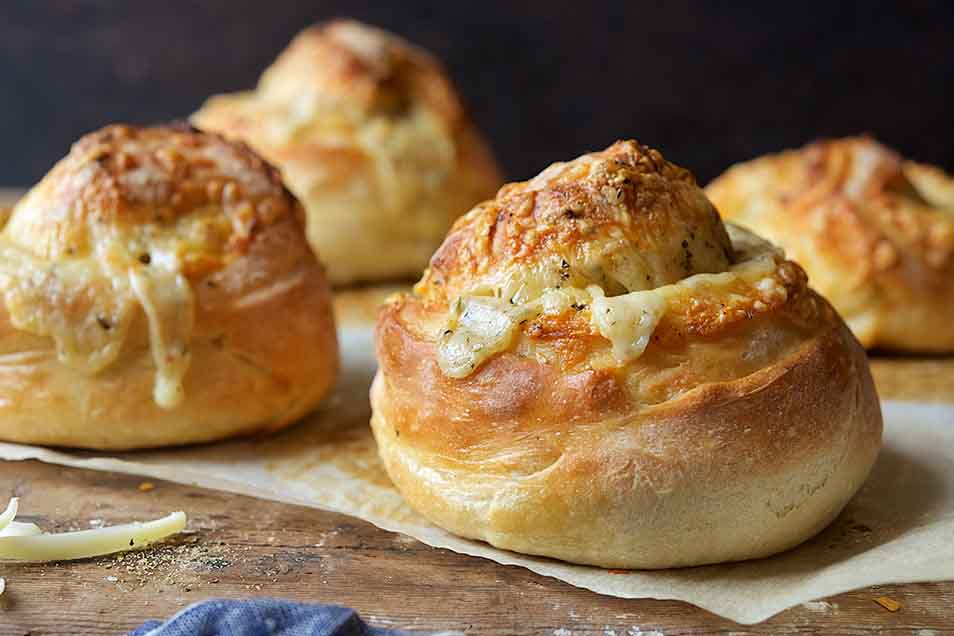 Welcome to our March Bakealong challenge! Who doesn't love warm bread and cheese? Fresh from the oven, a lava-flow of aromatic cheese melts down the sides of these chewy/crusty loaves. They're a wonderful party bread, perfect for enjoying with friends. Our thanks to Chicago's French Pastry School for the recipe that inspired this one.
Ingredients
Dough
all of the starter
1 cup + 2 tablespoons to 1 1/4 cups lukewarm water*
1 teaspoon salt
3 1/2 cups King Arthur Unbleached Bread Flour
1 tablespoon Pizza Dough Flavor (optional)
1/2 teaspoon instant yeast
*Use the greater amount of water in winter, when conditions are dry; and the lesser amount in summer, when the weather is humid.
Filling
2 1/2 cups grated Gruyère cheese, or the grated/shredded cheese of your choice (sharp cheddar, or a mixture of provolone and mozzarella are tasty)
1 tablespoon garlic oil (optional)
1 tablespoon Pizza Seasoning (optional)
Instructions
To make the starter: Mix the 1 1/4 cups flour, salt, yeast, and 1/2 cup water in a medium-sized bowl. Mix until well combined; the starter will be stiff, not soft/liquid. Cover and let rest overnight at room temperature (65°F to 75°F is ideal); it'll become bubbly.

To make the dough: Combine the risen starter with the water, salt, flour, flavor (if you're using it), and yeast. Knead — by hand, mixer, or bread machine set on the dough cycle — to make a smooth dough.

Place the dough in a lightly greased bowl, cover, and let it rise until it's nearly doubled in bulk, about 1 1/2 to 2 hours.

Gently deflate the dough, and turn it out onto a lightly floured surface, or a piece of parchment. Pat and stretch it into a 3/4"-thick rectangle, about 9" x 12". Spritz with water (or brush with garlic oil), and sprinkle with the grated cheese (and Pizza Seasoning, if you're using it).

Starting with a long side, roll the dough into a log, pinching the seam and the ends to seal. The cheese will try to fall out; that's OK, just try to enclose as much as possible, then pack any errant cheese into the ends before sealing.

Place the log, seam-side down, on a lightly floured or lightly oiled surface (or leave it on the parchment and place the parchment on a baking sheet, for easiest transport).

Cover the bread and let it rise until it's puffy though not doubled in bulk, about 1 to 1 1/2 hours. Towards the end of the rising time, preheat the oven to 425°F. If you're baking two loaves, position a rack in the center of the oven. If you're baking four loaves, place two racks towards the center of the oven with just enough room in between to accommodate the rising loaves.

Gently cut the log into four crosswise slices, for mini-breads; or simply cut the dough in half, for two normal-sized loaves. A large sharp knife or serrated knife works well here. If for some reason you fail to cut all the way through the dough at the bottom, simply take a pair of scissors and snip through the dough.

Place the loaves on one (for two loaves) or two (for four mini-loaves) lightly greased or parchment-lined baking sheets, cut side up. Spread them open a bit at the top, if necessary, to more fully expose the cheese. Spritz with warm water. The loaves will have deflated a bit by this point; but if you place them in the preheated oven immediately, they'll pick right up again.

Bake for 25 to 35 minutes (for the mini-loaves), or 35 to 40 minutes (for the full-sized loaves), or until the cheese is melted and the loaves are a deep golden brown. If you're baking four loaves on two pans, rotate the pans halfway through the baking time: top to bottom, bottom to top. Remove the pans from the oven, and cool the bread right on the pans. Bread is best served warm.

Store any leftovers, well-wrapped, for a day or so in the refrigerator; freeze for longer storage (up to 4 weeks). Reheat bread before serving; wrap in foil, and warm in a preheated 350°F oven for 25 to 30 minutes, or until heated through. Bread that's been frozen can be taken right from the freezer, wrapped in foil (if it's not already), and put into a 350°F oven. It'll be nicely warmed in 45 to 50 minutes.
Nutrition Information
Serving Size

1 slice (40g)

Servings Per Batch

16 per loaf
Amount Per Serving:
Calories

100

Calories from Fat

30

Total Fat

3g

Saturated Fat

1.5g

Trans Fat

0g

Cholesterol

10mg
Sodium

260mg

Total Carbohydrate

13g

Dietary Fiber

1g

Sugars

0g

Protein

5g
* The nutrition information provided for this recipe is determined by the ESHA Genesis R&D software program. Substituting any ingredients may change the posted nutrition information.
Tips from our bakers
To make the bread ahead, then refrigerate overnight before baking: Make the recipe up to the point where you've cut the loaves. Place them on the pan(s), and drape with lightly greased plastic wrap. Refrigerate overnight. When ready to bake, remove from the refrigerator and let rest at warm room temperature for 90 minutes before baking.
To make the bread ahead, then freeze before baking: Make the recipe up to the point where you've cut the loaves and placed them on the baking sheet. Drape the pan(s) with lightly greased plastic wrap and place in the freezer. When loaves are completely frozen, wrap each in plastic and freeze for up to 2 weeks. When ready to bake, unwrap loaves and place on a baking sheet. Drape with lightly greased plastic wrap, and thaw overnight in the refrigerator. Next day, let loaves rest at warm room temperature for 90 minutes before baking.
Want to make this bread with King Arthur Unbleached All-Purpose Flour? Go for it! Start with the lesser amount of water, adding additional water only if necessary to make a soft, supple dough.
Want to make this bread with King Arthur White Whole Wheat Flour? The resulting loaves will be more chewy than crusty, but still delicious. For best results, allow the just-mixed dough to rest for 20 minutes before kneading; this gives the whole wheat flour a chance to absorb the liquid, making it easier to knead. Also, the bread will probably need a bit less time in the oven; start checking it 5 to 10 minutes sooner than you would a loaf made with 100% all-purpose or bread flour.
To make 50% whole wheat loaves: Substitute white whole wheat flour for 50% of the bread flour in both the starter and dough.
To make 100% whole wheat loaves: Substitute white whole wheat flour for all of the bread flour in both starter and dough. When making the dough, you'll probably need to add an additional tablespoon or so of water (up to about 1 1/3 cups water) to make a soft, supple dough. The dough may rise more slowly.
Reviews
I'm sold. It was ridiculously easy, impressive looking, and of course - YUM. I'll do smaller individual portion sizes next time and hope to still get the crusty/gooey. Definitely will make again!
Senior moment, ha ha, bought the wrong cheese - Gouda instead of Gruyere. But of course it turned out wonderful anyway, Didn't have pizza seasoning so I used Italian herbs and a dollop of olive oil. I rolled it out thinner and cut 8 roll-sized pieces and put 6 of them in your hamburger-roll pan overnight for tomorrow and baked the 2 end pieces for us tonight. I think this is one of your wonderful recipes that you can't go wrong no matter what you do wrong!
I gave this 2 stars because mine didn't come out so good :(. I love to cook but baking has not been my thing and I really want to learn. Here are a few of the things that happened during my process of making these loaves. First, when I made the starter I stored it in my warming drawer overnight covered with a dish towel. When I took the cover off to mix the starter with the other ingredients It had developed a skin. Should I have basted it with some oil, and should the cover have been a tight seal? The rest of the process went smoothly except when baked I didn't have a spray bottle to spray the loaves so I lightly put a little bit of warm water on each one. The final result had good taste inside but the outer crust was thicker and dry, didn't have the same eye appeal like yours. Don't understand why the crust was thicker, dry and hard. I know it is suppose to be crusty but I know mine weren't right and way to hard to bite into. Will make again, please send me your thoughts on how you think I can improve. Will continue to try. I did take a picture but didn't see a place to post. Thanks in advance

We'd love to help, Rosanna. Next time leave your starter at room temperature covered with plastic to prevent it from drying out. (A towel doesn't hold in moisture.) The outside of these loaves is supposed to be crusty, which is why we call for baking with steam (spritzing with water). It might be worth the investment to get a spray bottle for recipes like these so you can apply just a light mist of water. Alternately, you can try brushing the outside of the loaves with melted butter before and after baking to keep them soft and help them brown a bit as well. Good luck and happy baking! Kye@KAF
I made this recipe, and instead of loaves, used jumbo muffin tins and did the second rise in the tins. Worked out beautifully, got 10 nice sized 'muffins'. After baking 21 minutes, took muffins out of tin and put them in the still warm oven with the door propped open for about 10 minutes oven to firm up the bottoms and sides. I did not have Gruyere so used Asiago, and homemade garlic oil. Added Za'atar seasoning to half, really tasty with and without the addition! Sorry, no pictures. I will be making these again!!
Crusty mounds of molten goodness...absolutely wonderful. Used hoop cheese (8 oz) and 1/4 cup each provolone and Parmesan as that's what our local store had. . Didn't use other flavorings this time. Didn't have water sprayer so just patted on water. Family suggested using pimento cheese spread (grated cheddar cheese, mayo, flavorings) next time. Am thinking half of the spread ( I buy it pre-made) and half shredded cheddar would give the desired flavor without being too oily from the mayo.
Delicious! I saw the picture and knew I had to make it and it turned out beautifully. I used gruyere but not the spices. I thought the starter was way too dry also, but you're the experts so I trusted. It turned out beautifully. Tastes wonderful reheated, little bit of cheese stringing when you pull it apart - yummers! Very happy I tried this and I will make it again.
I made this twice in two days as it was so good. Only my third time trying a recipe with yeast and it came out perfectly. My favorite KAF recipe so far!! I used 2 cups of shredded sharp cheddar with 1/2 cup of parmesan. I'm hosting a spaghetti dinner for about 40 people and would love to make these as individual dinner rolls. I'm thinking I can cut the dough into pieces after the first rise, make them into rectangles, put the cheese mixture on half and then fold them, sealing the two sides and place them on the baking sheet, fold down, and leaving the short side open on top. Do you think this will work? If so, how long would I bake them? Would one batch be enough? I plan to make them ahead of time and freeze them and then just warm them up the day of the event. How long, and how, would you recommend reheating them?

It sounds like you've found your go-to cheesy bread recipe, Shari! If you'd like to make smaller, roll-sized portions, you might consider rolling the dough out to be slightly longer (16" or 18") and then rolling up the tube like cinnamon rolls. Instead of cutting the dough into four pieces, make 1 1/2" large slices, then lay them flat on the baking sheet with enough room to spread slightly. Bake for 15-20 minutes at 425°F. The bottoms should be golden brown and the cheese should be nice and melty when they're done. Happy baking! Kye@KAF
I am new to baking with yeast and this recipe turned out so well! I made a day ahead and put 2 mini loaves in the fridge overnight and froze the other 2. I was thrilled with the appearance and taste after baking today. Highly recommend!
Made these last week. They were amazing!
These were awesome! I was concerned at first as the starter seemed very dry and not really active. But I continued on and everything was fine. I used my bread machine to knead the dough and do the first rise. I then patted the dough out to a rectangle, I was very happy with the dough. I brushed it with garlic infused olive oil that I had made earlier, then the gruyere, and sprinkled with a teaspoon each of basil and oregano before rolling it up. The second rise proceeded nicely and I made the 4 mini loaves and baked them to a nice golden brown. To serve, I just cut each loaf into quarters and everyone could have a hunk of bread with dinner. Everyone loved them. Each mini loaf was also very pretty and they were impressed.