A customized print-friendly version of this recipe is available by clicking the "Print Recipe" button on this page.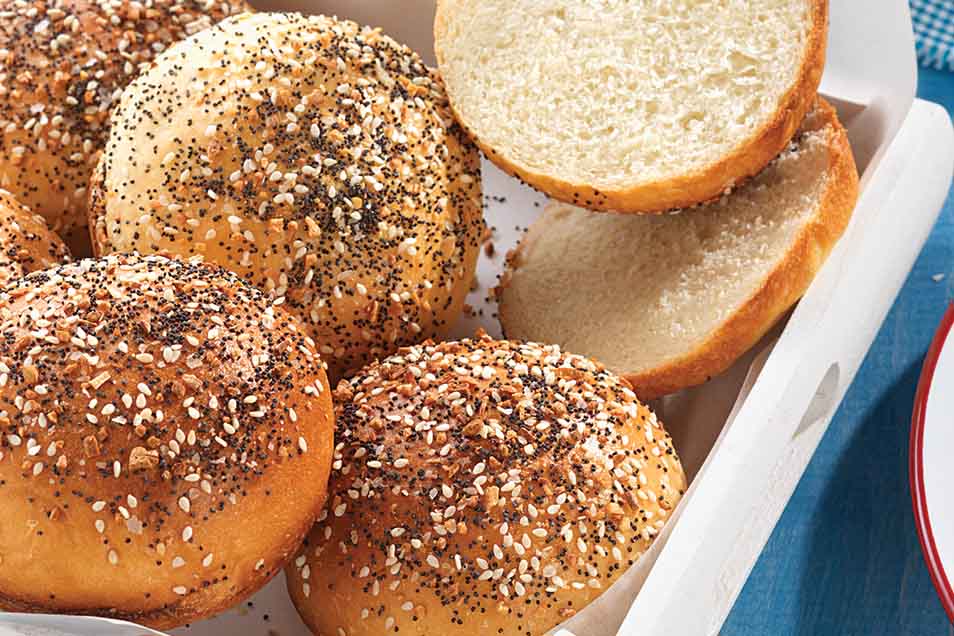 We love the simplicity of these buns, which are ideal for serving a crowd of hungry burger fans. It's the perfect bun for our Blue Cheese Stuffed Burgers.
Ingredients
Topping
1 tablespoon unsalted butter, melted
Instructions
Combine all of the dough ingredients and mix and knead them — by hand, mixer, or bread machine — to make a soft dough.

Place the dough in a lightly greased bowl, cover, and let rise in a warm place for 1 hour, or until it's almost doubled in bulk.

Turn the dough onto a lightly greased surface, gently deflate it, and divide it into 6 pieces. Roll each piece into a ball.

Place the balls into the greased cups of a hamburger bun pan, flattening gently. Or place them on a lightly greased or parchment-lined baking sheet, leaving about 2" to 3" between them; flatten gently.

Cover and let rise until the buns have doubled in size, 60 to 90 minutes. Towards the end of the rising time, preheat the oven to 350°F.

Bake the buns for 15 to 20 minutes, or until they're light golden brown.

Remove them from the oven, and brush them with melted butter, if desired.

Transfer the buns to a rack to cool. Store buns, well-wrapped, at room temperature for several days; freeze for longer storage.

Yield: 6 buns.
Nutrition Information
Serving Size

1 bun, 129g

Servings Per Batch

6 buns
Amount Per Serving:
Calories

370

Calories from Fat

90

Total Fat

10g

Saturated Fat

6g

Trans Fat

0g

Cholesterol

25mg
Sodium

520mg

Total Carbohydrate

59g

Dietary Fiber

2g

Sugars

8g

Protein

11g
* The nutrition information provided for this recipe is determined by the ESHA Genesis R&D software program. Substituting any ingredients may change the posted nutrition information.
Tips from our bakers
For an aromatic, crunchy, seedy topping for your buns, just before baking the buns, brush them with egg wash (1 large egg beaten with 1 tablespoon of water) and top with a sprinkling of Everything Bagel Topping.
Reviews
These buns were delicious! Definitely make them. Beautiful bun that can hold up a loaded burger. Took a star for directions being unclear and getting different answers when I called to inquire about the recipe and a follow-up email to the same question submitted. In the recipe it states to use 4 TB unsalted butter. When I called, the lady on the phone said to use melted butter. She put me on hold to confer with someone else and again came back and affirmed that it should be melted. I made the recipe with melted butter. Came out fantastic no problems there. Several hours later, I received an email that said " In our recipes butter will always be room temperature unless otherwise specified". I haven't tried it that way but I'm sure it'll work too. Just wish the recipe was stated and we didn't need to assume that butter should be room temp without it being specified. Recipe should be updated.
just took a batch out of the oven--even with an egg wash thought the color was 'lacking'.. Subbed whole milk powder was the only change--still will be good for brat burgers tonight
I made this recipe today, it came out so dilicious and soft from the inside. I truly recommend it. My dough needed more water to get the right consistency, I added 2 teaspoon of salt instead of 1 1/4 for my preference. I made 12 mini buns for sliders instead of 6 larger buns. I really recommend this recipe.
The texture was wonderful! The flavor was bland and I followed the recipe exactly.

Not flavorful enough for your tastes, V? No problem! There are quite a few tasty ways to amp of the flavor. You could use salted butter instead of unsalted, you can increase the salt to 2 teaspoons, and you could use either 4 teaspoons of honey or 2 tablespoons of brown sugar instead of the regular sugar. You could even make all three changes to give these rolls a big boost in flavor. We hope you enjoy the next batch! Annabelle@KAF
Great buns! Following KAF blog advice I substituted 3/4 cup of unseasoned mashed potatoes (just boiled potatoes, no butter, no milk, etc.) for the 1/4 cup potato flour. Then starting with half as much water (1/2 cup) I slowly added 1/2 tbs at a time until I got a good consistency in the stand mixer. 18 minutes at 350 for internal temp of 190. Big and light, they are perfect for veggie burgers with a slice tomato from the garden.
I made this recipe yesterday and was very pleased with the results. I used a bun pan so the bottom portion of the bun is pan shaped and fits a burger very well. The crumb is tight and holds up well with with a juicy burger. I did top with some everything mix that I made up a while ago and would highly recommending that or sesame seeds as it adds an additional texture to the bun.
Made these as slider buns (24 buns at approximately 30 grams of dough per bun) and baked them in 2 Wilton brand muffin top pans. The bottoms came out darker than the tops so I will probably adjust the temp down a bit next time. Nevertheless they are delicious and hold up perfectly to the juicy burgers and condiments.
Made this as directed and at last minute I added 1 egg and increased yeast to 3 tsp. I saw Beautiful Buns and could not decide and with the dried milk and potato flour decided that was close enough to match in the latter recipe of 3.5 c flour. Boy these were really delicious. I live in AZ and did use the 1 c water. I weigh all ingredients and use everything KAF. I love the burger roll pan. Made 8 with 2 in cake pan 9" and baked all at same time. I snitched one hot and it was melt in your mouth, HAPPY DANCE. Use egg wash with sesame seeds and a sprinkle of course salt; and melted butter over top when first out of oven. I decreased salt by 1/4 tsp in recipe.
I made these and we loved them. Made them with a few changes: 1) Used 2% milk instead of dry milk and water--I never have dry milk on hand; 2) Used bread flour--I live at altitude and find that bread flour (more protein) gives me a better result; 3) Not nearly as much flour--at this altitude, the flour is so dry that I normally use 25% to 30% less flour than at sea level; 4) I made 8 buns--smaller is better in this household.
I adapted this recipe to use in my Mini home bakery purchased from KAF. I used all ingredients purchased from KAF. I used an egg wash before baking and sprinkled with the bagel topping. Best buns EVER! Then I adapted this recipe combining it with the recipe for rye bread that came with mini bread machine, Zojirushi, to make Rye buns; First Into the bread machine bucket 1 C. room temperature water (I use spring water), 1 T. olive oil-canola oil blend. In a mixing bowl I measure (using KAF's method of measuring) 1 C. Rye Flour Blend, 1/2 C. All Purpose flour, 1/2 C. Artisan Bread flour, Using a 1/3 c. dry measure cup eye ball it to about 3/4 c. full of KAF potato flour, fill it to the rim with rye flour blend. 2 1/4 tsp. Rye Flavoring, (a must in my opinion) 2 T. Bakers Dry Milk, 1 1/4 tsp. sugar, 1 1/2 tsp. celtic sea salt, or Real Salt, plus a pinch of smoked salt (adds a pleasant taste to the bread). With a spoon mix all dry ing. well, except yeast. Spoon dry ing. over top of liquid that is in the bread pan, make a small shallow well in the center of the flour and add 1/1/2 tsp. SAF yeast. I have caraway seeds now, so the next time I will add them. (When using the bread machine it is important to follow directions for adding ing. to the bowl, dough setting. Then follow the directions for making the buns according to KAF's recipe listed here. After the dough has risen in the KAF hamburger bun pan for 40 min. I used the egg wash and sprinkles of the bagel topping. I have an electric oven so I started checking on them after 18 min. bake time. They were high and golden at 22 min. I let them cool in the pan for 5 min. then transferred to cooling rack, then we enjoyed Rueben sandwiches. If you try this recipe I hope yours turn out as good as ours did. Better than any bakery rye I have eaten. Thanks KAF team for posting the recipe for hamburger buns. Love your pan too!