A customized print-friendly version of this recipe is available by clicking the "Print Recipe" button on this page.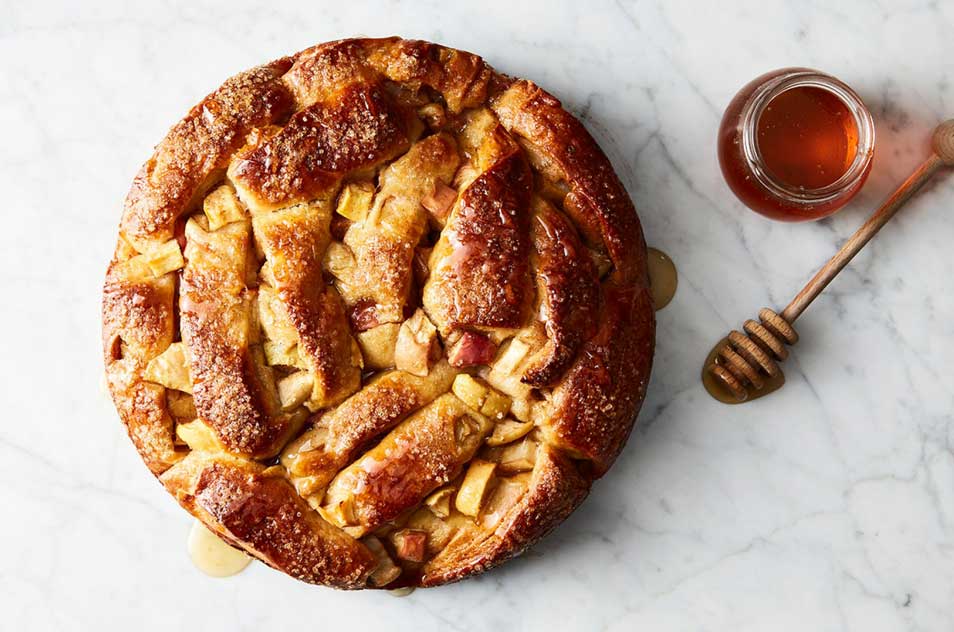 This challah is totally different from the braid or spiral of golden bread you're used to. Stuffed with sweetened, cinnamon-scented apple chunks, it's prepared like monkey bread. Though the process is messy, the result is well worth it! Read our blog about this challah, with additional photos, at Flourish.
Ingredients
Apple filling
2 medium-to-large apples, NOT peeled; cored and diced in ¾" chunks
1/2 teaspoon ground cinnamon
¼ cup granulated sugar
Instructions
To make the dough: Combine all of the dough ingredients and mix and knead them, by hand, mixer, or bread machine, until you have a soft, smooth dough.

Allow the dough to rise, covered, for 2 hours, or until it's puffy and nearly doubled in bulk. If you've made the dough in a bread machine, allow it to rise in the machine for an extra hour after the dough cycle is completed.

Lightly grease a 9" round cake pan that's at least 2" deep. Or grease a 9" or 10" springform pan.

Toss the apple chunks with the sugar and cinnamon.

Gently deflate the dough, transfer it to a lightly greased work surface, and flatten it into a rough rectangle, about 8" x 10".

Spread half the apple chunks in the center of the dough.

Fold a short edge of the dough over the apple to cover it, patting firmly to seal the apples and spread the dough a bit.

Spread the remaining apple atop the folded-over dough.

Cover the apples with the other side of the dough, again patting firmly. Basically, you've folded the dough like a letter, enclosing the apples inside.

Take a bench knife or a knife, or even a pair of scissors, and cut the apple-filled dough into 16 pieces. Cut in half, then each half in halves, etc. This will be very, VERY messy; the dough is slippery, apples will fall our, sugar syrup will ooze... it's not pretty. Don't worry, and don't stress about making all the pieces the same size.

Lay the dough chunks into the pan; crowd them so that they all fit in a single layer (barely). Lots of apple chunks will fall out during this process; just tuck them in among the dough pieces, or simply spread them on top.

Cover the challah gently with lightly greased plastic wrap or a proof cover, and allow it to rise for about 1 hour, until it's a generous 2" high. It should just crest the rim of a 9" round cake pan. Towards the end of the rising time, preheat the oven to 325°F.

Whisk together the egg and 1 tablespoon water. Brush the dough with the egg mixture, and sprinkle heavily with the coarse sugar, if desired. If you're going to drizzle with honey before serving, omit the sugar.

Place the bread in the lower third of the oven. Bake it for 55 minutes, or until the top is at least light brown all over, with no white spots. Some of the higher-rising pieces will actually char; that's OK.

Remove the challah from the oven, and after 5 minutes loosen the edges and carefully transfer it to a rack.

Serve the bread hot, warm, or at room temperature. Drizzle with honey just before serving, if desired; or serve with honey for dipping.
Nutrition Information
Serving Size

1 slice (85g)

Servings Per Batch

16
Amount Per Serving:
Calories

210

Calories from Fat

50

Total Fat

6g

Saturated Fat

1g

Trans Fat

0g

Cholesterol

35mg
Sodium

230mg

Total Carbohydrate

35g

Dietary Fiber

2g

Sugars

11g

Protein

5g
* The nutrition information provided for this recipe is determined by the ESHA Genesis R&D software program. Substituting any ingredients may change the posted nutrition information.
Tips from our bakers
Be sure to use good-quality honey and oil in this recipe. Since they play such a major part, they have to taste good. We prefer safflower oil, as it's neutral-flavored. Canola oil can produce off flavors in baking, so best not to use it here.
Reviews
I had the same problem as others. The bread was very dense and lacked flavor. I also got very little rise and I made sure my water was the correct temperature. I've been baking bread and challah for 40+ years and never had one come out like this. I'm afraid I won't be making it again.

We're sorry this recipe didn't turn out the way you'd hoped! The density, blandness, and lack of rise all seem to indicate an excess of flour in the dough, which is a common issue for folks who are measuring using volume rather than weight. Using a kitchen scale set to grams might bring better results if you do decide to try this recipe again. Happy baking! Kat@KAF
Made this tonight for a friend who happens to be visiting during Rosh Hashanah. It turned out great and was a nice way to help celebrate the new year. I was a little worried because I've struggled some with my baking since moving to a high elevation recently, but this was light and had the "stringy" texture as described in the blog. It was messy to make, but very much worth it. We made the recipe pretty much exactly as described, just making a couple of standard tweaks for elevation, and found it to turn out just like the photos and description. Definitely a keeper of a recipe that I'll make to share year round!
Has 5* potential, but lacked instruction to line springform pan. The loaf I set to rise was neat and contained During rise, a sticky puddle of appley goodness escaped through the bottom of the pan...and without that, my bread was dry on the bottom, not to mention all the cleanup. Also, the dough was extremely dry and tight, even though I fluffed it up, as KA directs and weighed it, too; plus I baked it in very wet weather. Still, I had to add water (the only change i made), and wondered if an extra egg was needed.

Thanks for sharing your experience making this recipe, Gail. We're surprised to hear your springform pan leaked, as by design they're supposed to be sealed tightly. If you know you have a well-loved, leaky pan, then we certainly would recommend lining it or opting for the round cake pan instead. We hope that you'll give this recipe another shot and experience the 5 stars it deserves. Happy baking! Kye@KAF
I incorporated the apple part of the recipe as stated into my whole wheat vegan challah recipe and the result was fabulous. It was messy with left over with bits of apple, but the apples and cinnamon made the dough light and airy as if it had eggs inside.
Oh My this is fabulous. I baked it in a large loaf pan and then used it for French toast. Unbelievably delicous. Was looking for something special for Easter brunch. This is definitely on the menu. Thanks KAF
Another winner! I discovered this in the beginning of 2015, and have made it many times since. I generally shorten the second rise, and make it in a braid(apple stuffed in each strand), or a loaf. Turns out delicious every single time.
This bread was absolutely DELICIOUS. It made quite a bit more dough than I expected so I had to let it rise in one of my oval cake pans. And it rose HIGH. It baked up so fluffy and golden brown. The syrup from the apples made a delightful goo at the bottom of the pan and the rolls pulled away from each other so easily. This recipe is a WINNER.
Made for Rosh Hashanah. Looked beautiful, texture was good and it tasted great. (I'd post a photo if I could.) Following other suggestions I peeled the apples and added 1/2 tsp. pumpkin pie spice in addition to the cinnamon to amp up the flavor. Because I know honey retards yeast, and there were comments about slow rising and heavy texture, I used SAF gold yeast, and made the dough in a bread machine. (I find the machine helps one NOT add too much flour.) After the first rise in the machine I placed the dough in a plastic zip-lock bag sprayed inside with cooking spray and refrigerated overnight. (Another good suggestion as it is too hot here to bake late in the day.) Next morning after allowing about 30 minutes to warm up the well risen dough, I shaped the loaf as directed and baked in a 9" springform pan with a parchment round in the bottom. I will pat the dough out a bit larger next time to make it easier to enclose the filling. I tried using a wooden bench knife to cut the pieces thinking maybe the blunter edge would seal as it cut making it less messy, but it didn't help. I did control the mess by doing the cutting on a sheet of parchment. (love the stuff!) It did look like an unruly mess in the pan, but it rose well and had a good oven spring. At 55 min. the internal temp was not yet 190 degrees per Thermapen so I ended up baking it 10 minutes longer, checking at 5 min. intervals. After baking it had turned from an ugly duckling into a swan. It may take a village to raise a child, but it takes a community to tweak a recipe. I love reading everyone's suggestions before I tackle a new recipe. Thanks!
This was awesome. Messy to make, as promised, but no problems otherwise. Made it for Rosh Hashana last year and it looked so gorgeous on a beautiful hand painted plate. It really was the centerpiece of my holiday table, looks wise and taste wise. Definitely making it again this year.
Would not make this recipe again. Although the taste was fine, we didn't love the skin on the apples and the messiness was not worth it.

We're sorry to hear this recipe was not to your liking--you could always try taking the skins off next time if you prefer. Sometimes the messiest doughs are the ones that are the most worth it! Happy baking! Kye@KAF