A customized print-friendly version of this recipe is available by clicking the "Print Recipe" button on this page.
Harvest Grains Stuffing Loaf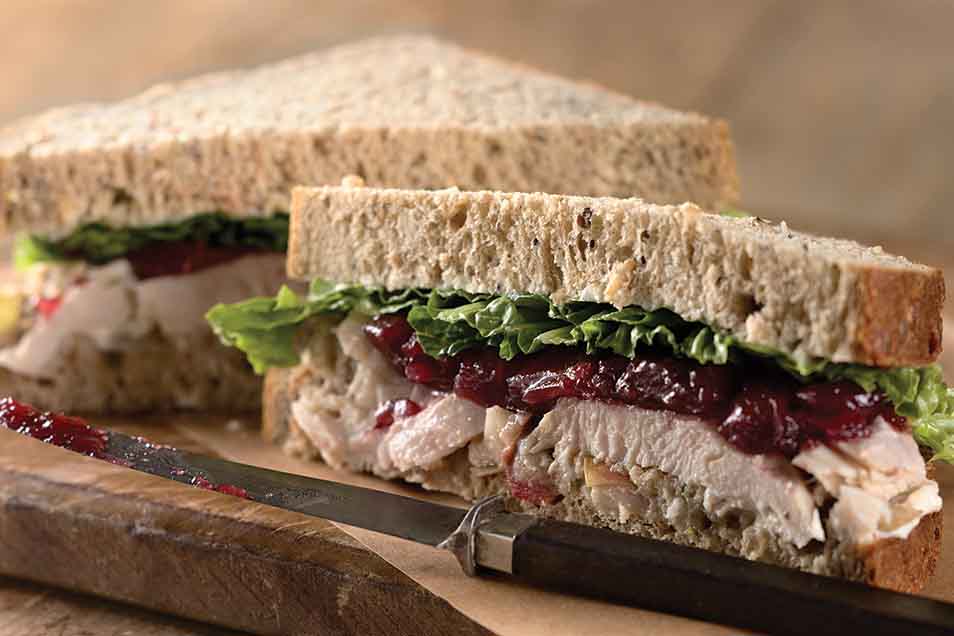 This moist, whole-grain loaf tastes like stuffing; use it as the base for your Thanksgiving turkey's stuffing, or to make wonderful turkey sandwiches the next day.
Instructions
Combine all of the ingredients and mix and knead — by hand, mixer, or bread machine — to make a smooth dough.

Cover the dough, and allow it to rise for 1 hour, until it becomes puffy.

Shape the dough into a log, and place it in a lightly greased 8 1/2" x 4 1/2" loaf pan.

Set the loaf aside to rise, covered, for about 45 minutes, or until it?s crowned about 1" over the rim of the pan.

Bake the bread in a preheated 350°F oven for about 35 minutes, or until it's golden brown and the interior of the loaf registers 190°F on an instant-read thermometer.

Remove it from the oven, and cool for 5 minutes before turning the loaf out of the pan onto a rack to cool completely.

Yield: 1 loaf.
Reviews
Really flavorful loaf that also proved to be a high riser. Just perfect with turkey sandwiches. Thanksgiving in a loaf.
I made this last weekend for our Thanksgiving stuffing cups. I wouldn't say it "smelled like Thanksgiving", but it smelled awesome anyway, and the couple slices we sampled fresh were delicious! It made a wonderful stuffing, and provided way more bread than was needed to make stuffing for 6 people. I love the texture in this bread, and will definitely be making this one again!
This is a bread I'll definitely make again. Excellent flavor and texture and the aroma was wonderful! The dough was quite sticky, almost like a rye (I'll flour my board and hands more next time), and emerged from the oven with a slightly lopsided shape, the only point that needs more work on my part; slashing the dough down the center might help because of the high rise, which I underestimated. I used Bell's Seasoning, that regional favorite, with fresh thyme and some dried onions, and an egg wash on top.
Oh, boy, I could make a whole meal out of this bread. I've had it bookmarked since last fall and finally got around to trying it, and it is spectacular. I used a big bunch of fresh sage and some millet seeds in place of the mixed seeds, but otherwise kept to the recipe. It was quite a wet dough, but a little extra flour fixed it right up. It smells SO GOOD and has so much flavor. I love it, and will be making it again for sure. Thanks.
The first time I made this recipe, it was too heavy and seemed not fully cooked. But, I recently purchased the Long Covered Baker (#4555) and I decided to try it once again using this wonderful baking tool. It was fantastic. In fact, the texture was perfect and by uncovering the pan for the last 15 minutes, the bread browned up beautifully. You might try using this tool and letting folks know what a good idea it is to use it with this bread recipe.
i made this bread today in time for it to get stale for thanksgiving. after it had cooled i couldn't resist cutting off a heel and just trying it. this bread is fantastic! it has a beautiful even grain and rose well. the taste though..........definitely thanksgiving. i did use fresh herbs instead of dry ones. i have thyme and sage growing in my kitchen. this will be stuffing a pumpkin instead of a turkey as my husband and i are vegetarians and have been for 30 years.
I made this bread following the directions and it was really wonderful. I think the other reviewers need to accommodate their flour/water ratios according to their respective environments. I find that to be the case, or that bad substitution choices are what make a lot of baking recipes fail. This bread is very delicious and I agree with one reviewer who stated that it makes you crave turkey! What a fabulous turkey sandwich this bread made. My home smelled like Thanksgiving when it was baking! I also used 2 day old stuffing loaf to make the stuffing cups as an accompaniment to a roast chicken this weekend. It was terrific. Thank you!
This recipe is simply astounding! It was warm, soft, airy and the flavor is spot on for Thanksgiving. I cannot wait to make this bread for Thanksgiving stuffing cups. I have never had a better turkey sandwich in my life. It is delicious alone with a simple light swipe of butter. However, this fragrant bread makes your crave turkey with all the trimmings! I shared this bread with a friends family and they are convinced I had purchase the bread at some secret bakery. The next stop is Tailgate Turkey Sandwiches for the annual Stanford game get together. I cannot wait to receive the feedback!
I made this recipe this weekend without the poultry seasoning, since it looked like a good all-around whole grain loaf. I found the dough to be too wet, my loaf rose nicely then sunk in the middle when baking. I think these results are similar to the previous review. I did find it to have good flavor, however, and I would make this recipe again with adjustment of the liquid and/or dry ingredient volume.
Adjusting the dough with some more four or using less liquid is the way to go. Adjustments often need to be made from season to season. Elisabeth @ KAF
This turned out to be a heavy, dense, moist loaf. I liked the texture. What my husband nor I liked was the taste. Although it has poultry seasoning, we could not taste it. What we could taste was very earthy and unpleasant. I don't believe any of my ingredients were stale but it is a possibilty. I think the combination of earthy grains, whole grain flours and poultry seasoning just don't make a good combination. Just my personal preference. I had to a add a couple more tablespoons of flour to make a smooth dough. It rose in the time specified but took 45 minutes to reach 190 degrees in my oven. Sorry KA, I just didn't like it.
Thank you for sharing your honest evalaution. If you'd like to chat or problem solve this recipe with one of our bakers, call us at 802-649-3717. We are looking forward to talking about ingredients that would meet your taste needs. Irene @ KAF