A customized print-friendly version of this recipe is available by clicking the "Print Recipe" button on this page.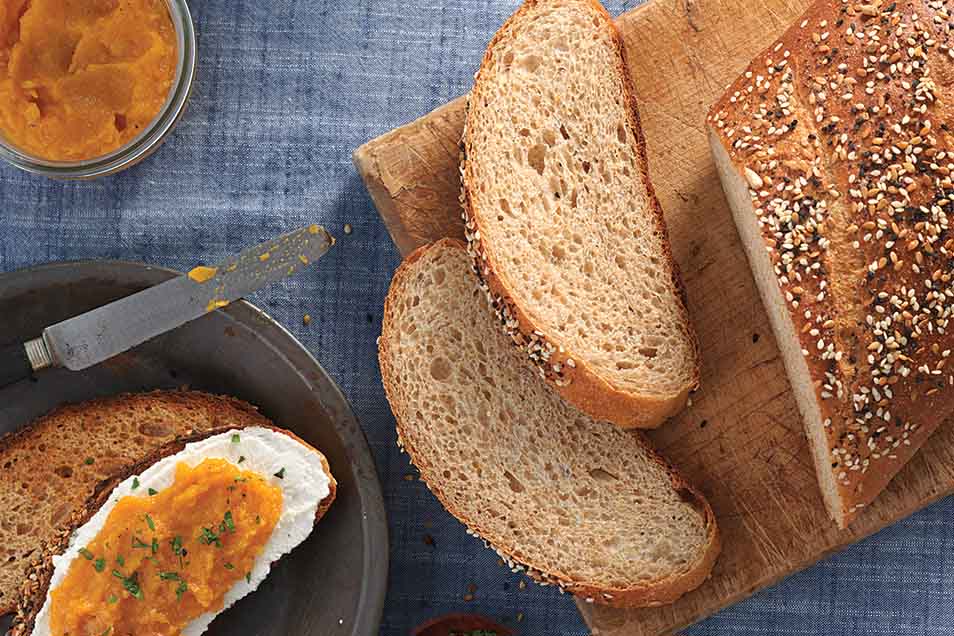 This robust loaf is great alongside stew or a hearty soup.
Instructions
To make the dough: Combine all of the dough ingredients, mixing and kneading to form a smooth, sticky dough.

Cover the dough, and let it rise for about an hour; it should become puffy.

Divide the dough in half, and shape each half into a 10" oval loaf. Place the loaves on a lightly greased or parchment-lined baking sheet.

Cover the pan, and allow the loaves to rise for about 90 minutes, or until they've increased in size by about one-third.

Just before baking, brush with a lightly beaten egg white, then sprinkle with seeds. Slash each loaf diagonally three times.

Bake the loaves in a preheated 400°F oven for 25 to 30 minutes, or until the interior registers 200°F on an instant-read thermometer.

Remove the bread from the oven, and transfer it to a rack to cool. Store fully cooled bread at room temperature, well-wrapped, for several days; freeze for longer storage.
Nutrition Information
Serving Size

1/2" slice, 51g

Servings Per Batch
Amount Per Serving:
Calories

110

Calories from Fat

Total Fat

1g

Saturated Fat

Trans Fat

Cholesterol
Sodium

210mg

Total Carbohydrate

22g

Dietary Fiber

3g

Sugars

3g

Protein

5g
* The nutrition information provided for this recipe is determined by the ESHA Genesis R&D software program. Substituting any ingredients may change the posted nutrition information.
Tips from our bakers
To bake this loaf on a stone: Place the shaped loaves on parchment paper. Preheat the oven with the stone on the middle rack. When the loaves are ready, brush them with the egg white and sprinkle them with the artisan bread topping. Transfer the loaves on parchment to the hot stone (sliding the parchment and loaves from the back of baking sheet to the stone is an easy way to do this), and bake according to the recipe instructions.
Reviews
I made quite a lot of changes. Halved the recipe, used around 1/2 cup of unfed sourdough starter keeping overall proportions of flour and water according to the recipe, omitted dry milk, used whole wheat flour and vegetable oil instead of flax meal, partially used molasses instead of sugar. Dough was very wet and sticky as some of the reviewer mentioned. I resisted temptation to add a lot flour , may be just little for kneading. Instead of shaping a loaf put dough into a loaf pan. It rose beautifly and have a nice tender crumb.
I LOVE the taste of this bread. I LOVE it. This is why I keep trying to bake it better. So, I have made this recipe twice. Each time the second rise recommended (90min.) is too long. This last time, if I went by feel I would have baked the loaves after 30 min. second rise (and although I am in TX, it is February, so we are in our cooler time of year). I wish the procedure in the recipe would be just a little bit more detailed. Specifically, are we to deflate the dough after the first rise, or handle it gingerly to not lose the air and structure? As it is, my two loaves are quite flat and a bit dense, but they make exquisite panini bread. I bought some pastrami and swiss and I am looking forward to a very tasty sandwich. Once it is gone, I will try again. :-)

Hi Pan! We'd love the chance to talk through the recipe with you, so we encourage you to reach out to our free and friendly Baker's Hotline staff to help troubleshoot at 855-371-BAKE (2253). Kindly, Annabelle@KAF
My husband and I enjoyed this one a lot! While preparing for this one I realized I did not have any dried milk so I replaced 1 cup of water with whole milk. I also did not add all of the 3/4 water because I read that it was very wet with previous reviews. I ended up adding a small amount of extra flour also so help knead it so it wasn't sticking all over my hands. The end result was great! It was really rich and nutty. I will be looking forward to making this again with the dried milk. I would even consider adding some molasses next time also.
I followed the recipe as written except that I used bread flour instead of the ap flour. I also combined the ingredients and let it sit for 30 minutes before starting to knead. I kneaded the dough in my stand mixer for 10 minutes. As others have noted, this is a very wet and tacky dough, but I found the dough quite manageable after the first rise and didn't have any problems shaping the loaves (note that I baked these on a dry winter day). This baked up great and made nice loaves with good flavor and a tender interior. I will definitely bake this again.
This recipe makes for an easy whole grain bread to make if you're new to bread making. As I finally found in a review response below - knead in a mixer with a dough hook for 7-8 minutes - it will still be REALLY sticky but at least you'll know you worked it enough. I made this at high altitude and it did not dry out, tasted delicious, and will make again. I did not have milk powder and substituted 1 cup milk for part of the water. I also didn't have flax seed and substituted brown rice flour. This bread comes out somewhat flat, but it is still delicious so who cares!
after reading other reviews started with less water(about 1/4C), still ended up adding more flour(4T) to make dough come together, was moist and just slightly tacky. Formed two rounds & covered with KAF seed mix--soft crumb with good flavor--seemed to bake quickly compared to other breads that I usually make--will make again for sure will try to make it just a little 'sturdier' next time
I used bread flour for most of the AP in an attempt to add protein and make the dough more workable based on reviews saying it was soft. Even with that, I had to add over 100g more flour than the recipe called for. (I measured in weight.) After 8 minutes of kneading in the stand mixer, the dough had come together and was no longer as liquid, but it was still pretty floppy. I baked in a covered stoneware baker - the loaves required about an hour before they were done. The bread is tasty, though a little more flavor wouldn't hurt. It has a nice crumb and a good crust after coming out of the baker and resting in the cooling off oven.
I wrote the review just before this one. I'm very happy with the bread and appreciate the response to my comment, but would like to clarify that I did use King Arthur brand flour (white and whole wheat), so I don't think that is what made the dough so soupy. Reading the review section, it looks most of the other people who followed the recipe had the same problem, including many experienced bread bakers. I intend to keep making this bread--it's so good!--but I'll certainly read the blog post you mention to learn how to shape it and add an extra half cup or so of flour next time, like I did before. Thank you for the shaping advice, and for developing this delicious recipe.
Delicious, with a soft crumb and good flavor from the seeds. Well reviewed by all tasters. I measured the ingredients by weight, and even so found the dough unaccountably wet. I understand a wet dough has its advantages, but it was so wet I didn't think I would be able to shape it after the first rise. I used a stand mixer and ended up adding between half and three quarters of a cup more flour. Some instructions on shaping the loaves would have been nice, though they turned out alright despite my lack of shaping know-how. The end result was very tasty.

It sounds like you might have used another brand of flour, which tend to be lower in protein than King Arthur Flour and therefore less absorbent. If you'd like some additional tips on shaping artisan loaves, check out our blog post called "Artisan Sourdough Bread Tips, Part 2." It includes step-by-step photos, which we hope you find helpful. Kye@KAF
I have used this recipe for 4 years to make 12 loaves of bread for my teacher son's 8th grade Medieval Day in Whitefield, NH. It has always been too flat looking. This time I made a mistake which turned out to be fortuitous! I need to use 10 1/2 cups of water - SO used my 4 cup measure twice - thinking it was 5 cups - and it was quite hard to knead for the 12 minutes I do it by hand... After 7 hours or so it was all done and out of the oven. My son came home and said the loaves looked much more like bread than before....I was kicking myself all over town... WELL next day he took them to school....The kids gobbled them up - every crump - and even one whose dad is a head chef at one of the big hotels up there said it was better than he had ever had before! SO I'm thinking maybe there is too much water in the recipe...and next year I'll put less in. The kids are even asking for the recipe!