A customized print-friendly version of this recipe is available by clicking the "Print Recipe" button on this page.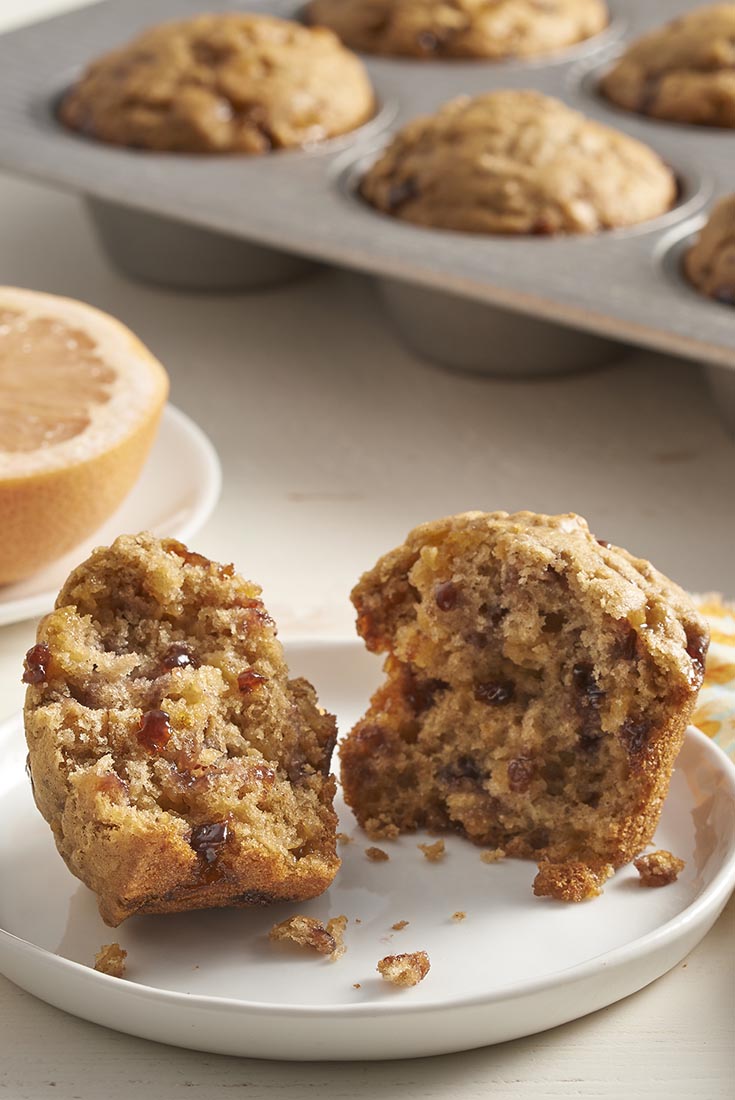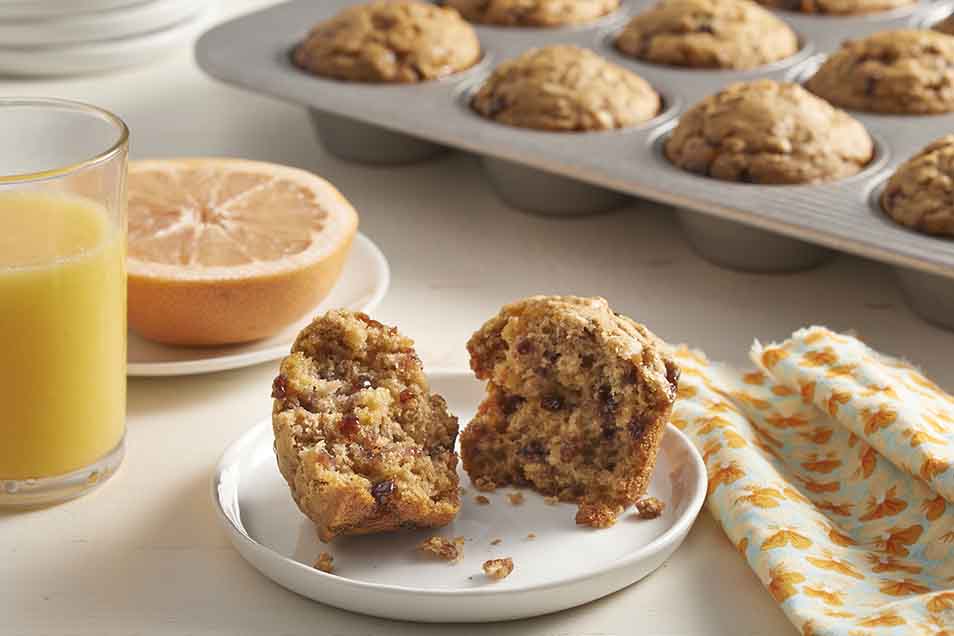 Chock-full of both barley flakes and barley flour, these muffins are a hearty, filling breakfast whether you're on the go or leisurely reading the newspaper. The Jammy Bits offer sweet-tart bursts of fruit that complement the subtle notes of whole grain.
Ingredients
1/2 cup boiling water
1/2 cup barley flakes
1/3 cup vegetable oil
1 large egg
1/2 cup brown sugar, packed
1 cup buttermilk
1 teaspoon vanilla extract
1 cup barley flour
1 teaspoon baking soda
1 teaspoon baking powder
1/2 teaspoon salt
1 teaspoon cinnamon
1 cup jammy bits (Raspberry Jammy Bits, your favorite flavor, or a combination or all one flavor), or raisins or other dried fruit (chopped into 1/4" to 1/2" pieces if they're large)
1 cup chopped nuts, optional
Instructions
In a medium bowl or measuring cup, combine the boiling water and barley flakes. Set aside to cool to room temperature.

Preheat the oven to 375°F. Line a 12-cup muffin pan with papers, or just lightly grease the muffin cups for a crustier muffin bottom.

When cooled combine the soaked barley flakes with the vegetable oil, egg, brown sugar, buttermilk, and vanilla extract. Set aside.

Weigh out your flours; you'll find their weights by toggling to "ounces" at the top of the ingredient section above. Or measure them by gently spooning them into a cup, then sweeping off any excess. In a large mixing bowl, whisk together the flours, baking soda, baking powder, salt, and cinnamon.

Pour the wet ingredients into the dry, and stir just until evenly moistened. Cover the batter loosely and allow it to rest for 10 minutes.

Fold the Jammy Bits, raisins, or dried fruit and the nuts into the batter.

Scoop the batter by heaping 1/4-cupfuls into the prepared muffins cups; a scone and muffin scoop works well here.

Bake the muffins for 22 to 25 minutes, until a cake tester inserted into the center of one comes out clean.

Remove the pan from the oven, allow the muffins to cool for 5 minutes, then turn them out onto a rack to cool completely.

Store leftover muffins in an airtight plastic container or bag at room temperature for several days; or freeze for up to 1 month.
Reviews
This recipe looked like something we would love...but we did not. For some reason they came out very oily, even leaving a puddle of oil in the bottoms of the muffin cups. They were also heavy and very crumbly. I used the recipe as written using walnuts and dried cranberries. The only addition I made was to add sparkling sugar to the tops. For the barley flour I used locally grown, stone ground barley flour. Maybe the stone ground flour affected the texture and oil retention?

Baking with local flours can be a real treat, Pat, but it can take some experimenting to figure out how they perform relative to more commercial flours. Our barley flour, for example, is especially finely ground, so we'd guess that you're right that the swap for a stone ground flour was the cause of some trouble. If you're interested in troubleshooting further, please feel free to give our Baker's Hotline a call at 855-371-BAKE to chat directly with one of our experienced bakers. Mollie@KAF
This is a great, basic recipe that allows for individual improvisation, which IMHO would deserve a 5-star rating. I reduced the brown sugar to 1/3 cup and deleted the vanilla, as I love the flavor of barley. I did not use the jammies. Instead, I used 1/3 cup cinnamon chips. I only used 1/2 cup of nuts (pecans--what I have on hand) but a whole cup would certainly work. I think that they would also be delightful with dried fruit. These were wonderful warm from the oven. They also bake nicely as six "Texas-sized" muffins.