A customized print-friendly version of this recipe is available by clicking the "Print Recipe" button on this page.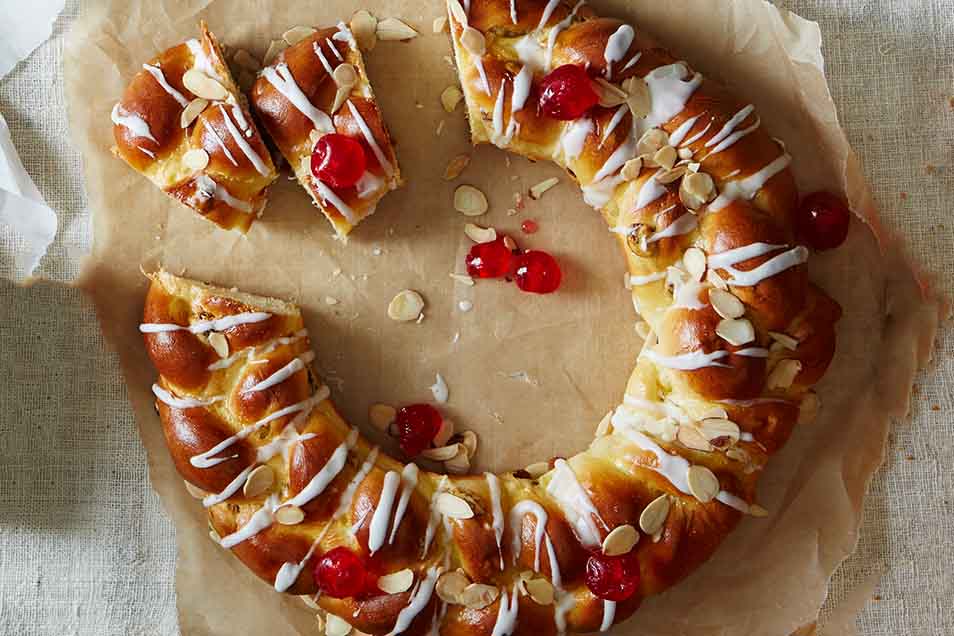 This mildly sweet yeast bread, fashioned into a pretty braided wreath, is a lovely way to celebrate Christmas. A European native, Hefekranz is enjoyed in a large area from southern Germany to northern Italy, including Switzerland and Austria. While typically scented with lemon and studded with golden raisins, feel free to leave the raisins out if you're not a fan; or better yet, substitute another dried fruit.
Ingredients
2 large eggs
1 1/2 cups lukewarm water
1/4 cup sugar
1 tablespoon active dry yeast or instant yeast
1/2 cup Baker's Special Dry Milk or nonfat dry milk
5 to 6 cups King Arthur Unbleached All-Purpose Flour
2 teaspoons salt
1/2 cup (8 tablespoons) butter, at room temperature
grated rind (zest) of 1 lemon
1/2 to 1 cup golden raisins, optional
1 large egg beaten with 1 tablespoon of water, to glaze
sliced almonds, for garnish
Instructions
In a large bowl, combine the eggs, water, sugar, yeast, dry milk, and 3 cups of the flour. Let the mixture rest for 15 to 20 minutes; this gives the yeast a chance to get going.

Add the salt, butter, lemon rind, raisins and 2 more cups of the flour, stirring until the dough begins to pull away from the sides of the bowl.

Knead the mixture, adding enough additional flour to make a soft, smooth dough. If you're kneading by hand, this will take about 10 to 15 minutes. If you're using an electric mixer, about 7 minutes at medium speed is sufficient.

Place the dough in a lightly greased bowl, cover it, and let it rise for about 1 hour, or until it's noticeably puffy. Gently deflate the dough, turn it over, and let it rise for an additional hour.

Transfer the dough to a lightly oiled work surface, and divide it into three pieces. Shape each piece into a rough log; then roll each log to make long ropes, about 34" long. The dough will want to shrink; when this happens, simply let it rest for 10 minutes, covered, then roll it some more.

Braid the ropes together gently and form a circle by weaving the two ends together as well as you can. Place the wreath on a large, well-greased baking sheet and let it rise, lightly covered, for 45 minutes to an hour, until it's noticeably puffy though not necessarily doubled in bulk.

Just before you place it in your oven, brush the surface of the wreath with the egg and water, and sprinkle on a generous handful of sliced almonds.

Place the wreath in a cold oven, set the temperature to 400°, and turn the oven on. Fifteen minutes after you turn the oven on, reduce the heat to 350°F and bake for a further 25 to 30 minutes, until the loaf is golden brown and a digital thermometer inserted into the center registers at least 190°F.

Remove the wreath from the oven, and transfer it to a rack to cool. Store at room temperature, well wrapped, for several days; freeze for longer storage.
Tips from our bakers
For added interest, place candied cherries atop the wreath after baking; just nestle them into the bread's folds while it's still warm from the oven.
Once the wreath is cool, drizzle it with a simple sugar glaze: 1/2 cup confectioners' sugar mixed with 1/2 teaspoon vanilla, a pinch of salt, and up to 1 tablespoon water, enough to make a pourable glaze.