A customized print-friendly version of this recipe is available by clicking the "Print Recipe" button on this page.
Heirloom Tomato and Fresh Pasta Salad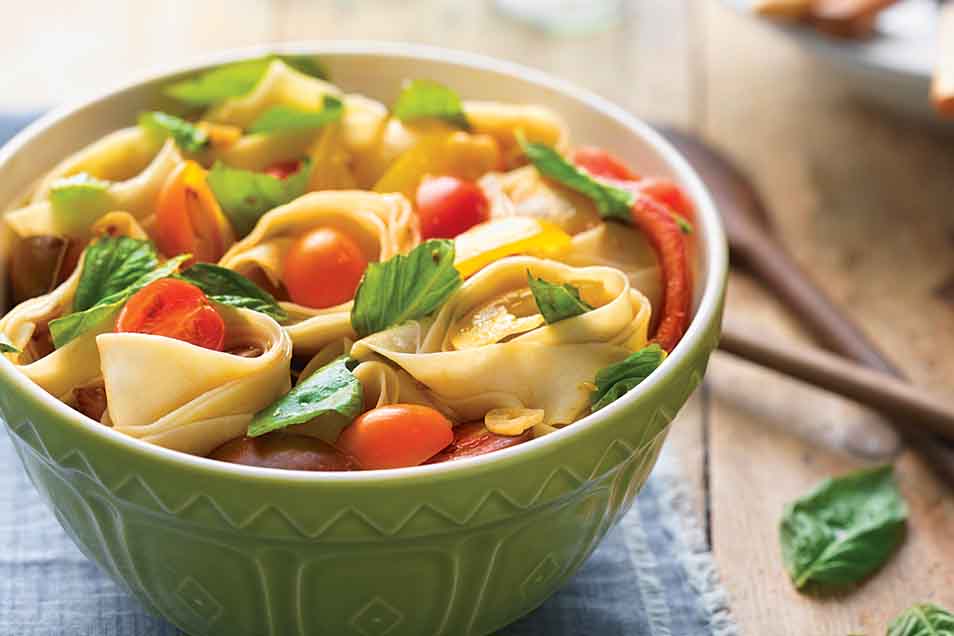 This pasta dish is inspired by the many varieties of tomatoes coming into fashion. If heirloom tomatoes aren't available to you, a combination of vine and cherry tomatoes is a good substitute.
Instructions
To make the pasta: Combine the flour, eggs, and salt in a food processor and pulse until a smooth dough forms. Or mix with a hand or stand mixer; or by hand.

Knead the dough into a ball, wrap it in plastic, and set it aside to rest for 30 minutes.

For the tomatoes, heat a small, heavy-bottomed saucepan over low heat and add the oil. Once the oil is hot, add the garlic, and cook until it turns golden. Transfer the garlic to a paper towel to dry, reserving the oil.

Combine the tomatoes with the oil, garlic, and salt in a large bowl, tossing to combine. Set aside while you make the pasta.

Run the dough through a pasta machine on its thickest setting. Repeat the process, flouring as necessary, gradually reducing the thickness to the last setting. Cut along the length of pasta at foot-long intervals, then cut each into 3/4"-wide strands.

Bring 4 quarts water + 1 tablespoon salt to a boil. Drop the pasta into the boiling water, stir, then cook for 4 minutes.

Drain the pasta, and refresh under cold running water to stop the cooking. Continue to drain the pasta in a colander for 10 minutes or so, then toss with the tomatoes and fresh basil.

Serve immediately; or refrigerate and serve later.

Yield: 3 to 4 servings.
Tips from our bakers
For soft, tender pasta, use Italian-Style Flour, as directed above. For pasta with a little more texture and bite, use 2 cups (9 1/4 ounces) King Arthur Perfect Pasta Blend, or 2 1/4 cups (9 1/2 ounces) King Arthur Unbleached All-Purpose Flour.
Reviews
I made this pasta using 2 cups of KAF Italian-Style flour and 1/4 cup of semolina. Cooked it for 4 minutes and it was perfect -- firm, not mushy. I tossed mine with herb pesto, delicious! The dough was even easy to roll by hand into thin sheets. This is my new go-to for fresh pasta.
I am subscribed to your GLUTEN FREE emails and received this recipe. This particular flour is NOT gluten free! I think you should remove the statement about American flours being high in gluten (that is misleading - I thought this product was gluten free until I read the fine print). If you do eat gluten free - DO NOT BUY THIS PRODUCT!

I apologize that you received a non-gluten free email. Please give our customer service team a call at 1-800-827-6836 so that we can make sure your email preferences are up to date. You may want to try this gluten free pasta recipe. ~Mel
I need to make this! We have a pasta machine that we've never used, and it's high time to get it into action. I also think I should try the Italian flour for my Spaetzel. I bet that would make it extra good. Any suggestions on that?
Give us a call on the Baker's Hotline and we'll be happy to help with suggestions! ~Mel
Homemade pasta cooks much faster than store bought/dried pasta. Boiling your home made pasta in salted water (in my experience) for four minutes would likely turn it into near mush, as opposed to al dente.
We had a lot of success in our test kitchen with this recipe as written. Feel free to adjust the cooking time for the pasta to fit your taste. ~Mel
Thanks, Frank! The chart is most helpful. Any chance for adding a Grams column as well as Onces for those of us with Metric Minds?
I'll pass along your encouragement. Maybe the next revision will include this additional option. Frank @ KAF.
I have not made the pasta, so my rating is not the issue here. Reading the recipe, I see you call for 2 1/4 C of flour. Changing to the Grams measure, the amount is 241 g. How can this be? You state elsewhere that 1 C of flour weighs 120 g, so according to my calculations, the recipe should call for 270 g of flour. One wonders if thIs discrepancy is only with this recipe, or if there are other instances where the conversion is off?
I apologize for any confusion. The recipe is correct as posted. Italian-Style flour is lighter per cup (1 cup=106 grams) than All-Purpose. 106g x 2.25c = 238.5g, we rounded up for easier scaling. You can find all the flour conversions on the Master Weight Chart, here:http://www.kingarthurflour.com/recipe/master-weight-chart.html Frank @ KAF.