A customized print-friendly version of this recipe is available by clicking the "Print Recipe" button on this page.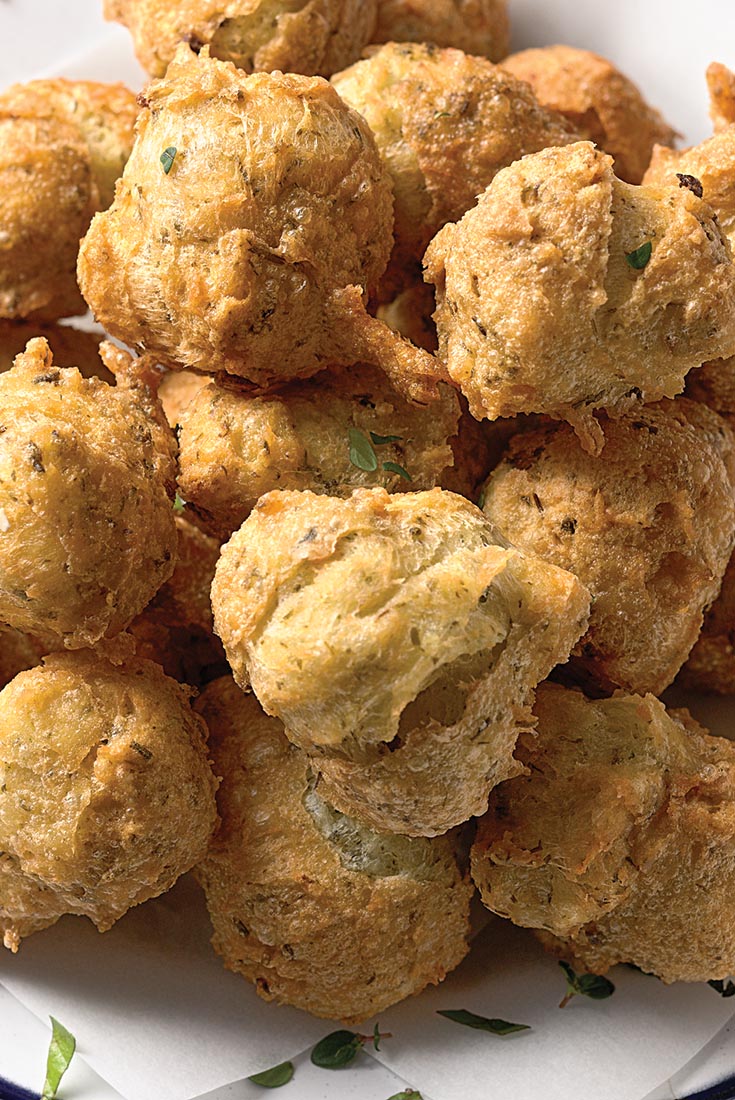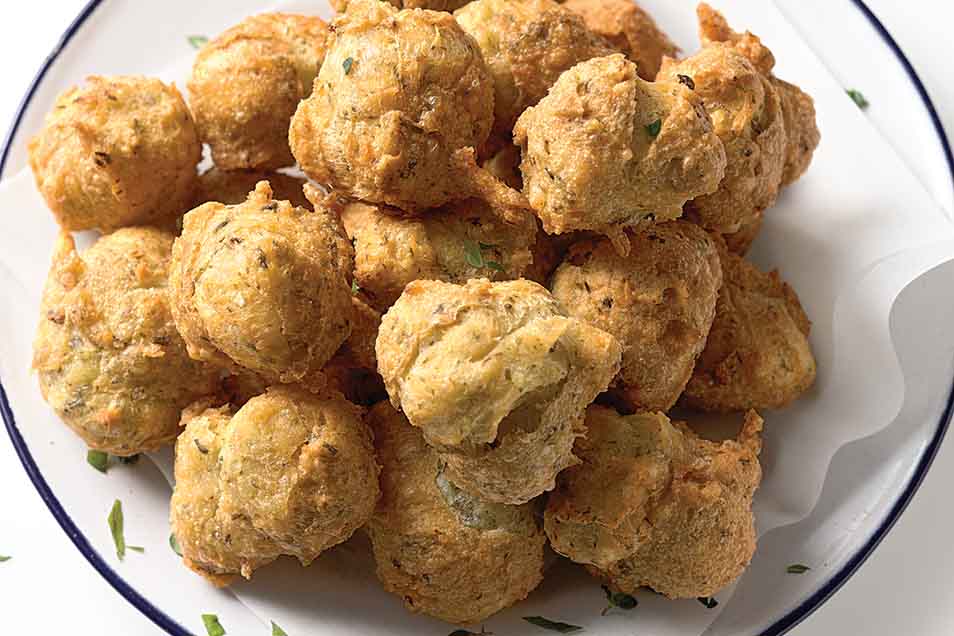 These small, deep-fried puffs are a great addition to a finger-food buffet. Enjoy these delightful little treats with plain mayonnaise or its garlicky cousin, aioli.
Ingredients
1 cup water
1/2 cup (8 tablespoons) unsalted butter
1/2 teaspoon salt
1/4 cup Herb and Garlic Artisan Bread Flavor
4 large eggs
Instructions
Combine the water, butter, and salt in a medium-sized saucepan set over medium heat, and bring to a boil.

Add the flour and bread flavor and stir vigorously with a spoon until the mixture is smooth and follows the spoon around the pan, about a minute.

Remove the pan from the heat, and let the mixture cool for 5 minutes.

Transfer the dough to a mixer, and beat in the eggs one at a time, until you have a stiff, smooth batter.

If you have a deep fryer, add your favorite frying oil (we prefer peanut oil) and preheat the oil to 375°F. Alternatively, use an electric skillet or a large pan set over a burner. Add 1" of oil, and heat to 375°F — you can test with a candy thermometer, or by dropping a test ball of dough into the oil and seeing if it fries in the indicated amount of time.

Drop 1" balls of batter into the hot fat — a teaspoon cookie scoop works well — making sure not to crowd the pan, as the balls will expand.

Fry the puffs for about 5 to 7 minutes, turning them over occasionally. They'll expand, and some will probably burst (gently), giving them an interesting shape.

Remove the puffs from the fat when they're a medium tan color, and drain/cool on paper towels. These are best served warm.

Yield: 40 to 44 puffs.
Reviews
Very good and a quick appetizer. I didn't have any of the herb and garlic mix, so I improvised and added my own including some grated parmesan cheese. The only thing is, when they were frying they were splitting open. It didn't affect the taste or anything. But was I doing something wrong or do they do that?
That is perfectly normal, so no worries. MJR @ KAF
Amy, this recipe says it's dairy free in its listing under the 'New Recipes' page.
I have submitted a ticket to have this recipe re-classified as one that does contain dairy (there is butter). Thank you for bringing this to our attention! Best, Kim@KAF

In the discussion of this puff, you declare that it is Dairy Free. and then list butter as an ingredient. To be dairy free use margarine in place of the butter.
Cold you please direct us to where you found the dairy-free statement so that we can update this information? Thank you so much! ~Amy