A customized print-friendly version of this recipe is available by clicking the "Print Recipe" button on this page.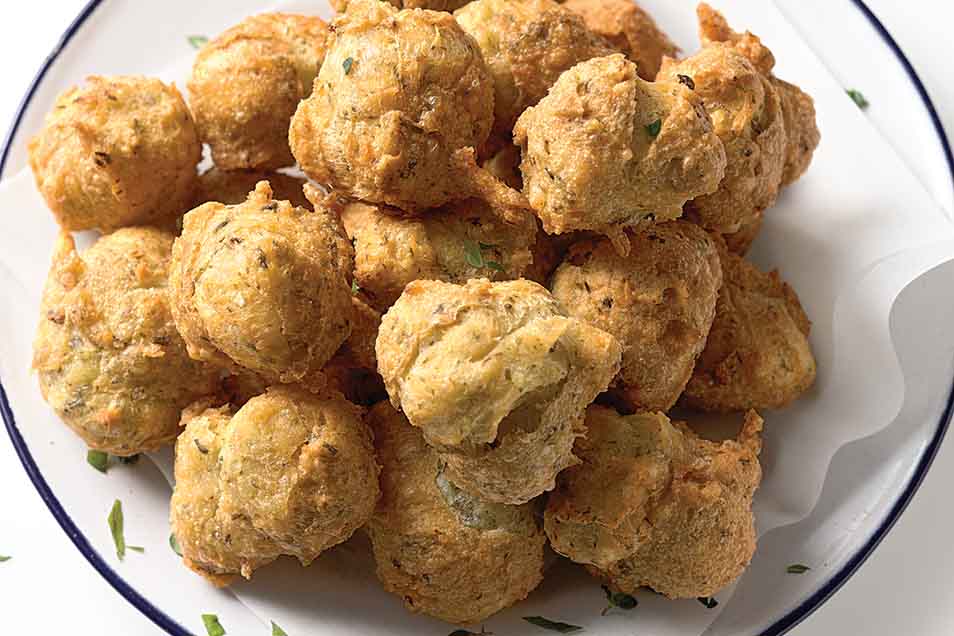 These small, deep-fried puffs are a great addition to a finger-food buffet. Enjoy these delightful little treats with plain mayonnaise or its garlicky cousin, aioli.
Ingredients
1 cup water
1/2 cup (8 tablespoons) unsalted butter
1/2 teaspoon salt
1 cup +2 tablespoons King Arthur Unbleached All-Purpose Flour
1 to 2 cloves garlic, finely chopped
2 teaspoons dried chives or 4 teaspoons fresh chives
1 teaspoon dried parsley or 2 teaspoons fresh parsley
2 teaspoons dried minced onion, optional
4 large eggs
Instructions
Combine the water, butter, and salt in a medium-sized saucepan set over medium heat, and bring to a boil.

Add the flour, garlic, herbs, and onion, and stir vigorously with a spoon until the mixture is smooth and follows the spoon around the pan, about a minute.

Remove the pan from the heat, and let the mixture cool for 5 minutes.

Transfer the dough to a mixer, and beat in the eggs one at a time, until you have a stiff, smooth batter.

If you have a deep fryer, add your favorite frying oil (we prefer peanut oil) and preheat the oil to 375°F. Alternatively, use an electric skillet or a large pan set over a burner. Add 1" of oil, and heat to 375°F — you can test with a candy thermometer, or by dropping a test ball of dough into the oil and seeing if it fries in the indicated amount of time.

Drop 1" balls of batter into the hot fat — a teaspoon cookie scoop works well — making sure not to crowd the pan, as the balls will expand.

Fry the puffs for about 5 to 7 minutes, turning them over occasionally. They'll expand, and some will probably burst (gently), giving them an interesting shape.

Remove the puffs from the fat when they're a medium tan color, and drain/cool on paper towels. These are best served warm.