A customized print-friendly version of this recipe is available by clicking the "Print Recipe" button on this page.
Herbes de Provence Croutons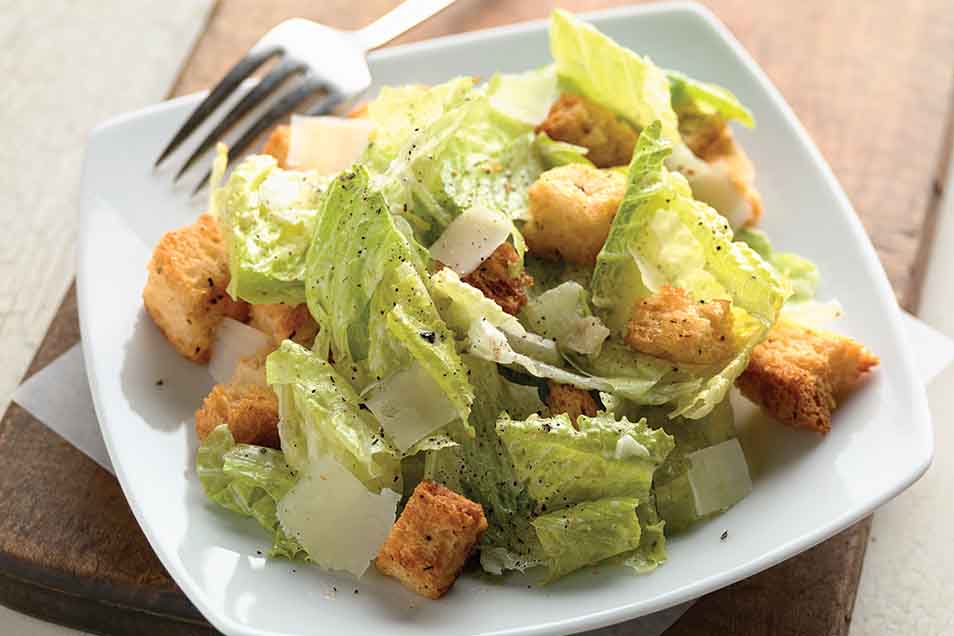 These are some of the best croutons we've ever eaten. We keep snacking on them like potato chips, and they are fantastic on salad. This makes 8 or 9 cups. If you like them as much as we did, you'll be glad to hear that the recipe is readily doubled. These will keep a month or more in an airtight container, and they can be frozen and thawed (still wrapped) for at least 6 months.
Ingredients
8 to 9 cups (half of a 1 1/2 pound loaf, crusts cut off) cubed bread, partially stale
2 tablespoons olive oil
1 tablespoon garlic oil
1/2 teaspoon salt
1/2 teaspoon Herbes de Provence
Instructions
Preheat the oven to 350°F. Lightly grease a baking sheet, or line it with parchment.

Combine the oils, salt, and Herbes de Provence, and toss with the bread cubes.

Spread a single layer of bread cubes on the prepared baking sheet.

Bake the croutons for 30 to 40 minutes, turning every 10 minutes or so. When done, they'll be a light golden brown, and crunchy all the way through.

Remove them from the oven, let them cool completely on the pan, and store airtight.

Yield: 6 to 7 cups croutons.
Reviews
Great. Took a little under 30 mins in my oven with a parchment-lined baking sheet. I used more olive oil in place of garlic oil and used KAF's pizza seasoning instead of herbs de provence. Will definitely make again. Good enough to snack on.
very tasty. I made mine with out the garlic oil (didn't have any, sub'd with garlic powder and more olive oil) and I kept the crust. very crunchy and didn't take as long to bake (my sourdough was pretty stale). think these would be lighter if made from a lighter bread.
Excellent & easy way to use bread that's several days old. My first batch browned very very quickly (about 12 minutes) in a convection oven at 350 degrees. The next batch was lowered to 300 degrees in the convection oven and it took about 16 minutes BUT I used a crisper pan (the ones with the holes in the bottom). Certainly the baking time will vary depending on the size and dryness of the cubes, but the crisper pan probably helped to decrease the baking time too. Although I used the herbes de provence with sour dough bread, I'll bet that Vermont cheese powder and garlic salt would be good the next time around.
Perfect tossed on a Caesar salad.
love love love this recipe....better than store bought... I do not have garlic oil so I just omit.....great way to use leftover bread or rolls.... soup or salads.... yummmm
loved the croutons. I thought they had a lot of flavor and my family eats them out of hand. I have to remind them to save them for the salad. I agree with the other poster. Watch your baking times, mine regularly don't take as long as the recipe indicates.
Sorry, guys, but these were disappointing - for me, anyway. I didn't think they had any flavor. I have another recipe that calls for 4c of cubed bread and a full 1/3c of EVOO + a nice blend of basil, paprika, salt, pepper & cayenne pepper. Think I'll go back to that one & add herbs de provence to the mix along with the garlic oil...
Sooo good! Wish I had started making croutons sooner! Not sure if they'll make it to a salad since they are great for snacking - hubby and I can't stop eating them from the container. Mine didn't quite need 30 minutes - might want to watch them because I bet cooking time depends on the dryness of the bread and maybe even the humidity of your home.