A customized print-friendly version of this recipe is available by clicking the "Print Recipe" button on this page.
High-Fiber Sourdough Waffles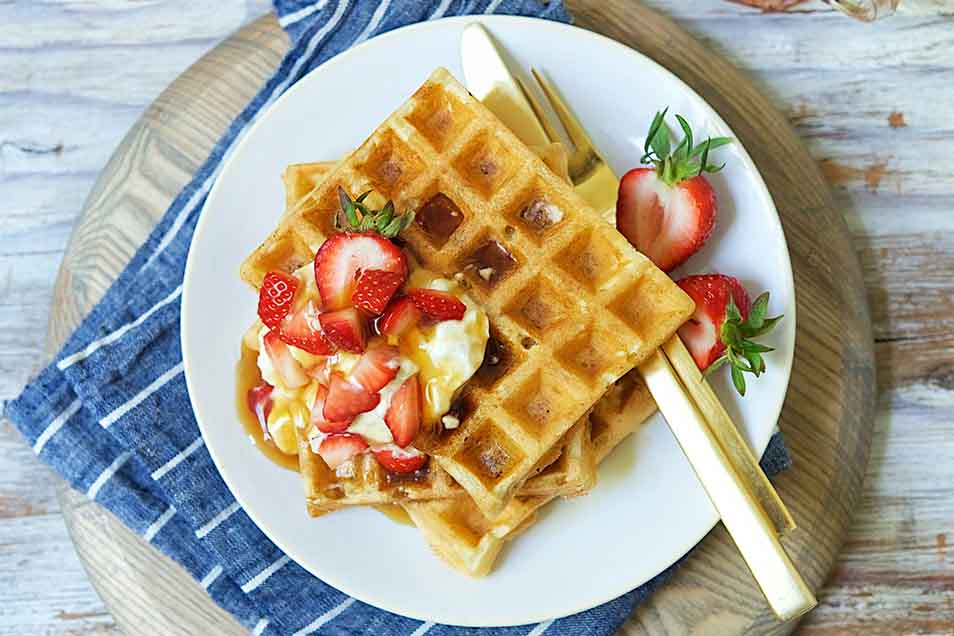 When you have unfed sourdough starter to feed and take care of, and don't have time to make bread, waffles are the answer. This batter also makes great pancakes.
Ingredients
Batter
All of the prepared sponge (above)
2 large eggs
1/4 cup (4 tablespoons) melted butter or 1/4 cup vegetable oil
3/4 teaspoon salt
1 teaspoon baking soda
Instructions
To make the sponge: In a large mixing bowl, combine the flour(s), Hi-maize, sugar, buttermilk, and starter, stirring just to combine. Cover loosely and let rest at room temperature overnight. Note: This is a good opportunity to feed the remainder of your starter, if necessary.

To make the batter: Beat together the eggs, butter or oil, salt, and baking soda. Blend this into the sponge.

Grease and heat your waffle iron, Belgian or standard.

Pour 1/3 to 1/2 cup batter into your waffle iron, and cook as directed, until brown and crisp.

Serve warm, or freeze for up to 2 weeks, reheating in your toaster.
Reviews
Spoiler: I haven't made this recipe as written yet but love it as a base for delicious waffles. I have been using quick oats for the Hi-maize/wheat flour ratio, 177 grams, and a combination of almond, coconut, and white/wheat for the remaining flour, 120 grams. I also use whey, from making yogurt, instead of buttermilk but follow along with the rest of the recipe. These waffles have great flavor, texture, and keep us feeling full for a long time. Great use for discard!
I would rate this 8 stars on a scale of 1-5! It is so versatile... You can add a few ingredients and enhance it to sweet or savory waffles. Here are the few modifications I do: 1) I use KA white whole wheat for the whole wheat fraction, then use whole grain whole wheat for the fiber fraction. 2) I add 1 oz (30 gr) of All Bran cereal, moistened with enough water to make a slurry. Let that sit overnight. 3) I separate the eggs and beat the yolks with the oil, salt, and soda, adding this mixture to the overnight batter 4) I mix in savory ingredients like 3 oz chopped ham and 3 oz grated Gouda cheese. Or seasonal ingredients like blanched grated pumpkin and pumpkin pie spices 5) I whip the egg whites to stiff peaks, folding them in last. The resulting waffles are wonderfully crisp on the outside and tender on the inside. I freeze the left overs and reheat them in the toaster, works fantastic!
excellent texture and flavor and a great way to use that extra sourdough starter!
Tonight I told my husband I was going to try a new waffle recipe in the morning (as opposed to this, our weekly standard). He got very upset and said, "Nooooo! Don't make a different waffle recipe! Don't mess with the waffles!" I have to say I agree. Our kids count down the days to Waffle Sunday each week. Any extras we freeze between waxed paper layers and toast later in the week. The main change I have made to this recipe is to use a full 16 oz. of sourdough starter (or however much needs emptying out of my crock each time). It really makes them light and fluffy. I also use regular cornstarch rather than the hi-maize fiber (which I think is just cornstarch, really?), and I have found that you can use barley flour, ancient grains flour, or really anything in place of the white whole wheat. To the folks at King Arthur, I have made zillions of your recipes and they are all wonderful but THIS is the recipe that should be called Best Waffles Ever.
Made this today and did what other reviewers did, added 1 tsp of cinnamon and 1 tsp of vanilla. I really liked the taste with the whole wheat flour. I did not have any hi-maize flour so I used just all purpose.
These are fabulous. Like some others, I added 1 teaspoon of cinnamon and 1/2 teaspoon of vanilla extract. Perfection. This is now our "go to" recipe.
Wow! These are excellent! I added 1 teaspoon of cinnamon just because my husband is a cinna-head. This recipe makes way more than we could eat and I wanted to try an experience to see how the batter holds up for a bit longer storage. Saved half of the batter in the batter pen (this site) and put in fridge to make this weekend. We'll see if that works, or if I should make the excess waffles and freeze for later. Used the fresh sourdough starter from KAF -- incredibly vigorous!
These are a great way to use up excess sourdough starter. I enjoyed the sourdough flavor, but after making two I decided to add a teaspoon of cinnamon to the batter to increase perceived sweetness. I also add a touch of vanilla which has the same effect. They are wonderful freshly made as well as heated from frozen. In short, delicious and healthy.
Great recipe - very easy. My entire family loved the waffles. I was glad to see white wholewheat flour along with high maize as I'm tyring to add more whole grains to all of my baking and had both those King Arthur items in my pantry. Definitely a plus that I could use the "unfed" sourdough starter.
Strong sourdough flavor. I wasn't sure at first, but my husband was sold. After eating a few bites, the taste grew on me.