A customized print-friendly version of this recipe is available by clicking the "Print Recipe" button on this page.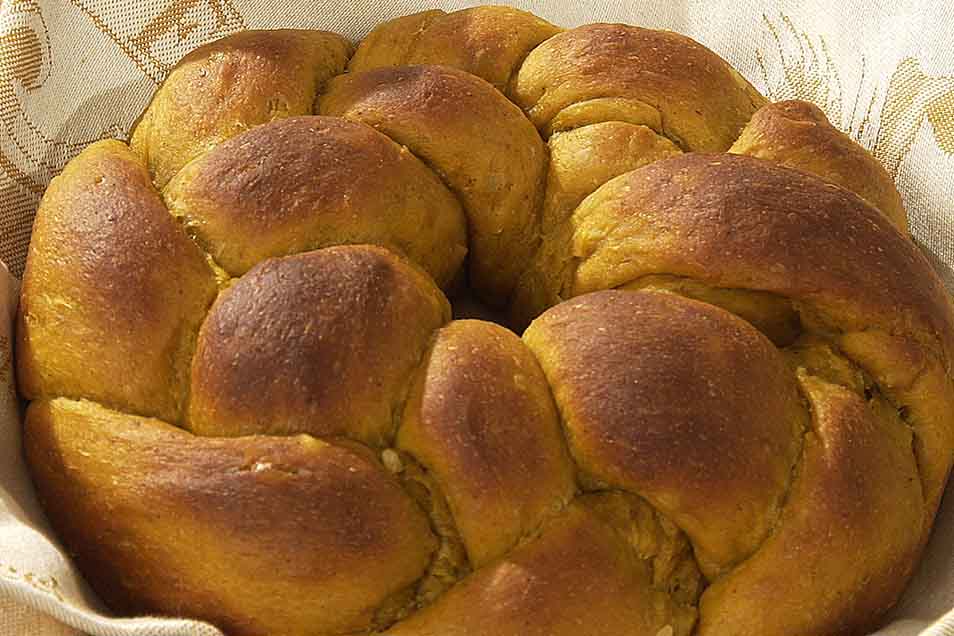 Autumn is a great season to bake with pumpkin. Pumpkin's mild yet distinctive flavor (and rich color) makes it a favorite ingredients in cake, muffins, cookies — pie, of course! — and pumpkin yeast bread. This mahogany-gold wreath is dense and moist, mildly spicy, and utterly tasty. The recipe makes two loaves; enjoy one, and give the other away. Or use the other to make Pumpkin Bread Pudding.
Instructions
Combine all of the dough ingredients, and mix and knead them — by hand, electric mixer, or bread machine — until you've made a smooth, somewhat sticky dough.

Transfer the dough to a lightly oiled bowl, cover the bowl with plastic wrap, and set it aside to rise for 1 to 1 1/2 hours; it should have expanded somewhat, but won't be wildly puffy.

Turn the dough out onto a lightly greased surface (a silicone rolling mat works well here), divide it in half, and divide each half into three pieces.

Roll each piece into an 18" log.

Working with three logs at a time, make a braid, pinching the ends together.

Coil the braid into a lightly greased 8" or 9" cake pan, shaping it into a wreath-like circle and pressing the ends together where they meet. Repeat with the remaining logs.

Cover both pans with a proof cover or lightly greased plastic wrap, and let the wreaths rise for about 90 minutes, until they look puffy, though not doubled in bulk.

Preheat the oven to 350°F.

Bake the bread for 30 minutes, until lightly browned and an instant-read thermometer inserted into the center reads 190"F.

Remove the wreaths from the oven, and allow them to cool on a rack.

Store, well-wrapped, for 5 days at room temperature, or freeze for up to 3 months.
Tips from our bakers
If desired, you can use entirely all-purpose flour.
Reviews
I made these for holiday gifts and used some candied kiwi and strawberries cut to resemble holly. I nestled the candied fruit in the valley of the braids and then sprinkled bread with white sanding sugar. Just wanted a little festivity and they did look lovely.
Unusual and tasty--slightly sweet, slightly spicy, fun color. I used canola oil; the only change I made was to reduce the flour by 1.5 ounces and substitute 1.5 ounces of potato flour. It's a dense dough but I used the KitchenAid and had no trouble with it except for some creep up the dough hook. I let the first rise go a little longer, nearly two hours, and then braided the loaves and left them overnight in the refrigerator before doing the second rise and baking the next day. Great plain; try it spread with cranberry sauce, too. With a glaze and maybe topped with chopped toasted nuts, it'd be a good, not-too-sweet coffee cake.
Tough and odd tasting. I had to take it out of my bread machine and do it by hand because it was way too dense.
If you measured a heavy cup of flour, the dough very well could be too dry and heavy and be putting some stress on your bread machine. Just add some water or milk to the dough as it mixes/kneads to arrive at the right consistency (somewhat sticky). Start with just a teaspoon at a time. Please call our Baker's Hotline for further assistance, 1-855-371-BAKE. Elisabeth
Such a quick and easy recipe. I used only your all-purpose flour and it came out exactly as expected. There is a "hint" of pumpkin and spice to this moist and delicious bread. This will be a family favorite for years to come!
I made this bread last night and was sad with the results. It was far to sticky to even contemplate braiding it so I just globbed it into loaf pans for it to rise. It cooked fine no problems but seemed a tad dry and a little dense. I also used real pumpkin and it just doesn't seem to have much "pumpkin" flavor. I hate using the canned stuff but that has so much more flavor :-/ would love to try again but feel a little defeated on appearance and taste :-(
I'm sorry for your disappointment. This recipe yields a sticky dough and a dense bread. The canned pumpkin is just as real as fresh pumpkin, but depending on how the fresh is prepared, roasted, etc, the flavor may differ. Please give us a call if you have any questions. ~Amy
I made this recipe yesterday with the intent of giving a loaf to a friend because her daughter loves pumpin. I was so disappointed (first time this has happened with your recipes) The dough seemed a little too sticky so I added a heaping T of flour (I live in Fl and thought the humidity needed it) it was still sticky but I didn't dare add any more flour. I even added the crystalized ginger. The first rise 1 hour, more than doubled the dough. After braiding them they rose to a little above the pan (1 1/1" pans 9" round)but when I baked them they seemed to deflate somewhat. I let my over heat for 1/2 hour to make sure it was up to temp. I set the timer for 25mins. they did not brown and the internal temp was 208. The taste was flat the bread was dense and dry. I've been baking for over 50 years and can't figure out why everyone else's bread came out so great.
It could be a number of different things that happened. Give our hotline a call and a baker will be happy to help troubleshoot. MJR @ KAF
This is a really nice bread. I made the two braided loaves, next time I will make one bigger loaf. It's easier to toast up that way. I didn't make the wreath shape either, I just made a strait braided loaf.
I had a huge blue hubbard squash that had puree left even after making soup and stir-fry, and I was looking for something similar to the "pigs fly" pumpkin bread. My modifications were using 1/2 white whole wheat and the remainder white bread flour, and also adding dried cranberries, also doubling spices. I also used regular yeast instead of instant yeast, and proofed first in a small amount water. I would put this bread at above average and worth making again. I didn't give it 5 starts for several reasons. One, it took a lot of time with the double rise. Two, it ended up tasting a little bit "yeasty". I'm not sure where this came from or if this was related to my modifications. Three, though it was very tasty (and very moist/tender) it wasn't a "WOW" sort of bread, still needs something ?>>>>?...... Also of note, this makes a traditional bread loaf just fine. I made one braided and one in a loaf pan, I would say the loaf pan takes an additional five minutes. I liked that this was a versatile bread, and one can use any winter squash fresh puree instead of canned.
Usually when a bread has a yeasty flavor, it is because the dough rose too long. You can try reducing the proofing time and see if that helps. If you have further questions, please call our baker's hotline and we would be happy to assist you. ~Amy
Good bread - love the texture. Recipe halves easily - I had to use up pumpkin leftover from making pumpkin scones. I sure would like to make a little recipe of the pumpkin bread pudding, but I've already done WAY too much damage this season!
This was an easy recipe and my kids loved the result. Thanks!