A customized print-friendly version of this recipe is available by clicking the "Print Recipe" button on this page.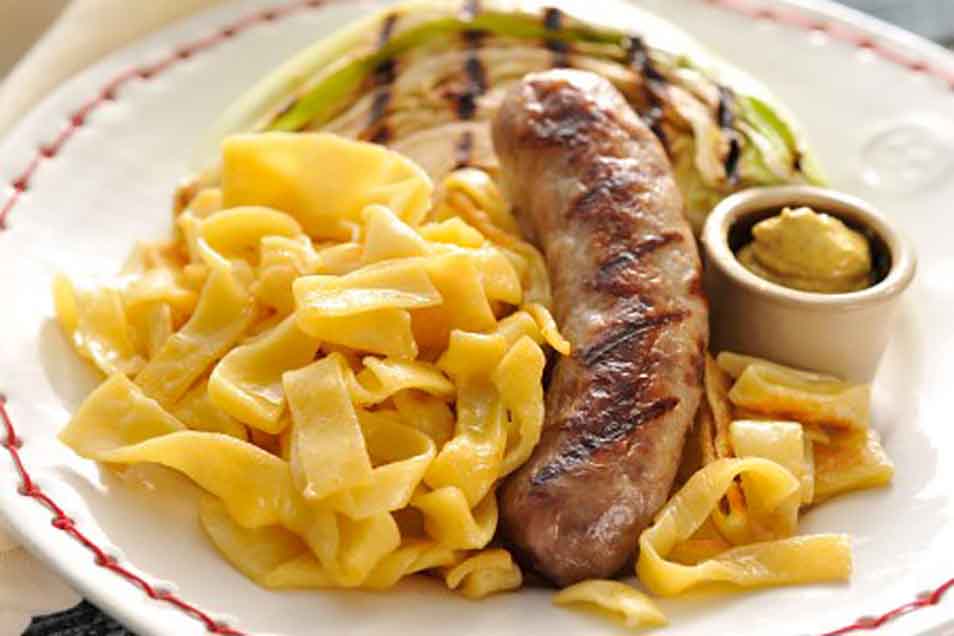 With 5 simple ingredients you have in your pantry now, you could make these fresh egg noodles to serve with dinner. In fact, why not make a double batch and freeze half for tomorrow night too?
Ingredients
1 teaspoon salt
1 teaspoon baking powder
2 large eggs, whisked well
1/2 cup milk
Instructions
Place the flour, salt, and baking powder in the bowl of a food processor and pulse to aerate and combine.

With the machine running, drizzle in the eggs. Process for 20 seconds, or until the mixture looks like fine cornmeal.

Turn the machine on again, and drizzle in the milk. You may not need all of it, so hold back on the last tablespoon or two, adding only if needed to make a smooth, firm dough.

Remove the dough from the processor and knead it briefly by hand to smooth it out. Wrap in plastic wrap, and let sit for 30 to 60 minutes at room temperature. At this point you can place the dough in the fridge for up to 24 hours; longer than that, though, and the dough will oxidize, turning an unattractive gray color.

With a large rolling pin or your pasta machine, roll the pasta about 1/16" thick. Cut long strips 1/2" wide, then cut those strips into 3" pieces. Dust with a touch of extra flour and let dry at room temperature while you bring a large pot of water to a rolling boil.

Drop the noodles into the boiling water by the handful. Be sure to stir the water to keep the strands separated. Cook for 2 to 4 minutes, or until tender. Test a noodle every minute or so until done.

Drain the noodles, and serve them hot, with butter and salt; add pepper and/or herbs, if desired.

Yield: 4 to 6 servings.
Tips from our bakers
Making chicken soup? Add the fresh, uncooked noodles during the last 5 minutes of cooking time; no need to boil them first.
No food processor? You can also make the noodle dough by hand, in your stand mixer or even on the dough cycle in your bread machine.
Reviews
I followed the recipe to the letter, but no matter how thin I rolled my noodles, after they were cut they shrunk back up and all ended up very thick. What did I do wrong?

Hi Debbie! Hmm... it sounds like a couple of things could be going on. One possibility is that a bit too much liquid is being added. More likely, it sounds like the gluten needs time to relax before you cut them. Next time, once you've rolled out the dough, cover it with plastic wrap and let it rest for 15 to 20 minutes before cutting. If it shrinks up during that time, roll again, and repeat. Then, after you cut them, they should keep their shape and not snap back or shrink up on you. Annabelle@KAF
This was the first time I've ever tried to make any kind of pasta. Made these for chicken noodle soup, and they were perfect!! Highly recommend this recipe.
My first time ever making noodles, and these were wonderful! Very easy and tasted great, although next batch I will roll them thinner.
This was a wonderful, quick and very tasty pasta. How would I freeze the fresh pasta? Thank you for all the good recipes you are providing, I really enjoy trying them. Now on to try the peirogi's!

If you want to freeze the noodles for later use, spread your cut strips out and let them dry for a few hours. With a fan pointed on them, they can thoroughly dry in about 2 1/2 hours on a humid day. Once fully dried, place them in a zip-top bag and into the freezer for about a month. Then enjoy at a later date!
I have been making pasta for years and I have to say that this is one fantastic egg noodle recipe. The dough was so easy to work with when cutting out the noodles. I made a couple different types of noodles: fine and flat and they were both delicious. Thanks KAF for another great recipe!
So easy and taste wonderful in chicken noodle soup!
I don't see the flour listed. Am I missing something?!?

Whoops! If you follow the link to the blog, the flour is listed there. We'll have that fixed very soon. Happy baking! Laurie@KAF
Easiest and tastiest noodles I have ever made! I am getting requests for them again for this Christmas, and made 8 batches for a Thanksgiving dinner this year!
I am looking for the perfect egg noodle recipe and this is the one I am currently hooked on! I wanted an old fashioned, thick noodle that would shine in a simple chicken noodle soup. I tried others which scored high for roll-ability (without a pasta roller) but I believe the addition of baking powder gives these the extra lift that reminds me of Grandma's. I rolled them extra thick (about 1/4") because I was afraid of a repeat of the thin version I made with olive oil and extra yolks. Upon reflection, I could have rolled them half as thick and still have been happy. Overall, a great noodle for those looking for comfort food.