A customized print-friendly version of this recipe is available by clicking the "Print Recipe" button on this page.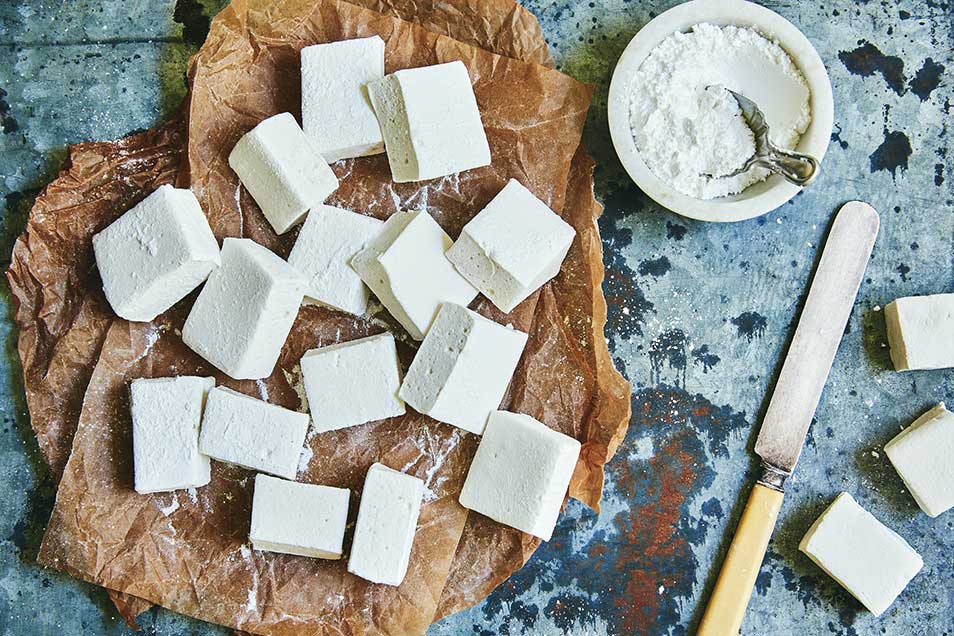 The taste of homemade marshmallows is unbelievably rich compared to the store-bought variety. And with the opportunity to flavor or shape them as you desire, who wouldn't want to try this fun treat? While dealing with the sugar syrup is clearly a job for grownups, spreading the marshmallow in the pan and cutting them out is one kids will enjoy.
Ingredients
3 packages (1/4-ounce each) unflavored gelatin
1 cup cool water, divided
1 1/2 cups granulated sugar
1 cup light corn syrup
1/8 teaspoon salt
1 tablespoon vanilla extract
confectioners' sugar, to sprinkle on top
Instructions
Combine the gelatin and 1/2 cup cool water in the bowl of an electric mixer fitted with the whisk attachment. Mix briefly to combine; set aside.

Combine the sugar, corn syrup, salt, and 1/2 cup cool water in a small, deep saucepan. Cook the mixture over medium heat, stirring, until the sugar dissolves.

Raise the heat to high and cook, without stirring, until the syrup reaches 240°F on a candy thermometer. Remove from the heat.

With the mixer set on low speed, slowly pour the sugar syrup into the softened gelatin. Increase the speed to high, and whip until the mixture is very thick and fluffy, and has cooled to lukewarm, 3 to 10 minutes (depending on the mixer and attachment you use; a stand mixer using the whisk attachment will work more quickly than a hand mixer equipped with beaters). The mixture should be cool enough that you can spread it into the pan without burning your fingers, about 95°F. Add vanilla towards the end of the mixing time.

Spread the marshmallow mixture into a greased 9" x 13" pan (glass or ceramic is best). Use your wet hands to smooth and flatten the marshmallows.

Sprinkle confectioners' sugar over the top, and let sit for several hours (or overnight) before cutting. Use a greased knife or cookie cutters to make squares or other shapes. Dipping the knife or cutters in cold water before cutting helps reduce any stickiness.

For gift-giving, wrap marshmallows individually in twists of waxed paper, and store at cool room temperature. For storage, place in a closed container, the layers separated by waxed paper or parchment paper.
Nutrition Information
Serving Size

2 marshmallows (38g)

Servings Per Batch

24
Amount Per Serving:
Calories

90

Calories from Fat

0

Total Fat

0g

Saturated Fat

0g

Trans Fat

0g

Cholesterol

0mg
Sodium

20mg

Total Carbohydrate

24g

Dietary Fiber

0g

Sugars

0g

Protein

1g
* The nutrition information provided for this recipe is determined by the ESHA Genesis R&D software program. Substituting any ingredients may change the posted nutrition information.
Tips from our bakers
Flavor plain marshmallows to taste with crushed peppermint candies, a few drops of peppermint oil (omit the vanilla), 1/2 teaspoon espresso powder, or the flavor(s) of your choice. These are a blank palette waiting for your creative ideas! To use crushed peppermint candies, which will tint the marshmallow pink and add flavor, stir the candies into the marshmallow mixture, leaving some swirls of plain white.
For softer, "creamier" marshmallows (though still stiff enough to cut), reduce the amount of gelatin to 2 packets.
Reviews
I've always wanted to try homemade marshmallows. I finally gave them a try & this recipe was really easy & the marshmallows are delicious! The taste & texture is nothing like a store bought marshmallow. SO much better.
I love this recipe. I've made it a few times now, and I always love it. I've made flavor variations including: honey instead of corn syrup + amaretto flavor boiled cider instead of corn syrup + rolling in cinnamon sugar date syrup instead of corn syrup + cinnamon adding freeze-dried raspberries and blueberries, which makes for lovely colors and flavors
I made the mistake of whipping up a batch a few years ago and giving them as gifts with homemade cocoa powder. Now I have to make them every year. Recipients eat the marshmallows as is, gobbling them up as soon as they get their hands on them, Flavors are great - especially peppermint - and even dip the tops in chocolate ganache. They couldn't be easier to make.
These turned out amazingly!!! I used the tip at the bottom of the recipe and opted for 2 packages of gelatin instead of three. I wanted to pipe these into chocolate eggs. I seriously wondered if that would work and it did! Definitely recommend this recipe and I am certainly going to keep this recipe to make again and again!
Made it for the first time and it turned out perfectly!
I love this recipe. I made it tonight with two modifications: passion fruit juice instead of water, and 1/4 cup honey swapped for some of the corn syrup. Amazingly good! I may also try swapping citrus juice for the water. The tang makes them especially delightful.
I made the plain marshmallows and the peppermint crunch version. The recipe was my first try with a candy thermometer. Great recipe!! I gave the marshmallows out as gifts along with meringues. I had some extra and stored them for use in hot chocolate. We ran out and my husband is using the store bought variety. He said he could really tell the difference and mine were much better! Smart husband! Very easy recipe to follow and I'll definitely make these again!
5 stars. felt like a rockstar busting these out for the 1st time today. never had real marshmallows and was excited to see how these would turn out. not a peppermint fan, so did recipe as is. turned out great. was a little doubtful when i ate them raw (little plain) but they were awesome as they melted into my homemade cocoa mix. thanks!
Making and decorating these marshmallows from King Arthur was the hit of our Holiday baking season for the family. The recipe was very easy to follow, I suggest using a digital candy thermometer for correct temperature reading and to make these fool proof. Also, I used a generous amount of vanilla extract. Children should participate in the cutting and decorating of these only while adults should handle the hot syrup as King Arthur mentioned. Hint: spray the glass or ceramic pan with cooking spray then the entire mass of marshmallow will easily remove as one piece onto a plastic or wood cutting board and the children can easily cut them with a pizza cutter. Hours of fun cutting to their desire, eating, and decorating with different coatings. We used saucers filled with, homemade cinnamon sugar, cocoa powder mixed with powdered sugar, and multiple colored sugar crystals and decorations. The peppermint ones were a big hit (we made multiple batches of plain and peppermint). Our 8 year old guest decided to coat the pink peppermint ones with cocoa powder to make chocolate peppermint ones. Delicious! Once they were done decorating the marshmallows they decorated the gift boxes and packed them with their own marshmallow creations for their family gifts. So much fun, everyone was happy afterwards and fell asleep under the tree, really!