A customized print-friendly version of this recipe is available by clicking the "Print Recipe" button on this page.
Homemade Pasta with Sage Butter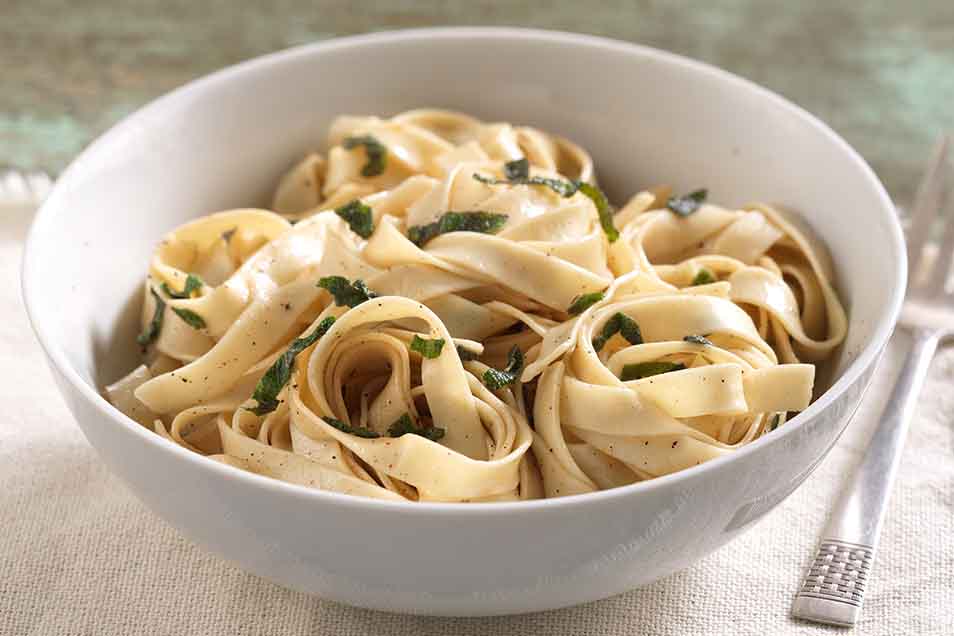 Homemade pasta seems to strike fear into the hearts of many bakers and cooks. However, with just a few ingredients and tools, you can turn out tender noodles full of flavor, just waiting for your favorite toppings and sauces. Start with fresh ingredients, leave a little time to rest your dough, and soon you can delight your family and friends with the tastiest pasta dish this side of your favorite restaurant.
Ingredients
Pasta Dough
1/2 teaspoon salt
4 large eggs, at room temperature
Sauce
1/2 cup (8 tablespoons) salted butter
4 to 6 fresh sage leaves, minced
whole fresh sage leaves for garnish, optional
Instructions
On the counter, or in a bowl, create a well with the flour. Sprinkle the salt over the flour.

Crack the eggs directly into the well. Scramble them with your fingers or a fork.

Draw flour from the sides of the well into the center, mixing well with the eggs. Draw flour evenly from all sides.

Working quickly, draw flour until a soft, loose dough forms.

Continue to knead the dough, for 8 to 10 minutes until a firm, but not dry dough forms. Wrap in plastic wrap and let rest for 30 minutes.

Fresh pasta cooks quickly, so start heating your water early, and melt the butter for the sage butter. Keep the butter on low heat until it's golden brown. While the butter is cooking, add the whole fresh sage leaves (if using) and cook until crisp. Remove from the butter and set aside for garnishing the plate. Add the minced sage; it will sizzle a bit. Remove the pan from the heat.

After the dough has rested, divide into 4 even pieces. Set aside and cover 3 pieces while you work with the 4th. Lightly dredge your working piece in flour.

Roll through the largest setting on your machine. Remove the dough, fold in thirds so the rounded ends meet in the center, turn the dough 90° (this will help square off the edges of the pasta sheet), and repeat the roll. Repeat again 4 times, for a total of 6 passes.

After the 6th roll, dial the machine down to the next smallest setting. Roll the pasta through once, and dial down again. Only the first roll on the largest setting is done 6 times. Continue to roll thinner and thinner until you reach the 2nd smallest setting.

Let the pasta sheets rest for 10 to 15 minutes. Be sure to check the pasta water. After the pasta has rested, lightly dust it with flour, cut the sheets into your desired length, and run each sheet through the cutting blades of the pasta machine.

Gently separate the noodles, and loosely pile the pasta while you roll the rest of the sheets. After all sheets are cut, add the pasta to the salted boiling water. Cook for 2 to 3 minutes.

Drain the pasta, leaving a couple of tablespoons of the cooking water in the pot. Stir in the sizzled sage butter and serve immediately. Refrigerate any leftovers.
Tips from our bakers
For a more authentic pasta, you can use half All Purpose and half durum or semolina flour.
Be sure to use all of the bits of egg dough that stick to your fingers.
Reviews
Oh.my.word. This makes the most unbelievably wonderful buttered noodles. If you do not have fresh sage lying about (I never do) please do not let that stop you. Butter on it's own, not even browned, will be fabulous enough. I used half unbleached AP and half semolina, and I used the "fettuncine" attachment to my hand-crank pasta roller (which is somewhere between the typical boxed fettucine and linguine in size). For reference the "papardelle" cutter I have is somewhere between papardelle and lasagna in size, so the sizing is all over the place. My errors: I don't make pasta often. Ok, more like rarely. The last attempt ended up tasting too much like raw flour (not a recipe from KAF) so I think that put me off for a while. My eggs started cold (oops!) and when I mixed all the flour in, the dough was very dry. I sprinkled in a tsp of water at a time until it was still stiff but smoother (I added 3-4 tsp ultimately, humidity is low here right now). It was perfect after resting, and I *knew* this was going to be good, because it smelled so good raw! However in my excitement and lack of experience, I didn't think to cut the sheets down for length. So while amazing, my pasta strands were miles long. Next time I need to remember to cut the sheets into halves before cutting for shape. Other stuff: The KAF Semolina is pricey, so I was thrilled when I wandered into our smaller local grocery chain that's heavy on the italian/ethnic foods and found a 1kg (about 2.2 lb) bag of semolina flour for less than $2, imported from Italy no less. Something to keep in mind if you're not sure you want to invest in larger amounts or just want to compare to an all AP flour version of the pasta. I would order if I couldn't find any locally however, it makes enough difference in the dough to be worth it IMO.
YESSS! I made fettucine noodles that were delicate but handled well. I took another reviewer's advice and added about 1/2 tsp of salt. I used the food processor method adding the eggs one at a time and pulsing. I also used the half/half KA durum flour and the KA regular flour. The dough comes out of the food processor feeling tough and the kneading is difficult, but after resting it is beautiful. This is my everything pasta recipe.
This was my first time making homemade pasta ever. I made just the pasta with a browned butter sauce; no sage this time. I also made this in my KA mixer. The machine couldn't knead the dough since it was too stiff. It actually knocked the bowl right out of the clips so I finished kneading by hand. I used 180g of KA AP and 180g of KA Semolina as the base. The only change I'd suggest in the recipe is a pinch of salt (I'm going to add 2g to the full recipe quantity next time). I think my eggs were a little small too. I weighed the beaten eggs before I added them and it was about 5% short of my target (I consider 1 large chicken egg to be 50g on average), which I think could explain the slight dryness to the dough. Very easy to make if you're comfortable with handling dough. My biggest advice would be to not do as I do but do as I say and just read and follow the directions step by step. Pasta is one of those things were every step counts and if you make a mistake early on the final product won't be exactly right. Overall the noodles came out very good and I'm going to make this again tomorrow with a tiny bit more moisture and a tiny bit of salt.
This was a great recipe, simple easy to follow directions were key. I also experimented, the second batch I put fresh spinach into my food processor til' liquified and then added the eggs and just pulsed maybe 2 times then I put that into the well and blended it with the flour adding just a bit extra to compensate for the extra moisture created by the spinach. My noodles were tender and super tasty with a just a little olive oil and a few grates of parmesana reggiano!!! Thanks!
There is no Pasta with butter,with or without sage,without Parmigiano Reggiano,ed also just a little cream if the noodles are too dry. Keep the cooking water because that could be used too but a little cream is much better. Last thing...do not roll the sheets to the last set if you want to cut it in spaghetti or tagliolini
You don't mention that dough can be made in a food processor in just moments. You also don't say that texture is important and that it can be fixed with a bit of water or a speck of drying. And, of course, the second or third time it will be much easier. Also, some pasta machines will need you to go to the smallest thickness before cutting into strips. Pasta making is indeed really easy, but it needs a bit of patience and a time or two of experience. Another thing--I make one big batch and freeze individual servings by rolling the dough until it's time to start making it thinner. I cut off individual servings, roll them up in waxed paper, and freeze them in plastic sandwich bags.
Can this dough be made in a food processor? If yes, what are some of the tips? Thanks
Yes this may be made quickly in your food processor. Beat the eggs and then add them as you run your processor just till it combines. Then take it out and knead a bit by hand till ready to roll out. Let it rest before you roll it out. Joan@bakershotline