A customized print-friendly version of this recipe is available by clicking the "Print Recipe" button on this page.
Homemade Self-Rising Flour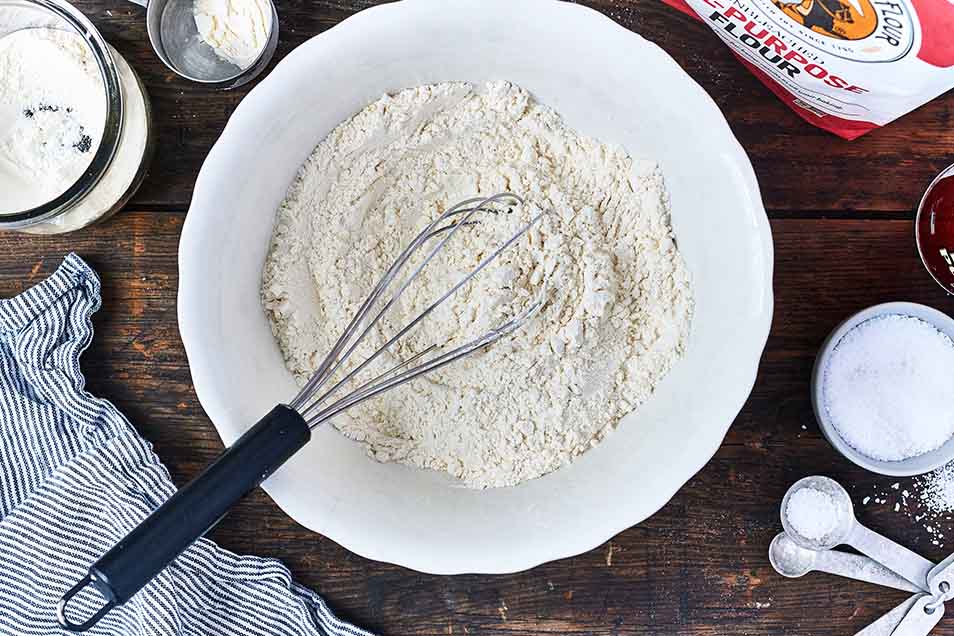 Self-rising flour is flour with the baking powder and a bit of salt already added. It's a staple in many Southern recipes; it's traditionally made from a softer, lower protein version of all-purpose flour, which is what grows there. This version, which uses higher-protein all-purpose flour, can be used in any recipe that calls for self-rising flour; be prepared to increase the liquid in the recipe somewhat, and expect the results to be a bit less tender.
Ingredients
Instructions
Whisk all of the ingredients together in a bowl; use as directed in your recipe.
Tips from our bakers
All-purpose flour will work for just about all of your self-rising flour recipes, but for tender baked goods like biscuits, you might want to replicate a Southern-style self-rising flour. Start with our Perfect Pastry Blend (10.3% protein) or Unbleached Pastry Flour (8.0% protein), instead of all-purpose; add baking powder and salt as directed above.
Reviews
I had success several times but wonder if the type of salt matters? I used table salt.

Hi CM! Table salt is perfect. You can use various kinds, just be sure it's fine-grained so it distributes evenly throughout the flour mix. Annabelle@KAF
I used it for one of the recipes and it worked perfectly! Thank you :)
Thank you. I made this today and used it in a recipe and it worked perfectly.
Thank you I really needed this for the British cookbooks I've aquired. It's a hang-up of mine. using weight instead of volume, so prefer metric. This really helped and also your web site's ability to convert the recipes. Louise