A customized print-friendly version of this recipe is available by clicking the "Print Recipe" button on this page.
Homemade Whole Grain Pancake Mix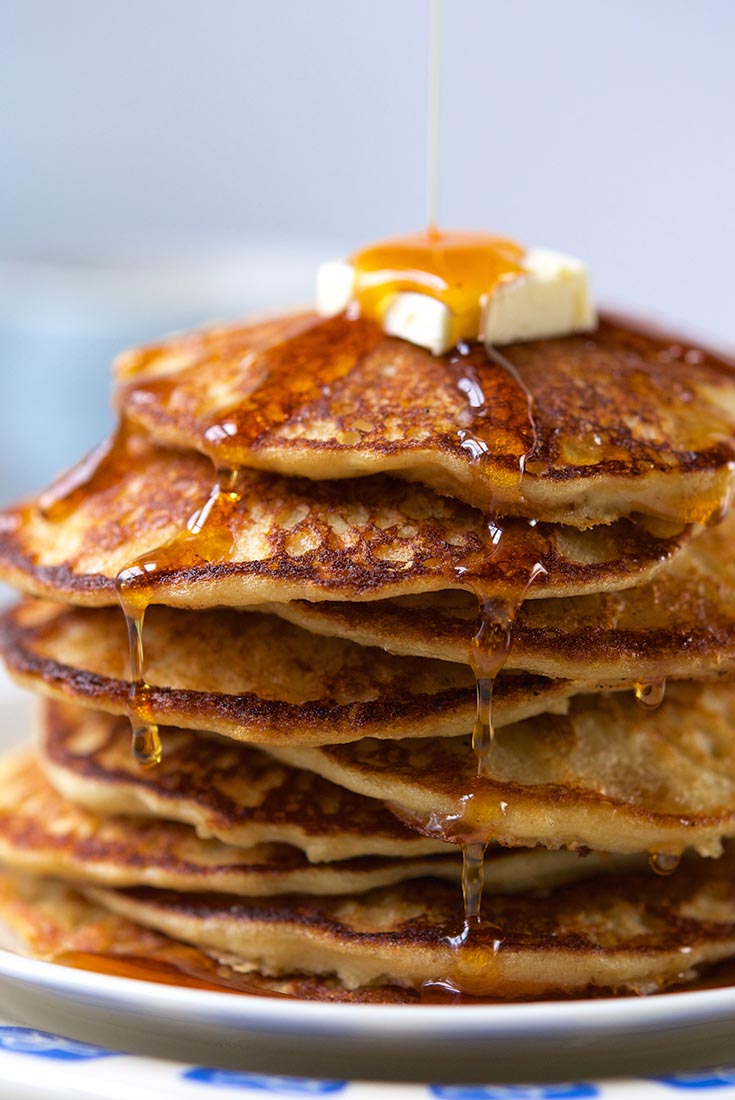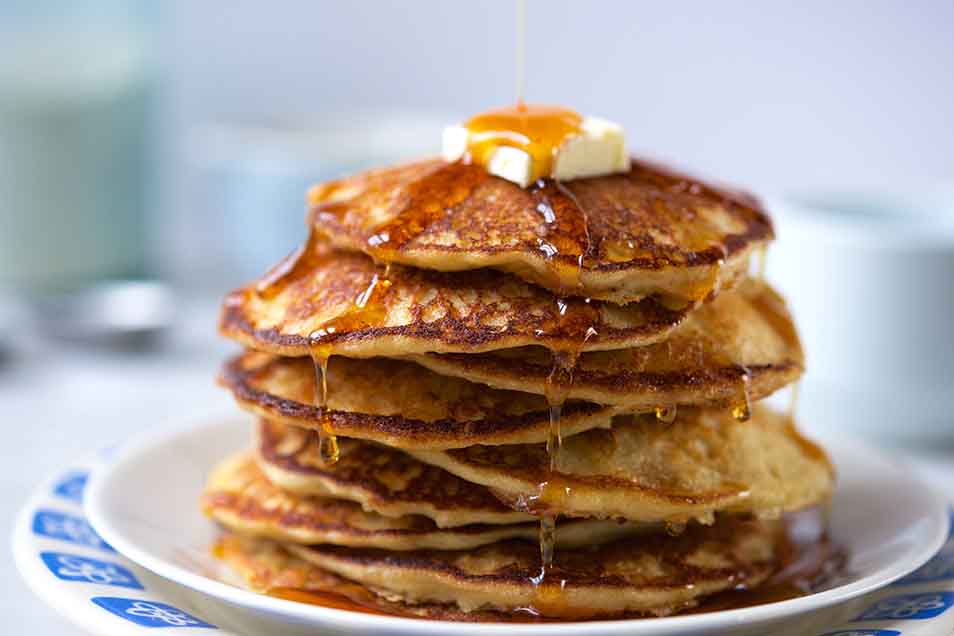 These pancakes are just shy of 90% whole-grain; and they're absolutely delicious, featuring the sweet-nutty taste of oats and wheat.

This recipe is featured in our Bake the Bag challenge: a series of nine recipes that, when baked, take you through an entire 5-pound bag of white whole wheat flour. Want to see the rest of the challenge recipes? Sign up to Bake the Bag!
Ingredients
Pancakes
1 cup homemade mix
1 cup buttermilk*
1 large egg
*See "tips," below.
Instructions
To make the mix: Grind the oats in a food processor until they're chopped fine, but not a powder.

Put the flours, oats, and all other dry ingredients into a mixer with a paddle. Mix on slow speed, and drizzle the vegetable oil into the bowl slowly while the mixer is running.

Store in an airtight container for up to two weeks at room temperature, or indefinitely in the refrigerator or freezer.

To make pancakes: Whisk together 1 cup of mix, 1 cup of buttermilk (or a combination of half plain yogurt and half milk; or 3/4 cup liquid whey), and 1 large egg. Don't worry if it seems thin at first: the oats will soak up the milk, and the mix will thicken a bit as it stands.

Let the batter stand for at least 20 minutes before cooking.

Heat a lightly greased griddle to 350°F (if you've got a griddle with a temperature setting; if not, medium-hot will do).

Drop the batter onto it in 1/4-cupfuls (a jumbo cookie scoop works well here) to make a 4" diameter pancake. If you have English muffin rings, use them; they make a perfectly round, evenly thick pancake.

When the edges look dry and bubbles come to the surface without breaking (after about 2 minutes, if your griddle is the correct temperature), turn the pancake over to finish cooking on the second side, which will take about 2 minutes.

Serve pancakes immediately, or stack and hold in a warm oven.

Yield: a batch using 1 cup of the mix will make about 5 to 8 pancakes, depending on size.
Nutrition Information
Serving Size

1 pancake (56g)

Servings Per Batch

8
Amount Per Serving:
Calories

110

Calories from Fat

45

Total Fat

5g

Saturated Fat

1g

Trans Fat

0g

Cholesterol

30mg
Sodium

260mg

Total Carbohydrate

12g

Dietary Fiber

3g

Sugars

3g

Protein

4g
* The nutrition information provided for this recipe is determined by the ESHA Genesis R&D software program. Substituting any ingredients may change the posted nutrition information.
Tips from our bakers
Don't have buttermilk on hand? Here are some substitutions:
Buttermilk powder: Add 1/4 cup buttermilk powder to the 1 cup of dry mix along with 1 large egg and 1 cup water or milk.
Yogurt: Substitute Greek-style or standard plain yogurt for the buttermilk, thinning batter to the desired consistency as necessary.
Dairy milk or plant-based milk: Mix 1 tablespoon white or apple cider vinegar, or lemon juice, with enough milk to measure 1 cup; mix thoroughly and let rest for 5 minutes before using.
Counting fat grams? Reduce the vegetable oil in the mix from 1 cup to 3/4 cup; the resulting pancakes will be slightly less tender.
If you're afraid your family might object to the mild "grainy" flavor of these pancakes, add 1 tablespoon orange juice to the 1 cup dry mix along with the buttermilk. We've found that the acidity and sweetness of orange juice helps mellow the tannic taste some people perceive in whole wheat flour. While the pancakes won't have any orange flavor, they may taste slightly milder to you and your family.
To keep pancakes warm prior to serving, place them on a baking sheet and tent with foil. Keep warm in a low (200°F) oven for up to half an hour.
Want to make a quick fruit sauce to go with your pancakes? Check out our easy microwave jam; instead of refrigerating the thin jam once it's cooked, serve it immediately, as sauce, with pancakes.
These pancakes are very amenable to mix-ins. A partial list of combinations that have made successful appearances so far: peach, raspberry, banana-walnut, cheddar-apple, blueberry, and cranberry-apricot.
Reviews
I don't want to rate this recipe as I didn't follow the directions exactly. I just wanted to make 1 batch and not the entire mix, while in a rush to get breakfast before work. I quartered the dry ingredients/oil (no AP flour on hand, so used only KAF white whole wheat only) and added the milk (half milk/half yogurt) and egg with 1/2 a mashed banana, then I realized I probably should have done the math a little differently because the batter was super thick, I added a splash of milk after. I found it dry, though the fiance thought it was good and 'a repeatable' recipe. We don't have a lot of space so I can't make the entire mix, (and we don't do pancakes that often) is there a better way to divide this recipe? There are no other pancake recipes with the white whole wheat flour that I can find. Thanks for any help and ideas!!

Hi Stephanie, the best way to divide this recipe is to do so by weight if you have a scale. Depending on how much mix you'd like to have, you can simply divide all of the ingredients by one factor. The full recipe makes 10 cups of dry mix, so if you'd like to make just 2 cups, then divide all of the ingredients by 5. The math might get a little tricky with some of the smaller quantities, but it's easiest if you're working in weight (especially grams). Give it a try and feel free to give our Baker's Hotline a call at 855-371-BAKE(2253) if any questions arise. Good luck! Kye@KAF
These are my favorite pancakes. They are much more flavorful than 'normal' pancakes. When I made them with buttermilk, they came out a bit runny, even after the 20 minute soak, so now I make them with half plain, non-Greek yogurt and half milk (this change is sanctioned in the instructions). The thicker consistency of the yogurt makes the batter come out just right. Using yogurt for thickness, you can get away with 10-15 minutes of soaking rather than 20. This mix also makes delicious waffles. I added a tablespoon of melted butter to the batter and they came out great--and with much less fuss than traditional waffles. I keep a container of this mix in the fridge, and can make weekend breakfast while still half asleep.
Have made this mix a few times now. I like to substitute a half cup of the oats by grinding up some chia and flax seed, which add an even deeper nuttiness to the cakes. There's no rushing this batter, it absolutely must sit for 20 minutes. I use the time to slice fresh fruit and make some coffee. Cool hacks: Store mix in the refrigerator in 1 cup portions, will make two large pancakes or two waffles. Add an extra egg for every cup of mix for a great waffle mix.
I don't usually write a review, but there were so many good ones, I had to say something. My pancakes were super runny, never thickened up until I added more wheat flour and still didn't taste all that great. It is as if you can taste every ingredient seperately, instead of a nice pancake. I added blueberries to the second batch and it helped a little, but not much. Thankfully my kids still like them, as we have a lot of batter to use up now. High maintenence and a lot of wasted ingredients in my opinion. Maybe I will try them without the egg, so they don't taste so eggy. But as soon as the batter is gone, I will stick to my natasha kitchen whole wheat waffles for now. They are night and day better!
I LOVE this recipe ... and made it for 5 of 7 grandkids yesterday. They loved it too, but it took forever to make enough to go around with my one large cast iron frying pan. Wondering if I could adapt this recipe for baking...?

We love baking pancakes in the oven! We share full instructions for turning your favorite pancake batter into a baked dish in an article on our blog called "Pancake squares." Check it out for all the details you'll need to know to get baking! Kye@KAF
Thank you so much. This recipe was an amazing, delicious success. I'd never made pancake mix in my life, and will now probably never buy boxed again. Sorry, Hungry Jack. I had only a half cup of buttermilk in the freezer today, so I added non-fat vanilla yogurt and milk to make the full cup, and this made a very thick batter. Since I wanted some stand time for the oats, I added a couple extra tablespoons milk and that did the trick. Now the hardest part of this recipe -- waiting the 20 minutes! Quick question -- the recipe specified plain yogurt; is there a particular reason for this? I used vanilla with fine results, and am wondering if any non-fat variety would work as well (there are so many out there). I just used a sprinkle of pecans this morning, but I'm thinking blueberry with blueberries . . .? But to add to the buttermilk as I did, not to replace it. Let me know, if you please -- The hubs says his mouth is already watering for next Saturday's breakfast!

Sheri, we like using plain yogurt because then you're able to control the amount of sugar and all the flavors that go into your pancakes. By choosing a flavored yogurt, you give up some of that control. That being said, it's not necessarily a bad thing to have some extra flavor. If you liked the way vanilla yogurt turned out in this recipe, feel free to use it again noting that the pancakes may turn out sweeter. Happy baking! Kye@KAF
Wow! We love these so very much. This is our new Saturday morning tradition. We use whatever milk we have on hand - so buttermilk, milk with a bit of plain yogurt mixed in, whey, whatever! We've even found that a super brown old banana mashed in and swapped out with 1/4 volume of the liquid works, too. Adds a bit of banana flavor, some extra sweetness that the kids love. We usually add a hint of vanilla as well. Cannot recommend enough.
Made these today, and my husband and I both thought they were some of the best pancakes we have ever had. The whole wheat gives them a nice nutty flavor that goes well with maple syrup. I accidentally ground the oatmeal into more of a powder substance than a fine chop, but they still turned out fantastic. They spread out nicely in the pan and resulted in light and fluffy pancakes. Definitely a keeper.
I made these but they never did thicken up enough. I am sure I did something wrong, because the reviews are all wonderful. I used fresh ground soft whole wheat for the whole wheat ingredient and my oats are regular oats, not quick oats. Does that make a difference? I have a freezer full of this mix and am ready to try it again! Any advice is appreciated! Thanks!

Hi Sam, if you used another kind of flour that's not King Arthur Flour, you'll want to add less milk (or buttermilk, yogurt, etc.) to achieve the right consistency. King Arthur Flour is stronger than most other brands, which means it absorbs liquid readily and you can use less of it and still get fantastic results. If you used something else, try using less liquid and also letting the batter rest for a full half hour before cooking. (The extra ten minutes will allow the oats and whole grains to absorb more liquid.) Kye@KAF
I've been making this for years and it's awesome. One question I have is. Does the recipe call for table salt or kosher salt?

Hi Kevin, all of our recipes are developed using table salt. If you need to use Kosher salt, use a heaping measure as the large granules allow less salt per tablespoon. Happy baking! Kye@KAF