A customized print-friendly version of this recipe is available by clicking the "Print Recipe" button on this page.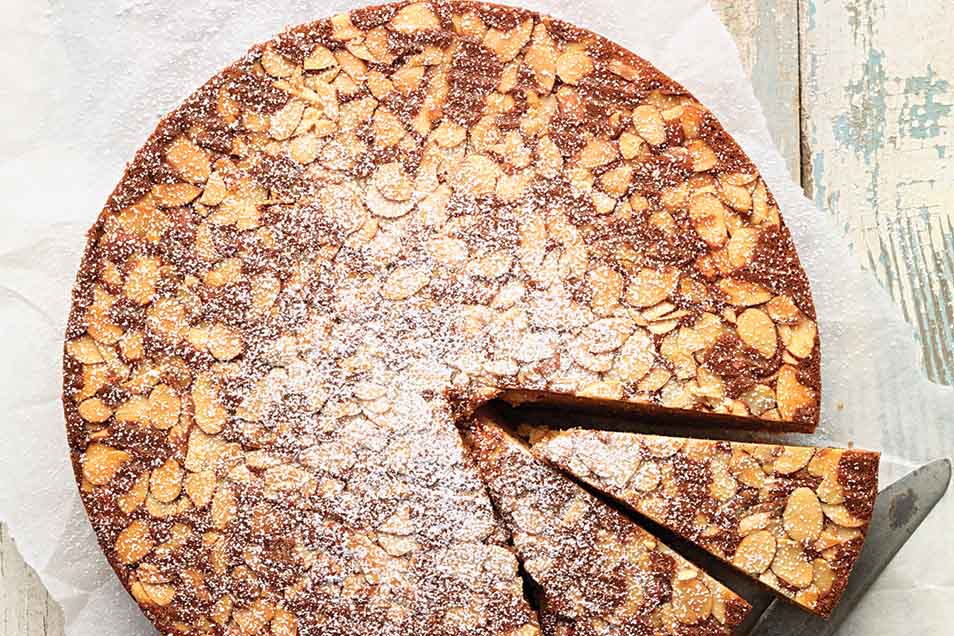 This cake is quick to put together, and would make a wonderful lunchbox snack cake or afternoon pick-me-up. The unmistakable flavor of honey gives this tender cake a lovely finish. The sliced almonds give their textural counterpoint to the soft grain of the cake. Dress it up for dessert with slices of fruit and a bit of ice cream.
Ingredients
1 cup sliced almonds
1 1/4 cups King Arthur Whole Wheat Flour, white or traditional
1/2 teaspoon baking soda
1/2 teaspoon salt
3/4 cup unsalted butter, at room temperature
1 cup honey
4 large eggs
1/4 cup sour cream or yogurt
Instructions
Preheat the oven to 325°F. Lightly grease a 9-inch round cake pan. Sprinkle 3/4 cup of the sliced almonds in the bottom of the pan, reserving 1/4 cup for the batter.

In a medium bowl, whisk together the flours, baking soda, and salt; set aside. In a large mixing bowl, mix together the butter, honey, and eggs. Stir in the reserved flour mixture, then the sour cream or yogurt and reserved almonds.

Scrape the sides and bottom of the bowl to be sure everything is evenly moistened, then mix for one minute more.

Gently pour the batter over the almonds in the prepared pan.

Bake for 50 to 55 minutes, until the edge of the cake pulls back from the edge of the pan. Remove from the oven and place on a rack to cool for 15 minutes. After 15 minutes, invert the cake onto a serving plate and allow it to cool before serving.

Decorate the top with powdered sugar if desired. Yield: 1 cake, 16 servings.
Nutrition Information
Serving Size

69g

Servings Per Batch

16
Amount Per Serving:
Calories

259

Calories from Fat

130

Total Fat

14g

Saturated Fat

7g

Trans Fat

0g

Cholesterol

77mg
Sodium

134mg

Total Carbohydrate

29g

Dietary Fiber

2g

Sugars

18g

Protein

5g
* The nutrition information provided for this recipe is determined by the ESHA Genesis R&D software program. Substituting any ingredients may change the posted nutrition information.
Reviews
Made this over the holiday weekend, and it tastes delicious! However, although I followed the recipe exactly, my cake stuck to the bottom of the pan and when I was finally able to invert it, the almond layer was mostly crusted onto the pan, and it lost its decor. Any tips here?

Hi Katherine! We'd recommend lining your cake with a lightly pan sprayed round piece of parchment paper. That should help the whole cake pop out in one beautiful piece. Annabelle@KAF
I made the cake following instructions to the letter, except used a 1/4 sheet pan and decreased cooking time. It was kind of bland. I used unsalted, unroasted sliced almonds and cheap honey (mainly because good honey is expensive and a cup is alot). I am wondering if I used roasted, salted almonds and a better honey if the flavor would be better.

Hi there, Sarah! We're sorry that your first go at this recipe left a bit to be desired. Using roasted and lightly salted almonds will certainly add more flavor to this cake. Also, changing up the kind of honey you use will impart more flavor too. Wildflower honey if you can find it would be wonderful here. Happy baking! Morgan@KAF
Baked a lovely cake with this recipe today, with a few changes. No almonds on hand however I added a couple ounces of freshly grated ginger, using the smallest of a 4 sided grater. This turned the ginger to mush which was perfect. 2 ounces brought a pretty mild result, could go higher. Also I used 2 teaspoons soda rather than 1/2 teaspoon. Lovely color cake and the one cup white whole wheat suggestion works great here too. Very happy with this!
Loved this cake, but even after the recommended baking time it was gooey in the middle. The flavor's so good I'm eating it anyway (or at least the outside edge); I did add a smidgen of vanilla and some orange peel, which accompanied the honey flavor very nicely! It's a dense, substantial cake, so I think the best way to avoid the middle not cooking properly is to make it in two smaller pans. I think if I had baked it any longer, the outside would have become dry.
For the jewish new year I wanted to love this cake. It looked beautiful with the almonds on top. I used a cup of honey but did not think the honey taste came through. It screamed flour. I am not sure what the solution is to give it more flavor. Maybe it could be used for a strawberry shortcake and soak up the fruit flavor. Any suggestions?

Hi Sarah, thanks for sharing your experience making this recipe with us. We'd love to help ensure this cake tastes as good as it looks next time. It sounds like there might be too much flour added to the batter. If you're not already doing so, consider measuring your flour by weight with a scale to ensure the most accurate results. If you only have measuring cups, gently fluff up the flour and then sprinkle it into your measuring cup one spoonful at a time before leveling off with a knife. This will ensure the cups are nice and light, and the cake should have a delightful final texture.

Also to give your cake more flavor, consider using a wildflower honey or for an even more robust flavor, use buckwheat honey. It's dark and thick and has a molasses-y flavor. We hope this helps, and happy baking! Kye@KAF
I am baffled by all of the positive reviews for this recipe. The cake itself was moist, but the flavor was, well, bland. It had the taste and consistency of cornbread. I should have added dried apricot and/or covered it with an apricot jam glaze. The cake DID give me a reason to drink sweet Riesling though!

We're sorry to hear this recipe didn't please your taste buds, Derek. It sounds like you might prefer the flavor more if you used a different variety of honey, perhaps even a flavored one like the Bee's Knees Meyer Lemon Honey or Salted Honey. We also think your idea of adding a glaze on top of the cake could be very nice. Regarding the consistency, you could try omitting the white whole wheat flour and use only all-purpose or even cake flour. That might give you the tender crumb you're looking for. We hope that helps! Kye@KAF
I love honey! I used Kerrygold butter, and lemon meringue pie Greek Yogurt. It turned out perfect at 325 degrees for the recommended time! Also, for a little extra I added sliced strawberries on top with honey drizzle in-between. I think that having a slice, as the recipe says, right out of the oven with a little butter melted on top would be very yum!
Made this cake with white wheat flour, and also followed another baker's suggestion to use 1 cup of mayonnaise in place of the butter and sour cream. Cake baked beautifully, nice texture and moistness, but flavor was very plain. I used local honey which is very rich in flavor, and felt as though more of the honey flavor should have come through. I may make it again and use the butter/sour cream combo - it could be that the lack of butter flavor was the problem, maybe it complements the honey and helps the flavor shine through more. Perhaps a combination of maple syrup and honey, or some maple flavoring (KAF has a good one!!), but the cake does need a bit more flavor. It was like eating a very plain muffin.

We are surprised to hear that with the addition of 1 cup of honey, the flavor did not come through for you! Try using the butter and sour cream as called for in the recipe with the next batch to see if you find the honey flavor more true. Also, consider brushing the warm cake with a honey glaze to bump up the flavor: add 3 tablespoons of honey and 3 tablespoons of warm water, mix and then brush over the warm cake before garnishing with non-melting sugar or more almonds. Kye@KAF
Honey Cake is a substantial and tasty cake. It was well received at my church fellowship hour today. I followed the directions as printed, using sour cream. Questions: Should the butter, honey and egg mixture look curdled when it is blended? (My room temp butter is chilly in January.) If one wanted to reduce the honey and add applesauce, what should the quantities of each be? The flavor is wonderful, very light, considering all the sweetness of the honey. Nice, crunchy top with almonds.
I substituted walnuts for almonds and used yogurt instead of sour cream. The flavor is subtle and delicate, more of a breakfast or coffee cake in terms of sweetness. I tested the cake for doneness and still took it out too early, so be careful!