A customized print-friendly version of this recipe is available by clicking the "Print Recipe" button on this page.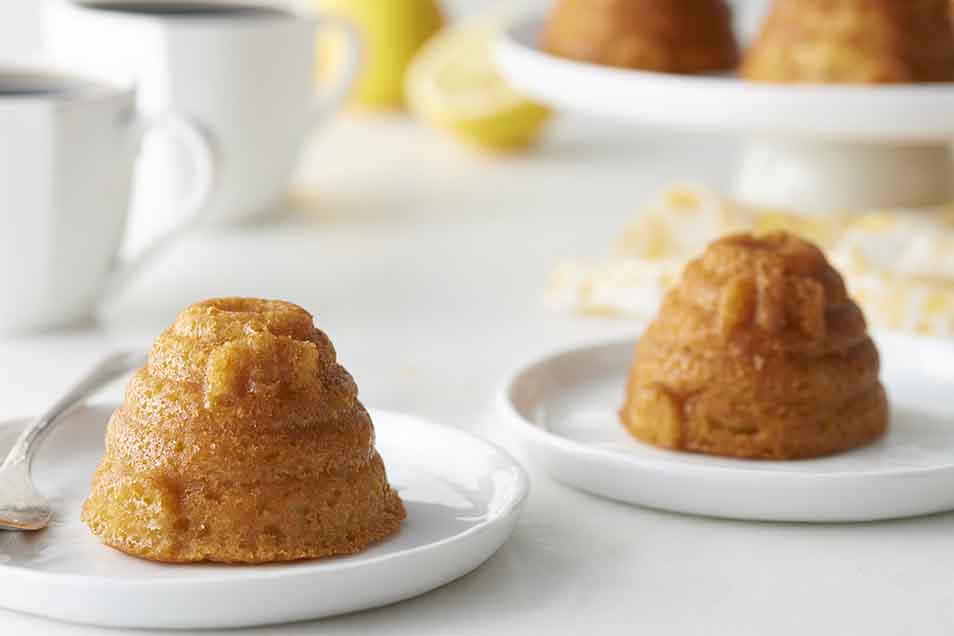 This incredibly moist and tender cake marries honey and lemon in perfect harmony. Neither flavor overpowers the other, but each is distinct in every bite. It's the ideal cake to enjoy alongside a cup of tea, hot or iced.
Ingredients
Glaze
1/4 cup Meyer lemon honey, or your favorite honey
2 tablespoons unsalted butter
1 tablespoon lemon juice
Instructions
Preheat the oven to 350°F. Grease a honeycomb pan or 9" round cake pan.

To make the batter: Weigh the flours, or measure them by gently spooning them into a measuring cup and sweeping off the excess. In a medium bowl, whisk together the flours, baking powder, baking soda, and salt.

In a large mixing bowl, beat together the butter and sugar until light and fluffy.

Add the eggs one at a time, beating for a minute or two and scraping the sides and bottom of the bowl between additions. Beat in the honey, zest, and extracts.

Stir in the flour mixture in three additions, alternating with the buttermilk or yogurt, beginning and ending with the flour mixture.

Spread the batter into the prepared pan; if you're baking in the honeycomb pan, we recommend tapping the pan firmly on the counter to help eliminate any air bubbles at the bottom.

Bake the cake for 30 to 35 minutes, until it's a deep golden brown and a cake tester inserted into the center comes out clean.

Remove the cake from the oven, allow it to cool in the pan for 10 minutes, then turn it out onto a rack.

To make the glaze: Combine the honey, butter, and lemon juice in a microwave-safe bowl or in a small saucepan set over medium-low heat. Heat until the butter is melted and stir until smooth.

Brush the glaze onto the warm cake. Allow the cake to cool completely before cutting.

Store leftover cake, well wrapped, at room temperature for several days. Freeze for longer storage.
Tips from our bakers
To make individual cakes using a beehive cakelette pan, prepare the batter as instructed and scoop it into the pan's lightly greased wells using a heaping 1/3 cup of batter per well; a heaped scone and muffin scoop works well here. Firmly tap the pan on the counter to help eliminate any air bubbles at the bottom of the cakes. Set the remaining batter aside to bake in a second batch. Bake the cakes for 18 to 22 minutes, until they're golden and a cake tester or toothpick inserted into the center of one comes out clean. Remove the cakes from the oven, allow them to cool in the pan for 5 minutes, then turn them out onto a rack. Repeat with the remaining batter. Makes 1 dozen mini cakes.
Reviews
Love this, pan was really heavy and cute. Once used almond meal Once with swerve this is in oven, haven't used swerve before...will report back...keep putting off my ac in apt quit...bugger Topped w toasted almonds
Received this "bundle" as a gift and couldn't be happier with the results. So many compliments on taste and presentation. With berry season in full swing now, could blueberry or raspberries be added to the recipe?

You're welcome to experiment, Susan, by adding blueberries to this batter. While raspberries would be delicious, it's more likely that they'll break while being mixed into the batter and may stain your cake. Try folding 1 1/2 to 2 cups of blueberries into the fully mixed batter. If you can find the smaller, wild blueberries, use those instead of the very large berries. They'll stay suspended in the batter and also be more evenly dispersed; that means delicious berries in each and every bite! Kye@KAF
This cake turned out perfectly. I used a local honey, not the Meyer Lemon Honey the recipe calls for, and it is delicious. I ate a piece as soon as it was cool, but something tells me this will be even better tomorrow when the flavors have had time to develop and mingle a little. Don't skip the glaze, the butter/lemon/honey combo makes the cake scrumptious!
wonderful recipe with the right flavours. adjusted the buttermilk qty based on the honey consistency I had. (I took 1/2 cup butter milk as my honey was loose enough to hold the batter). soft and moist and great with the glaze..! My better quantity was just right for a 7" round pan.
I did not have the honeycomb pan and used a 9' cake pan - I had some overflow during baking. It ended up being about 850 grams in the pan, so if you are making rounds, 800 grams would probably work.
The descriptor on this recipe, 'perfect harmony', is spot on. I did make some small changes but only because I was short on a few things. No lemon zest so I added 1/8 tsp lemon oil to the batter. I used 4 oz buttermilk, 3 oz sour cream and 1 oz of non-fat yogurt to get me to 8 oz. I added 2 drops of lemon oil in the glaze as my local honey bees don't have lemon trees to gather nectar. No super cute bee pan so I baked this in my biscotti pan and cut with a hexagon biscuit cutter. This is a really good cake.
This recipe wasn't bad, but it just wasn't quite what I expected. I was looking for something where the honey flavor was very pronounced yet not too sweet. I kind of wanted the lemon flavor to be somewhat more in the background. When I made this, neither the lemon flavor or the honey flavor was all that strong. The cake is definitely moist, but I felt it was lacking in the flavor Department. I followed this recipe through the letter except that I did not have Meyer lemon honey and used the clover honey I had on hand. I also had lemon oil, so I used half a teaspoon of that. Still, all the flavors were rather understated.

We're sorry to hear this Honey Lemon Cake missed the flavor mark for you, Jon. Using the Meyer Lemon Honey certainly helps deliver a flavor punch if that's what you're looking for, so it might be an ingredient worth investing in. Also we think our recipe simply called, "Honey Cake," might be more of what you're looking for. It calls for a full cup of honey, which really brings home the flavor of floral, delicious honey. Kye@KAF
I baked this honey lemon cake as described and it was delicious! What can I use as a substitute for the almond flour?

Good question, Victoria. We checked with our recipe developers about this. They said that while the almond flour certainly adds moistness and helps create a pleasantly dense cake, you can probably use 2 cups of Cake Flour and omit the almond flour without sacrificing the integrity of the cake too much. Happy baking! Kye@KAF
agree with all the reviews that this is a total winner. no need for fancy fru fru pan, a bundt pan gives nice detail. but i admire that my green mountain friends are always looking for a way to get me to buy more stuff. quite honestly, i'd be more tempted if shipping fees weren't so high. i can't tell you how many times i've ordered and then cancelled when i saw the shipping fees.