A customized print-friendly version of this recipe is available by clicking the "Print Recipe" button on this page.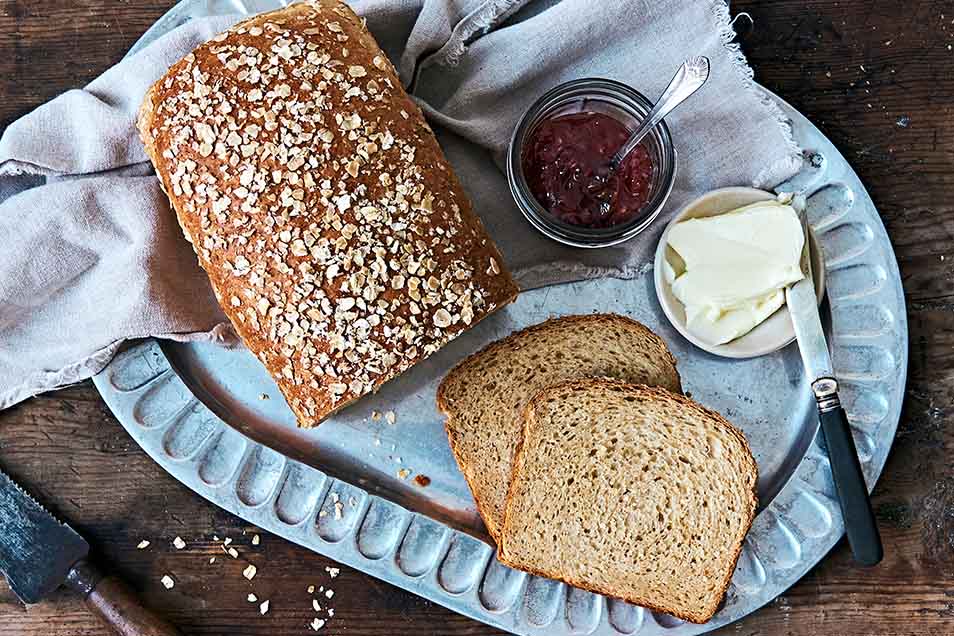 If you're going to make oatmeal bread, don't accept some watered-down version, more white bread than whole grain. This dense-textured, moist sandwich loaf includes a generous measure of oats. It slices beautifully for sandwiches, makes absolutely delightful toast and, due to the oats, honey, and applesauce, stays fresh for days in your breadbox.

Our guarantee: This moist bread has a light-tan, even-textured interior, and mild flavor. It slices nicely, and is about 3 1/2" tall at its center point.
Ingredients
3/4 cup lukewarm water
1 1/2 cups "quick" rolled oats
2 packets "highly active" dry yeast; or 1 tablespoon active dry yeast; or 2 3/4 teaspoons instant yeast
2 tablespoons honey
1 tablespoon brown sugar
6 tablespoons (3/4 stick) butter
1/2 cup unsweetened applesauce
1 1/2 teaspoons salt
1/2 cup instant mashed potato flakes
2 1/4 cups King Arthur Unbleached All-Purpose Flour
2 tablespoons oats, to sprinkle on top, optional
Instructions
Combine the 3/4 cup water and oats, and let rest for 20 minutes. This gives the oats a chance to absorb the water and soften up.

If you're using active or "highly active" dry yeast, dissolve it in 2 tablespoons of the lukewarm water with a pinch of sugar. It should start to bubble as the oats and water rest.

Add the remaining ingredients to the oats (including the yeast/water/sugar mixture, if you're using active dry yeast), and mix and knead—by hand, electric mixer, or bread machine set on the dough cycle—until the dough feels springy; it will be quite stiff.

Place the dough in a lightly greased bowl, and allow it to rise, covered, for 2 hours; it's a slow riser.

Gently deflate the dough, and shape it into an 8" log. Place it in a lightly greased 8 1/2" x 4 1/2" loaf pan. Cover the pan loosely with lightly greased plastic wrap.

Allow the dough to rise at room temperature for 1 3/4 to 2 hours, till it's crowned about 1 1/2" over the rim of the pan. Towards the end of the rising time, preheat the oven to 350°F.

Brush the top of the loaf with milk, and sprinkle with oats, if desired.

Bake the bread for 20 minutes. Tent it loosely with aluminum foil, and bake for an additional 25 to 30 minutes. When the bread is done, it'll be golden brown, and an instant-read thermometer inserted into the center will register 190°F.

Remove the bread from the oven, wait 5 minutes, then turn it out of the pan onto a rack to cool. Cool completely before slicing. Store well-wrapped at room temperature.
Nutrition Information
Serving Size

1 slice (56g)

Servings Per Batch

16
Amount Per Serving:
Calories

150

Calories from Fat

45

Total Fat

5g

Saturated Fat

3g

Trans Fat

0g

Cholesterol

10mg
Sodium

250mg

Total Carbohydrate

23g

Dietary Fiber

2g

Sugars

4g

Protein

4g
* The nutrition information provided for this recipe is determined by the ESHA Genesis R&D software program. Substituting any ingredients may change the posted nutrition information.
Tips from our bakers
Because of its high oat content, this bread may have a slightly craggy surface, with minor hills and valleys in the top crust. Don't worry; that's the way it's supposed to look—rustic!
The type of oats you use DOES make a difference; quick oats absorb more liquid, more quickly, than old-fashioned rolled oats. If you don't have quick oats, pulse old-fashioned oats in the food processor several times, to break them up a bit before using.
When making yeast bread, let the dough rise to the point the recipe says it should, e.g., "Let the dough rise till it's doubled in bulk."Rising times are only a guide; there are so many variables in yeast baking (how you kneaded the dough; what kind of yeast you used) that it's impossible to say that bread dough will ALWAYS double in bulk in a specific amount of time.
Reviews
Hi, I made this recipe with some variations but didn't quite get it right so it was a little disappointing. I am not using wheat flour so I swapped it for almond and coconut flour. Also, instead of butter I used 6 tbsp of coconut oil. At first the dough was rising but after adding the almond and coconut flour it got a little heavy and stopped rising. Also, I didn't have potato flakes at home so will need to get some for the next time. It came out dense after baking but it still had a pretty decent taste. I'm really keen on learning how to make delicious, light oat bread. Would you be able to provide some advice on the right portions when using almond or coconut flour instead of unbleached flour? Also, is the coconut oil a good substitute?

Hi Alana. It sounds like you had a pretty big experiment! When it comes to making substitutions in recipes, we recommend making only one at a time, so if the loaf turns out poorly, you'll know exactly which ingredient change did it. Regarding using nut flours in place of wheat flour, that can be tricky as they behave completely differently. Nut flours absorb a lot of moisture (especially coconut flour) and don't provide any support for your loaf. We recommend using almond flour in place of no more than 30% of the flour in a yeast bread recipe. It sounds like the best option for you will to be to search for a recipe that's designed to be gluten-free and include oats. We don't think the butter and coconut oil swap will be an issue in this recipe, but without having some gluten in the loaf, it won't have any strength to rise or to hold a rise, so it will always be on the dense side. We did a little searching and there's a recipe that might work for you on the Wife Mamma Foodie website called Gluten-Free Honey Oat Bread. We hope this recipe will be a good fit. Kindly, Annabelle@KAF
What is the purpose of the applesauce - is there a substitute?

The applesauce adds moistness, sweetness, and tenderness to this bread. It's a key ingredient in this recipe so we recommend including it if possible. Otherwise, you can try experimenting with using 1/2 cup of lukewarm milk instead. You can also consider making our Oatmeal Sandwich Bread recipe, which uses both oats and honey but doesn't call for applesauce. Happy baking! Kye@KAF
Lovely flavour and texture. How can I scale this up for a 9 x 5 pan?

Jackie, a 9" by 5" pan has about 30% more capacity than an 8 1/2" by 4 1/2" pan, so you'll want to multiply all of the ingredients by 1.3x to scale it up. This might make for some tricky measurements, so feel free to simply increase everything by 25% instead if that makes it easier for you. The loaf will be just a bit smaller than a full 9" by 5" recipe, but it will still be delicious. Happy baking! Kye@KAF
This came out very well!! I couldn't be happier. I substituted the unbleached flour for whole wheat.
Help! I'm a very experienced cook and baker. I use nearly ALL KAF ingredients and recipes. Ive loved pretty much everything I've made. However, something goes very wrong when I make this bread. It never rises past the edge of the pan. I make my own bread every 2 days or so and use yeast pretty quickly that I've ordered from (KAF). I haven't had any problems with any other bread. Oh! and I weigh my ingredients and take the temperature of the liquids going into the recipe (roughly 100 degrees).

Sharilyn, it sounds like your bread is rising a bit faster than expected. You can try using room temperature (or even cool) water instead of warm water to slow down the yeast, and also keep in mind that it's important to put the bread into the oven as soon as it crests the side of the pans by about 1" in the center. It sounds like the bread is just being left to rise for too long. Try cutting back the rising time and see if this helps; if it doesn't consider giving the Baker's Hotline a call at 855-371-BAKE(2253) so we can help you troubleshoot further. Kye@KAF
Made this bread today in search of a good healthy recipe for sandwiches. The recipe said it was a "slow" rise, but I didn't find that to be the case. For one loaf, it seemed to call for a larger amount of yeast than usual. I don't keep dried potato flakes, but did use leftover sweet potato. I completely forgot the butter and was afraid without the fat it would not be good. We tried a slice as soon as it was cool and it was delicious. I haven't looked for a sourdough version, but would very much like to try this same or similar recipe with sourdough. Bread baking is one of my happy places. Thanks KAF!
Did anyone else have an issue with the bread collapsing after brushing it with milk to sprinkle the oats on? My bread was the specified 1 1/2" over the edge of the pan after rising for 1.75 hours. I brushing it with milk and the loaf collapsed to the height of the pan. I thought it would spring back in the oven but it did not. Any one have suggestions on what could have gone wrong?
When bread collapses in the way you describe, this is usually a sign that the dough has been allowed to rise too long in the pan. Even though the recipe says to allow the bread to rise 1 1/2 inches over the edge of the pan, this refers to the center part of the loaf and not the edges, and is only a guideline. You want the dough to still have energy to rise in the oven, so putting it in a little earlier will prevent it from collapsing and allow for some jump in the oven. Barb@KAF
Definitely not the best-looking loaf, but absolutely delicious. The applesauce makes this a really nice, moist bread. Fantastic for sandwiches.
I have made this recipe a few times now. I love oatmeal bread. The recipe was easy to follow. It turned out great. I do use just a few extra drops of milk to soak the oatmeal because its not enough to wet all of the oatmeal. This is now my favorite bread. Fresh out of the oven, it is so awesome.
Excellent. Only problem I had. Didn't have KAF flour. @@#$%=. Last time that happens. Anyway I made rolls instead of bread. Used mashed potatoes instead of instant. Only used 2 tbsp. They came out very light and fluffy. All in all great recipe folks.