A customized print-friendly version of this recipe is available by clicking the "Print Recipe" button on this page.
Honey Wheat English Muffins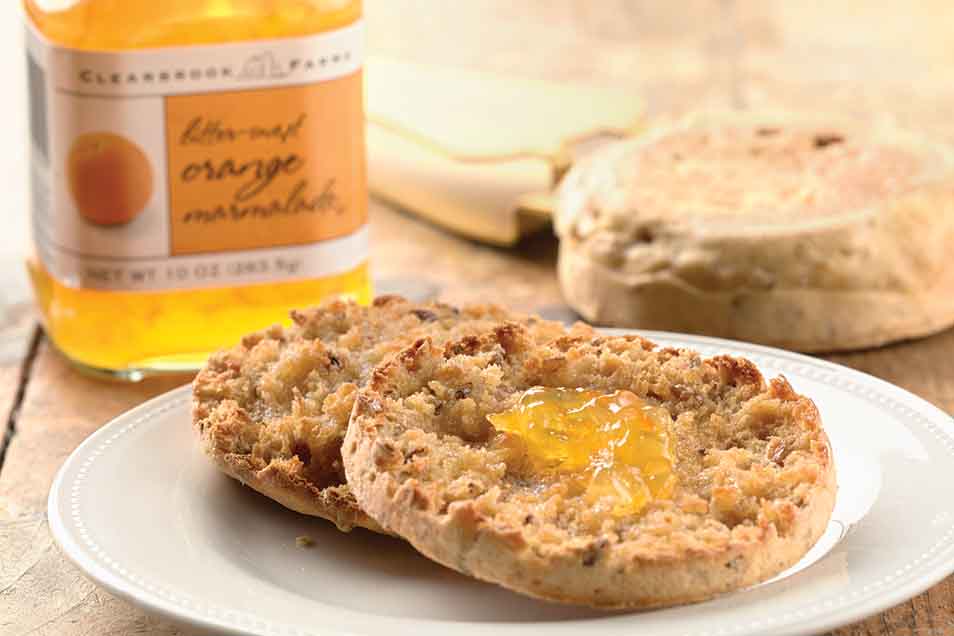 These whole grain, fiber-filled, slightly sweet muffins make a great base for everything from melting butter to eggs Benedict.

Note: you must have muffin rings (3 1/2" to 4") to make these English muffins.
Instructions
Stir together all of the ingredients except the cornmeal or semolina. Beat until the dough is glossy, about 6 to 8 minutes.

Cover the bowl, and let dough rise at warm room temperature until doubled in size, about 90 minutes.

Preheat both the oven and a griddle or heavy skillet to 350°F (medium high heat). Grease metal muffin rings.

Place rings on the griddle, and sprinkle a little cornmeal or semolina into each; this will give muffins their traditional crust.

Scoop 1/3 cup of dough into each ring and spread the dough to the edge of the ring. (wet your fingers to stop the dough from sticking to them). Sprinkle with more semolina.

Cook the muffins for 5 to 6 minutes, until the edges look set and the bottom is golden brown. Flip the muffins, and cook the second side for 5 to 6 minutes.

Place the muffins on a baking sheet and place into a 350°F oven for 5 minutes.

Remove from the oven, cool for 5 minutes, and remove the rings (if they haven't already fallen off). Cool the muffins on a rack, and store at room temperature, well wrapped.

Yield: 12 English muffins.
Reviews
Updated review. I just baked them for the third time today; however, this time, like another baker suggested, I baked them without putting them on a griddle first. I followed the technique for KA's Baked English Muffins. Much easier, rose much higher, and still are absolutely delicious.
Absolutely delicious! Muffins were dense, yet light, and oh soooo good. Followed the recipe as written. . .used a greased ice-cream scoop to portion out the dough prior to putting in the rings. Used a greased Starbucks mug (metal) to flatten while in the rings. A little time consuming. . .but so good!
Amazingly, I happened to have all the ingredients called for in this recipe, so I had to make these. This is the third English muffin recipe I've attempted, and these are my favorite so far. My dough was not sticky - I actually had to add a bit more water - so it wasn't too difficult to divide and shape in the rings. I patted it out into a log and cut it into 12 pieces, but some of the muffins were quite a bit larger than others, so next time I will weigh them. I used a griddle and found I needed to turn down the temperature to 325 to avoid burning. I also needed to bake the muffins for 10 minutes rather than 5. Overall, they were delicious, healthy muffins, not too sweet - perfect for a breakfast sandwich or with butter and jam.
I've made these muffins three times now. Every time, they've been delicious - flavorful, pleasant texture, and moderately dense, everything I'd want in a breakfast English muffin. There are, however, a few drawbacks, too many special ingredients being the most glaring problem. Non-diastatic malt powder, malted wheat flakes, hi-maize fiber, Baker's Special dry milk & vital wheat gluten are NOT common supermarket ingredients, and they're not overly cheap when you can find them (KAF sells them all for a total of ~$49US). Further, the dough itself is sticky, heavy, and doesn't lend itself to spreading in the muffin rings, even with wetting your fingers. It's very difficult to scoop out in 1/3c increments; I highly suggest dividing your dough by weight BEFORE trying to get it into the rings on the griddle. I wanted to give this recipe 5 stars because it IS quite tasty, but I had to knock a star off for the complexity and special ingredients. Overall, it's worth the time, money, and effort, but only just.
Nathan! We hope you've considered a call to our baker's hotline (855-371-2253). We can help you with substitutions like using liquid milk instead of the dry milk and using flour in place of the hi-maize fiber. We look forward to your call so we can work through this together. Happy Baking! Irene@KAF
Use brown sugar instead of 2 tablespoons non-diastatic. For fiber I used 1/4 cup KAF fiber, 1/4 cup bran, 1/4 cup flax seed. Cut honey to 2tbls. Use oats, even Steele cut, and they are awesome!
Felt like a cross between a scavenger hunt and college chemistry class! Got all the ingredients online at KA. Came UPS yesterday. Stayed up late to make them. WELL WORTH the effort. I am new to baking but my mom has been baking bread with KA flour for 50 years. Mom said these were the best muffins she ever tasted. Case closed.
I used these ingredients (except subing rolled oats for the wheat flakes), but I used the "Baked English Muffins" method from step 3 on. They turned out beautifully. I even made the dough, did the first rise, put them in the rings, and stored in the fridge overnight. In the morning, I warmed up the dough in a slightly warm over and let them rise for about 20 minutes before baking them for about 10 minutes on each side. My family loved them. My 7 year old boy said he wanted "100 more". They are not very sweet, so some jam on top was perfect.
I don't know why you call for muffin rings for this recipe. They were completely unnecessary! The dough was so thick that I just scooped the dough and then formed "patties" which I put on the griddle and they didn't lose their shape at all and didn't need the muffin rings to hold their shape. Although the muffins are tasty, why use white whole wheat flour and then add the malted wheat flakes and Hi-maize Natural Fiber to boost the fiber content? Why not use regular whole wheat flour instead of the white wheat flour and get more nutrition at a cheaper cost without adding all the extras which quite expensive? Surely using wheat bran or old fashioned oats would be just as nutritious and more readily available.
Feel free to play with this recipe to suit your own tastes and budget. The malt flake provide both flavor and texture, but oats would also be a welcome addition. The hi maize fiber is a resistant form of corn starch that is better overall for healthier digestion. Please feel free to call us if you have any questions. ~Amy
I have just finished baking my third batch. We think they are wonderful and well worth ordering the special ingredients. What a breakfast treat!
This is an update to a previous post. I found my English muffin recipe in Peter Reinhart's "Artisan Bread Every Day". The entire book is a treasure, but that recipe sealed it for me. No-knead, overnight rise, and clear instructions along with some of the little things that help make it a success. I'll play with this Honey Wheat recipe along with what I learned through Peter's instruction to try to create the perfect muffins for me. KAF and Peter are both treasures for bread bakers!