A customized print-friendly version of this recipe is available by clicking the "Print Recipe" button on this page.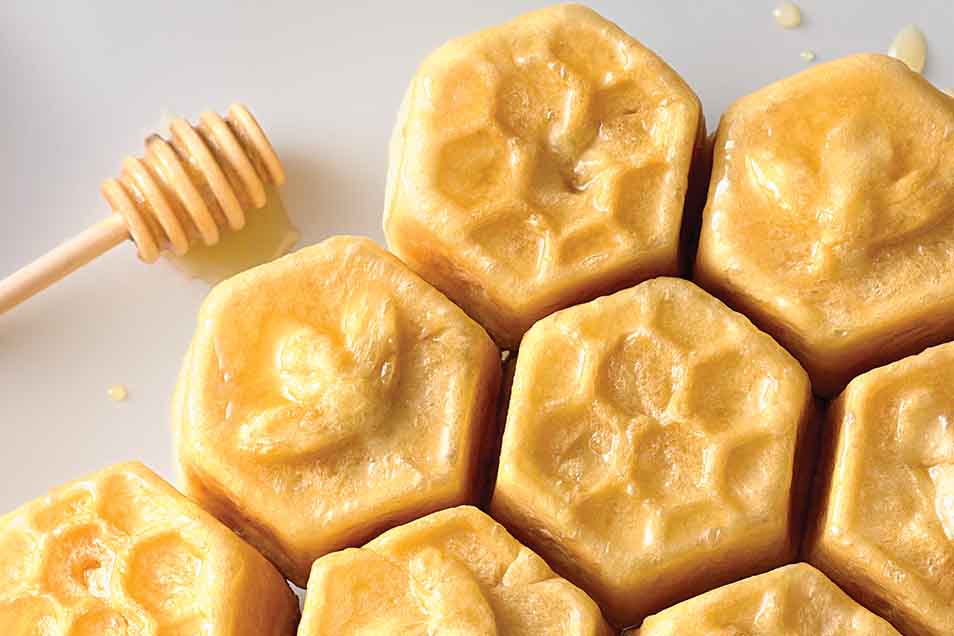 These brioche-style buns, with their drizzle of honey glaze, are over-the-top decadent. Serve them warm at breakfast, or with afternoon tea.
Ingredients
Buns
1 teaspoon salt
2 tablespoons honey
2 1/4 teaspoons instant yeast
1/2 cup warm milk
1/4 cup (4 tablespoons) unsalted butter, melted
2 large eggs
1 teaspoon vanilla extract
Glaze
2 tablespoons unsalted butter
1/4 cup honey
Instructions
To make the buns: Combine the flour, salt, honey, and yeast.

Mix in the milk, melted butter, eggs, and vanilla. Knead to make a smooth, elastic dough.

Place the dough in a lightly greased bowl, cover, and let rest for 60 minutes.

Grease a honeycomb cake pan or mini-muffin pan.

Gently deflate the dough, and divide it into 19 equal pieces (20 pieces if you're using a mini muffin pan).

Pat each piece of dough into the separate cups of the pan. Allow the buns to rest, covered, until just about doubled in bulk, about 45 minutes.

Towards the end of the resting time, preheat the oven to 350°F.

Bake the buns for 20 to 22 minutes, until they're a light golden brown. Remove them from the oven. After 5 minutes, turn them out onto a plate.

To make the glaze: Combine the butter and honey, and microwave for 45 seconds to melt the butter.

Brush the glaze over the hot buns, and let them rest for 5 minutes to allow them to absorb the glaze.

Yield: 19 or 20 buns.
Reviews
We made this recipe today and are very pleased with the result. They are dense compared to the usual dinner roll as the rich dough bakes heavier, but the flavor is wonderful. The honey butter glaze is a perfect finish for the Honeycomb Buns and they would be good for breakfast or dinner.
I made these rolls for dinner tonight, to enjoy with our soup. They were superb! It took me about 3 1/2 hours from start to finish, due to not getting a good first rise (I ended up putting the dough in the oven with a bowl of boiling water, which worked perfectly). Since we are cutting back on sugar, I didn't use the honey in the glaze and my husband didn't mind. They are a little heavier than a regular dinner roll, but we enjoyed the taste and texture. I'll definitely be making these again!
I just finished making these about an hour ago. I received the honeycomb pan about two weeks ago, and am still working out how to use it. THIS recipe worked like a charm. The rolls rose almost perfectly, and almost of them ended up with the telltale indentation. I think I will be very particular about smoothing the dough when I put it in for the second rise, which would avoid the folds that appear in some of the this batch of buns. The flavor is perfect; they bake up like the brioche-ish buns that they are. You can get the egg, and honey from the glaze. Another poster referred them as heavy; they are not a light dinner roll, but they weren't heavy or stiff. I just wouldn't over=knead them. The prep and baking took about 3 hours total.
i baked them for mother's day weekend and they disappeared. the family liked them a lot. I substituted almond extract for vanilla and it worked well.
Made these buns today. My picky 4 yr old and 7 yrd old kids had two buns immediately right after I brushed the honey glazed. They are asking me to put some in their lunchbox tomorrow. I posted the picture on Facebook and some folks are willing to pay and asking me to bake more. Thanks for the simple recipe. I have now other use for my honeycomb pan.
I found this recipe while looking some thru KA catalogs I had and decided to try it. I used the mini muffin pan and they turned out great. I followed the recipe as it was written. We have coffee hour at our church and will take them to that. This morning we heated a few up in the microwave what a treat. They are just sweet enough to have with your coffee or tea. Thanks KA!! My husband stomach thanks you for all your great recipes.
I doubled the glaze recipe and used maple syrup, honey and butter in the glaze. I added a sprinkling of salt on the glazed buns and got rave reviews.
This was a stiff dough. I bought the honey comb pan from you guys. When I baked this it turned out BEAUTIFUL!!!! Rose tall & was so tender, moist & light! I can not wait to make it again!
Tried this based on the image in the KAF catalogue (they looked so good!). I've been baking for 45 years, so I know I didn't do anything wrong in the recipe. I used fresh yeast (purchased from KAF) and flour. I used a mini muffin pan (waiting to see how they tasted before purchasing the cute honeycomb pan). They were so dense and dry as to be inedible. It was like eating stale biscuits. We couldn't believe these were yeast buns. We expected them to be light and fluffy (like a good cinnamon bun). Sadly, they weren't. Won't be making these again, that's for sure. Too bad, they looked wonderful. The glaze was delicious (I'll use it on something else!).
I'm so sorry that you were disappointed in this recipe. They are a dense bun rather than a light, airy, fluffy one. ~Amy
Very easy to prepare! I made these in mini muffin tins and ended up with 24 buns plus one big extra one I made on a glass plate. Perfect treat to go with afternoon coffee. Just sweet enough, not overpowering. I bet they would be really cute in the honeycomb pan.